What is KOHO and how does it work?
If you are not yet using KOHO, you are missing out. The KOHO Card is the best prepaid card in Canada if you want to earn cash back on purchases while also enjoying the perks no other virtual card offers.
KOHO Canada can also serve as your online bank for high-interest savings, payroll deposits, early paycheques, and more.
Read on to learn about KOHO, its pros and cons, how it makes money, how you can use it to build credit, and whether it is safe.
Note that the KOHO Prepaid Visa Card was recently rebranded to a Mastercard and is now known as the KOHO Mastercard Prepaid Card.
What is KOHO?
KOHO is a free 'spending and savings account' that is changing how Canadians interact with their money and banking services.
Tired of paying hefty monthly bank fees? KOHO takes care of that with unlimited free transactions.
But that is only a start.
A free KOHO account can replace your chequing account, savings account, and credit card accounts to a large extent, and I will cover these in more detail in a bit.
KOHO is a financial technology company founded in 2017 by Daniel Eberhard, and it has partnered with Peoples Trust to keep your money safe.
Learn more about the company in this KOHO review.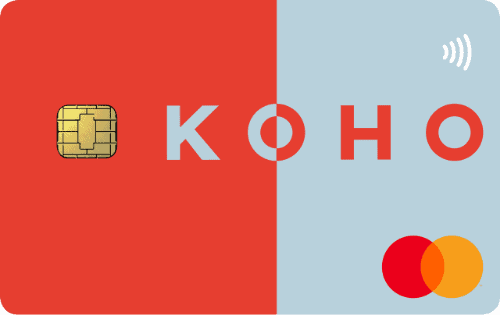 $20 sign up bonus after first purchase (use promo code CASHBACK)
Earn up to 5% cash back
Up to 4.00% savings interest on your balance
Unlimited Interac e-Transfers
How Does KOHO Work?
To understand how KOHO works, let's look at the various products and services it offers:
Mastercard Prepaid Card
Budgeting App
Credit Building
Earn Interest (Savings)
Early Payroll
Cash Back
KOHO offers a prepaid Mastercard you can load (and reload) and use to make payments wherever Mastercard is accepted. This card is issued in partnership with Peoples Trust Company and licensed by Mastercard.
Combined with its "Save and Earn" feature, you can use the KOHO Prepaid Mastercard to earn up to 10% cash back at select merchants.
The KOHO app is one of the best Canadian budgeting apps available right now.
You can use it to create budgets, set financial goals, monitor your spending, and automate your savings. The app is also free to use.
With KOHO Earn Interest, you earn interest on your entire balance. At up to a 2.00% interest rate, this is easily one of the best savings accounts in Canada.
Wondering how this rate ranks in today's banking space? If your savings account is with one of the big banks, there is a possibility that your savings rate is below 1%.
KOHO Early Payroll is an innovative service that gives you access to $100 of your paycheque or government benefits 3 days early (no longer offered).
No fees or interest is charged, and this can help you avoid loan sharks and payday loans when your budget is tight.
To use the Early Payroll service, simply set up direct deposit for your paycheque or benefit payments to KOHO.
Last but not least, you can use KOHO's credit-building service to improve your credit score fast (more on this below).
When you sign up for an account here, you get a $20 bonus after using your card the first time (use our referral code CASHBACK during sign-up).
What is KOHO Mastercard?
The KOHO Mastercard Prepaid Card is a reloadable prepaid card you can use for payments online and in-store.
It is accepted at millions of locations worldwide and is the top prepaid cash back card in Canada.
Here's what you get with the free KOHO card:
1% cash back on grocery purchases and bill payments
Up to 5% cash back from partners (e.g. Indigo, Contiki, Reebok, Vitamix, Mary Browns, Pizza Pizza, and several others)
Automated savings account
Access to savings interest on your entire balance
Zero ($0) account fees
Unlimited free Interac e-Transfers
A distinctly styled physical card
A virtual card you can use with Apple Pay, Google Pay, and Samsung Pay.
You can also apply for a KOHO Premium Card or KOHO Joint Account Card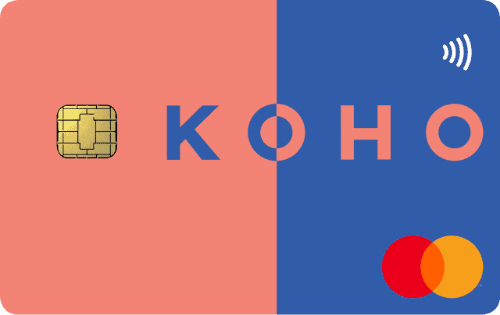 What is the KOHO App?
The KOHO App works alongside the physical and virtual KOHO cards.
As already noted, you can use the app to make budgets and save money automatically using "RoundUps".
With RoundUp, you can set the app to round every purchase you make to the nearest $1 and save the difference on your behalf.
This is one way to "pay yourself first".
You can also build savings by automatically contributing to a savings account called the "Vault" and earning interest. You can withdraw your funds at any time.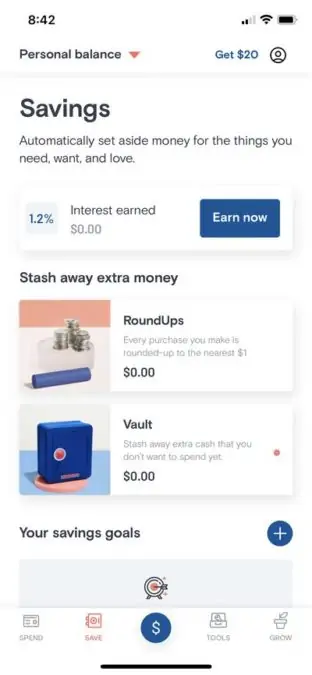 The KOHO app is available on both iOS and Android devices. It is well rated with a score of 4.8/5 on the App Store and 4.6/5 on the Google Play Store.
Does KOHO Build Credit?
Is KOHO a credit card?
While the KOHO Prepaid Mastercard works like a credit card, it is not a "credit card". That is, you don't pay interest fees when you use the card and can only spend the cash you have loaded.
Users who want to build their credit score can subscribe to the company's "Credit Building" service.
KOHO Credit Building offers a way to grow your credit score without needing to get a credit card.
This optional service costs $7 to $10 per month and includes:
Access to free credit score updates
Reporting to a major credit bureaus
As per KOHO, you can expect your credit score to improve in as little as 6 months.
The company does not require a hard check when subscribing to credit building, so this service does not negatively impact your credit rating.
How Does KOHO Make Money? (KOHO Fees)
Most of the products offered by KOHO are free to use. So, how does the company make money?
1. Interchange Fees: When you pay for goods and services using a Visa or Mastercard credit card, the merchant is charged a fee by the credit card company. As per their support, they share the interchange fees with Mastercard and give users a portion of it via cash back.
2. KOHO Extra (previously Premium): Power users can upgrade from the standard KOHO account to Premium. KOHO Premium costs $9 per month or $84 annually and includes some extra perks such as:
Increased cash back (2% on groceries, restaurants, and transportation).
No FX fees when you spend abroad (savings of 2.50%).
Price matching so you pay the lowest price on purchases.
1 free international ATM withdrawal each month
Access to financial coaching and priority support.
A free regular KOHO account works for most people; however, you can significantly increase your cash back rewards and save abroad with Premium.
3. Credit Building: If you want to use KOHO to build your credit score, the fee is $7 per month.
4. Inactivity Fee: A $1.00 fee is charged if your account has been opened for 13 months and has been inactive for 6 months. This fee is applied every 6 months; however, it can be waived by simply loading your account or making at least one purchase every 6 months.
5. Foreign Transactions Fees: Credit cards normally charge you a 2.50% FX fee when you pay for purchases abroad. A standard KOHO card has a lower 1.50% FX fee, and the fee is waived completely when you sign up for a Premium account.
6. Visa Debit Card: If you load your KOHO balance using a Visa Debit card, a $0.75 fee is charged if your transaction is $300 or less.
All other KOHO services are free, including the 0.50% cash back, 1.20% savings account, access to early payroll 3 days early, budgeting app, virtual card, and more.
How To Load Your KOHO Card
You can load your KOHO card balance using:
Interac e-Transfer: Easily send and receive Interac e-Transfers from your bank account. This funding method only takes minutes, and you can follow the instructions in the "Add Funds" section of the app.
Direct Deposit: You can set up a direct deposit and have a portion or all of your paycheque deposit in KOHO. The direct deposit information to use is available in-app and includes your account number, KOHO transit number, institution number, and name.
You can also print a void cheque directly from your KOHO account.
Visa Debit: You can load funds from a Visa Debit card. Note that there is a $0.75 fee if you add funds less than $300 using this option. However, your first Visa Debit load is free.
Also, RBC Virtual Visa Cards are not supported.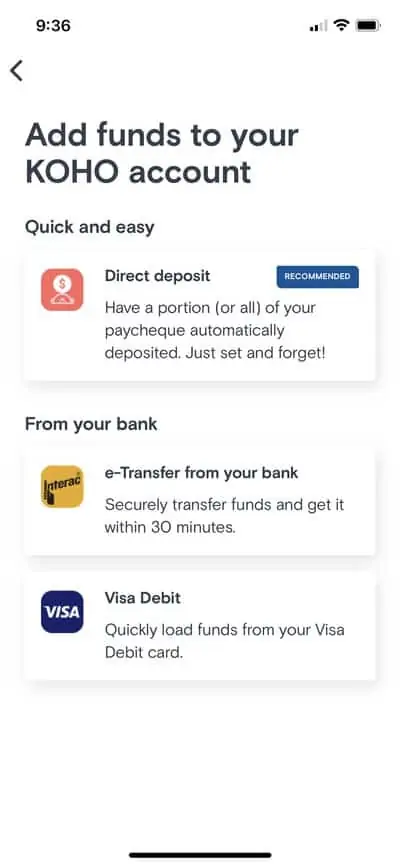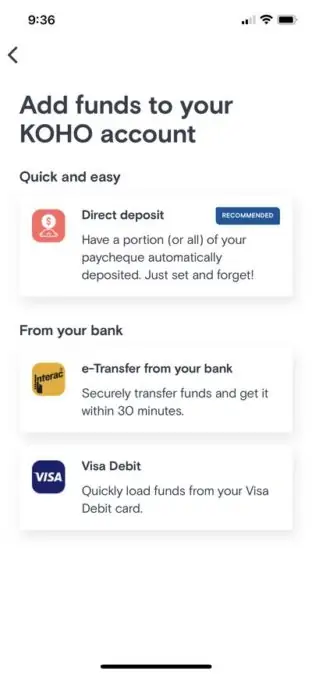 Is KOHO Safe?
Yes, KOHO is a safe financial institution.
The company keeps your money with Peoples Trust, a bank that is regulated by the Federal government of Canada.
Your funds with the bank are insured by the Canadian Deposit Insurance Corporation (CDIC), and if it should go bankrupt, you are protected up to $100,000.
Also, KOHO is backed by huge financial companies like the National Bank of Canada, Greyhound Capital, and Portga3 Ventures.
Simply put, KOHO is as safe as your bank. It is legit.
Is KOHO a Bank?
KOHO is a financial institution, but it is not registered as a bank.
It can provide several online 'banking' services through its relationship with Peoples Trust.
For example, the KOHO Card works like a spending account (chequing) and can be used to make payments, receive payments, send Interac e-Transfers, and more.
With KOHO Earn Interest, you get a top-rate savings account.
And your KOHO Card offers credit-building advantages like a credit card when you subscribe to Credit Building.
Lastly, funds in KOHO accounts are insured by the CDIC through its partnership with Peoples Trust Company, which holds your balances.
How To Close a KOHO Account
If you want to close your KOHO account, follow these steps:
Visit the KOHO app
Click on your profile icon in the top right-hand corner
Scroll down to "support" and send a message to customer service requesting you want to delete your KOHO account
Cons of KOHO
While KOHO has added several new products over the years, it doesn't quite replace your traditional bank account just yet.
You can't write cheques from your KOHO account and cannot receive Interac e-Transfers from senders who don't have an account.
KOHO Canada FAQ
Can KOHO be used as a credit card?
You can use your KOHO Card to make payments wherever Mastercard credit cards are accepted.
Does KOHO increase your credit score?
KOHO credit building can be used to grow your credit score and costs $7 to $10 monthly.
Is KOHO Visa or Mastercard?
The KOHO Prepaid Card is licensed by Mastercard and issued by Peoples Trust Company. Current KOHO clients with Visa cards received a new Mastercard starting in 2022.
Who owns KOHO?
KOHO is a private company founded by Daniel Eberhard. It is backed by several top financial institutions and investors, including Power Group, Peoples Trust, and Drive Capital.
Related: