Whether you're in high school, university, or college, things can get expensive. It could be big purchases like a new laptop or tablet for school or small purchases like lunch, snacks, or clothing.
If you're looking for ways to save, many retailers and brands in Canada offer discounts for secondary and post-secondary students. All you need to do is show your ID and get anywhere from 10% to 30% off in most cases.
This article lists 50+ of the best student discounts in Canada. We cover the top student discount programs, discounts for electronics and technology, retail stores, travel, restaurants, entertainment, health & fitness, banking, and credit card deals.
Student Discount Programs in Canada
These student discounts in 2022 are worth checking out, as they'll save you tons of money and give you access to exclusive student deals.
Student Price Card (SPC)
The Student Price Card (SPC) gives students online and in-store discounts for many major retailers, including H&M, Adidas, Nike, Apple, Dell, and more.
SPC is one of Canada's biggest student discount programs, with discounts for fashion, tech, food, travel, entertainment, and more.
The discounts generally range from 10% to 30% off but are different for each store. You can use the SPC card for just $11.99 a year with no limitations. If you have a CIBC account, you can get the SPC for free.
SPC is available for students over 13 years old. You may need to show your student ID when redeeming an offer, and you'll need to download the mobile app to redeem in-store discounts.
UNiDAYS
UNiDAYS Canada is a free discount program that gives students access to exclusive offers and deals for fashion, health & fitness, lifestyle, and tech brands.
The deals range from 5-30% off a purchase to free trials of subscription services.
UNiDAYS is free to join and available for students over the age of 16. You'll need to verify your student ID or provide your student email address to sign up.
International Student Identity Card (ISIC)
The International Student Identity Card is an internationally accepted virtual ID card that you can use to prove your student status and access over 150,000 student discounts.
With ISIC, you get discounts and deals in categories like travel, culture, entertainment, food, shopping, and more.
ISIC offers three types of cards: ISIC for full-time students, IYTC for anyone 30 years old or younger, and ITIC for full-time teachers. The discounts are different for each card.
An ISIC card costs $20, plus an additional $5 if you want to get a physical card. It is valid for one year. To sign up, you must have proof of your full-time student status and proof of identity.
Student Beans
Student Beans is a free program where you can get exclusive college student discounts for fashion, health & beauty, and tech & mobile retailers for both in-person and online purchases.
Discounts range from 5-50% off at retailers like Gymshark, Champs, Samsung, and Wix.
Student Beans is free for all students; you just need to register and verify your student access.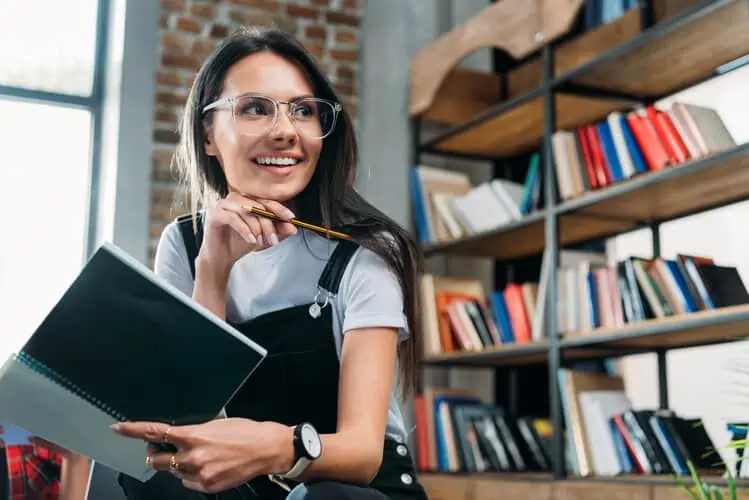 Student Discounts for Electronics and Technology
Buying laptops or tablets for school can be expensive, but the purchase is necessary for most college programs. Below are some of the best student laptop discounts in Canada to save you some cash.
Apple: Current and newly accepted university students get Apple student discounts on Macs and iPads with Education Pricing, which is about 10% off. Students also get Apple Music for 50% off for up to four years and Apple TV+ for free for a limited time.
Dell: Dell student discounts include a free 6-month subscription to Disney + when you buy a PC or Monitor. They also get 1-year Accidental Damage protection and a free mouse with XPS and Alienware laptops or desktops.
Microsoft: With Microsoft student discounts, students, parents, and educators get 10% off select Surface and PCs. Students also get Office 365 for free.
Lenovo: College and university students receive an extra 10% off all products sitewide. You'll need to verify your ID.me eligibility to redeem this offer.
HP: HP Academy is the HP student discount in Canada, which gives students access to lower prices and exclusive offers on laptops, desktops, monitors, and more. Shipping is free with 30-day returns.
Adobe: Students save 60% on the Creative Cloud All Apps plan, paying only $25.99 per month instead of $71.99. After graduation, students receive a grace year on the education price.
Best Buy: Best Buy student discounts in Canada are mostly offered during the back-to-school season. To get these offers, you'll need to sign up for a Best Buy account and provide your student information.
Samsung: Get a Samsung student discount of 10% off select Samsung Galaxy devices and monitors. Access this discount through SPC or Student Beans. Here are some discounted phone plans.
Canon: With the free Student Advantage program, secondary and post-secondary students in Canada get a 20% discount on service and repairs, discounts on select cameras, lenses, and printers, and expedited service and repairs.
GoPro: With UNiDAYS, students can get $260 off the HERO10 Black camera when they subscribe to GoPro.
Prezi: Students with a .edu email address can get the EDU Plus subscription for just USD $3/month.
Retail Store Student Discounts
Everyone loves shopping, especially students. Check out the retail stores below offering discounts for students.
Nike: Get a Nike student discount of 10% off all purchases. You'll need to verify your student status with UNiDAYS.
Old Navy: Through SPC, students get free shipping on orders over $50 plus free returns.
Roots: Students get 10% off at Roots stores and Roots.com by showing their SPC card and student ID.
Levi's: Students save 15% on all Levi's apparel. Just answer some questions about your college or university to unlock the discount.
H&M: With SPC, students get 10% off.
Bath and Body Works: Through SPC, students get 10% off their entire purchase, excluding sale merchandise and markdowns of 50%+ off.
American Eagle: SPC members get 10% off regular and sale prices for both online and in-store purchases.
Aerie: Students receive 10% off regular-priced and sale items with an SPC card.
Reebok: Students receive a 50% discount by verifying their school status with ID.ME or UNiDAYS. They get 40% off with Student Beans.
Gap: With SPC, get free shipping over $50 plus free returns on all orders.
Foot Locker: Students who sign up with Student Beans can receive 20% off purchases over $99.
Journeys: With SPC, students get $10 off any purchase of $75 or more, regular or sale price.
New Balance: SPC members get 15% off regular price items and 5% off sale items, in-store and online.
Mac Cosmetics: Students get 15% off online orders with an SPC card.
Student Discounts for Travel and Transportation
The student travel discounts below can save you money when traveling by train, bus, or catching flights.
Via Rail: Youth and students aged 12 to 25 can purchase a Youth Pass (*now suspended, but was starting at $239*), which gives you access to 6 travel credits for Escape fare train rides within the Québec City–Windsor corridor. You also get a 25% discount if you upgrade to Business class.
Toronto Transit Commission (TTC): Post-secondary students and youth aged 13-19 can purchase a discounted TTC monthly pass for $128.15 instead of $156.00. It is valid only with a photo ID.
GO Transit: Students can sign up for the Presto student fare with a valid ID and get up to 40% off the full adult fare.
UP Express: Students in Ontario heading to Pearson Airport get a 40% discounted fare on UP Express with Presto.
Air Canada: Full-time and part-time students with an Aeroplan membership can purchase a Student Flight Pass, which includes 4 or 6 one-way flight credits. With this pass, you can travel to certain destinations across Canada, Europe, North Africa, Colombia, Brazil, and Asia. This pass is valid for 12 or 15 months following the purchase date.
Booking.com: Students with an SPC card can save up to 50% on travel bookings when they verify their student status.
Flight Centre: With SPC, students can get 50% off per person on flight and hotel packages, as well as $150 off per person on flight and tour packages.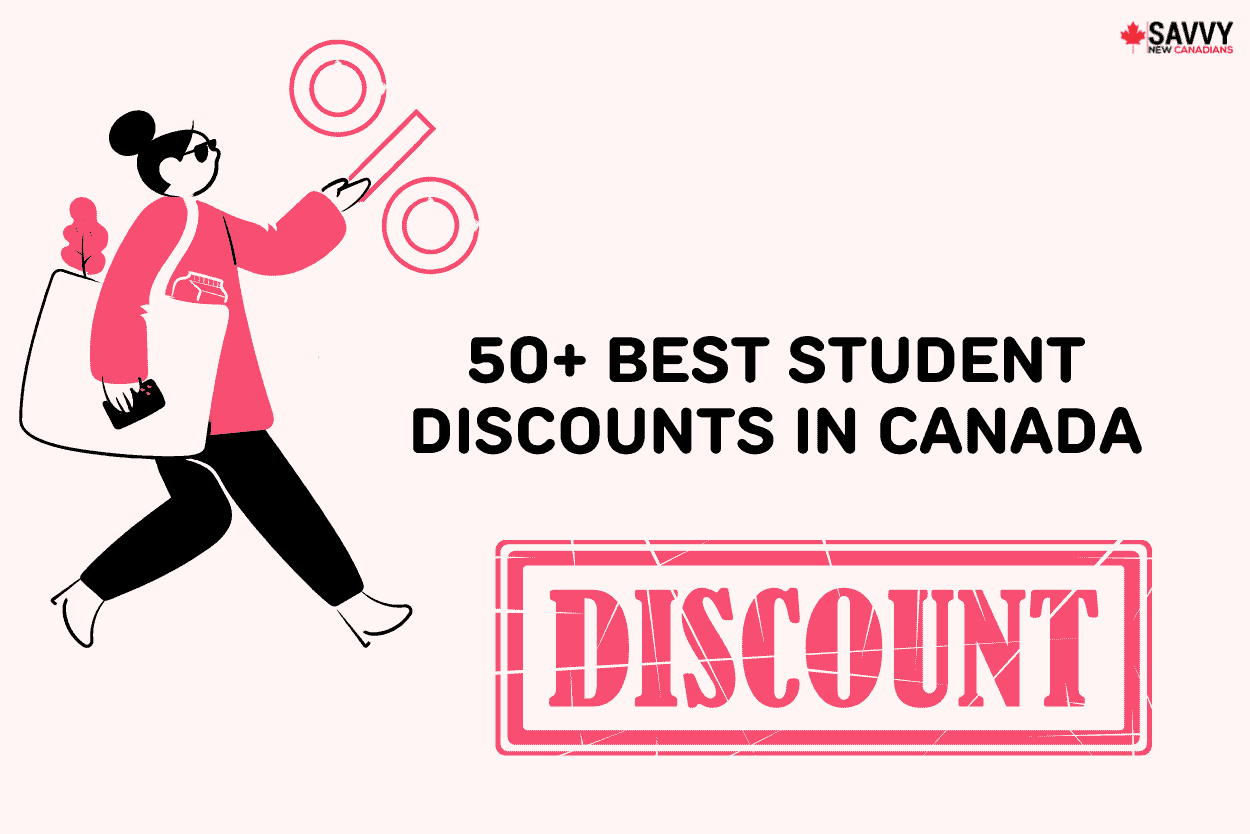 Restaurant Student Discounts
Some top restaurant chains offer discounted prices for students. Check out a few below.
Bulk Barn: Receive a 15% discount every Wednesday. You must bring a valid student ID.
Pizza Hut: Students with SPC get 10% off regular-priced items for dine-in and takeout orders.
Burger King: With SPC, students get 10% off any combo meal at Burger King.
Aroma Espresso Bar: Students with SPC get 15% off their purchase of $10 or more before tax.
KFC: Receive 10% off any KFC Big Box Meal with SPC.
Dairy Queen: Students can sometimes get discount cards or purchase affordable Student Meal Deals.
Student Discounts for Entertainment
Some music and video streaming subscription services and top attractions offer discounted pricing for students.
Spotify: Students get Spotify Premium for only $4.99/month while enrolled in school. You'll need to verify that you're a student at the end of every period.
Apple Music: Students get Apple Music at a discounted rate for up to 48 months, plus Apple TV+ for a limited time.
Disney Plus: Through UNiDAYS, students get a subscription for $7.99/month, or they can save 15% on a 12-month subscription.
Amazon Prime: Students receive a free 6-month trial of Amazon Prime Student, then pay $4.99/month after. Prime Student includes Prime Video, Amazon Music Prime, Prime Gaming, and free shipping on all Amazon orders. Learn more about Amazon Prime and how it works.
Royal Ontario Museum: Students get general admission tickets for $18 with a valid student ID card.
Bata Shoe Museum: Students can buy tickets for just $8 with a valid ID card.
Student Discounts for Health and Fitness
It can be hard balancing school, fitness, healthy eating, and saving money. Check out the top student deals for health and fitness.
Hello Fresh: With SPC, students get 20% off one month of meals. UNiDAYS is also offering up to 25 free meals plus free shipping. Alternatively, you can save $80 on HelloFresh via this promotion.
Chef's Plate: Get up to 22 free meals through UNiDAYS, or get 50% off your first box, 25% off the second, and 20% off the third and fourth boxes with Student Beans. Alternatively, you can also save up to $159 on Chefs Plate via this promotion.
Rexall: Students save 10% on all regular-priced merchandise with an SPC card.
Beachbody: Students with SPC get a free 14-day membership of Beachbody.
Banking Discounts for Students
Some major banks like BMO and CIBC offer accounts with free, unlimited transactions. Below are some of the best deals.
Simplii Financial: Earn up to $700 cashback when you apply for Student Banking and sign up for a no-fee chequing account and a Simplii Financial Cash Back Visa Card.
With a student account, there are no monthly fees and no minimum balance; you get free access to CIBC ATMs and free daily banking. Here is a review of Simplii student banking.
CIBC: Sign up for a CIBC Smart Start (for students and youth under 25) or CIBC Smart for Students (for students 25 and older) bank account. They each have no monthly fees, free unlimited Interac e-transfers and debit transactions in Canada, and one free non-CIBC ATM withdrawal in Canada per month.
Students also get a free SPC+ account with CIBC. Learn more about CIBC chequing accounts.
BMO: Post-secondary students can open a student bank account and apply for the Student BMO CashBack Mastercard or student line of credit. BMO student bank accounts have no monthly fees, 25 transactions per month, and unlimited Interac e-transfers.
Here's a review of all BMO chequing accounts.
Scotiabank: Sign up for a free Student chequing account called the Student Banking Advantage Plan. You get unlimited debit and Interac e-transfer transactions and can earn Scene+ points on debit transactions.
Here's a review of Scotiabank chequing accounts. You can also apply for a Scotiabank student credit card.
Student Credit Card Deals
Want to make some extra cash on everyday purchases? The credit cards below all offer cashback deals.
Tangerine Money-Back Mastercard: With this card, earn cashback on everyday purchases with no annual fee. Get up to 2% cashback in two Money-Back categories and 0.5% cashback on all other purchases. This card only requires a $12,000 annual income and a 600+ credit score.
Neo Mastercard: Sign up for this MasterCard to get an average of 5% unlimited cashback for shopping at various retailers across Canada. The Neo Card has no annual or over limit fees, and you can increase or decrease your credit limit when you need to.
KOHO Prepaid Mastercard: Students can sign up for this free spending and savings account and get a prepaid visa card to use for all purchases. Get 0.5% cashback on all purchases that you can instantly cash out.
Simplii Financial Cash Back Visa Card: Students can sign up for this card to get 0.5 to 4% cashback on all transactions, with no annual fee. You must have a minimum personal annual income of $15,000 to apply, and the purchase and cash interest rates are 19.99% and 22.99%, respectively.
Conclusion
With this list of student discounts in Canada, you can save on most areas of your spending. If you shop a lot, signing up for either the SPC or UNiDAYS memberships can come in handy, as they partner with many brands to bring you awesome student deals.
Remember that you'll often need to present your student ID to get the discounts, so keep it handy. If you know about any student discounts missing from this list, please leave them in the comments.
Related: