Working a 9-5 job isn't the norm anymore. Many people work in the gig economy as freelancers, and some even do odd jobs for cash. Using apps like TaskRabbit to find one-off gigs and make some extra money isn't uncommon.
TaskRabbit is a handyman service platform where you can do odd jobs and get paid. It can be a lucrative side gig or even a full-time job for some.
When people can't be bothered to do tasks themselves, such as yardwork, assembling furniture, or cleaning their house, TaskRabbit can help.
This TaskRabbit review covers how TaskRabbit works, how to become a Tasker, the pros and cons of using the platform, and more.
What is TaskRabbit?
TaskRabbit is a same-day service platform that connects people to Taskers, who help with odd jobs, errands, and more. It is a gig economy job that anyone can sign up for.
Founded in 2008, TaskRabbit is partnered with IKEA, which launched a furniture assembly service in 2018.
TaskRabbit isn't only for furniture assembly – Taskers can do a variety of odd jobs for cash, in categories including the following:
Handyman (home repairs, TV mounting, yark work, etc.)
Moving services (furniture movers, junk removal, heavy lifting, etc.)
Holiday help (Christmas tree delivery, holiday cleaning, gift wrapping, etc.)
Furniture assembly (bed, couch, dresser, bookshelf assembly, etc.)
Winter tasks (snow removal, winter yardwork, pipe insulation, etc.)
Yard work (lawn mowing, roof & gutter cleaning, tree trimming, etc.)
Cleaning (home cleaning, window cleaning, car washing, etc.)
Shopping & delivery (grocery shopping, errands, drop off donations, etc.)
Contactless tasks (delivery, virtual assistant, disinfecting services, etc.)
IKEA services (light installation, remove furniture, wall mounting, etc.)
Mounting & installation (shelf mounting, TV mounting, hang pictures, etc.)
This platform is available in over 45 cities in the US, Canada, and Britain. In Canada, it is available in Toronto, Vancouver, Montreal, Calgary, Edmonton, and a few other big cities.
Here is a list of all the cities TaskRabbit is available in Canada.
How Does TaskRabbit Work?
TaskRabbit Canada works a bit differently for Taskers and clients.
For Customers
You can use TaskRabbit to find local contractors for almost any tasks you need.
First, download the app and create an account. Search for a task you need to be done.
You can choose from a list of popular chores and submit your request. When doing so, you'll answer a few questions about the project, including your location, an estimate of how long it would take to complete, and other details.
From there, select a task, and you'll be connected to Taskers in your area. You can choose a same-day appointment or schedule it for a later date.
Once connected with a Tasker, you can chat with them, manage your booking in the app, and pay electronically when the task is complete.
TaskRabbit charges a 15% commission fee on top of the total price of the job, plus any taxes, depending on the Tasker's location.
For Taskers
Once you've signed up and are approved to become a Tasker on TaskRabbit (more details below), you can set up your profile for as many services as you'd like and set your rates for each service.
When someone in your area posts a task you're eligible to do, you'll get a notification from the app. You can accept the request and chat with the customer about the task and further details.
All communication and payments are done through the app. Once the task is completed, you'll be paid, and the customer can leave a review.
Taskers are paid by direct deposit into their bank account. Payments are generally approved 24 hours after finishing a task, though it can take up to 5 days for the payment to be deposited.
Taskers get 100% of their rate plus any tips. TaskRabbit does not take any service fees from Taskers.
How to Become a Tasker
To get started as a Tasker, download the TaskRabbit app and create an account. Build your profile and choose what services you'd like to provide.
Depending on your city, you may need to submit business verifications and background check documentation. You may also need to pay a city-dependant registration fee of $25.
Registration generally takes less than 4 days, and you can start tasking right away. Once you're approved, set your weekly availability. You can opt-in to receive same-day jobs.
You don't need experience for some jobs, such as deliveries or errands. For others, like home repairs or IKEA assembly, you should have some experience or be willing to learn the skills needed.
To sign up for TaskRabbit, you need to meet these requirements:
Be 18 years or older
Be eligible to work in one of the active cities
Consent to an ID check
Have a chequing account with a bank
Have an Android or iOS smartphone
Pay a one-time, non-refundable $25 registration fee
How Much Can You Make As a Tasker?
As a Tasker, you set your hourly rates. For a higher chance of landing jobs, you should look at the going rates for services in your area and base your rates on them.
Hourly rates vary based on location and task. For example, these are a few average hourly rates for tasks in Canada:
$26 per hour – running errands in Toronto
$32 per hour – cleaning in Vancouver
$27 per hour – IKEA assembly in Montreal
$20 per hour – waiting in line in Calgary
According to TaskRabbit spokesperson Kathryn Kelly, some taskers can make up to $150,000 per year, as they can make as much as they want to work.
So, it all depends on your location, the tasks you can do, and how much you want to work.
See how much you can make as a Tasker here.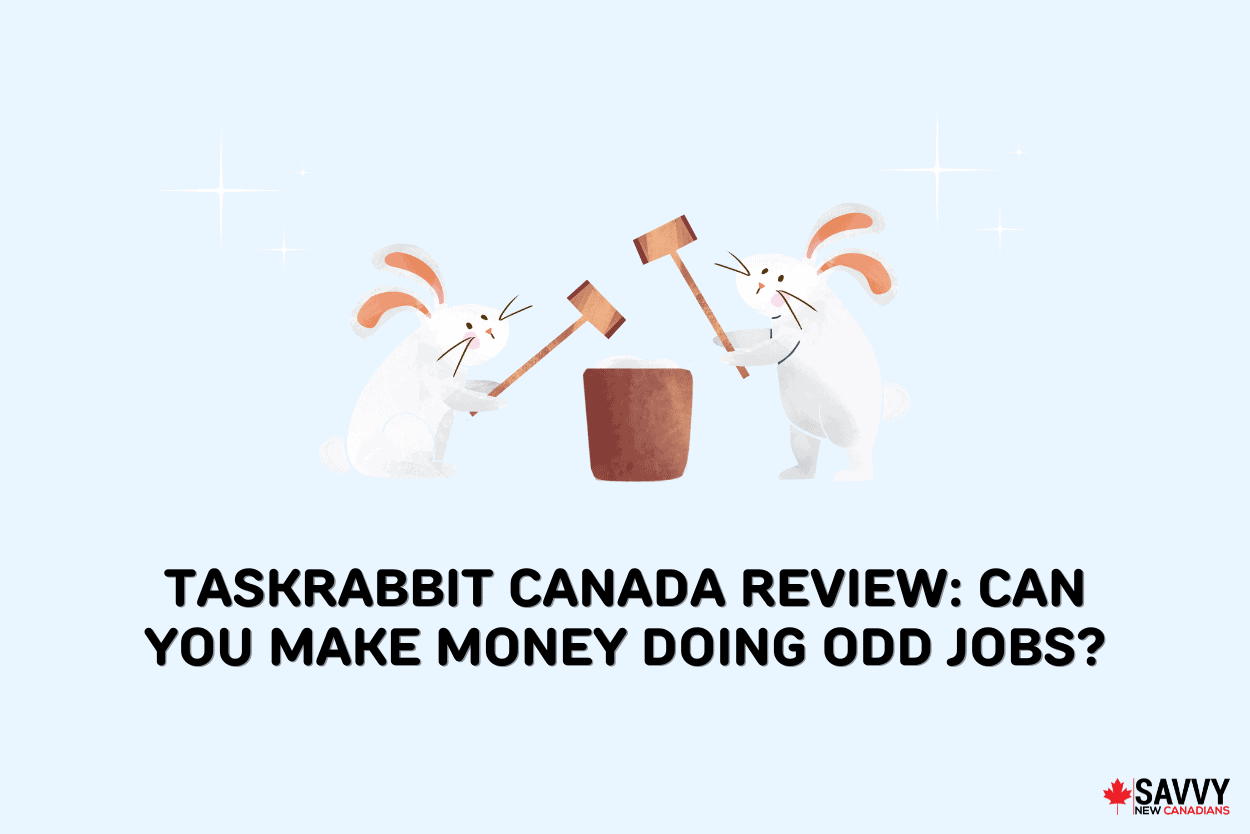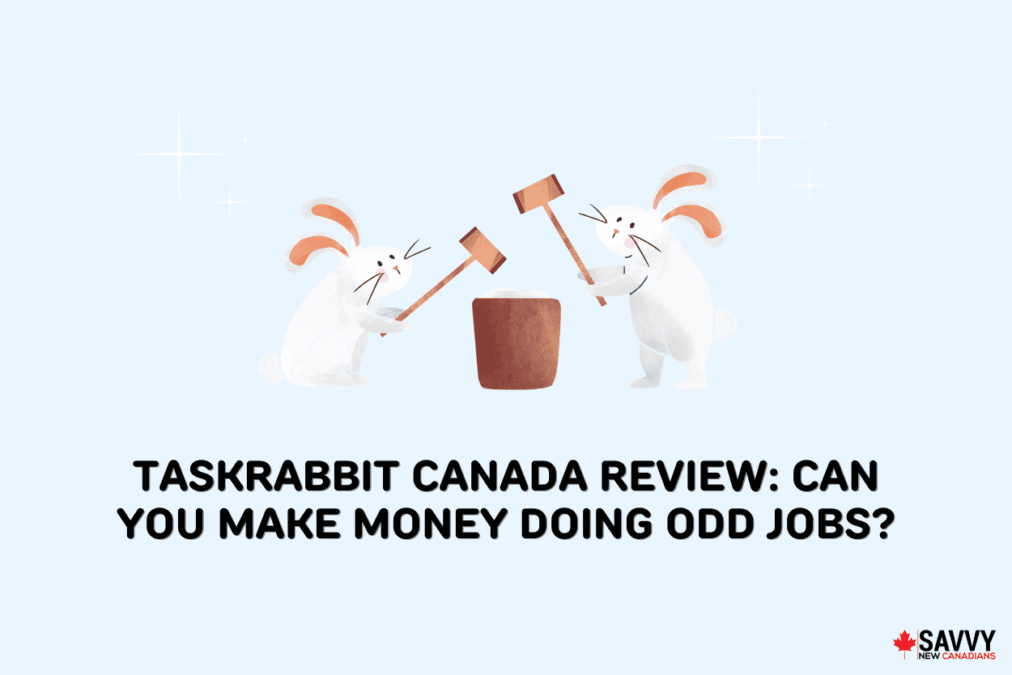 How to Earn More With TaskRabbit Canada
To attract clients, get tasks, and earn money, you need to have a strong profile. Be creative and describe what you offer and how you can help solve clients' problems. Mention your previous experience and qualifications.
During tasks, provide excellent customer service and be communicative. Be friendly when messaging clients, try to avoid cancellations, and show up on time. If clients are satisfied, you'll get good reviews and will be likely to be hired for more tasks in the future.
Once you have experience in certain categories, consider raising your hourly rate so that you can earn more.
If you aren't invited to tasks, try adjusting your rates, availability, categories, and work area. Ensure your profile showcases your services and why you're qualified to do them.
TaskRabbit Pros
Some pros of TaskRabbit include:
No commission fees for Taskers
You can work as much as you want and do tasks according to your schedule
You set your own hourly rates
No matter your skills, Taskers are likely to find gigs they can complete
Easy-to-use platform
TaskRabbit Cons
As with any other gig economy app, the cons of TaskRabbit include:
Not available in most cities; only in big cities like Toronto and Vancouver
Taskers pay a $25 registration fee
Clients pay a 15% commission fee on top of the total price
Some tasks are low-paying
TaskRabbit Canada Alternatives
If you're looking for an alternative, these are some apps like TaskRabbit for making money:
TaskRabbit vs Thumbtack
Thumbtack is another gig economy app similar to TaskRabbit; however, it is only available in the US.
On this app, clients search for projects they need to be completed and browse through profiles of Pros who can do these tasks.
Some home services include roofing, moving, handyman services, plumbing, general contracting, painting, and more. Clients can also hire attorneys, app developers, personal trainers, DJs, photographers, and more.
Clients search for a service on the app, then they are directed to a list of qualified Pros in their area. They can filter through that list and decide who they want to contact for a quote.
It is free to list services on Thumbtack as a Pro. However, you pay for credits that you use to obtain leads on the site. If a client sees your profile and communicates with you, you must spend the credit, which costs $1.50 each.
Thumbtack sets the prices and updates them every week, meaning Pros cannot set their own hourly rate.
TaskRabbit vs DoorDash
DoorDash is a popular food delivery app in Canada. You can sign up to be a delivery driver, or Dasher, and deliver orders placed near you.
As a delivery driver, you drive to the restaurant, pick up food orders, and deliver them to customers. Like Uber, the app has a navigation system that you follow to the customer's address.
After dropping off the order, you get paid directly in the app. Dashers don't set their hourly rates but are paid a base of $2 to over $10 for each delivery completed, depending on the distance, time, and desirability of the order. You get paid 100% of the delivery fee plus tips.
DoorDash Dashers are paid an average of $24.70 per hour in Ontario.
The requirements to become a Dasher are as follows. You must:
Be at least 18 years old
Have an iOS or Android smartphone
Own a car, scooter, or bike
Have a valid driver's license and at least one year of driving experience (if using a car)
See our DoorDash driver review or sign up here.
TaskRabbit vs Uber
Uber is another gig economy app where you can provide rides for people to earn money.
As an Uber driver, you get notified when customers request a ride around your location. If you accept the request, you pick up the rider and take them to their destination while following directions on the app.
Uber drivers make an average of $19.14 per hour or $37,323 yearly, according to Talent.com. The rate varies by location and time of day, but Uber sets the rates, not you.
The requirements to become an Uber driver are more strict than TaskRabbit. You must:
Be 21 years or older
Hold a valid driver's license
Be authorized to work in Canada
Have at least one year of driving experience
Submit a criminal background check and/or attend city-mandated training
Vehicle and driver requirements are different for each province in Canada.
Take a look at our Uber Driver Canada Review.
Is TaskRabbit Worth It?
TaskRabbit is a great app for finding odd jobs and making money from them. If you're particularly skilled at a certain handyman task, like helping someone move, painting a house, doing yard work, or any other task available on the app, then TaskRabbit can be a lucrative side gig.
There are so many categories of jobs available, so you are sure to find something that matches your skills.
You set your own schedule and hourly rate, so it can be easy to do a few jobs here and there if you have a busy schedule.
However, TaskRabbit is only available in major cities, so it probably won't be worth it if you don't live in a big city. There may also be competition from other Taskers, depending on your location and experience level.
FAQs
Is TaskRabbit legit? 
Yes, TaskRabbit is a legitimate platform that connects Taskers to people who need odd jobs done. It has a rating of 3.6 on Trustpilot with over 9,800 reviews. Although some TaskRabbit reviews are negative, it has been around since 2008 and has a reputation for being a safe app for gig work. 
How much do you make on TaskRabbit? 
TaskRabbit jobs pay an average of $20 to $60 per hour, but this number varies based on location, task, and previous experience. Taskers set their own rates, so it is up to them to choose their hourly rate. 
Is it worth paying for TaskRabbit? 
TaskRabbit charges a $25 registration fee in most cities but doesn't take any service fees from Taskers. If you live in a big city and offer multiple services, TaskRabbit is worth paying for. 
What kind of jobs are on TaskRabbit? 
TaskRabbit has over 50 jobs available. Taskers can do various odd jobs in categories like yard work, handyman, moving services, and more. 
Can you live off TaskRabbit? 
It all depends on your hourly rate and how many tasks you take on per day, week, or month. On TaskRabbit, you can work as many or as few hours as you want and can do any tasks you're qualified for. 
How long does it take to get approved for TaskRabbit? 
As per their website, it typically takes 4 days or less for registration and to be approved. Once approved, you can start working right away. 
Can anyone work on TaskRabbit?
Yes, anyone can work as a TaskRabbit handyman. Some gigs, like waiting in line or grocery shopping, require no previous experience, while others do. There are many different jobs available, so you're likely to find one that fits your skills.
Related: