There are many ways you can make $2,000 fast online, in-person, and just by being creative. In today's age, there's no shortage of ways to make money. If you look in the right places and use your skills, you won't have a problem.
You can pursue many side hustles, such as taking on odd jobs, walking dogs, babysitting, tutoring people online, and even renting out your car.
If you want to learn how to make $2,000 fast within a day, week, or month, read on to find out 30+ legit ways to do so. 
How To Make $2000 Right Now
If you're in a pinch and need to find out how to make $2000 fast, here are a few options you could try.
Some of these ideas, like taking out a loan or withdrawing money from a savings account, should only be done if you absolutely need to, as you may have to pay a high interest rate.
Ask family and friends for a loan
Asking people close to you for money can be difficult or awkward. However, if you explain your situation, they will likely understand and loan you the money if they know you will pay them back.
You could offer to pay them back with interest or do some work for them around the house so that you're essentially earning some of it upfront.
Take out a loan from a lender
Taking out a personal loan from an online or in-person lender is a good way to make $2,000 in a day. If you have a good credit score, you could take out an unsecured loan from a company like LoanConnect or Loans Canada. If approved, you could get the funds within just a day.
Keep in mind that you will have to pay back the money with interest, but it's an easy way to get money fast.
Here are some of the best unsecured personal loans in Canada. Or, if you have a low credit score, you could get an emergency loan for bad credit.
Withdraw money from a savings account
While this isn't ideal, if you have money stored in a savings account and you absolutely need 2,000 dollars now, it is one of the best options you have.
Just keep in mind that some savings accounts, like RRSP, make you pay a penalty if you withdraw money too early.
Trade cryptocurrency
Trading crypto is a highly volatile market, but if you have experience with it and can play the market right, it can be a good way to make $2,000 fast. 
Here are some guides on how you can buy crypto. These are some of the best crypto exchanges.
Take out a cash advance from your credit card
If you're wondering how to make 2000 dollars quickly, this is one the fastest ways to do so.
It's easy, but the interest rate for most credit card funds advances is higher than 20%, so just note that you'll have to pay it back later.
How To Make 2000 Dollars Online
There are so many opportunities to make $2,000 online. If you have some time, you can sell stuff you don't want, set up an online business, and find many types of jobs online.
Sell stuff you own
One of the fastest ways to make $2,000 online is to sell stuff you own but don't wear or use anymore. Try selling clothes, electronics, furniture, books, and anything else you don't need anymore on sites like eBay, Kijiji, or Facebook Marketplace.
If you're selling an in-demand item like an up-to-date laptop, the higher chances of it selling fast.
Here are a few websites you could try selling things on.
Flip items for profit
This can take some time, but flipping items for profit can be a lucrative way to make money fast.
You can buy items for cheap at a garage sale or thrift store. Sometimes you can even find furniture or other household items on the side of the road still in good condition.
If you find things like chairs or tables and dress them up with a fresh coat of paint, they can look almost brand new, and you can make a decent profit.
Set up an online business
If you have more than a few weeks, you could set up an online business like an eCommerce store or advertise your services online.
It can take a little while to get up and running, but once you are, it can be quite profitable. One of the best eCommerce platforms to get started with is Shopify.
Become a delivery driver
It is quite easy to sign up to become a delivery driver for platforms like Uber, UberEats, DoorDash, and SkipTheDishes. You can drive people around on Uber or Lyft, or skip the small talk and deliver food to customers.
On most apps, you can cash out your earnings whenever you want with a low minimum threshold. You can easily make $2,000 in a week or even less if you work hard.
Check out these articles for how to become an Uber driver or DoorDash driver.
Take on odd jobs
Do you like walking dogs? There's an app for that! You could try Rover, a dog walking and pet sitting app. You could get paid up to $30 for a one-hour walk or $35 to $70 for pet sitting. You pay a 20% fee to Rover, but the rest is yours.
You could also try Instacart to make money buying people's groceries or TaskRabbit to complete handyman odd jobs.
Rent your car
If you have a car sitting in your garage collecting dust, why not rent it out to earn some extra cash?
Apps like Turo and GetAround let you list your car and make it available for people to rent. Setting up a listing is easy. On average, people make over $1,000 per month on Turo. Check out this calculator to find out how much you can earn.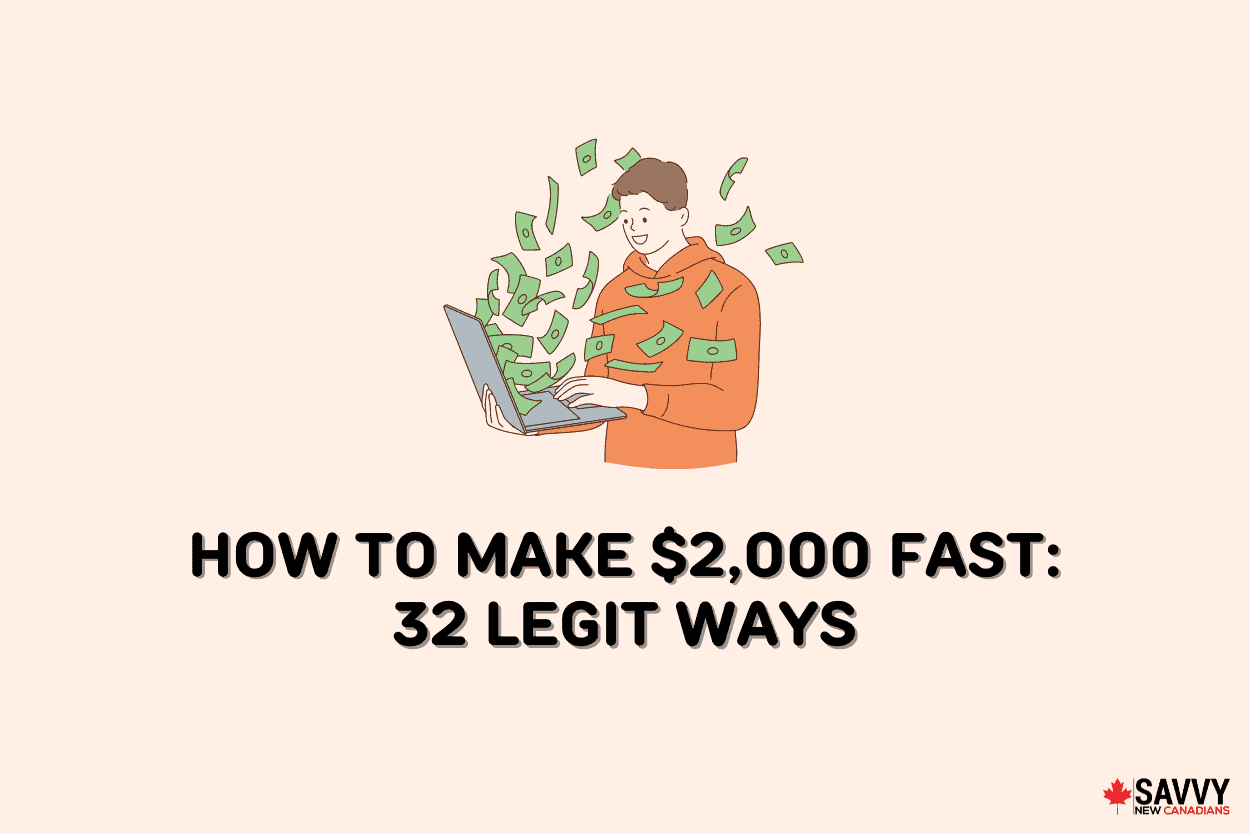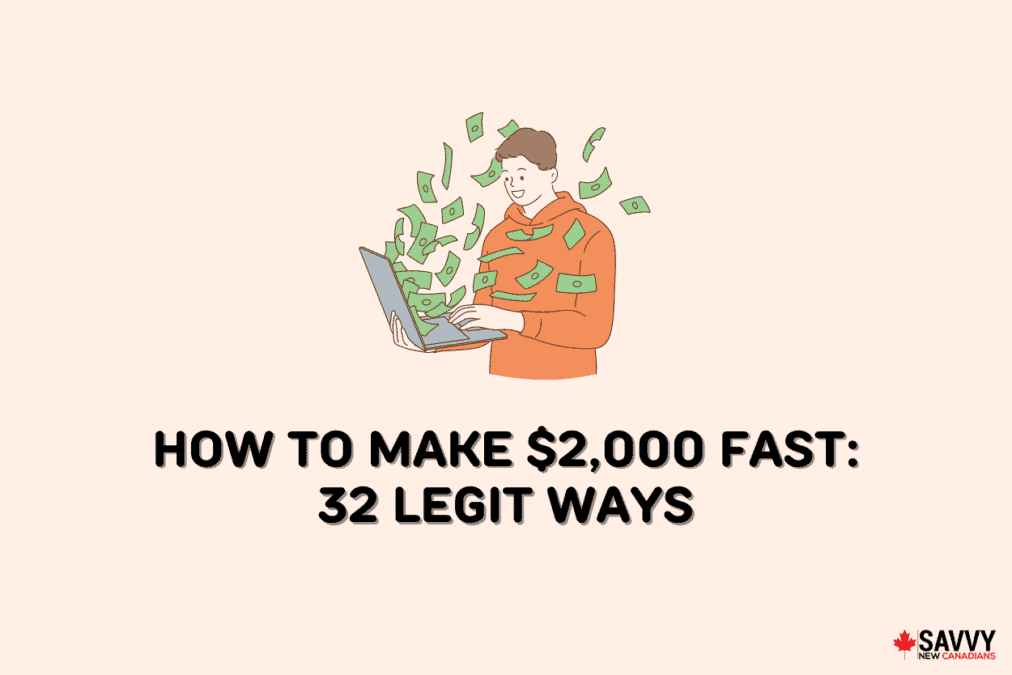 Tutor online
There is always a demand for online tutors, either freelance or through a company like Magic Ears or VIPKid. 
If you're proficient in a certain subject and like teaching others, this is a great way to make $2,000 online.
Depending on the subject and company, you could earn up to $25 to $30 per hour, which could earn you a lot if you tutor for a few hours every day.
Create an online course
If you have knowledge of a specific topic that you think people could benefit from learning about, you could spend a few days or weeks creating an online course, then selling it on platforms like Udemy, Teachable, or Skillshare.
There is really no cap to the amount of money you can make through creating and selling online courses. Some of the most successful online course creators can make over $100,000 per year.
Start a blog
Starting a blog can take some time, but once it's set up, it can bring in passive income. Some common ways to make money from a blog include affiliate links, marketing, and on-page ads.
One of the best web hosting services is Bluehost. Check out our review here.
Become a freelancer
There are so many in-demand freelancer jobs available online, so you're sure to find something that fits your skill set.
If you don't have much experience, you could work as a virtual assistant, do data entry, or become a transcriptionist. They are all in-demand and easy to get started with.
Sites like Upwork and Fiverr are some of the best places to find freelance work online. It will take some time, but it can be profitable if you take on high-paying jobs and build a client base.
Here are some more websites and apps to find freelance work online.
How To Make $2000 Within a Week
If you're wondering how to make $2,000 in a week, we've got you – these are some of the best ways to make extra money fast.
Take online surveys
Sites like Swagbucks, Survey Junkie, and Pinecone Research allow you to take surveys, watch videos, play games, and more to earn points that can be redeemed for cash. 
Taking surveys won't make you rich or earn you $2,000 in a week, but if you do them in your spare time, it can add up and be a good way to put a few extra dollars in your pocket.
Check out this list of the best sites to take surveys for money in 2022.
Work more shifts at your current job
Assuming you have a full- or part-time job, taking on extra shifts at your workplace is one of the easiest ways to make money in a short period.
If you get paid weekly or biweekly, working extra shifts can make quite a difference in your paycheque.
Ask your neighbours if they need anything done around the house
Work and money could be waiting for you if you just ask for it. Often, neighbours will have work that needs to be done around the house that they would rather someone else do.
You could mow the lawn, clean their house, water their garden, and more.
Babysitting
If you live in a residential area, there are likely babysitting jobs available. You could find jobs on social media, on Facebook groups, or even by asking around.
The average salary for babysitters in Canada is $15 to $17 per hour, but you can set your own rates and potentially get paid even more.
Other Ways To Make $2000
A few other ways to make $2,000 in a month or even in a week include:
Have a garage sale – sell anything and everything you don't need. Sometimes, you can be surprised as to what people want to buy.
Sell clothes on apps like Poshmark and Depop – clothes can take a while to sell, but once they do, you can make a pretty penny.
Invest in the stock market – it isn't the easiest way to make 2000 dollars, but here is a guide on how to buy stocks for beginners.
Get a second job – either in-person or online. Sometimes it can be faster to land a job in-person if places are hiring urgently.
Rent a room in your house – if you have an extra room, you can advertise your space on Airbnb and rent it out to people looking for short or long-term stays. Do your research on how much to charge, how much time you'll need for cleaning, and who can live in your space.
How To Make $2,000 Fast As a Kid
You're not old enough to get an "official" job as a kid, so here are some ways to make $2000 fast.
Find things around your house to sell – you can sell anything from toys to books to clothes you've grown out of or don't use anymore.
Start a YouTube or Twitch channel – If you like gaming, vlogging, or talking about a specific topic, you can start a channel. Many kids have started YouTube and Twitch channels.
A good example of this is Ryan Kaji, who stars in a channel called Ryan's World. He is only six years old, and he makes about $30 million a year reviewing children's toys.
Set up an old-fashioned lemonade or cookie stand – if your parents are having a garage sale, why not try selling something? On a hot day, you can sell drinks like lemonade and juice for a few dollars each or delicious homemade baked goods.
What If I Need 2000 Dollars Right Now?
If you need $2000 right now or by tomorrow, these are your options:
You could overdraw your credit card. This isn't the best idea, so only do this if you have no other options. You'll probably have to pay high interest rates for doing this, and it can affect your credit score.
Donating plasma is another option. Blood donors are always needed, and if you fit the requirements, you can go in for an appointment, donate blood, and get paid right away. You won't earn $2,000 doing this, but it is a good way to get about $30 to $60 fast.
You could clean people's homes. For just a few hours of work, you'll likely get paid right away. If you know the person, you could negotiate your rate and try to get as much as $2,000.
If you're really in need of the money and have no other options, selling your car can be a good way to make money fast.
Lastly, selling expensive possessions like jewelry, watches, or electronics can make you $2,000 or more in a short period of time.
FAQs
How can I make $1,000 a week at home? 
Combining any of the above ways to make money can earn you $1,000 or even more per week. Consider becoming a freelancer and working online, as many in-demand freelance jobs are available right now. 
How can I make $5,000? 
You can make $5,000 in any number of ways on this list. The fastest way to do so is through a loan, but you can take on odd jobs or sell your services online as a freelancer. 
How can I make $10,000? 
If you want to make $10,000 fast, you need to combine a bunch of things on this list. You could rent out your space on Airbnb, do online jobs, tutor people, become a delivery driver, and more. 
How can I make $1,500?
The fastest way to make $1,500 is by combining a few different side hustles. You could walk dogs on Rover, pick up extra work shifts, flip items for a profit, and tutor people online. 
Related: