Millions of people work remotely, either for a company or freelance. Freelancing is a great option as it allows you to make money from home while working on your own schedule.
There are many different freelance websites, such as Upwork, Freelancer, and Fiverr. But which one is the best?
Upwork is one of the largest online freelance platforms, with millions of registered users.
This Upwork review for freelancers details how Upwork works, what jobs you can find, Upwork alternatives, and the pros and cons of using the platform.
What is Upwork?
Upwork is an online freelance platform connecting clients to freelancers. They are the world's largest freelance talent marketplace, with over 12 million registered freelancers and five million clients.
With Upwork, freelancers can find work in over 2,500 different skill categories, such as website and app development, finance and accounting, design and creative, writing, and translation.
Upwork allows freelancers to work anywhere in the world on virtually any project.
How Does Upwork Work?
Upwork is similar to a few other freelance websites like Freelancer and PeoplePerHour. If you are a freelancer or a recruiter, Upwork works a bit differently.
For Clients
Clients sign up to the platform, post a description of a job and the price range they are willing to pay for the freelancer to complete the project.
Clients can invite specific freelancers to apply for the job or make it public for anyone to apply.
Freelancers respond to the job posting, and if chosen by the client, they are interviewed and likely hired.
For Freelancers
Freelancers apply for jobs by submitting a proposal or accepting an invitation to interview.
Once the client chooses a freelancer, they can conduct an interview, discuss the job, and hire the freelancer.
Once hired, the freelancer gets a contract with set hours, pay rate, and deadline for completion.
How To Sign Up For Upwork as a Freelancer
To create an account on Upwork as a freelancer, follow the steps below:
Go to Upwork.com and click "Sign Up."
Use your work email address, Google, or Apple account.
Add your personal information, such as your first and last name, location, and password. Indicate that you want to work as a freelancer.
Once you've inputted all your information, select "Create My Account."
Start filling out your Upwork profile. You need to complete at least 60% of your profile before applying for jobs. Add a profile photo, job title, overview, work history, and at least one skill tag. Highlight as many as ten relevant skills from Upwork's list and choose up to four work categories.
Fill out your educational background (optional), past work experience, and language proficiency.
Set your hourly rate (which can be adjusted at any time).
Verify your identity, preview your profile, and submit it.
Optionally, you can complete an Upwork readiness test covering the best practices and safety tips for building a successful business. You will be eligible for the Rising Talent Program if you pass it.
You can view a more detailed guide on how to sign up for Upwork as a freelancer here.
What Freelancer Jobs Can You Find on Upwork?
With more than 2,500 skill categories, there are many different types of jobs available.
Just a few of the many skill categories include writing, website development, customer service, virtual assisting, marketing, and more.
The projects can be short-term, long-term, hourly, or fixed-price contracts.
Upwork Fees
Freelancers pay service fees per client, whereas Upwork is mostly free for recruiters.
Freelancer Fees
It is free to join Upwork, but you can upgrade to Freelancer Plus to market yourself more effectively, submit proposals, and stand out for USD$14.99/month.
There is a service fee per client, depending on your earnings. The fee structure is as follows:
$0-$500 – ​​20% service fee
$500.01-$10,000 – 10% service fee
Over $10,000.01 – 5% service fee
Upwork also takes a $0.99 fee for every withdrawal you make to your bank.
Client Fees
Upwork charges a 3% fee on all payments, which goes toward payment processing and administration costs.
You can also pay for an optional Upwork Pro account, where a team of experts will screen candidates based on your project requirements.
How To Make Money on Upwork
To make money on Upwork, you apply to jobs that are either public or that you have been invited to by a client. You can choose to work on hourly or fixed-price projects, either short- or long-term.
You can make as much money as you want on Upwork, depending on how many projects you work on, the pay rate, the client, and other factors.
You'll get paid after you, and the client review the work, ten days after the billing period ends or when the milestone is completed (for fixed-price projects). You can get secured payments through direct deposit, wire transfer, or PayPal.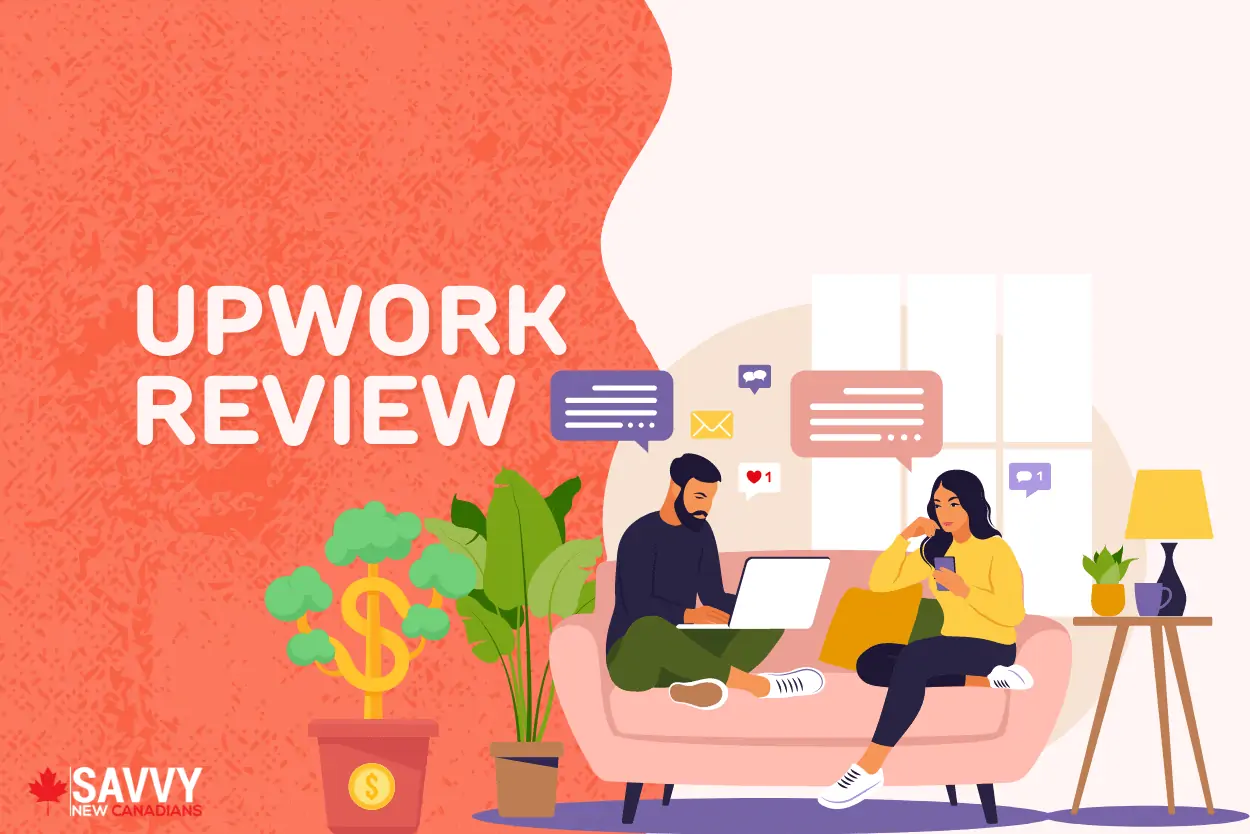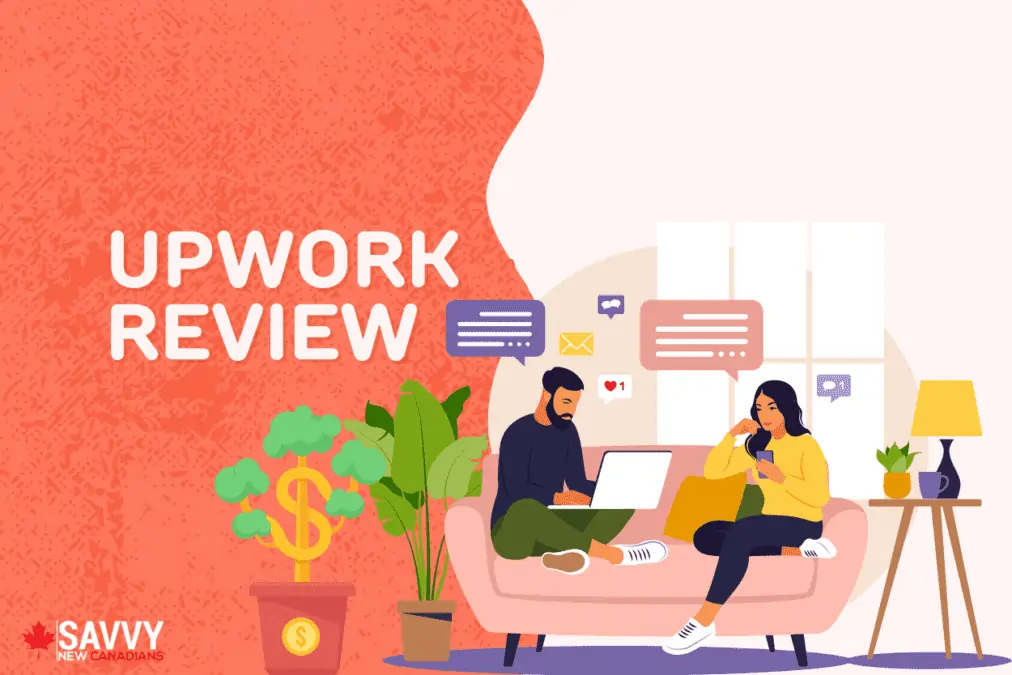 Is Upwork legit?
Yes, Upwork is legit. It is one of the largest freelancing platforms in the world, with an estimated 18 million freelancers.
There are very few Upwork scams. The Upwork team is quick to remove clients and freelancers who go against their Terms of Service, such as clients who try to get free work.
Upwork has Payment Protection, which means an hour worked is an hour paid. It adds a level of security to payment processing for hourly and fixed-price projects.
Pros and Cons of Upwork
Upwork is a great place to make money from freelancing, but there are pros and cons, as with any other website.
Pros
Lots of work available with many jobs posted every minute
Higher paying projects compared to many other sites
You will often get hired quickly
Payment protection – an hour worked is an hour paid
Cons
Hefty fees of 5-20% per client
It can be difficult to get your first client without any experience or reviews on your profile
Many clients have small budgets and may underpay you
Upwork Alternatives
Upwork is one of the largest freelancing platforms, but Fiverr, Freelancer, Toptal, and PeoplePerHour are four of Upwork's biggest competitors. Below is a short comparison between them and Upwork.
Upwork vs Fiverr
Fiverr is an online marketplace for freelance services, with many freelancers pricing their work starting at $5. It has a slightly different business model than Upwork.
Fiverr is different from Upwork in that freelancers don't apply for jobs posted by clients. Instead, freelancers create a "gig" detailing the service they offer.
They can create different packages with three different pricing tiers, each providing a higher level of service.
Upwork vs Freelancer
Freelancer is very similar to Upwork in that it is a platform connecting freelancers to clients.
Clients post jobs, and freelancers bid on them in a similar way to Upwork. There are over 1,800 skill categories on the site.
Upwork is generally preferred by freelancers, as it has higher quality jobs and better-paying clients.
But if you are just getting started, Freelancer can provide you with some great opportunities.
Upwork vs Toptal
Toptal is an exclusive network with only the top 3% of freelance software developers, designers, finance experts, product managers, and project managers.
Only freelancers with 2-3 years of experience in certain job categories can apply, and not everyone is accepted.
On Upwork, everyone can apply for jobs no matter their skill level. If you are a professional in any of the abovementioned roles, Toptal may be better for you than Upwork.
If you are just getting started freelancing or are not an expert in those categories, Upwork will likely be a better fit for you.
Upwork vs PeoplePerHour
PeoplePerHour is similar to Upwork as it is an online freelance marketplace used by over a million businesses worldwide.
Once your application is approved, you can apply for jobs just as you would on Upwork.
The difference between these two platforms is that Upwork accepts highly skilled and experienced freelancers, whereas PeoplePerHour accepts beginner and intermediate-level freelancers.
There is higher competition, and more jobs are posted on Upwork.
Related: Jobs Like Instacart in Canada.
Upwork Canada FAQs
Is Upwork free for freelancers?
Upwork is completely free to sign up, create a profile, and apply for jobs. However, they take a service fee per client, depending on your earnings.
Is Upwork good for beginners?
Upwork can be good for beginners looking to kickstart their freelancing career as you can browse millions of jobs and apply to whichever ones suit you best. However, there is huge competition, and to start making decent money, you need to have experience on the platform.
How much do Upwork jobs pay?
The amount you can earn from an Upwork job varies greatly depending on the type of job, your experience, the client, and many other factors. According to a study commissioned by Upwork, freelancers in the US earn an average of $20 per hour.
How do I withdraw money from Upwork?
To withdraw money from Upwork, follow the steps below: Go to Settings > Get Paid. Click on the Get Paid Now button. Choose the amount to withdraw. Click on Get Paid Now.
What skills are sought after on Upwork?
The most in-demand skills on Upwork are in the technology, marketing, and customer service sectors. These skills include machine learning, automation, data analytics, mobile application, video production, SEO, and more.
Is Upwork worth it?
Yes, many people say that Upwork is worth it. Although there is a large competition for new freelancers, there is a huge earning potential once you've completed a few projects. Some experienced freelancers report earning $20 to $60 per hour.
How does Upwork make money?
Upwork makes money by taking a service fee from freelancers and through premium subscriptions. Both freelancers and clients can upgrade to a monthly Freelancer Plus or Upwork Pro subscription.
Conclusion
Upwork is a great freelancing platform with a lot of opportunities. There are many different jobs available, and there is a huge earning potential for freelancers of all skill levels.
As much competition as there is on the platform, many people consider Upwork worth it.
Related: