Becoming a rideshare or delivery driver can be quite appealing for those who want to make an extra income. Popular ride-sharing apps like Uber and Lyft are available in many Canadian cities and are always accepting new driver applications.
In the past few years, many people have started a side hustle driving for Uber, and it's even a full-time job for some. Becoming an Uber driver won't make you rich, but it can be profitable if you provide rides during peak and surge times.
If you're thinking of becoming an Uber driver, this Uber Driver Canada review will give you insights into how it works, how you can become an Uber driver, along with the requirements by province, some pros, cons, and tips on earning more.
What is Uber Canada?
Uber is one of the most popular ridesharing and delivery apps. It works like a taxi in that users tell the driver where they want to go, and they are taken to their destination. Everything is done on the app, including payments, tracking the driver's location, and ratings.
As a driver, you can deliver food for Uber Eats or drive users to their destinations.
Founded in 2009, Uber started operations in San Fransisco and has since expanded to other cities worldwide.
Uber Canada is available in many big cities like Toronto, Vancouver, Montreal, Edmonton, and Ottawa and has plans to expand its services.
How Does Uber Work?
Uber works a bit differently for riders and drivers. Below is a brief explanation of how it works for each.
For Riders
After creating an account on the Uber app with their phone number and email address, users can request rides in their city. To do so, they can enter their destination in the "Where to?" box. They'll confirm their pickup location and will be matched with a nearby driver.
Riders can track the driver's location in real time on the map. They can see the driver's name, car model, license plate, and estimated arrival time.
When they arrive, riders meet the driver at the pickup location and check to ensure they are getting in the right car with the right driver by matching what they see with the description in the app.
The driver will take riders to their destination, which they can track via the app. Upon arrival, riders can rate the trip and give an optional tip. The payment will automatically go through their linked credit or debit card.
For Drivers
Drivers use the Uber Driver app, which is different from the app riders use.
Once a user requests a ride, nearby drivers get notified and can choose to accept the ride request. Once accepted, drivers go to the pickup location and pick up the rider.
After verifying each other's names and the destination, the driver starts the ride. The Uber Driver app gives turn-by-turn directions on how to get to the destination.
At the end of the trip, drivers can rate the rider from one to five stars and may receive an optional tip and compliment from the rider.
How to Become an Uber Driver in Canada
To become an Uber Driver in Canada, you must:
Be 21 years of age or older
Have a valid driver's license issued by the province
Have proof of residency in your city or province and be authorized to work in Canada
Have at least one year of driving experience
You may also have to submit a criminal background check and/or go through city-mandated training. You should also have the following documents in your vehicle at all times when driving with Uber:
Driver's license
Vehicle registration
Proof of insurance
Safety Standards Certificate (SSC)
Uber Driver Requirements in Canada by Province
Uber has different requirements to become a driver across Canada. Below is a summary of what you need to become an Uber driver in each province.
Uber is not yet available in Prince Edward Island, Newfoundland and Labrador, Yukon, Nunavut, and the Northwest Territories.
Alberta
Uber Drivers must have a valid Alberta Class 1, 2, or 4 driver's license and an eligible vehicle less than 10 years old. The car must have 4 doors with at least 5 seatbelts and pass a vehicle inspection.
Depending on the city, drivers may need to undergo background screening. Drivers need proof of work eligibility, vehicle insurance, and a Class 1-55 vehicle registration.
British Colombia
Drivers in BC must have a Class 1, 2, or 4 driver's license, vehicle insurance, proof of eligibility to work in the province, and an eligible vehicle under 9 years old. It should have 4 doors and 5 seats.
A background check and a commercial vehicle inspection are required.
Manitoba
Drivers must hold a valid Class 1 to 5, 5F Manitoba driver's license or equivalent and proof of work eligibility. Safety screenings are required, including a Driver's Abstract, Police Information Check with Vulnerable Sector Check, and a Child Abuse Registry application.
The vehicle should be no more than 10 years old, have 4 independently opening doors, have no commercial or Uber branding, and pass a Certificate of Inspection.
Drivers must also have Passenger Vehicle for Hire coverage insurance in all 4-time bands.
New Brunswick
Uber has only just become available in Moncton, NB, and driver requirements are still a bit vague.
According to legislation, drivers must undergo a driving record check, hold a Class 4 license, and have a clean driving record.
Nova Scotia
Drivers in Nova Scotia must have a 4-door vehicle no older than 9 years and be registered in the province. They must have at least 3 years of driving experience and a Nova Scotia class 1, 2, 4, or 4A license.
Drivers must upload their Nova Scotia Vehicle Permit and Certificate of Automobile Insurance, which should be an SPF 1 Automobile Insurance Policy.
The Uber sticker must be displayed on the bottom right side of the rear windshield when drivers are online. They also need to provide proof of work eligibility and pass background checks.
Ontario
Drivers in Ontario must have a valid Ontario G driver's license, proof of work eligibility, vehicle insurance, and registration. Depending on the city, drivers may need to undergo background screening.
The vehicle should have 4 doors and be 10 years old or newer, except in Toronto, where it should be no more than 7 years old.
Quebec
Uber drivers in Quebec must have a Class 5 or lower Quebec driver's license. Drivers must undergo a background check and have a clean driving record for the past 3 years.
Vehicles over 4 years old must pass a vehicle inspection. All vehicles should be registered in the province and have specific insurance for Uber and a personal insurance policy.
Drivers must partake in a 15-hour training program and have a GST-QST tax number.
Saskatchewan
Drivers in Saskatchewan must have a Class 5 or equivalent driver's license, along with proof of work eligibility, insurance, and vehicle registration. They must undergo a criminal check and background screenings.
Vehicles should have 4 doors with at least 5 seatbelts and be no more than 10 years old. They must pass a Light Vehicle Inspection by a licensed mechanic.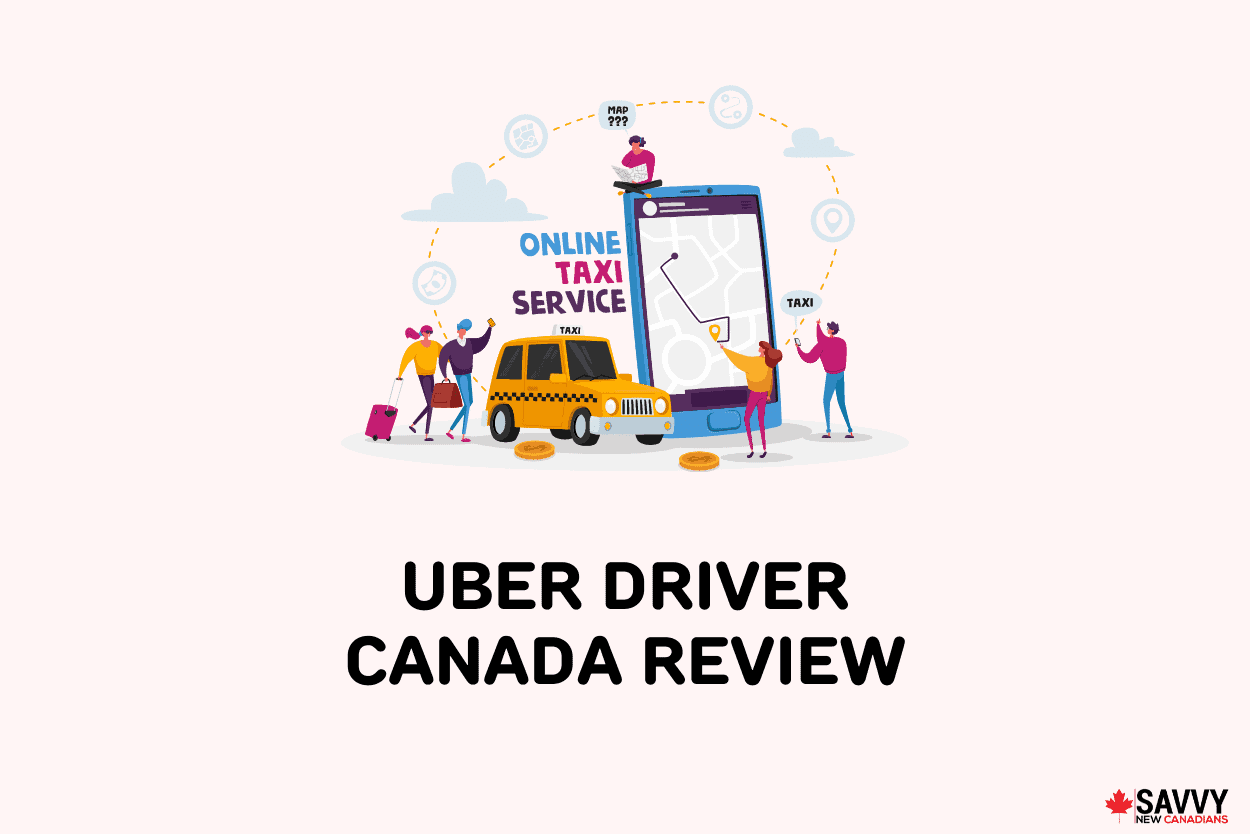 How Much Does an Uber Driver Make?
The average Uber driver's salary in Canada is $37,323 per year or $19.14 per hour as per Talent.com.
Ultimately, how much you can make as an Uber driver depends on a few factors, such as the city you're in, how many hours and days per week you work, the time of day, and more.
For example, an Uber driver in Vancouver makes an average of $24.38 per hour, while drivers in a rural city can make much less.
Uber does not state exactly how much you can make per trip or hour; however, each city has a minimum amount you'll earn for each trip.
Drivers earn a standard fare for every completed trip and can earn more with surge pricing at certain times of the day.
Uber takes a 25% fee plus sales tax on all fares. Drivers get to keep 100% of any tips they earn.
Pros of Uber Canada
As an Uber driver, there is no limit to the number of hours you can work or the rides you provide. The more you work, the more you can earn. You can also earn more with surge pricing and knowing when the peak times are.
Uber drivers can also sign up for Uber Eats, so they can have more options in terms of what they deliver and how much they can earn.
At the end of your driving period, your Uber driver pay automatically gets deposited into your account, so you don't have to wait days for payments to process.
Cons of Uber Canada
In big cities like Toronto and Vancouver, Uber can be competitive as there are often many drivers waiting to accept rides. On the contrary, Uber is unavailable in many smaller cities and towns.
When you sign up to become an Uber driver, you must pass background checks and ensure your vehicle, license, and registration align with the province's standards. It can be a long process, and you may also need to undergo some training.
Uber also takes a 25% fee on all fares and does not mention exactly how much you can make before signing up and accepting rides.
Tips on Earning More as an Uber Driver
You can earn more at certain times of day with Uber driver promotions like Surge Pricing.
During busy times, red, orange, and yellow spots appear on the map. To earn elevated fares with surge rates, drive to the coloured areas, stay online, and accept trips.
You can also make more as an Uber driver if you know when popular events are happening in your city and what the popular destinations and peak times are.
If you're around popular areas, you can accept many trips in the same area and make the best use of your time.
Uber Driver vs Uber Eats Driver
UberEats Canada is a top food delivery platform owned by Uber. Instead of giving people rides, you pick up food from a restaurant and deliver it to customers.
Uber Eats drivers earn a set amount per delivery and get to keep 100% of the tips they earn.
You can deliver food with Uber Eats by car, bike, or foot. The requirements to sign up differ by province.
Become a Delivery Driver With Uber Eats
Uber Eats is one of the best food delivery platforms available in thousands of cities worldwide.
You can sign up to become a delivery driver with Uber Eats if you have a valid driver's license, a 2- or 4-door car less than 20 years old, proof of vehicle insurance, and are at least 21 years old. You will also need to pass a background check.
You can deliver as many or as few hours as you want on your schedule and cash out earnings easily. You also keep 100% of the tips you get. This side gig is a great way to bring in extra income.


Uber vs Lyft
Lyft is another popular ride-sharing app available in Canada and the US.
Drivers must pass two background checks, have a vehicle with 4 doors and a minimum of 5 seatbelts, hold a valid driver's license, have at least 3 years of driving history, and be 25 or older in most cities.
For riders, Uber is generally cheaper by $5-10 per trip. Drivers make around the same amount as Uber, with an average reported $20 per hour salary.
Uber vs DoorDash
DoorDash is a food delivery service in Canada, Australia, and the US. It works similarly to Uber Eats, where you drive to restaurants to pick up orders and deliver them directly to the customer's door.
To become a DoorDash driver, you must:
Be at least 18 years of age
Have an iPhone or Android smartphone
Own a bicycle, scooter, or car
Hold a valid driver's license, car insurance, at least one year of driving experience, and a clean driving record (if using a car)
DoorDash drivers can earn a base pay of $2 to over $10 for each completed delivery plus 100% of customer tips. The average salary of a DoorDash driver in Ontario is $21.92 per hour.
Is Being an Uber Driver Worth It?
If you have a newer car, pass all of the requirements, like driving, and want to make some extra money on the side, driving for Uber can be worth it. You create your own schedule, working whenever you like. The more you work, the more you can earn.
However, it would help if you considered a few factors. If you live in a smaller city or rural area, you may not get much business. On the other hand, if you live in a densely populated city like Toronto or Vancouver, Uber can be highly competitive.
You also need to consider the cost of maintenance and gas for your vehicle. If you are driving for multiple hours a day, you'll need to top up on gas quite often, which can be expensive.
Uber has many great reviews on Indeed.com, with people stating it is a flexible way to make some extra income. You won't get rich driving people around, but it's a worthwhile side hustle for many.
DoorDash Driver FAQs
How much does an Uber driver make in Canada?
The exact amount you can earn with Uber is not stated on their website. However, Uber drivers in Canada make an average of $19.14 per hour. Drivers can earn more in big cities and during peak times or surge pricing.
Do Uber drivers pay tax in Canada?
Uber drivers are considered independent contractors or self-employed. They do not pay tax on their earnings; thus, they must file income tax yearly.
How much should I tip an Uber driver?
Tip your driver based on the quality of service. A recommended amount is between 15% to 20% for exceptional service, 10% to 15% for good service, and 10% for average service. It's always a good idea to tip your driver if they provide good service, as they get to keep all tips.
Can Uber drivers write off their car payments?
At the end of the tax year, self-employed people can deduct vehicle expenses if they use a vehicle to earn income. This includes Uber drivers, so keep track of all your expenses.
What expenses can I write off as an Uber driver?
You can deduct the operating expenses of your vehicle, including gas, oil, insurance, maintenance, repairs, and lease payments.
Is Uber driving worth it?
Uber driving is a lucrative side gig for many people. You won't get rich, but it can be an easy way to make some extra income on your own schedule.
How do I contact an Uber driver?
If you have requested a ride, you can contact your Uber driver by sending them a message or calling them. If you lost an item on a previous ride, you can go to the "Your Trips" section, select the ride, and select the "I lost an item" option to contact Uber driver support.
Does Uber pay daily?
You can cash out with Instant Pay up to five times daily. Keep in mind that Uber takes a $0.50 fee for each transaction.
Related: