Ridesharing has exploded in popularity in the past decade. That's because it offers a convenient and cost-effective source of transportation for both drivers and passengers alike.
People now use ridesharing apps like Uber and Lyft for many purposes: some use them to make extra money by driving people around, while others prefer receiving a ride to their destination.
Whether you're looking for a ride yourself or want to offer your services as a driver, there are many ridesharing options out there in Canada – below are a few of the most popular rideshare apps in Canada.
What is Ridesharing?
Ridesharing is very similar to taxi services in that they offer a platform for people to book transportation from one location to another.
The difference is that rideshare drivers are not professional drivers; instead, they are everyday people who use their cars to give passengers a ride.
Thanks to technology and smartphones, it's easier than ever for riders and drivers alike to connect.
Passengers can book a ride through an app such as Uber and track their driver's progress, while drivers can see exactly where they're supposed to pick up their passengers.
This makes ridesharing more efficient than traditional taxis and opens up new opportunities for both riders and drivers.
Rideshare apps are a good option for those who prefer not to drive or take public transit. It's also a great supplemental income stream for drivers on these platforms.
Here are the best ridesharing apps and rideshare companies available in Canada right now.
1. Uber
Uber is the most popular ridesharing app globally, and for a good reason. It's straightforward to use and has a wide range of options, from sharing a ride with others (UberPool) to having your private driver.
Uber is often the first option people turn to when they need a ride. Uber has an expansive fleet of drivers in cities across Canada and offers food delivery services through its Uber Eats platform.
Uber is the original rideshare app. The company is responsible for coining the term "ridesharing" and popularizing the concept so that it's become a verb.
Uber has two primary services: UberX and UberXL. With UberX, you're assigned a vehicle with at least four doors and room for up to four riders.
UberXL works in much the same way as UberX with one significant difference: instead of being limited to four passengers, this service accommodates groups of six or more people with larger vehicles with more legroom and trunk space.
The price you pay will depend on your pickup location, destination, and available promotions in your area.
You can request an Uber from anywhere in Canada by opening the app and selecting where you want to go. The app will calculate the cost before you confirm your ride.
2. Lyft
Lyft is a rideshare service available in most major cities in the US and Canada. You can use it to book a ride to or from any of your favorite destinations.
Lyft works precisely the same way as Uber and lets you use your phone's GPS function to track where you're going and how long it takes for your driver to get there.
So you'll always be able to see where they are and how far away they are from arriving at your destination.
We love Lyft's rating system that allows users to rate their drivers anywhere from 1-5 stars after each ride.
If a driver receives too many bad ratings, they will be fired from the company and will no longer drive for Lyft.
3. Poparide
Poparide is a long-distance ride-sharing app for long-distance travel.
Founded in 2014, the app aims to make travel in Canada more affordable, convenient, and fun by connecting drivers and riders going the same way.
The service currently serves riders traveling between all of Canada's major cities (Vancouver, Calgary, Edmonton, Toronto, Ottawa, Montreal) and is rapidly expanding.
Drivers on Poparide can list a ride on the app for free and earn money by charging passengers a contribution towards gas and tolls for their ride.
Passengers can book a seat in a vehicle of their choice at a price that is usually 50% cheaper than comparable bus/train fares.
The Poparide app is available for free download on iOS and Android devices.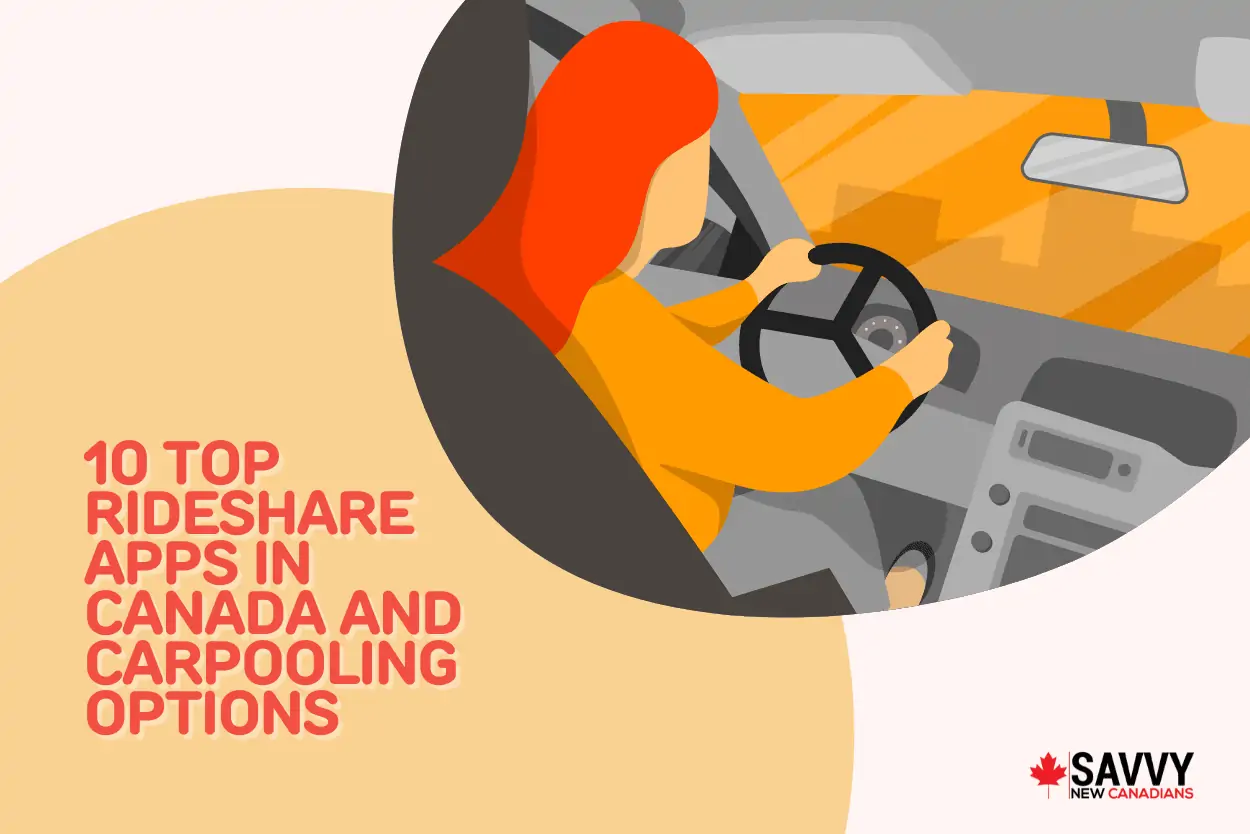 4. Lucky To Go
Lucky To Go is a new rideshare app that matches drivers with riders in Canada. It offers a reliable and affordable ride to and from anywhere.
Lucky To Go's platform is simple: you download an app, create an account, request a pickup, and get picked up.
The company operates in most major cities and has over 50,000 downloads with many regular users.
You can create a profile, find rides and even register your vehicle to become the driver.
5. Facedrive
Facedrive is an eco-friendly ridesharing service based in Toronto.
It focuses on providing clean transportation options for its customers, including electric vehicles, hybrid cars, and even bicycles.
The app connects drivers with passengers looking for a ride, and customers love it because they can choose to be picked up in an electric car.
6. Uride
The Uride app works similarly to most other rideshare apps. Download the app, create an account, provide your credit card details, and request a ride.
Drivers are independent contractors and work on their schedules and set their rates.
The company is based in Ontario and only operates there as of now. But they do have plans to expand into other Canadian cities in the coming months.
7. Kangaride
Kangaride is the most popular ridesharing app in Canada. It connects drivers and passengers who are headed in the same direction.
You can use it for local trips, long-distance ones, or even if you're traveling abroad.
You can become a driver for Kangaride too. Just sign up on the website, provide your personal information and upload a picture of your driver's license and insurance documents.
One of Kangaride's representatives will get back to you within 24 hours with details about how to activate your account.
8. Tapp Car
TappCar is a premium ridesharing company based in Edmonton, Alberta, launched in November 2016.
TappCar uses a two-tier pricing model that charges $2.50 at the beginning of each trip and $0.35 per kilometer, with no surge pricing.
TappCar doesn't have any caps on its drivers' ratings like Uber does, so riders can be confident that they'll be getting one of TappCar's top-rated drivers when they request a ride.
Carpooling in Canada
Carpooling in Canada allows people to find others to share a car ride with. They are used to seeing partners for one-off journeys and regular commutes.
The benefits of carpooling are plenty: it's cheap and a great way to socialize with others.
Two popular options for carpooling in Canada are CarpoolWorld and Poparide.
9. CarpoolWorld
CarpoolWorld, though it is not as popular as Poparide, is the largest carpooling community in Canada.
It is a web-based carpooling service that enables users to find people going their way, with thousands of commuters using it to arrange rides in major cities across Canada.
It is the only rideshare app that operates inside Canada and is an excellent option for those looking to travel between cities in Canada and save money on gas and parking.
When you sign up for Carpoolworld, you'll be given access to its database of over 20,000 drivers and passengers.
You can then use the website to search for potential carpool partners based on your commute trip requirements and contact them about arranging a carpool.
Rideshare and carpooling are legal in all Canadian provinces. The law around ridesharing will vary slightly depending on where you live, so you should check that you're adhering to the rules.
For example, the Government of Ontario has laws that apply to Uber drivers. To drive for Uber in Ontario, a driver must:
Have private passenger vehicle insurance for their car
Have a license
Have their vehicle inspected every 12 months
Display an official Uber sign on their vehicle
There are also rules for carpooling in Ontario.
You can check the legalities around carpooling and ridesharing in your province using the resources below:
Other Ways To Make Money With Your Car
If you're looking for a way to make extra cash, using your vehicle to transport people is a great opportunity.
Many rideshare apps allow you to make money by driving people and delivering food. Here are a few other ways to get paid to drive.
Food Delivery with DoorDash
DoorDash is an online food delivery service that hires independent drivers (known as Dashers) to deliver food from local restaurants. DoorDash drivers are paid by delivery, so the more deliveries you make, the more you can earn.
Drivers for DoorDash set their hours and rates and get paid weekly through direct deposit, typically within 48 hours of completing a delivery. Drivers also keep 100% of their tips.
The main requirements for signing up with DoorDash are a valid driver's license and auto insurance.
You must also be 18 or older and pass a background check to qualify.
Grocery Delivery with Instacart
You can earn money delivering groceries with Instacart in your spare time.
As an Instacart Shopper, you will be responsible for hand-picking orders, meeting delivery windows, and providing top-notch customer service.
Instacart shoppers and drivers are independent contractors, so you can work as little or as often as you want.
And since you're shopping for people in your area, there's no need to travel far from home.
Food Delivery with SkipTheDishes
You can deliver food on your schedule with SkipTheDishes. This is one of Canada's largest and most popular food delivery networks.
SkipTheDishes is like Uber Eats but only for restaurants in Canada. The service recruits drivers through its program, which lets anyone who meets the requirements, earn money by picking up and delivering food from local restaurants.
You'll have to apply online at SkipTheDishes, and if you're accepted, you can start earning cash right away just by using your car.
Advertise on Your Car
If you live in a highly-populated area, you may be able to sign up with Carvertise or Wrapify and get paid for driving around town with ads on your vehicle.
Nowadays, many companies are willing to pay you a certain amount of money if you agree to permanently put their advertisement on a portion of your car. You can contact such companies by registering online or contacting them directly.
Rent Your Car
Turo, Canada's largest peer-to-peer car rental service, is one such platform where you can list your car for rent.
Listing your vehicle on Turo is free and easy. You provide photographs of your car and a description, including the make and model, year of manufacture, and any special features.
Hosts can set rates and availability to their liking, meaning you can use your car as much or as little as you want.
Turo takes a 25% cut of rentals for insurance and administrative fees.
Conclusion
Rideshare apps are becoming a standard form of transportation for many Canadians. From driving apps like Uber to Lyft and Poparide, you can choose from plenty of options.
The best option for you will likely depend on your specific needs, but these ten rideshare apps represent some of the best choices for bringing the ridesharing experience to Canada.
Related: