The Bank of Montreal (BMO) offers several banking products and services to newcomers that include fee waivers and approvals even if you have a limited Canadian credit history.
For more on newcomer bank accounts, you can also check the welcome offers available at other big banks to see which one best meets your needs.
Read on to learn about the best BMO newcomer offers in 2022.
What is the BMO NewStart Program?
The BMO NewStart Program is designed to make it easier for permanent residents, foreign workers, and international students to access banking services in Canada.
Normally, you would need a healthy credit history before you can obtain a credit card, but that's not possible if you have just immigrated to Canada.
As such, banks have programs in place that waive some of the standard credit requirements for newcomers.
These newcomer programs usually also waive the monthly fees on a chequing account for one year.
The Bank of Montreal is one of the largest banks in Canada with more than 12 million customers across North America. It was established in 1817.
BMO Newcomer Offers
The current newcomer offers by BMO include these accounts:
Chequing account
Savings account
Credit cards
Global money transfer
Investment
Mortgages
BMO Newcomer Chequing Account Offer
Newcomers can open a BMO Performance Plan chequing account and pay no monthly fees for 12 months. This account has a standard monthly fee of $16.95 and includes unlimited transactions.
After the first 12 months, the regular fee applies, but you can continue to pay zero monthly fees if you maintain a daily minimum balance of $4,000.
In addition to one year of no monthly fee banking, newcomers also get one free small safety deposit box for 12 months, a free savings account, and international money transfers with no fee for 1 year.
International students can open a no-monthly-fee student bank account.
BMO Newcomer Credit Card Offer
BMO has two no-fee credit cards you can apply for as a newcomer. No credit history is required to qualify.
If you don't qualify for an unsecured credit card, you can apply for a secured credit card instead.
Secured credit cards require you to provide a security deposit when you open an account.
BMO's newcomer credit cards are:
Newcomers are not limited to these two cards, and they can apply for other BMO credit cards in the travel, cash back, low-interest, and AIR MILES categories.
How To Open a BMO Newcomer Bank Account
You will need to book an appointment to open a bank account under the BMO NewStart Program
Permanent residents and foreign workers are required to present these documents (as applicable):
Canadian Permanent Resident Card, Confirmation of Permanent Residence, or a work permit
One piece of government-issued photo ID e.g. driver's license or foreign passport International students will need to provide proof of registration at a post-secondary school, a study permit, and one piece of government photo ID.
If you have not yet arrived in Canada, you may be able to open a BMO bank account by completing some forms and mailing them to the bank.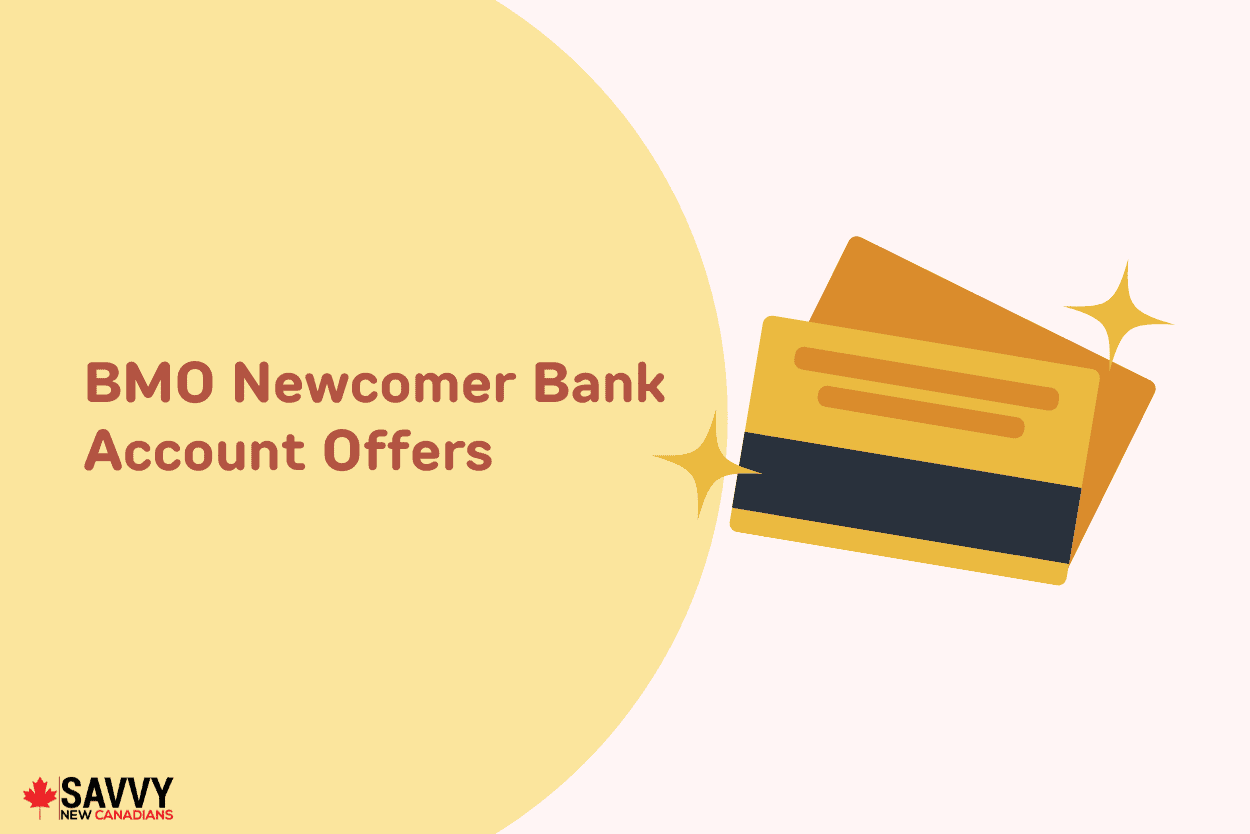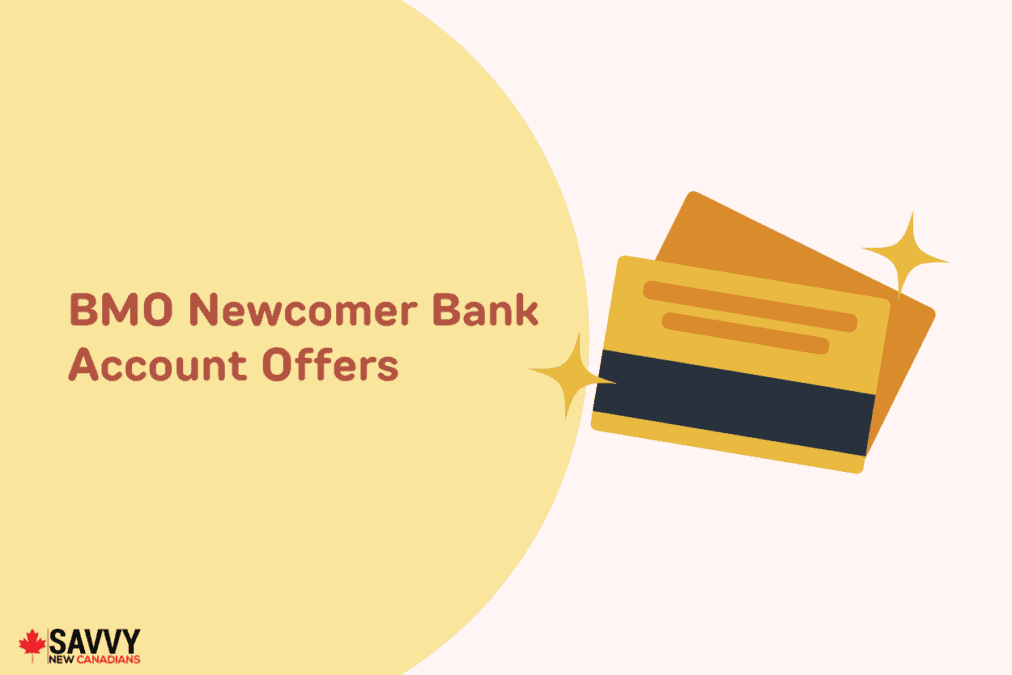 New Immigrant Bank Account Alternatives
Newcomers can save on banking fees by opening accounts at an online bank such as Simplii Financial, Tangerine, and EQ Bank.
Simplii Financial Newcomer Accounts
Simpliii Financial's New to Canada Banking Program includes a no-fee chequing account, no-annual-fee credit cards, international money transfers, savings accounts, and more.
The Simplii Financial No-Fee Chequing Account includes unlimited transactions, free cheques, and free access to 3,400 CIBC ATMs across Canada.
It also does not have a minimum deposit requirement.
You can apply to open an account before arriving in Canada and for a limited time, new clients are getting a $350 cash bonus.
The Simplii Financial Cash Back Visa Card pays 0.50% to 4% cash back on purchases and has no annual fees.
As a newcomer, you can be approved for a credit limit of up to $10,000 without a credit history. Learn more about it in this review.
EQ Bank
For a high interest savings account, you can pair with your regular chequing account, check out the EQ Bank Savings Plus Account.
This hybrid bank account pays one of the highest savings rates in Canada and it includes unlimited transactions. It also has no monthly fees or minimum balance.
Learn more about EQ Bank in this review.
KOHO
KOHO is a reloadable prepaid card account that combines cash back earnings, savings, and spending in one place.
Using the KOHO card, you earn up to 10% cash back at participating retailers, earn interest on your balance if you set up a direct deposit, and get unlimited transactions online and at point of sale terminals without paying a fee.
There is also a $20 sign-up bonus when you use our CASHBACK referral code.
Learn about how KOHO works.
BMO Newcomer FAQs
Which bank is best in Canada for new immigrants?
The best traditional banks for newcomers are RBC, TD, CIBC, BMO, and Scotiabank. The best online banks for newcomers to save on fees are Simplii Financial, Tangerine, and EQ Bank.
Which banks give you money for opening an account?
Simplii Financial is currently offering a $350 cash bonus when you open a new account.
How do I get $300 or $350 from BMO?
For a limited time, new BMO customers can get a $300 bonus when they open a new BMO Performance or Premium Plan chequing account and meet the eligibility requirements.
What is the number 1 bank in Canada?
Bank of Canada (RBC) is the number 1 bank in Canada based on its market capitalization.
Is BMO a good bank?
Yes, BMO is a good bank and it is the oldest bank in Canada.
Related: