EQ Bank offers some of the best high-interest savings accounts in Canada.
Its high-interest rate offerings cut across general savings deposits, tax-free savings accounts (TFSA), and retirement savings plans.
One advantage of the savings account at EQ Bank is its steady interest rate history. Unlike the short-lived promotional offers available at many banks, EQ Bank's savings account interest rates are non-promotional.
This makes it easier for you to plan around your deposits and the interest income earned.
Below, I cover the top EQ Bank high-interest savings accounts in Canada, their features, pros, and cons. You can also use the interest rate calculator to estimate how much you could earn.
Compare EQ Bank Savings Accounts
EQ Bank offers several high-interest savings accounts (HISA) including:
Savings Plus Account
TFSA Savings Account
RSP Savings Account
US Dollar Account
Joint Savings Plus Account
You could also earn on your deposits by using a Guaranteed Investment Certificate (GIC).
Best EQ Bank HISA
The best EQ Bank general savings account is the EQ Bank Savings Plus Account.
This hybrid account combines the features of savings and chequing accounts, making it a versatile online bank account that can grow your balance while limiting banking fees.
The Savings Plus Account has no monthly fees and includes:
Free unlimited bill payments
Free Interac e-Transfers
Free Electronic Funds Transfers
Access to international money transfers
Mobile cheque deposits
No minimum balance
Interest is calculated daily and paid out every month.
Con: The maximum amount you can deposit is $200,000.
Best EQ Bank Tax-Free Savings Account
When you save money in a tax-free savings account (TFSA), the income earned is not taxable.
For 2022, the TFSA contribution limit is $6,500. If you have contribution room from previous years, you can add them as well.
Canadians who have been eligible to open a TFSA since it was established in 2009 can contribute a total of $88,000 as of 2022.
The EQ Bank TFSA Savings Account pays a 3.00% interest rate and includes unlimited free transactions.
Best EQ Bank Retirement Savings Plan (RSP)
If you want to save money in a retirement savings plan you can access at any time, the EQ Bank RSP Account may work for you.
This account pays a 3.00% interest rate, and income earned is not taxed until you make a withdrawal.
You can set up regular automated contributions to your RSP, and your contributions are tax-deductible on your income tax return.
The RSP contribution limit for 2022 is 18% of your earned income in 2021, up to a maximum of $29,210.
Compare the best RRSP savings in Canada.
Best EQ Bank US Dollar Account
US Dollar savings accounts in Canada are notorious for paying little to nothing in interest.
The EQ Bank US Dollar Account changes that with a 3.00% interest rate on your deposit. In addition, you get:
No monthly account fees
International money transfers through Wise
Free USD to USD account transfers in Canada
To access this USD account, you will need to first open a regular EQ Bank Savings Plus Account.
Here are some other USD Savings options in Canada.
EQ Bank Joint Savings Plus Account
You can open a joint savings account with EQ Bank with up to 3 other people. These can be friends or family members and each person gets access to all the benefits:
Free bill payments
Free Interac e-Transfers
Mobile cheque deposits
2.50% interest rate
The maximum deposit amount for a joint account is higher at $500,000.
EQ Bank Pros and Cons
The benefits of EQ Bank are:
Earn high-interest rates
Pay no monthly account fees
No minimum balance required
Unlimited free transactions
Easy online sign-up process
Savings account rates are not promotional
Eligible for CDIC deposit insurance
Good customer service
Some downsides to consider when you use EQ Bank:
Digital bank with no in-person support
Does not offer a debit card or cheques
Learn more about the bank in this EQ Bank review.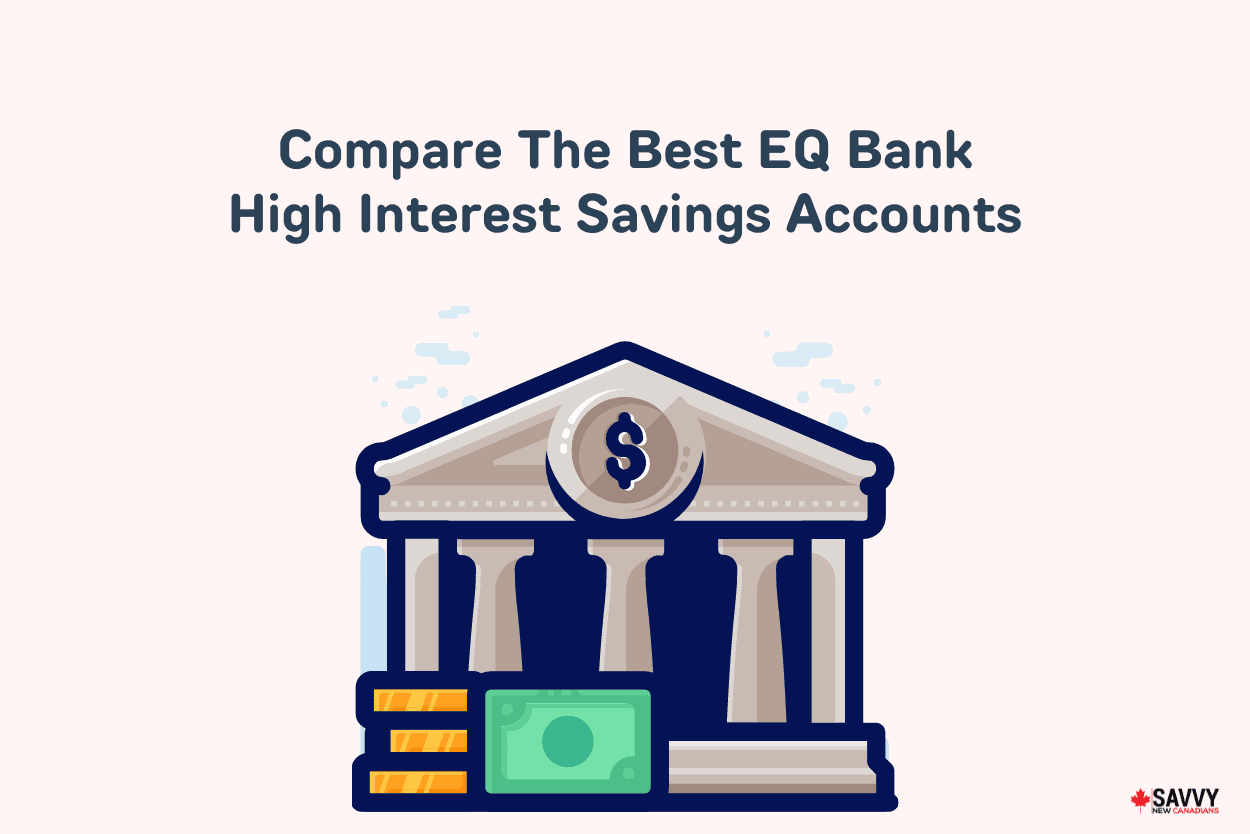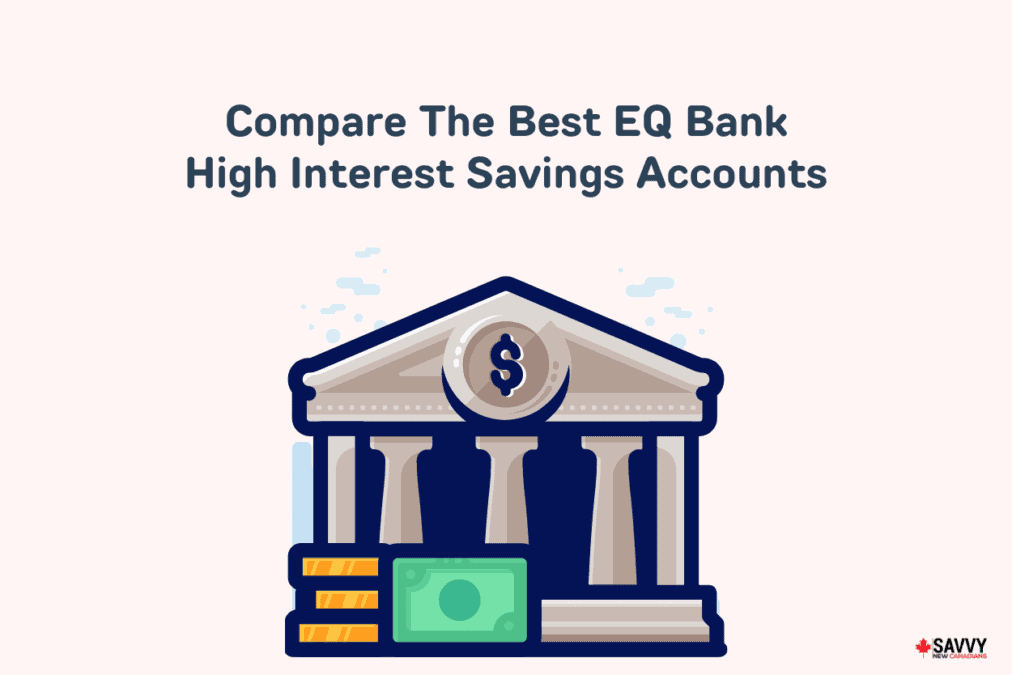 EQ Bank Interest Rate Calculator
You can calculate how much interest you will earn on your EQ Bank Savings Account using the compound interest calculator below:
EQ Bank Savings Plus Account vs. Chequing Account
The EQ Bank Savings Plus Account can replace your chequing account at the big bank to an extent and help you save on those monthly banking fees (up to $260 per year).
You get unlimited free debit transactions, including bill payments, withdrawals, and Interac e-Transfers.
You can also set up direct deposit payments such as your payroll, government benefits, and pension.
That said, you may still need a traditional chequing account if you require physical cheques or regularly make cash withdrawals at an ATM.
A free chequing account that includes free personalized cheques and access to 3,400 free ATMs across Canada is the Simplii Chequing Account ($350 bonus). Learn more about it in this review.
EQ Bank vs. Alternatives
You can also enjoy high savings rates with some other online banks, including Simplii Financial and Neo Financial.
Simplii High-Interest Savings Account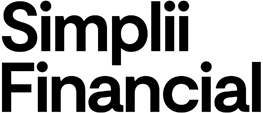 6.00%* rate for 5 months
Unlimited debits and bill payments
Unlimited Interac e-Transfers
$400 cash bonus offer with a free chequing account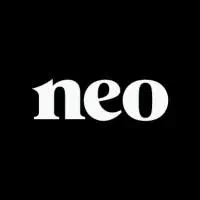 2.25% non-promo interest rate
No monthly fees + $20 bonus
Unlimited free transactions
Get a Mastercard for payments online and ATMs
Access to a no-annual-fee credit card
Is EQ Bank Safe?
Yes, EQ Bank is a safe bank.
It is owned by Equitable Bank, one of the largest banks in Canada with more than $42 billion in deposits.
Also, your deposits at the bank are legible for coverage by the Canada Deposit Insurance Corporation (CDIC) up to $100,000 per insured category.
EQ Bank also offers a Mobile and Online Banking Security Guarantee.
EQ Bank Savings Account FAQs
Which is better for savings: EQ Bank or Tangerine?
EQ Bank has higher non-promotional savings interest rate than Tangerine.
How does EQ Bank savings account work?
You can easily open an EQ Bank savings account online, transfer in funds from your external bank account, and begin to earn interest.
What is the interest rate on the EQ Bank savings account?
The EQ Bank Savings Plus Account currently pays a 2.50% interest rate.
Related: