Sweatcoin is one of the world's most popular fitness apps on the App Store and Google Play Store.
Getting rewarded to walk or exercise is a fairly recent concept, and the Sweatcoin app is certainly worth looking at if you want to get paid to walk.
It is good for your health and finances to be active. While it can be challenging to get moving if you have become used to getting stuck at a desk, an app such as Sweatcoin offers some incentives to ditch the couch potato lifestyle.
This Sweatcoin review shows how it works and why I believe it's not a scam.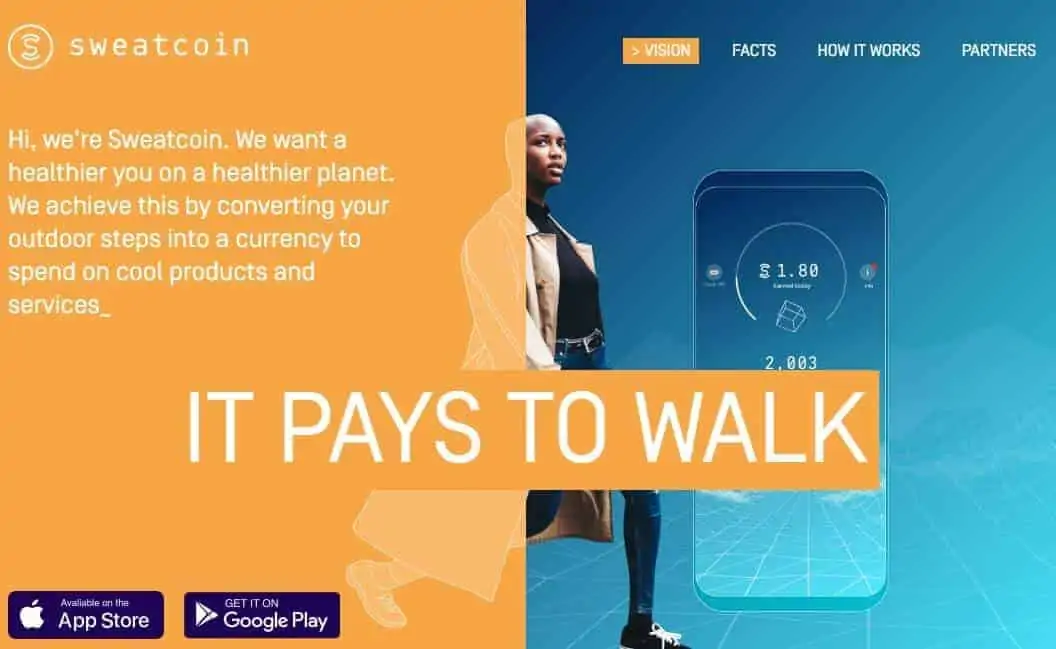 What is Sweatcoin?
Sweatcoin is an app that converts your steps into digital currency units known as "Sweatcoins."
The Sweatcoin app tracks your daily physical activity, and in exchange, you can spend the Sweatcoins you earn on electronic gadgets, sports kits, sports watches, music downloads, gift cards, fitness training classes, and more.
As of this writing, Sweatcoin is available in 51 countries, including Canada, the United States, the U.K., Germany, Australia, France, Norway, Spain, and Switzerland.
The long-term plan of the founders is to make Sweatcoin a fully-fledged cryptocurrency, similar to bitcoin.
The app works on iPhone 5S and later, as well as the most popular Android phones.
How To Use The Sweatcoin App
To get started, download the app here.
After installing the app and creating your account, you can start earning Sweatcoins right away.
Sweatcoin used to only track activity outdoors. With the recent overhaul of the app and its algorithm, you can now track all the steps you take outdoors and indoors.
This means that you are credited for those steps you take in the gym and on the treadmill. 1,000 steps are equal to 0.95 Sweatcoins.
The basic free plan "Troublemaker" allows you to earn up to 10 Sweatcoins per day and up to 300 Sweatcoins per month. If you would like to earn more coins per day, you can upgrade to the premium Sweatcoin plan.
A premium Sweatcoin subscription has a monthly/annual fee and includes:
Double the sweatcoins for every step you take
Access to premium marketplace auctions and offers
Your Sweatcoin donations are doubled, so you have twice the impact
Access to premium app icons
Previously, the membership levels were Free, Shaker, Quaker, and Breaker.
Sweatcoin can track your steps on iPhone, Android smartphones, and Apple Watch. After granting the necessary permissions, the app runs in the background and counts all your steps.
As per the company, they may also integrate with wearables such as Fitbit and Garmin in the future.
Related: Free Gift Card Apps in Canada
Sweatcoin Rewards
Here are all the ways to earn rewards on Sweatcoin:
1. Walking: Get 0.95 Sweatcoins for every 1,000 steps.
2. Exercising: Sweatcoin has recently been giving out 5 Sweatcoins for 20 minutes of exercise, including squats, jumping jacks, planks, pushups, etc., or a combination of the above. Simply start the timer and earn 0.25 Sweatcoins for every active minute up to 20 minutes daily.
3. Invite friends and get 5 Sweatcoins per referral. You become a Sweatcoin influencer after inviting 30 friends and can easily convert your sweatcoin to USD, e.g. 400 sweatcoins are currently equivalent to $100.
4. Daily offers: You earn points for participating in daily bonus offers, e.g. watching an ad. See what's available for grabs by clicking on the "claim bonus" button.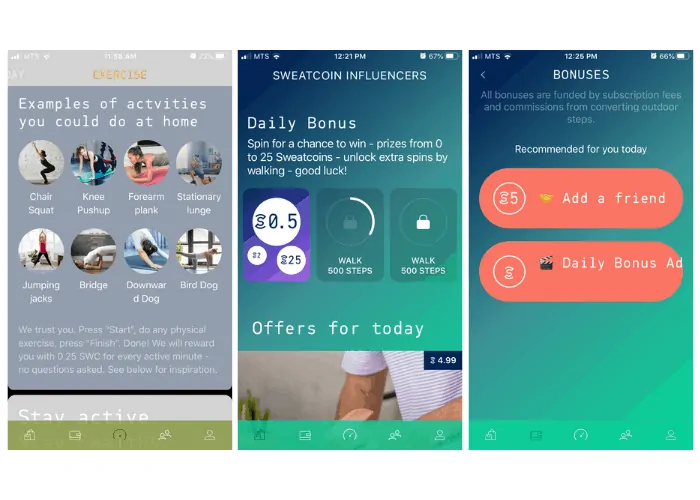 Related: Spare-Change Investing Apps
How To Redeem Your Sweatcoins
You can redeem your Sweatcoins for various merchandise, services, and cash. The redemption options vary from time to time and may include iPhones, music downloads, Amazon watches, sports shoes, fitness classes, and cash.
For example, you may find an offer to redeem 20,000 Sweatcoins for $1,000 in PayPal cash.
If you become a Sweatcoin influencer, you can also earn cash via PayPal when you reach the required threshold. For example, there's currently an offer to earn $100 via PayPal when you invite 80 people.
On their "offers for today" section, there are various options to cash out your earnings.
For example, a marathon offer to redeem 8,999.99 Sweatcoins for a Fight Camp Personal Boxing Gym, or 25,999 Sweatcoins for a trip to Paris to dine at the Eiffel Tower with everything covered.
Most offers are paid for fully using Sweatcoins. You can also donate your Sweatcoins to a charitable cause.
How Much is a Sweatcoin Worth?
The value of a Sweatcoin varies depending on the offers available at any point in time. Based on my observations, the value has ranged anywhere from:
20 Sweatcoins = $1
to 31.25 Sweatcoins = $1.
What this means is that Sweatcoin has been exchanged for $0.03 to $0.05 each.
If you are in the influencer program, you can currently redeem your Sweatcoins at a rate of 4 Sweatcoins = $1 (or 1:0.25).
Related: 8 Best Passive Income Apps
Is Sweatcoin Safe to Use?
I have found Sweatcoin to be a legitimate app and safe to use.
From looking at the ratings available online, the Sweatcoin app has a 4.2/5 rating on the App Store from over 10,700 reviews. On Google Play, it also holds a 4.2/5 rating from over 142,500 reviews.
On Trustpilot, Sweatcoin has a 4.6/5 Trustscore and more than 500 reviews.
Sweatcoin is rated the #1 fitness tracking app on the App Store in several countries, and they promise not to sell your data to any third party.
For more information about this, please read the T&Cs and privacy policy on their website.
How does Sweatcoin make money?
Sweatcoin works with various brands that are featured in their marketplace and earns money from these partnerships. They also feature some in-app video ads.
Interestingly, governments and health insurers are also interested in the service provided by Sweatcoin, and they are willing to reward healthy behaviour that results in people becoming more active.
Sweatcoin Pros and Cons
Below are some of the benefits and downsides of the Sweatcoin app.
Benefits of Sweatcoin
Get paid to walk. While you won't get rich, you are rewarded for staying healthy.
Easy-to-use app.
The new version of the app counts steps both indoors and outdoors.
You can transfer Sweatcoins to friends. Friends can also follow and challenge each other.
Downside of Sweatcoin
There is a limit of 10 Sweatcoins per day if you are on the basic Troublemaker plan.
Some users report the app can cause your phone's battery to drain much faster. I haven't noticed any significant battery issues on my iPhone.
Your movement is being tracked to count your steps, and you should be aware of that.
Final Thoughts
I love using the Sweatcoin app and have accumulated thousands of Sweatcoins so far. There are just a handful of apps that pay you to walk or exercise, and Sweatcoin easily leads the pack.
Related: