KOHO and Simplii Financial are financial institutions that can help you save on banking fees while earning higher-than-average interest rates on your savings.
KOHO is popular for its no-fee cash back prepaid card and budgeting app, while Simplii's no-fee chequing account allows unlimited transactions without charging a monthly fee.
This KOHO vs. Simplii Financial comparison covers their account offerings, pros, cons, and everything else you need to know.
About KOHO
KOHO is a financial technology company founded in 2017.
It has partnerships with Peoples Trust and Mastercard and offers several financial products that make it easier to budget, save, and spend money.
Its most popular financial products and accounts include:
1. Cash Back Prepaid Card: The free KOHO Prepaid Mastercard pays you 1% cash back on grocery purchases, gas and transportation. It also offers:
Unlimited debit transactions and Interac e-Transfers
Extra cash back at select retailers
Access to joint accounts
This card can be upgraded to a Premium version for unlimited 2% cash back in 3 categories of spending.
2. KOHO Earn Interest: KOHO users earn interest on their balance ranging from 0.5% to 2%, depending on their account type. This is one of the highest savings account interest rates in Canada.
There's no fee to use this service, and your funds are protected by the Canada Deposit Insurance Corporation (CDIC) against insolvency – up to $100,000.
3. Credit Building: Looking to improve your credit score? KOHO's Credit Building service may be for you. For a $7 monthly fee, KOHO reports your progress to a credit bureau, which helps to increase your credit score.
You can easily view your credit score in-app and monitor your progress. Get more details about KOHO in this review.
About Simplii Financial
Simplii Financial is an online bank owned by CIBC. It was launched in 2017 and has almost 2 million customers.
Its top financial products include:
1. No-Fee Chequing Account: This account has no monthly fees and includes:
Unlimited debit transactions and Interac e-Transfers
Free access to 3,400 CIBC ATMs in Canada
0.05% to 0.10% interest on your balance
$350 cash bonus when you sign up
2. High-Interest Savings Account: Simplii Financial offers general, TFSA, USD, and RRSP savings accounts. The standard interest rate is 0.40% to 5.5%; however, new customers often get access to a higher promotional rate.
3. Simplii Financial Cash Back Visa Card: This no-fee cash back credit card offers:
4% cash back on restaurant, bar, and coffee shop purchases
1.5% cash back on gas, groceries, drugstore, and pre-authorized payments
0.5% cash back on all other purchases
Purchase security and extended warranty protection
4. Investments: You can invest in registered and non-registered accounts using GICs or mutual funds.
5. Personal Loans and Mortgages: Simplii's product line includes loans, lines of credit, and mortgages.
You can learn more in this Simplii Financial review.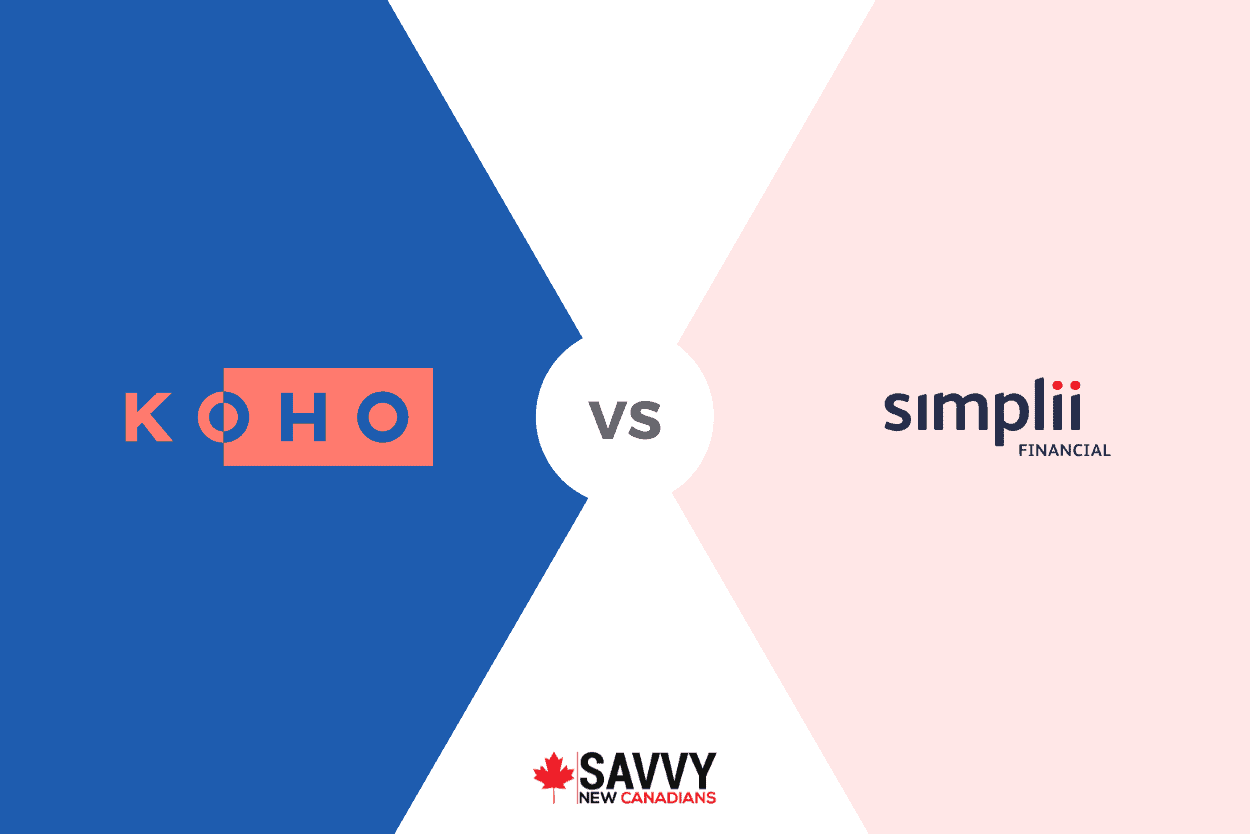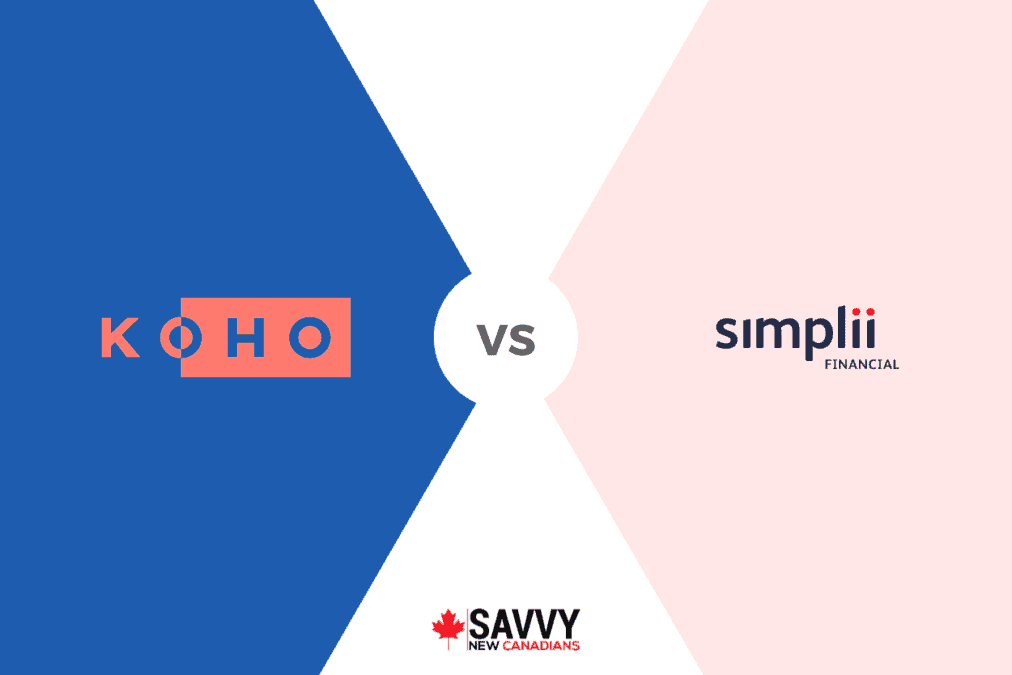 KOHO vs Simplii Breakdown
Chequing Account: KOHO and Simplii Financial offer a spending account with unlimited transactions. In addition, you can deposit mobile cheques in your Simplii No-Fee Chequing account and access thousands of free ATMs.
Savings Account: KOHO's 0.50% to 2.00% savings rate is one of the highest in Canada. Simplii's Financial's standard savings rate is 0.40%, although it often has promotional rates available to new customers.
Investments: KOHO does not offer GICs or mutual funds, while Simplii Financial does.
Credit Cards: Both Simplii Financial and KOHO offer a Visa card you can use to earn cash back. The free KOHO Card pays unlimited 0.50% cash back on all purchases, while the Simplii Financial Cash Back Visa Card pays 0.50% to 4% depending on the purchase category.
Note that there are spending limits for the 4% and 1.5% cash back categories for the Simplii card.
Convenience: Both KOHO and Simplii provide their services online only. You can reach their customer support by email/chat; however, there are no physical locations or branches you can walk into. Simplii also offers phone support 24/7.
Referral Program: New KOHO users get a $20 bonus when they open an account here (use CASHBACK referral code) and make at least one purchase using the KOHO Card. You can also share your referral link with friends, and you both get $20 when they join.
Simplii Financial customers can also invite friends to join the bank. This referral program pays you and your friend $50 when they open an eligible account.
Money Transfer: Both Simplii and KOHO offer global money transfer services. For KOHO, the transfers occur via TransferWise, and for Simplii, you can transfer funds using its Global Money Transfer service.
Fees: While their main accounts are free of charge, some fees may apply if you upgrade services or conduct some transactions:
KOHO Fees
Simplii Financial Fees
$9/month or $84/year for KOHO Premium
Stop Interac e-Transfer: $3.50
$7-$10/month for credit building
Stop payment requests: $10 – $16.50
$5 for 15 days early payroll
Money orders and bank drafts: $7.50
Inactive accounts: $1/month (after 6 months of no activity)
Outgoing wire transfers: $30 – $80Card replacement: 1st free/year; $4.97 after
FX fee: 1.50% (waived with Premium account)
Registered account transfer to another bank: $50;
Non-registered account transfer: $19.50;
Retrieval of past statements: $5;
Paper statements: $1;
Dishonoured cheque deposit fee: $7.50;
Overdraft protection: $4.97 minimum;
NSF fee: $45;
Account inactivity: $20/year;
FX fee: 2.50%
Simplii vs KOHO: Are they safe?
Deposits in your KOHO and Simplii Financial accounts are eligible for protection against insolvency by CDIC (up to $100,000).
Your investments via Simplii are also protected by the Canadian Investor Protection Fund (CIPF).
Conclusion
KOHO and Simplii Financial are great options for different reasons.
If you want to spend more cash and use less credit, the KOHO Prepaid Card is the top prepaid card in Canada. Add on its savings rate, and you have a perfect combo.
While KOHO offers unlimited free transactions, you can't deposit cheques and may need another chequing account for some transactions.
You can easily pair KOHO with Simplii's free chequing account ($400 bonus), and also use this bank for GIC and mutual fund investments if that's your preference.
For free credit building, the Simplii Cash Back Visa can help if you make payments on time and use the card responsibly. Alternatively, you can consider the no-fee Tangerine Money-Back Credit Card.
Related: