KOHO is a top reloadable prepaid card that offers cash back rewards each time you make a purchase.
One of its advantages is that it does not require a credit check when you apply, and the standard card also does not charge monthly or annual fees.
Unlike a regular credit card, the KOHO Prepaid Mastercard does not impact your credit score, so you cannot use it to build a credit history.
That said, an optional credit-building tool can turn your KOHO card into a secured card (sort of) for the sole purpose of improving your credit score.
Is There a KOHO Secured Credit Card?
KOHO does not offer a secured credit card. However, if you have an account with the company, you can register for a service that can help you improve a bad or poor credit rating.
KOHO Credit Building is an optional feature of the KOHO Mastercard that allows you to build a credit history and a good credit score while using a prepaid card.
When you opt for this service, KOHO opens a line of credit on your behalf, and they report your payments to a credit bureau.
The Credit Building tool costs $7 to $10 per month.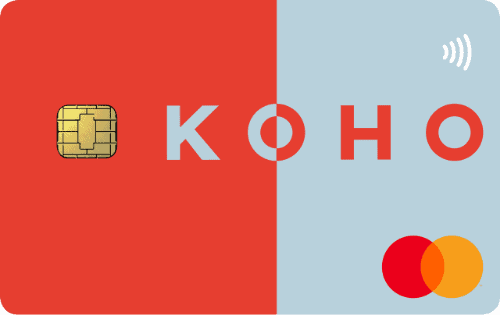 $20 sign up bonus after first purchase (use promo code CASHBACK)
Earn up to 5% cash back
Up to 4.00% savings interest on your balance
Unlimited Interac e-Transfers
How Does KOHO Credit Building Work?
Normally, to increase your credit score in Canada, you need to have a history of using credit responsibly.
For example, when you pay off your credit card balance, the credit card company reports this to credit bureaus, and this payment history is a big factor when your credit score is calculated.
Making payments on time affects your credit score positively, and late payments have the opposite effect.
While the KOHO card is not a credit card, a Credit Building Subscription includes a line of credit, and every payment you make is included in your credit history.
To get started with this tool, open a free KOHO account.
On the app, click on 'Credit' and then 'Register to build your credit history.
This service has a $7 to $10 monthly fee, and you can cancel anytime.
KOHO will deduct the fee monthly and report this to a major credit bureau as a credit payment.
You can also view your current credit score and track how it improves as you build your credit history.
The line of credit provided by KOHO has no interest fees.
KOHO Credit Building vs. Secured Credit Card
Like a secured credit card, KOHO Credit Building can help users improve their credit rating.
Unlike a traditional secured card, KOHO does not require a security deposit (except for the $7 fee), and you earn cash back on all purchases made with the card.
Also, with a KOHO card, you can only spend money you have loaded on the card, and it does not offer the 'buy now, pay later' feature of a credit card.
Lastly, the KOHO Card's credit-building tool does not charge interest for purchases or cash advances since you can only spend available funds.
Pros of Cons of KOHO Credit Building
There are some benefits and downsides of using KOHO Credit Building:
Pros:
A dedicated tool for improving credit scores
Offered as part of a package that includes unlimited cash back on purchases
Access to your updated credit score
Can cancel the service at any time
Access to a free budgeting app
No interest charges or hidden fees
Your funds are CDIC secured
Cons:
Missing a monthly payment while subscribed can negatively impact your credit score
Costs $7 per month
Alternative To KOHO Credit Building
You can apply for a secured credit card and enjoy credit card features, including credit building.
The top KOHO alternative for improving bad credit is the Neo Secured Credit Card.
This guaranteed approval card has no annual fees, and it also offers unlimited cash back on purchases – an average of 5% cash back at participating retailers and 1% at non-partners (limited to $5,000 monthly spend).
There is no hard credit check when you apply for this card, and the minimum security deposit is $50.
Neo Secured Credit
Rewards: Earn up to 5% real cash back on purchases.
Welcome offer: 15% cashback on your first purchases, plus a $25 welcome bonus.
Interest rates: 19.99% – 29.99% for purchases; 22.99% – 31.99% for cash advances.
Annual fee: $0
Credit limit: Starts at $50.
Credit score required: Poor or bad credit score.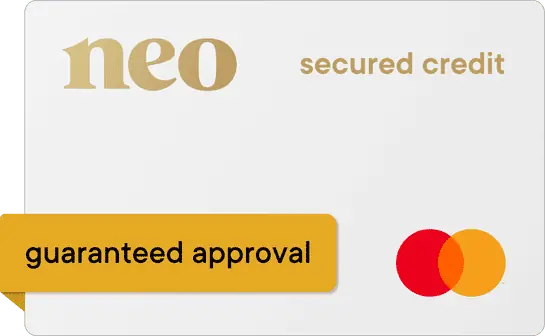 You can also consider these secured cards:
Conclusion
KOHO is an excellent prepaid card for earning rewards and improving your credit rating at the same time.
Alternatively, you could also use a dedicated secured credit card like the one from Neo Financial and earn rewards simultaneously.
Just make sure to pay off your balances on time, as the interest fees can be steep.
FAQs
Is KOHO good for building credit?
Yes, KOHO can help you build your credit score if you subscribe to its credit-building program.
Can I use KOHO as a credit card?
You can use KOHO to make payments whenever Mastercard credit cards are accepted, which is at millions of locations worldwide.
What credit bureau does KOHO use?
KOHO reports payments to your line of credit to TransUnion.
Does KOHO affect your score?
A regular KOHO Card does not affect your credit score. If you sign up for the credit building program, timely payments increase your credit score, and missed payments can negatively affect your credit score.
Is KOHO safe?
Yes, KOHO is safe. Funds in your KOHO account are insured by the CDIC as they are held with Peoples Trust, a federally regulated bank.
Related: