Neo Financial is a financial technology company that is changing how Canadians save, invest, and earn rewards with credit cards.
It is one of the neobanks we have seen challenging the traditional banking system with higher-than-average savings interest rates, no-fee cash back credit cards, and hybrid bank accounts.
This Neo Financial review covers how it works, its products and services, benefits, fees, downsides, and alternatives like KOHO and EQ Bank.
What is Neo Financial?
Neo Financial is a fintech offering savings, credit cards, and other financial products in partnership with other well-known Canadian financial institutions.
It started operations in 2020 and has offices in Calgary and Winnipeg.
So, who owns Neo Financial?
Neo Financial was founded in 2019 by two SkipTheDishes founders – Andrew Chau and Jeff Adamson.
Since then, the company has attracted several investors including Peter Thiel, Tobi Lutke, Golden Ventures, Maple VC, ATB Financial, and several others.
Neo Financial Accounts
Neo Financial's line of financial products includes:
Neo Credit
Neo Money
Neo Invest
It also has several products in the pipeline including mortgages.
Neo Financial Credit Cards
Neo Financial offers a Neo Mastercard (Neo Card) that's available with three rewards tiers (Standard, Plus, and Ultra).
It also has a Neo Secured Credit Card and a partnership with Hudson's Bay to power the Hudson's Bay Mastercard.
Let's break them down.
Neo Financial Mastercard
The Neo Mastercard is one of the best cash back rewards credit cards in Canada.
This no-fee credit card offers a 1% minimum cash back across all your purchases and an average 4% cash back at thousands of Neo partners (on up to $5,000 spend per month).
Combined with the Neo Financial app, you can easily track and budget your money, spend your rewards, freeze a lost card, and more.
Neo Mastercard (Standard)
Rewards: Average of 5% cash back at 7,000+ partners and a minimum of 0.50% cash back across all purchases
Welcome offer: Get 15% cash back on your first purchases, plus a $25 welcome cash bonus.
Interest rates: 19.99% – 26.99% on purchases; 22.99% – 28.99% for cash advances.
Annual fee: $0
Our readers get a $25 bonus when they sign up and new cardholders also enjoy 15% cash back on their first purchase at several participating stores.
You can easily redeem your cash back as a statement credit.
Neo Secured Mastercard
The Neo Secured Card is one-of-a-kind.
Compared to a typical secured credit card that has monthly or annual fees and zero rewards, the Neo Secured Card offers the following benefits:
Up to 5% cash back when you spend
15% welcome bonus cash back at Neo Partners
$25 cash bonus when you sign up
$50 minimum security deposit
Guaranteed approval regardless of your credit score
Neo hard credit check
You receive a physical card as well as a virtual credit card you can add to your favourite payment wallet (Apple Pay or Google Pay).
How To Apply For Neo Financial Credit Cards
You can apply for the Neo Cards online via these links (Neo Mastercard or Neo Secured Card).
You must be a resident of Canada and the age of the majority in your province (i.e 18 or 19 years older).
You will also need to provide a government-issued photo ID.
The Neo Cards are issued in partnership with ATB Financial under license from Mastercard. These cards are accepted at millions of locations worldwide.
Neo Money
Neo Savings was recently rebranded to Neo Money. It is a hybrid account that combines the features of a savings and chequing account.
Neo Money pays 2.25% interest on your balance and has no monthly account fees.
It includes:
Free bill payments and debit transactions
Unlimited free Interac e-Transfers
Accepts direct deposits
The Neo Money Account is offered in partnership with Concentra Bank (Wyth Financial). Learn more in our full Neo Money review.
You can easily access your Neo Card and Neo Money accounts on the Neo Financial mobile app.
Neo Invest
Neo Invest is the latest product offered by Neo Financial.
This robo-advisor service provides access to professionally managed investment portfolios in partnership with OneVest.
Robo-advisors invest your money on your behalf based on your risk tolerance and investment objectives.
You simply set up pre-authorized contributions and they divvy up your funds into various asset classes using Exchange-Traded Funds (ETFs).
You can invest inside a TFSA, RRSP, or non-registered personal investment account.
Neo Rewards Program
The highlight of the Neo Card is the ability to earn unlimited cash back at Neo partners, including a whopping 15% earn rate when you make your first purchases.
Neo Rewards has three tiers: Standard which has no monthly fees, and two premium tiers with higher cash back earn rates.
Here's how they compare:
| | | | |
| --- | --- | --- | --- |
| | Neo Standard | Neo Plus | Neo Ultra |
| Monthly fee | $0 | $2.99 | $8.99 |
| Average cash back at Neo partners | 4% | 5% | 6% |
| Minimum cash back across all spend | 1% | 1% | 1% |
The minimum cash back means you get a top-up if your average cash back earnings fall below 1%.
The top-up is limited to a maximum spending of $5,000 per month at non-partners.
For Neo partners, cash back earnings are unlimited.
Neo Financial Partners
Neo has over 5,000 participating retailers, brands, and stores across Canada.
A few examples of Neo partners in cities like Calgary, Winnipeg, Edmonton, Toronto, and Vancouver include:
| | | |
| --- | --- | --- |
| Five Guys | Second Cup | Well.ca |
| Boston Pizza | Montana's | Clearly |
| Earl's Kitchen + Bar | Hudson's Bay | Dufresne |
| Subway | Frank and Oak | Princess Auto |
| Avis Car Rental | Nuburger | Robin's |
| Poke Guys | EPOCH | Go Oil |
| The Pint | Fahrenheit Coffee | MPG Sports |
| EQ3 | NAPA Auto Parts | Article Furniture |
Neo Financial Fees
Neo Money has no monthly fees to worry about and the same goes for the Standard Neo Card.
If you opt for a higher reward tier (Plus or Ultra), you pay a $2.99 or $8.99 monthly fee respectively.
The Neo Card also has interest rates that apply on purchases when you don't pay your balance within the grace period. Interest also applies to cash advances.
For Neo Invest, you pay a 0.75% managing fee per year. This is in addition to the management Expense Ratio (MER) of 0.40% to 0.50% that is charged by the ETFs in your portfolio.
Is Neo Financial Legit?
Yes, Neo Financial is a legit financial institution operating in Canada.
It was founded by two co-founders of the food delivery service giant, SkipTheDishes, and is backed by reputable financial institutions and investors including ATB Financial and Concentra Bank.
Is Neo Financial Safe?
Yes, Neo Financial is safe.
Your deposits in the Neo Money account are held by Concentra Bank and are eligible for protection by the Canada Deposit Insurance Corporation (CDIC).
The CDIC guarantees your deposits up to $100,000 (combined with any eligible deposit you have at Concentra Bank).
On the investment side of things, OneVest Management Inc. is a registered Portfolio Manager in all Canadian provinces and territories, and your assets are held with CI Investment Services (CIIS).
CIIS is a member of the Investment Industry Regulatory Organization of Canada (IIROC) and the Canadian Investor Protection Fund (CIPF).
CIPF membership means your assets are protected against firm insolvency for up to $1 million.
Downsides of Neo Financial
The cons of Neo Financial include:
The Neo Card does not offer insurance coverage benefits
The purchase APR on the Neo Card is as high as 24.99% if you have a poor credit score
The Neo Money account does not yet support mobile cheque deposits
Neo Financial Alternatives
KOHO
KOHO is a top alternative to Neo Financial for both cash back rewards and high interest rates on savings.
The free KOHO Card offers:
0.50% cash back on all purchases
Up to 10% cash back at specific retailers
1.20% savings rate on your balance when you set up a direct deposit
Unlimited free bill payments
Unlimited free Interac e-Transfers
KOHO members get physical and virtual cards and a mobile app that's great for budgeting and automated savings.
KOHO Prepaid Mastercard (formerly KOHO Visa)
Rewards: Earn 1% cash back on groceries and bill payments; Up to 5% cashback at select partners; Earn interest on your balance*.
Welcome offer: Get a $20 bonus when you load and make your first purchase (use promo code CASHBACK during sign-up).
Interest rates: 0%
Annual fee: $0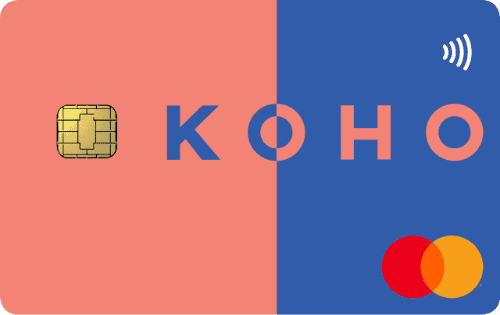 EQ Bank
The EQ Bank Savings Plus Account is one of the best high interest savings accounts in Canada.
This no-fee hybrid account includes unlimited debits and bill payments, Interac e-Transfers, and mobile cheque deposits.
It also pays a 1.65% interest rate on every dollar in your account.
In addition to its standard savings account, you can also open an EQ Bank TFSA, RSP, US Dollar Account, and GICs.
Neo Financial Canada FAQs
Is the Neo Card a real credit card?
Yes, the Neo Card is a Mastercard credit card that is acceptable worldwide.
Is Neo Financial a bank?
No, Neo Financial is not a bank. It is a financial technology company or neobank that provides banking services through partnerships with other financial institutions such as ATB Financial and Concentra Bank.
What credit score do I need for Neo Financial?
You need a minimum credit score of 600 to qualify for the Neo Mastercard. For the Neo Secured Card, you can qualify even if you have a poor or bad credit score rating.
Does Neo help build credit?
Yes, you can use Neo credit cards to build your credit score. To do this, you need to pay your balances on time and limit your credit utilization to 35% or less. Neo Financial reports your credit usage and history to TransUnion.
Is Neo a Mastercard?
Yes, both the Neo Card and Neo Secured Cards are issued under license by Mastercard.
Where is the Neo Card accepted?
The Neo credit cards are accepted whenever Mastercard is accepted which is at millions of locations worldwide.
Who are Neo partners?
Neo Financial has thousands of partners across Canada including popular brands like Earls Kitchen + Bar, Harry Rosen, Hudson's Bay, Boston Pizza, Montana's, and several others.
What is Neo Financial's promo code?
When you open an account here, you receive a $25 bonus (limited time offer – no promo code required).