If you have a bad credit score or no credit, a credit building loan can help you build or repair your credit so you can qualify for loans and credit cards at competitive rates in the future.
Credit scores range from 300 to 900 in Canada. A credit score below 659 makes it challenging to qualify for credit. From 660, your chances for approval increase significantly.
A credit builder loan can be secured or unsecured, depending on your financial circumstances. A credit-building credit card could help you achieve the same goal.
Read on to learn about the best credit-building loans in Canada and how they work.
Best Credit Building Loans in Canada
You can get credit builder loans from online lenders, credit unions, and some banks.
1. Loans Canada
Loans Canada works with various lenders who offer loans with bad credit.
Using the online platform, you can easily submit an application and get matched with a lender that meets your needs.
The benefit of this platform includes access to unsecured credit builder loans, secured personal loans, debt consolidation loans, and various loan types for those with poor or bad credit.
Loans Canada
Loans Canada is a loan comparison platform for all kinds of personal loans, car loans, debt consolidation loans, and bad credit loans. This company holds an A+ accreditation with the Better Business Bureau and features multiple lenders on its website.
Interest rate: 2.99% to 46.96%
Loan term: 3-60 months.
Maximum loan amount: Up to $50,000.
Eligibility: Resident of Canada and employed for at least 3 months with proof of income.

On Loans Canada's website
2. LoanConnect
Like Loans Canada, LoanConnect connects users with multiple lenders on one platform.
Pre-approvals occur within minutes, and you could receive funds in 1-2 business days.
Learn about how LoanConnect works in this detailed review.
LoanConnect
LoanConnect is a search engine for finding personal loans online from various lenders. You can use it to find a loan that works for your situation regardless of your credit score.
Interest rate: 6.99% to 46.9%.
Loan term: 3-120 months.
Maximum loan amount: Up to $50,000.
Eligibility: Resident of Canada and the age of the majority in your province or territory.

On LoanConnect's website
3. FatCatLoans
FatCatLoans
FatCatLoans is a Canadian loan comparison website. They take the work out of searching for a loan as they search the market to find trustworthy instant loan lenders. Get up to $50,000 with a personal, installment, bad credit, and debt consolidation loans.
Interest rate: 6.99% to 46.96%.
Loan term: 3-60 months.
Maximum loan amount: Up to $50,000.
Eligibility: Resident of Canada and the age of the majority in your province or territory, have a regular source of income, and an active bank account.

On FatCatLoans's website
4. Refresh Financial
Refresh Financial offers a Credit Builder Loan with no credit check.
It is available in four different options with bi-weekly payments ranging from $21.37 to $121.94 and 36-month or 60-month terms.
The annual percentage rate (APR) of this credit builder loan is 19.99%. Read our review for more details.
5. Credit Unions
Some credit unions offer credit builder loans to their members.
The loan is put into a term deposit (registered or non-registered), and after you have paid the loan in full and the term investment matures, you can withdraw it.
Credit Building Loan Alternatives in Canada
A credit building program like the one offered by KOHO or a credit building credit card can help you build or repair credit.
KOHO Credit Building
This credit-building program involves signing up for a free KOHO account which comes with:
A free reloadable prepaid Mastercard
Up to 5% cash back at select merchants and 1% cash back on groceries and bill payments
Budgeting app and access to high-interest savings
$20 welcome bonus with CASHBACK referral code
You can add credit building to your KOHO account by paying a $7-$10 monthly subscription fee. This payment is reported to a credit bureau as a line of credit repayment, and it can improve your credit score if you make payments on time. You can also view your current credit score in the app.
Visit KOHO or read the credit building review.
Chexy Credit Building
Chexy, a rent payments platform, builds credit on rent, one of the biggest monthly expenses for most Canadians.
Using the Credit Builder, tenants can build credit history using their rent payments. This makes it easier for them to improve their credit and qualify for a loan or mortgage sooner.
Chexy reports monthly rental payments to Equifax, and the service costs $9.99 per month.
Learn more about how it works.
Credit Building Credit Cards
Secured credit cards are easy to qualify for even if you have bad credit. The best secured credit card for credit building in Canada is the Neo Secured Card.
It offers guaranteed approval, and you only need a security deposit of at least $50.
Neo Secured Credit
Rewards: Earn up to 5% real cash back on purchases.
Welcome offer: 15% cashback on your first purchases, plus a $25 welcome bonus.
Interest rates: 19.99% – 29.99% for purchases; 22.99% – 31.99% for cash advances.
Annual fee: $0
Credit limit: Starts at $50.
Credit score required: Poor or bad credit score.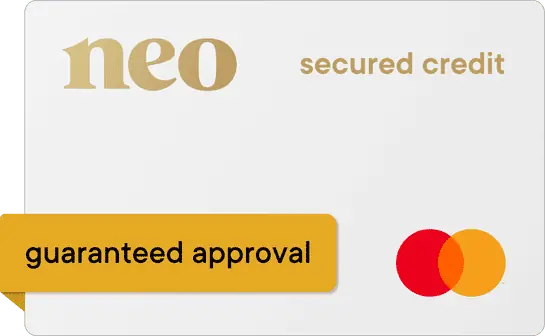 How Credit Building Loans Work
A credit-building loan helps you build and improve your credit score. They are also known as credit repair loans, credit builder loans, or secured savings loans.
A credit builder loan is like a regular personal loan, except it works in reverse.
Instead of getting a loan upfront and access to cash, a credit builder loan requires you to provide cash upfront through monthly scheduled payments for 6-24 months or longer.
Each of these payments is reported to a credit bureau and becomes part of your credit history. If you make the payments on time, your credit score should improve.
Your payments are typically held in a savings account, and after the loan term ends, the cash is paid out to you.
Credit builder loans include a high-interest component or fee that is blended into your monthly payments.
Summary: A credit building loan requires you to first pay off the loan before you get access to funds.
How To Apply for a Credit Building Loan
The process for getting a credit-builder loan is similar to other types of personal loans.
Start by finding a lender that offers credit builder loans.
Check and compare their requirements, including age eligibility, minimum and maximum loan amounts, interest rates, loan terms, payment schedules, and more.
Apply for the loan. In many cases, you can apply online and get a free quote. You will need to provide information about your finances, employment status, income, age, and address.
Pay off the loan and build your credit in the process.
Pros of Credit Builder Loans
It can help you build credit
Good for developing healthy financial habits such as saving money and making payments on time
The money is yours when your loan is paid off
Available for any credit type, including bad credit
Downsides of Credit Builder Loans
Have high-interest fees
Late or missed payments can further hurt your credit score
Requires you to pay off a loan first
Should I Get a Credit Builder Loan?
A credit builder loan can help you improve your credit score if you have a limited credit history or a bad credit score.
If you have a good credit score, these types of loans are not suitable as you will likely qualify for a traditional personal loan or credit card.
It should be noted that credit builder loans are not quick fixes for a poor credit rating.
They may not be suitable if you have high-interest debt, as this should be paid off first. You must also be able to afford the monthly payment, or you could damage your credit score.
Related: