It's not always easy for a kid to make money, as the legal age to start working in many places is 14. That said, you can still make money fast as a kid using various strategies.
Smaller kids can do things around the neighbourhood, while older kids can branch out and take on more responsibilities. If you have a child that is particularly good or interested in certain things, you can encourage them to make money doing it.
Although making money is its own benefit, kids also learn about the value of money and what it is to do hard work. This can mould them into becoming successful entrepreneurs later in life.
This in-depth guide covers the various ways kids can make money in summer and winter and how to make money as a kid online.
Ways To Make Money as a Kid
1. Start a lawn mowing business
One of the ways to make money as a kid in the summer is by mowing lawns in the neighbourhood. It's a safe way for kids to bring in some extra money while perhaps learning to market themselves by going door to door.
Typically this job pays $5-$15 per yard, depending on the size. They'll need to learn how to safely use a lawnmower before doing it independently.
2. Become a photographer
If your child is interested in photography, get them a camera. This is a great way to make money as a kid without a job.
To start, family members and friends may buy the photos, but you can also help your child ask around coffee shops and local galleries for a spot to showcase their photos.
It will take some creativity and effort to get the word out about your child's photography. Your kid can set their price and also see what people are willing to pay while learning the value of art and their ability to create it.
3. Create a product to sell
If your child has a creative side, there are plenty of ways to make money as a kid. Help them choose a DIY project or something that involves building a new product.
The sky's the limit here, and so is the potential to make money for a kid. Again, it may take marketing to get the word out but creating products based on demand could be a lucrative business your child will enjoy.
4. Tutor others
Older kids that are good at certain subjects and have patience may consider tutoring. This is one of the best ways to make money online as a kid.
Hourly rates can be as high as $20, so your kid only needs a few people to tutor to make some decent money. There are syllabuses online to help, or your child can help with homework.
5. Clean houses
This is one way to make money as a 12-year-old and up. If you find that your child is pretty good at keeping their room clean, you can help them get a few clients.
Cleaning a whole house is a big undertaking, so you may want to have your child start with smaller cleaning tasks. It can pay $15-$20 an hour.
6. Teach seniors how to use computers
Your kid can help seniors learn about computers. This can include helping them with basic tasks important for everyday life, like online banking or talking to their family members on a messaging platform.
One way to connect with seniors is to give flyers out to homes in your area. This gig can pay anywhere from $8 – $20 an hour, or your kid can arrange to teach a few seniors at once, giving them more money per hour.
7. Grow vegetables to sell at a farmer's market
Does your child have a green thumb? If so, they can grow vegetables and sell them at a weekend farmer's market. This is one of the wholesome ways to make money as a kid.
Depending on the farmer's market and what they're selling, they could make a few hundred dollars over the weekend. However, they'll have to pay for the stall at the market, and this should be considered when making revenue/profit projections.
8. Shovel snow
A top way to make money as a kid in winter is to shovel snow. In the first season, your kid may have to scout for clients, but once they get going, subsequent years should be easy.
Snow shovelers can make anywhere from $5 to $20 per driveway. The best customers will be your neighbours, so how much your kid makes depends on how large your area is and how much it snows.
9. Help out a senior with daily tasks
If there are seniors in your neighbourhood, your child can help them out with tasks around their home. They can deliver groceries if there's a store nearby or help them out in other ways.
The tasks are going to differ but are generally quite easy. It might be as simple as watering plants or bringing garbage cans in and out. Your child can earn $10-$20 weekly for each senior they help.
10. Become a coach
Make money as a kid at home by becoming a coach of some sort. This is usually for older kids who have played sports and can teach younger kids some tricks.
The price will vary depending on how many people are involved in one coaching lesson. It can be anything from $10 to $30 per hour. Get the word out at places where games and practices take place, and your kid may build up a regular clientele.
11. Entertain at birthday parties
The ways to make money as a kid include doing something entertaining at birthday parties. Your child can learn to make animals from balloons or do magic tricks to get hired at parties.
You can make a post on Facebook to help your children get gigs at parties held for their peers, and then word of mouth will help grow the business.
Kids can make around $30-$40 per party, depending on their craft and the length of time.
12. Wash windows
Washing windows is something that many people in your neighbourhood would like to get done. All you need is a squeegee, some soap, and hot water.
To do the upper windows in a home, they'll need an extension so they are not climbing tall ladders that can be dangerous. Per job, your child can make anywhere from $25 to $50 per home, depending on the number of windows.
This is a time-consuming job, so it's not recommended that they take on more than 1-2 clients per day.
13. Paint fences
One odd job that people want to be done is to have their fences painted. This can be a great way to make money as a kid in the summer months.
You can have your child go around and knock on doors in the neighbourhood to get clients. When people see someone painting fences, they may show interest in having your child do theirs too.
Fence painting can keep your child busy all summer, and they can make good money. Per job, your child can charge between $50 and $200, but it will often take a few days or a week to complete each project.
Related: Best Bank Accounts For Kids.
How To Make Money as a Kid Online
14. Start a YouTube channel
If your child has the ideas and a natural flair for making videos, you can help them to start a YouTube channel. This is a good way to make money online as a kid.
It's not easy to start and may take some marketing strategies, but if your child is successful, they can make up to a few hundred dollars a month. Some kids as young as 12 have made millions with their innovative YouTube channels.
15. Sell used items online
As your child ages, they may want to get rid of their old toys, sporting equipment, and other kids' stuff online. You can help them sign up for sites like Kijiji or post on the Facebook marketplace.
They will learn to price things, negotiate, and set up pick-ups. How much they make will depend on what they're selling.
16. Start a blog
Blogs can be successful when done properly, so if your child is good at figuring out how to get attention online, this could be a great opportunity.
There are various ways a blog can make money, including being an affiliate for various products you review.
Here is a detailed guide on how to start a blog.
17. Take online surveys
There are lots of online survey sites that accept kids starting at 13 years old. Check out sites like Swagbucks, Ipsos i-Say, PrizeRebel, and Toluna.
Here is a list of the best surveys in Canada.
18. Create online courses
How to make money as a kid at home includes creating online courses. Depending on how much demand the course topic is, your child can make good money if they create a good course.
There are sites like Udemy that make it easy to post courses, and they do the marketing. You can also use Teachable.
These platforms will take a cut of the profits, but it's easier than building a brand-new website to market your courses.
19. Freelance on Fiverr
Fiverr is a massive site with millions of potential clients that allows you to post freelancing services online. The starting rate is $5, and your child can post whatever services they have.
Maybe it's drawing a birthday greeting, making videos, or doing voiceovers. You'll have to set your child up on Fiverr, as they don't accept kids directly.
20. English conversations with students
There may be an ESL school in your town or city. If this is the case, you can help your child create a buzz that they're willing to have conversations with students learning English. They can also find clients online.
There are Facebook groups you can connect with to help you out, or you can post on the message board directly at the ESL school.
21. Become an influencer
Kids that have their hand on the pulse can become influencers. If they get enough followers, companies will start to pay them to review their products or services.
It can take some time, but there are kids who have made a full-time wage by getting into the right niche and producing good content as well.
22. Work as a graphic designer
There are simple graphic design jobs people want to get done online. If your child is good at creating things on the computer, this might be one of the easy ways to make money as a kid for them.
They can work on simple logos and advertise on a variety of sites. Fiverr is one of the most well-known places to advertise for graphic designers.
There may be some learning curves, but for simple graphics, your child can make about $100 per week and learn how to meet deadlines.
23. Sell on Etsy
If you have a child who is good at arts and crafts, they can sell their handmade wares on Etsy. Etsy is an easy site to work on, and they don't charge a lot when something is sold.
Here are some Etsy alternatives for selling handmade stuff online.
24. Start an online shopping store
Your child can open an online shopping store, and Shopify makes it easy.
They get access to pre-made store layouts and can easily set up an online store to sell various products. If they use dropshipping, they won't have to keep any inventory.
25. Sell on eBay
Selling items on eBay is another way to make money as a kid. Chances are that you already have an eBay account, so you can teach your child how to post product ads.
eBay is very user-friendly, so it's a great option for kids. There are costs involved when you post or sell things, but there's a good chance they will get eyeballs on what they want to sell and potentially make sales.
26. Teach others to code
One of the ways to make money as a kid at home is to teach others how to code. This is for kids that understand it, as it's complex for most.
Depending on their skill level and clientele, they can make hundreds of dollars doing this gig.
27. Teach music lessons online
If your child is gifted musically, they can teach online music lessons. They can even take this gig a step further and create a course or series of online classes people can take at any time.
Your child should be a little older, as being a teacher does take patience and a bit of maturity. They can make between $20 and $30 per hour.
28. Design websites
Your child can design basic websites if they're good with computers, CSS, Html, and graphic design. This is a job that costs nothing to start, and they'll likely see a lot of projects coming their way.
This is one of the ways to make money as a 12-year-old or older. They can make a few hundred dollars on a simple website.
Kids are the voice of our generation and have naturally kept up with all the ways to create compelling content. For older kids, managing social media platforms can be easy and bring in some good money.
Even corporations understand the value of using a kids' natural message on their social media.
First, your child should manage their own platform to get used to it and prove their capabilities. Then you can help them get gigs on Fiverr or Upwork. They can also speak to local businesses to drum up some work.
They can make up to $500 per month, and this is one of the most lucrative opportunities when it comes to ways to make money as a kid online.
30. Become a streamer
This is very similar to becoming a YouTube star. It takes work and knowing what others want to hear about.
There are a few different ways they can stream themselves, but most platforms are totally free. Then it's all about marketing themselves, so people watch their gaming streams.
This can be something that leads to no money or a lot. It's not easy to get into this with so much competition.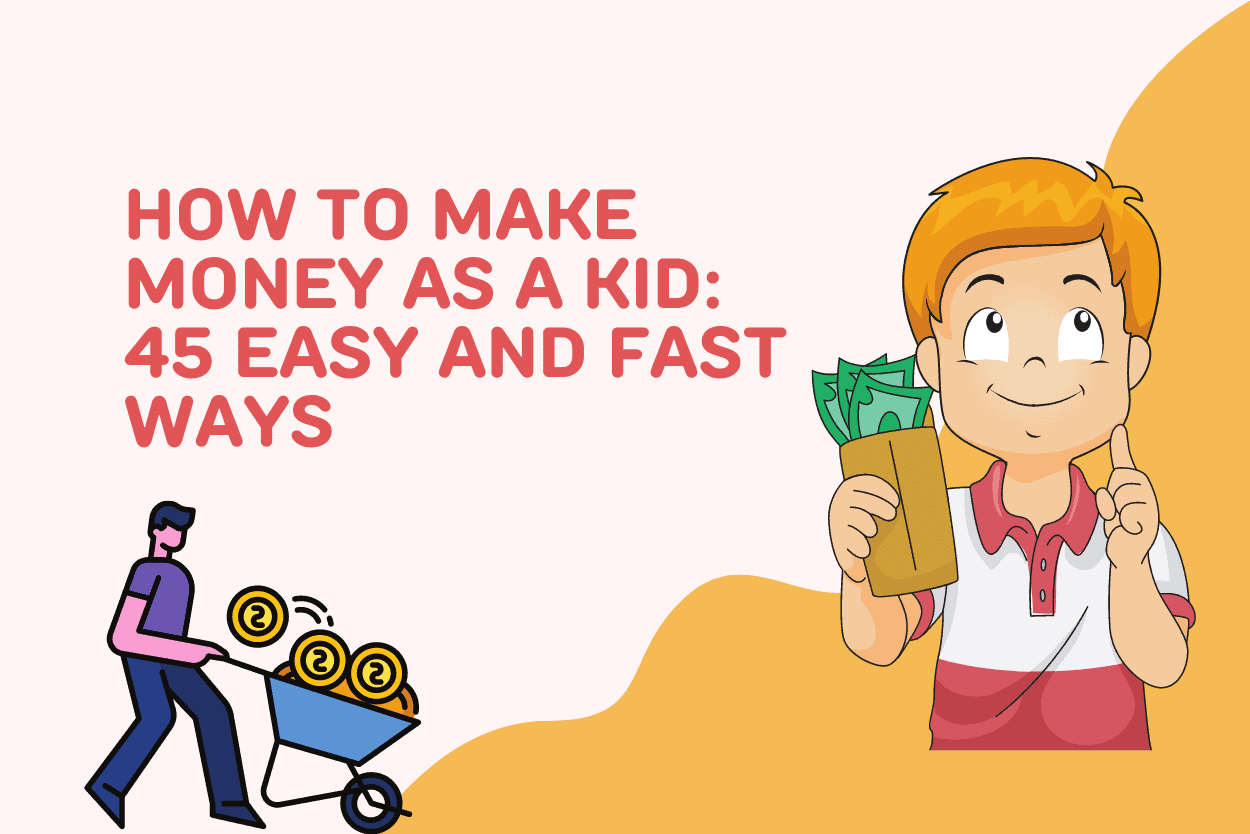 How To Make Money as a Kid at Home
31. Run a lemonade stand
One easy way to make money as a kid is to have a lemonade stand in your neighbourhood. Even when people don't feel like having a lemonade, everybody seems to buy because, chances are, they were once the kid with the lemonade stand.
Depending on your neighbourhood, your kids can charge up to $1.00 per cup. This is a great way to make money as a kid in the hot summer months.
32. Babysit
A 14-year-old or older kid can babysit. There are certifications they can get, so they know the basics of taking care of kids. You can also help your child solidify their first few gigs with the moms you know.
From there, word of mouth will increase their business opportunities. Babysitting gigs can pay up to $20 per hour, so it's good money for your child.
33. Walk dogs
If your child is good with animals, walking dogs is one way for them to make money. Chances are that there are dogs in your area that need to go for walks.
Dog walkers can make up to $20 per dog for a 30-minute dog walk. It's important that the dogs are already trained and well-behaved so your child can control them easily.
34. Provide pet-sitting services
Pet sitting services allow your child to take care of animals in the owner's home.
Your child will be in charge of feeding, walking, and generally keeping the pet company. Your child can charge up to $30 per day for this gig.
35. Do chores at home
One way to teach your child about the value of money and responsibility is to give them duties at home. This is a great entry point for them, and it's done from the safety of your home.
It also frees you up because you don't have to do these chores. How much you want to pay is up to you, but generally, most tasks should cost you $5.
36. Invent something useful
Encourage your child to be creative, and they just might invent something useful. Many kids have created things that don't take much money to create but can sell like hotcakes because they're useful.
The sky is truly the limit here. If your child does create something useful, get them into a market where they can showcase their creativity.
37. Provide pet grooming services
If your child is good with animals, they can start a pet grooming service. This is something they can advertise along with their dog walking and pet sitting services.
It entails having a space where they can give animals a bath and then brush them out. You don't want them doing this in your house. Before you start the business, be sure to establish where the grooming will take place.
Your kids can charge anywhere from $20 to $40 per animal.
38. Sell baked goods
You can help your child make baked goods like cookies or brownies and sell them. The most convenient way to sell is to have a little bake sale table in your area.
One bake sale can bring in about $50 at a time, but that's not guaranteed.
39. Collect and sell golf balls
Collecting golf balls and selling them for $1 to $2 each is one way for your kids to get some cash. Your child can talk to your local golf courses to see if they can collect lost balls from out-of-bound areas.
This is a good summer gig for kids in the summer. Beware that there may be competition from other kids. So, try to talk to the golf course in the spring to solidify the rights to collect golf balls from their property.
40. Start a jewelry business
Do you have a child who is great at designing their own jewelry? Jewelry is like art, and everyone has their own tastes. It's likely that if your child can create something quality and unique, they can sell their jewelry.
The best place to sell it is at a Farmer's Market, which creates some overhead for this business. However, if the product sells well, kids can make up to $100 every weekend.
41. Start a t-shirt business
T-shirts are always popular, so if your child has some good design ideas, this is a way to make money as a kid without a job.
It has become easier and cheaper to have t-shirts in small batches manufactured and sent to your door. The t-shirts can be sold online or at local neighbourhood markets.
There is some overhead incurred with this business, and you may want to urge your child to draw up a business plan.
42. Start a band
This is a dream job for anyone, from kids to grown adults. If you have a child who is musically talented, you can help them start a band.
It's a long shot, so you may have to pep-talk your child, letting them know there will be challenges. However, if they get some gigs, it's great for their confidence, and they could make up to $200 per show.
43. Work as a writer
Older kids can make money writing. It could be simple writing gigs that they advertise on some of the freelancer sites. This can make them around $15-$20 per hour if they find the right clients.
Encourage them to write about what they know and help them get online to advertise their services.
44. Publish a book
It's never been easier to self-publish a book. If your child has a book idea, they can create the outline. You can post it on Amazon books once they've created the content and title page. They can choose to have it as an ebook or use services to have it published in paperback.
There is some overhead to getting the book published and a lot of competition. Most books are sold for very little as well. It might be a good idea to see if your local bookstore supports local writers. Then you can sell it for a little more.
Related: How To Sell on Amazon USA from Canada.
45. Make music
Easy way to make money as a kid could include composing music. This isn't an easy task, but if your child already jams and creates their own tunes, encourage them to keep a record of it.
They can earn streaming royalties through digital distribution and sell beats and samples. This can be done online or through music affiliations in your area.
How Parents Can Help Kids Become Entrepreneurs
There are many ways you can help your kids to become entrepreneurs. The next time they ask for money, tell them to think of ways they can provide a service.
Help them figure out what they want to do and what they're good at. If something needs to be done online and there's an age limitation, sign up and help them get noticed.
Encourage and support throughout, and you'll help your child start their own business.
Benefits of Working and Making Money as a Kid
They get a sense of confidence
They make their own money
They become more independent
They learn a lot about becoming entrepreneurs at an early age
They can put their talents to good use
How To Make Money Fast as a Kid FAQs
Can I make money fast as a kid?
If you're willing to do small tasks, you can make money today. Find out what your neighbours' needs are and go knocking on doors. Mow a lawn or do some weeding and get paid instantly.
What are some of the best jobs for 12, 13, and 14-year old's?
Older kids can take on jobs like pet sitting, babysitting, helping seniors with tasks, and doing chores. They can also do housekeeping, which includes cleaning up bathrooms, the kitchen, dusting, and vacuuming.
How do I make money as a kid without a job?
As a kid without a job, you can do things like start a yard sale, and getting rid of things you no longer need. You can start a YouTube channel or teach people something you're an expert at. There's no limit to the kind of things you can do to make money.
What are the best summer jobs for kids?
The best summer jobs involve going outside. You can do things like mow lawns, garden, and water plants for neighbours. You can have a lemonade stand daily on those hot days and help people in your area refresh themselves. Many people go away for summer holidays so older kids can housesit.
Related: