eBay is an auction website that allows you to list products and sell them to interested buyers.
Although the platform has been popular for years, there are numerous other alternatives to eBay that you may not know about that offer the same, if not better, services than eBay.
Below you'll find 13 alternative platforms to eBay to sell your stuff online in 2023.
Sites Like eBay in Canada
There are many Canadian sites like eBay to sell stuff, which can be a better fit for your needs. This post will cover some of the best alternatives to eBay in Canada in 2023.
1. Kijiji
Kijiji is an online classified advertising site and one of the most popular online platforms in Canada.
The site's popularity is undeniable, and almost everyone in Canada knows about Kijiji. If you want to sell stuff online, it's one of the best options.
Kijiji allows you to sell pretty much anything from clothes to electronics and furniture. The site is free to use for sellers and buyers; however, Kijiji does offer some premium listing options that allow sellers to feature their ads on the website for an additional fee.
The buy and sell site can be used in English or French, and it is available in all major cities and regions throughout Canada, including Quebec.
2. Facebook Marketplace
Facebook Marketplace is an online marketplace just like Kijiji that makes it easy to sell stuff you don't need anymore.
You can sell pretty much anything on this platform. Whether you want to sell your old iPhone or clear out some space in your closet, Facebook makes it easy to list items and find local buyers.
You don't have to pay anything to use their services. You can list whatever you're selling and start chatting with potential buyers.
To use Facebook Marketplace, open up your Facebook app and click on the Marketplace icon.
To list an item for sale, add photos of your product and fill out a few details about the item to be sold. Once that's done, buyers can view and message you with questions about your product.
3. Etsy
Etsy is one of the best online marketplaces in Canada that connects sellers with people looking for unique items.
If you have vintage or handmade products, Etsy is the place to sell them. These items fall under a wide range of categories, including art, photography, clothing, jewelry, bath, beauty, and toys.
A strong selling point of Etsy is that it has a built-in social media component, which allows users to post their listings on Facebook and Twitter accounts automatically through their Etsy pages.
This can help boost sales for users with large social media followings.
It's easy to get started on Etsy, and they provide you with instructions on building a successful store.
Etsy charges a $0.26 listing fee, a 6.5% transaction fee, and a 3-4% + $0.25 payment processing fee on each item sold in your store, including shipping costs.
Want to make money on Etsy? Check out the Ultimate Etsy Course that teaches you how to earn a consistent 4-figure income monthly selling printables on Etsy. The step-by-step tutorials cover everything from idea generation to product creation, listing and marketing, and more.
4. Amazon
Amazon is an excellent alternative to eBay, mainly for selling books and electronics.
It also allows you to sell a variety of other items, including games, gardening tools. Clothes, and even groceries.
Amazon doesn't have an auction feature, but you can still create listings for products you want to sell.
They even offer multiple tools for sellers, such as the Fulfillment by Amazon (FBA) – a feature that allows you to ship your products directly to Amazon, so they can take care of shipping them out when you get an order.
Amazon charges a referral fee on each sale (typically 8-15% of the product's price), and it deducts that amount from your proceeds after your item sells.
It also charges a monthly subscription fee if you want to sell a number of items.
5. Poshmark
Poshmark is a bit like eBay in that you can sell your stuff on the site, but it's specifically designed for users to sell their old clothing and accessories.
So if you've got a bunch of clothes sitting around that you want to get rid of, this is a great choice.
Poshmark has no listing fees, but it does charge a flat commission on sales: 20% for items listed for $20 or more and a flat fee rate of $3.95 for items under $20.
Poshmark also has an app available that allows you to sell clothes from your phone.
The app enables you to take professional photos of your items and list them to your account quickly, allowing you to manage your account on the go.
The site's main drawback is that it only accepts women's clothing, shoes, and accessories.
There are also a few other restrictions, so be sure to go through their website before you make your first sale.
Related: How To Make Money Online in Canada.
6. BestBuy Marketplace
One of the most interesting eBay alternatives to consider if you live in Canada is Bestbuy Marketplace.
This site is operated by the major electronics store, Best Buy. It primarily focuses on electronics, but you will also find a good amount of other items listed here.
One of the main benefits of using this eBay alternative is that you will gain access to one of the largest and most engaged audiences in Canada.
To date, BestBuy receives over 400 million visitors a year, so this helps ensure that your products get sold faster than they would on other sites.
The website offers free listings for sellers and includes options for promotional packages for an additional fee. Its commission structure starts at 10 percent.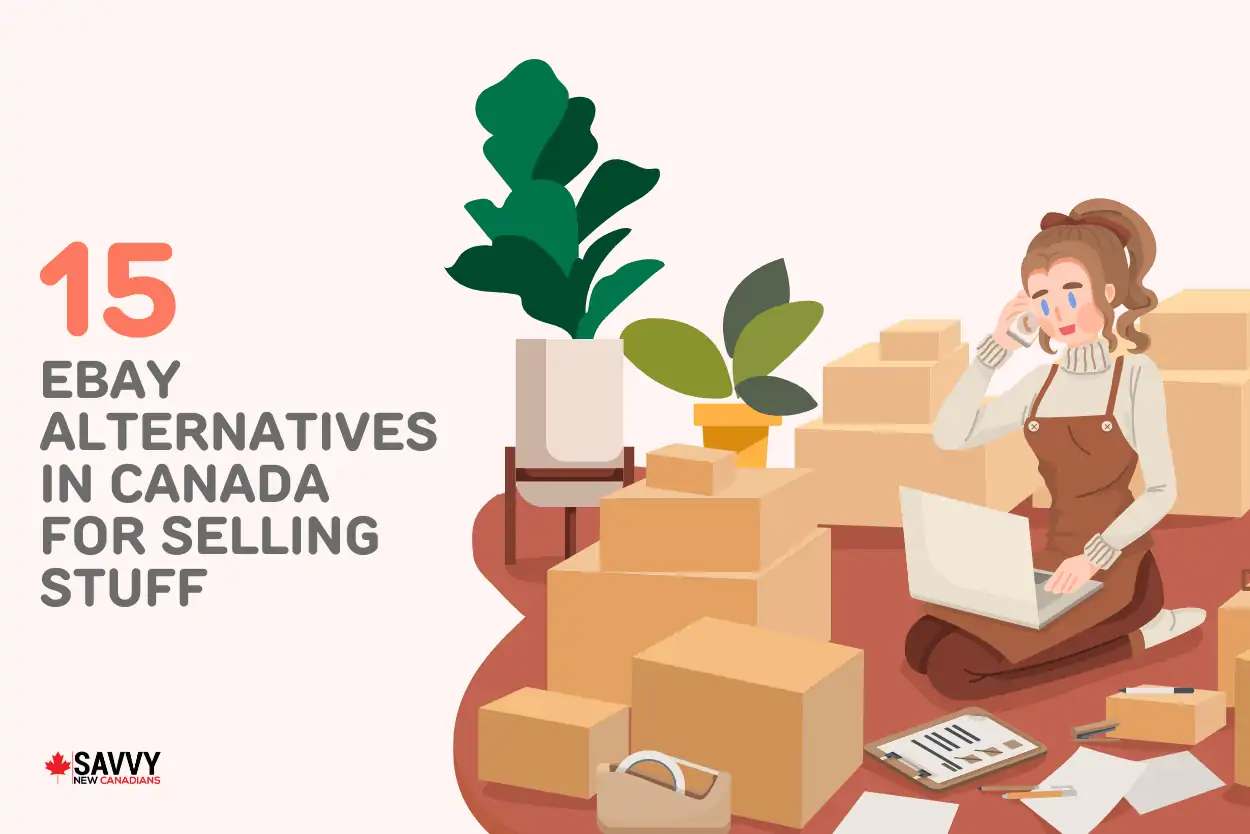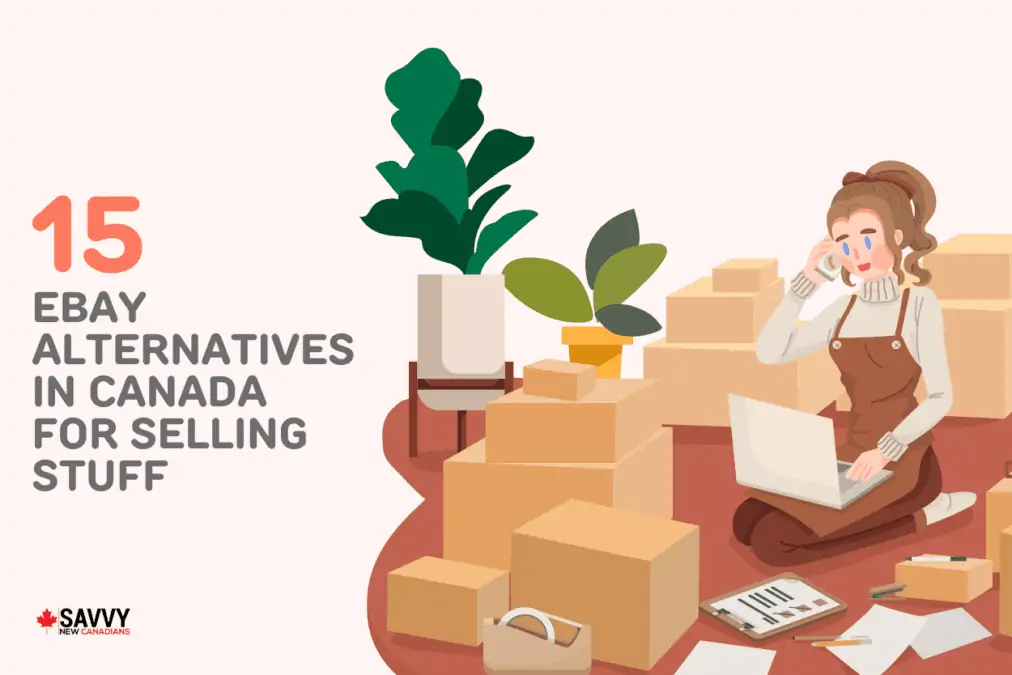 7. Walmart Canada Marketplace
Walmart Canada Marketplace made its debut in 2009, and though not as popular as eBay, it gets a steady stream of shoppers looking for deals on everything from toys to electronics.
The Walmart Canada Marketplace is free to join and requires you to be 18 years old.
There are three main seller account types: business seller (no monthly fee), professional seller ($33.75/month), the individual seller ($17.88/month).
With each plan, the company will list your products on its website and handle all aspects of the sale for you, including shipping and customer service.
Business sellers don't pay a monthly fee but are charged a 5% referral fee on each order.
Professional sellers can list up to 500 items per month with no referral fees, while individual sellers can have 100 items without referral fees.
Canada-based sellers can sell on Walmart Canada Marketplace because it offers free shipping to buyers in the country.
This helps reduce the cost of buying for customers and makes your items more competitively priced.
8. Newegg
Newegg is one of Canada's most popular auction websites that mainly focuses on electronics and computer hardware. It was founded in 2001 and now has over 30 million registered users.
This site is mainly known for selling computer parts and other electronics. It's a lot cheaper to use Newegg than eBay, and instead of paying per listing fees, you only pay a small commission for each item sold on your account.
You can easily create your storefront on Newegg and list your products if you're a seller. To start selling on Newegg, click "Sell on Newegg" from the menu at the top of the page, selecting Sell on Marketplace.
You'll need to fill out a seller application form and agree to the terms of service before you're allowed to start listing items.
Related: Best Work From Home Jobs in Canada.
9. Craigslist
Craigslist is one of the most popular sites to sell used goods, and it's a great alternative to eBay.
If you aren't familiar with Craigslist, it's a classified ads website where you can post listings in various categories, including furniture, books, electronics, clothing, and much more.
Most items on Craigslist are sold locally, which Craigslist will connect you with buyers in your area looking to purchase your stuff.
The best thing about Craigslist is that it's completely free to list your items for sale.
You don't have to pay listing fees or final value fees like you would on eBay.
It's straightforward to set up your account on Craigslist and list items for sale.
To get started, head over to their website, choose your location and city, and start creating your listing.
10. LightInTheBox
Light In The Box is one of the best eCommerce platforms for selling products from China.
It currently has more than 100 million registered customers and over 10,000 suppliers. They have a large variety of merchandise, including electronics, clothing, accessories, and many others.
If you want to sell products from China, this is an excellent alternative to eBay.
Unlike other sites that force you to pay listing fees, you only pay a commission between 3% and 10%, depending on the category of your product, when you make a sale.
We recommend Light in the Box for those who want to build their store website on their platform to sell products online.
Related: Best Jobs For Stay At Home Moms.
11. Vinted Canada
Vinted is an online marketplace that allows you to sell and buy used clothes – a great alternative to eBay.
Vinted Canada allows you to sell clothes, shoes, purses, and other accessories.
The platform has over 20 million members making it one of the largest marketplaces for buying and selling used fashion online.
There are no selling fees or hidden charges on Vinted, and you get to keep all the money you make.
Listing items is quick and easy – take photos of the things you want to sell, add descriptions and then upload them.
Vinted is perfect for those looking to clear their closet without the hassle of setting up an eBay account.
Plus, the website's social features make it easy for you to connect with other fashion lovers in your area.
12. Groupon
Groupon is a website that allows users to purchase coupons for local restaurants and businesses.
However, it doubles as an online marketplace for buying and selling goods.
Today, Groupon has grown to be one of the biggest eCommerce websites in the world, with more than 1 billion subscribers worldwide.
You can sell anything on Groupon, from health and beauty products to pet supplies and groceries.
To get started, open up a free seller account and create an offer for your product. Like eBay, Groupon charges fees per sale instead of listing fees.
The site will take a percentage of each sale you make — anywhere from 15-40% depending on the category of your products.
Groupon offers sellers great exposure to potential buyers. The website is visited by millions of users every day, so you're guaranteed to get your products seen by people all over Canada.
13. Loblaw's Marketplace
Loblaws Marketplace is a relatively new e-commerce marketplace where you can sell and buy new or used items directly from the website.
While you can list an item for sale for free, there is a $10 fee when someone buys it.
Payments are processed through Loblaws Marketplace, but you will have to pay a 2 percent service fee as well as a $5 transaction fee on every amount received.
Loblaws has been slowly rolling out its online marketplace to compete with Amazon.
The retailer's site offers Canadians a way to shop from all kinds of stores that they may not have access to in their neighborhood.
Related: 77 Legit Work From Home Jobs That Pay.
What Are The Best Websites To Sell Stuff in Canada?
It's easy to get rid of the stuff you don't need by selling it online. Our top pick for Canadians looking to sell things online is Kijiji.
Kijiji's massive user base of over 12 million Canadians makes it a great place to list stuff for sale.
You can list pretty much anything on this site, and it's free to post a maximum of 2 ads. After that, Kiji will charge you a low cost to continue adding items for sale on your account.
The downside with Kijiji is that there's no way to guarantee that the person you're dealing with isn't a scammer, so be sure to follow Kijiji's safety tips for keeping yourself protected.
Another site worth checking out is Craigslist. It has been around since 1995, making it one of the oldest online marketplaces and the most popular today.
The site is free to use and available in most major Canadian cities like Montreal, Toronto, Ottawa, and Vancouver.
Just like Kijiji, it's free to list an item for sale on Craigslist. And you can sell almost anything — electronics, furniture, clothing, and more.
Create an Online Store Like eBay
Having your online store is a great way to control what you sell and make even more money without having to worry about commission fees that come with selling on other platforms.
If you want to open an online store, you will need first to choose an eCommerce platform. There are many options out there, but one of the best options is Shopify.
Shopify is a complete eCommerce solution that allows you to set up an online store, accept payments, organize your products and manage orders.
Setting up a Shopify store is simple, even for those with no previous experience building an eCommerce site. You don't need much technical knowledge to create an online store on Shopify, as there are plenty of online resources to help you get started.
Here's a quick summary of the main things you need to consider when setting up your Shopify store:
Have a product ready that you want to sell. In this case, you will be selling your used stuff.
Choose a name. Next, you want to pick a name for your online site. The name of your site should be easy to remember and something that people can easily link with the type of products you sell.
Domain name. Next, you'll want to register a domain under your business name. Sites like Bluehost, GoDaddy, and Shopify allow you to check if your business' domain name is available for purchase quickly. If not, they provide alternatives to help you pick the best option.
Choose a theme. Once you have a domain and hosting, you can then pick a theme to design your site the way you want it to look. We recommend using the free themes first, as they're still very professional-looking and will help you get up and running much more quickly than paid themes!
Shopify provides a step-by-step process for accomplishing all the steps we outlined above, which is why we highly recommend that you give it a try and see if it works for you.
Conclusion
eBay may be the most popular online selling platform, but it's by no means the only one.
Sites like Craigslist, Kijiji, and Facebook Marketplace have made it easier than ever for sellers to reach a massive audience without dealing with the extra fees hassles of selling on eBay.
Whether you want to sell your unwanted old clothes, unneeded household goods, or even your artwork, other eBay competitors can help you get the job done.
Check out this post for more info on various sites to sell stuff like eBay that are perfect for getting rid of excess stuff.
Related: Best Etsy Alternatives.