Rover.com is a popular dog-walking and pet-sitting app in Canada and the United States.
The pet care industry is a $100 billion business, and dog walking and pet sitting services alone were projected to bring in a revenue of $1 billion in 2019.
Rover, Wag, GoFetch, and other dog-walking apps make it super simple for dog (pet) owners to find caregivers for their pets at a reasonable fee.
In addition, these apps are also a darling of gig hustlers who use them to make money working part-time or full-time….just as they do with other gig economy apps like Lyft, Uber, DoorDash, Postmates, and Instacart.
Read this Rover review to see how it works, its pros and cons, and how to make money with dog walking and pet sitting in your area.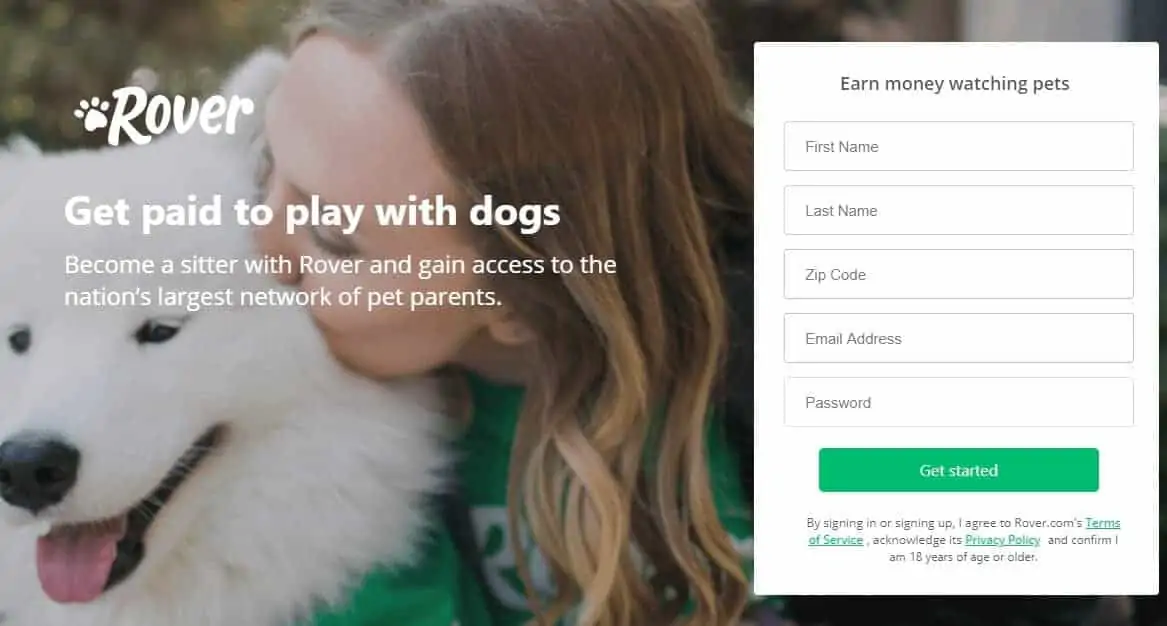 Rover.com Review
What is Rover.com?
Rover.com was founded in 2011 and is the world's largest network of dog walkers and pet sitters. The company operates in Canada and the United States with a presence in over 14,000 cities and more than 200,000 local sitters. In 2017, Rover acquired its main competitor, DogVacay.
The Rover app makes it easy for pet owners to find sitters who can either stay at the owner's home or care for the pet at their residence.
Pet sitting rates are transparent, and a Rover Guarantee protects the dog (pet) from accidents that may occur while in care.
For pet sitters, the Rover app makes it possible to get paid for playing with dogs and other pets.
Services available through Rover.com are:
Dog boarding
Dog walking
Doggy daycare
House-sitting and Drop-ins
How To Make Money With Rover.com
If you love animals, consider monetizing your free time using Rover. You can earn real money caring for other people's pets, walking dogs, house-sitting cats, and more. To get started,
Complete your profile and highlight your love for pets, the types and sizes of pets you are comfortable with, references (if available), photos of your pets, and the space in your accommodation. No special formal qualifications are required.
Wait for Rover to manually approve your application.
Specify your availability, daily rates, and other details.
Receive payments via PayPal.
It is free to sign up with Rover, list your services and start accepting gigs. When you complete a walk or pet-sitting task, Rover takes a 20% cut from your earnings.
Dog Boarding: Provide overnight care for a dog or cat in your home. Dog boarders earn the most on Rover.
House Sitting: Pet-sit an animal in its owner's home or stop by on a schedule to check on it and get paid.
Dog Walking: Accept requests to take a dog for walks during your spare time.
Dog Daycare: Provide care for one or more pets in your home during the day.
Rover Guarantee for Pet Sitters
With the 20% cut that you give to Rover, they also give you some benefits back in return.
Rover sitters and walkers receive free support that is available 24/7 and includes veterinary assistance. Your services are protected for up to $1 million (covering property damage and third-party injuries), and the app makes running your pet-sitting business a breeze.
In addition, Rover provides sitters with free continuing pet education.
How Much Money Do Dog Walkers and Pet Sitters Make?
A 30-minute walk on Rover costs $20, while a one-hour walk costs $30 on average. Pet sitters charge anywhere from $35 to $70 daily/night.
The amount of money you make on Rover will depend on whether you decide to use the platform on a part-time or full-time basis. It will also depend on how high the demand for pet-sitting services is in your area.
Based on Indeed.ca reviews, the average salary reported by pet sitters and dog walkers is $1,000 per week.
Related Posts:
Is Rover.com Legit and Safe?
Rover is a legit business that connects dog sitters with clients who are looking for pet-sitting services. They have an A+ rating with the Better Business Bureau, and on TrustPilot, their TrustScore at the time of this writing is 4.6/5.
While they do have a Rover Guarantee that covers some potential costs or damages that may arise, both pet owners and sitters still need to vet each other to be sure they are comfortable working together.
Based on the reviews and rating system offered through the app, pet owners can get an idea of how reliable a sitter is. For pet owners, it's also advisable to do a 'meet and greet,' and for pet sitters, make sure a friend or partner knows of your whereabouts.
Overall, I think Rover is much safer than using general online boards like Craigslist.
Benefits of Rover.com for Pet Sitters and Dog Walkers
Some of the advantages of using the Rover.com app for your petsitting business are:
It is free to join
You get paid via PayPal or check
It is an easy-to-use and versatile mobile app
You can set your own price
No previous formal job experience is required
It's fun work if you love animals
Downsides of Rover.com for Pet Sitters and Dog Walkers
Some of the common complaints by sitters and walkers are:
Limited work availability in some areas, which means you may not be able to depend on Rover as your main source of income
No other work benefits, and 20% of your earnings go to Rover
No compensation for damages to the sitter's property or possessions
Become a Delivery Driver With Uber Eats
Uber Eats is one of the best food delivery platforms available in thousands of cities worldwide.
You can sign up to become a delivery driver with Uber Eats if you have a valid driver's license, a 2- or 4-door car less than 20 years old, proof of vehicle insurance, and are at least 21 years old. You will also need to pass a background check.
You can deliver as many or as few hours as you want on your schedule and cash out earnings easily. You also keep 100% of the tips you get. This side gig is a great way to bring in extra income.


Is Rover.com Worth Your Time?
If you want to leverage your time to make extra money and don't mind pets, this gig is worth trying out.
On Rover.com, you set your own schedule and prices, which makes it easy to factor this side hustle into your normal daily routine. For example, you can choose to pet-sit or walk dogs only in the evenings and on weekends.
Part-timers can easily make $1,000 per week on Rover, and if the demand for pet-sitting services is high in your city, you can even manage to make a six-figure income!
Be upfront with pet owners about the services you provide, what you are comfortable doing and what not to expect from you. While on a gig, provide updates through photos and text via the chat function in the Rover app.
As the positive reviews and re-bookings pile up, so will your opportunities to make good money.
Frequently Asked Questions
How do I become a dog walker on Rover?
Visit Rover.com to register and complete your profile. Rover manually reviews applications (takes about a week or less), and once approved, you can start accepting requests.
How much does Rover pay?
You set your own prices. Based on sitter reviews, it is realistic to make $1,000 per week if you are providing services on a part-time basis. On average, dog walkers earn $20 per 30-minute walk, and pet sitters can charge up to $70 per day, with overnight stays costing more.
Does Rover.com do background checks?
Rover provides a basic background check that confirms the sitter's social security number and address. It also checks that they are not on a sex offender's registry, terrorist watchlist, or listed on the National Criminal Database for "disqualifying" criminal offences. Sitters also have the option to complete an "enhanced" check which is more detailed. A badge on the sitter's profile indicates to pet owners that they have completed the enhanced background check. 
Is Rover only for dogs?
No, sitters can also accept requests to care for cats, fish, hamsters, guinea pigs, goats, and other animals.
Do dog walkers make good money?
You can earn $30 per hour walking dogs via Rover.
What are some of the popular dog-walking apps?
The popular dog-walking apps in Canada and the United States are Rover, Wag, GoFetch, Swifto, and Spot.
Do you need insurance as a dog walker or pet sitter?
Rover offers a $1,000,000 liability insurance to protect your services. However, damage to the sitter or walker's property is not covered. So, you may want to buy additional business insurance.
Can I make $100 per day with dog walking and pet sitting?
Yes, it will take some work, but it is totally doable.
Does Rover charge a fee?
Rover.com is free to use; however, they take a 20% cut from your earnings.
Do I have to pay taxes on Rover?
You are an independent contractor and are responsible for your tax payments. Pet sitters who receive over $600 via check during the year will receive a 1099 tax form from Rover by January 31st of the year following the applicable tax year. If you withdraw your earnings via PayPal, they do not send you any tax documentation. You can always view your total earnings for the year on your Rover account dashboard.
Related: Work From Home Jobs For Moms and How To Make Money With Airbnb.