The CIBC Aventura Visa Infinite card was designed with frequent travellers in mind.
It offers a number of travel benefits and insurance coverage that are not standard fare, and when you add in the flexibility of redeeming Aventura points and sign-up bonus offers, this card is easily one of the best travel credit cards in Canada.
This CIBC Aventura Visa Infinite Card review covers its most rewarding features, perks, limitations, and everything else you need to know.
CIBC Aventura Visa Infinite – Summary of Features
$120 annual fee; waived in the first year
Up to 20,000 Aventura welcome bonus points
Earn 2 points per $1 spent on travel
Earn 1.5 points per $1 spent on gas, grocery, and drugstore purchases
Earn 1 point per $1 on everything else
Complimentary Priority Pass membership with 4 free airport lounge visits per year
Nexus application fee rebate
Comprehensive travel insurance benefits
Mobile device insurance up to $1,000
24/7 access to Aventura Travel Assistant
The CIBC Aventura Visa Infinite offers a combination of loyalty rewards when you spend using the card, as well as travel insurance benefits and perks that stand out in its category.
CIBC Aventura Visa Infinite Rewards
The CIBC Aventura Visa Infinite offers new cardholders 15,000 bonus points when you make your first purchase. An additional 5,000 bonus points are credited to your account when you spend $3,000 or more within 4 months of opening your account.
This card offers 2 points for every dollar spent on travel purchased through the CIBC Rewards Centre.
You also earn 1.5 points for gas, grocery, and drugstore purchases with an option to get an extra 3 cents off per litre of gas when you link your CIBC card to Journie Rewards.
There is an $80,000 limit for earning at the 1.5x reward rate, after which the earn rate for this category of spending falls to 1 point per $1 spent.
CIBC Aventura Visa Infinite Travel Benefits
This card offers frequent travellers a couple of practical perks including a complimentary Priority Pass membership and the rebate of Nexus application fees. The complimentary Priority Pass membership also includes four free annual airport lounge visits.
Considering that a Priority Pass membership costs $99 USD per year and each visit to an airport lounge cost $32 USD per person, this perk is worth approximately $227 USD every year.
A Priority Pass membership offers a gateway to more than 1,300 airport lounges around the world. If you apply for a Nexus card and charge it to your card, the fee is rabated up to $50 USD every four years.
Cardholders also have access to the Aventura Travel Assistant which offers travel booking planning and emergency support 24/7.
CIBC Aventura Visa Infinite Travel Insurance
The comprehensive travel insurance coverage provided by this CIBC credit card includes:
Out-of-Province Emergency medical insurance of up to $5 million for the first 15 days of your trip if you are under 64 years of age (3 days for those aged 65 and older).
Trip cancellation and trip interruption insurance with coverage up to $1,500 per insured person and $5,000 maximum.
Flight delay and baggage insurance.
Travel accident insurance up to $500,000.
Hotel burglary insurance up to a maximum of $2,500 per occurrence.
Car rental collision and loss damage insurance with coverage for up to a Manufacturer's Suggested Retail Price (MSRP) of $65,000.
Other Perks
It also offers the uncommon insurance coverage for damage to or theft of mobile devices up to $1,000 when you pay for a tablet or smartphone in full with your card.
Carholders enjoy car rental discounts at participating car rental locations and can also access the 24/7 Visa Infinite Concierge.
Lastly, it offers purchase security for 90 days and extended warranty for up to one extra year.
Downsides of the CIBC Aventura Visa Infinite
One main downside of this card is its annual $120 fee. While this fee is waived in the first year, it is payable in subsequent years. Also, supplementary cards cost $50 each.
You will need to earn at least $60,000 per year if you apply for the card based on your personal income. You can also join forces with a partner and apply using a combined household income of at least $100,000.
If you are looking for a no-fee card that offers travel rewards, check out this list of the best rewards credit cards in Canada.
How Aventura Rewards Work
Aventura Points can be redeemed for air travel, hotel stays, merchandise, gift cards, vacation packages or to make payments towards your credit card balance, mortgage, investments, ot line of credit.
The standard redemption rate for travel rewards is 100 Aventura Points to $1. You can enjoy an even greater reward rate (>1%) depending on where you are flying.
For example, you could pay for a short haul flight within Canada and the U.S. that is valued at $400 using just 20,000 points. This is double the standard value for a 2-4% return.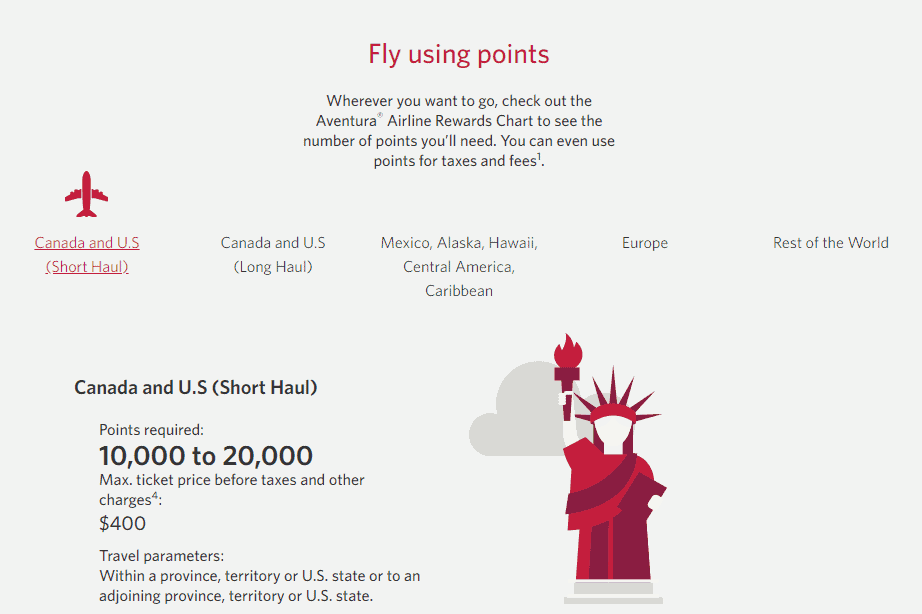 Based on the offer in their Airline Rewards Chart above, your 15,000 welcome points could potentially be worth close to $400.
One other upside is that you can use Aventura Points to pay for taxes and other fees incurred during your booking.
To redeem your Aventura Points, visit cibcrewards.com or call them at 1-888-232-5656.
Is the CIBC Aventura Visa Infinite Worth It?
This credit card has an overall package that is commensurate with its $120 price tag. If you travel frequently, you could save a lot of money earning and redeeming your Aventura Points.
One card that ranks a bit higher on my list of travel cards is the Scotiabank Passport Visa Infinite card ($139) which offers:
40,000 bonus points ($400 value)
Comprehensive travel insurance
Complimentary Priority Pass membership with 6 free visits annually (valued at $379 CAD)
No foreign currency transaction fee – a 2.50% savings when you make purchases in a foreign currency
Learn more about this card in this Scotiabank Passport Visda Infinite card review.
The CIBC Aventura Visa Infinite offers a rare mobile device insurance.
If travel rewards are not your focus and you prefer actual cash back, you should take a look at the no-fee Tangerine World Mastercard which also offers free mobile device insurance.
Related reading: