The CIBC Air Canada® AC conversion™ Visa* Prepaid Card is one of a few options for minimizing your stress and costs when you have to make payments abroad using foreign currencies.
If you are a frequent traveller, then you know about the hassles of having to make transactions in a foreign currency and the fees that come with it. These include exchange rates that change on a whim and the standard 2.5% or so in foreign conversion fees that apply.
While there are a few credit cards that do not charge foreign transaction fees in Canada, they are not many, and they often charge hefty annual fees.
This CIBC AC Conversion Card review covers how it works, its benefits, downsides, and alternatives like KOHO Premium.
How Does the CIBC AC Conversion Visa Prepaid Card Work?
The CIBC Air Canada AC Conversion Visa Prepaid Card is not a credit card. It's a prepaid card that allows you to load and hold up to 10 currencies simultaneously on one card.
You lock in an exchange rate, load up the currency you want, and spend your preferred currency when needed without incurring additional foreign transaction fees.
Considering the typical transaction fee of 2.5% charged by credit cards, you are saving about $25 CAD in fees for every $1,000 CAD in equivalent foreign currency spending. This is on top of any savings you may or may not have on the foreign exchange rate you get.
There is no need to hold (in cash) thousands of dollars worth of Canadian dollars in foreign currencies when you are travelling to save on foreign exchange (FX) fees…and no need to look for an FX bureau when you need local currency.
This card does that for you safely and more conveniently.
For a limited time, you earn 1% cash back on all purchases you make with the card.
Currencies You Can Load on the CIBC AC Conversion Card
You can carry up to ten (10) foreign currencies on your card, which allows you to pay for purchases like a local resident in about 45 countries!
This makes the AC Conversion Visa Prepaid Card one of the best multi-currency cards in Canada.
The currencies you can load are:
Canadian dollars (CAD)
U.S. dollars (USD)
Euros (EUR)
British pounds (GBP)
Mexican pesos (MXN)
Hong Kong dollars (HKD)
Australian dollars (AUD)
Japanese yen (JPY)
Turkish lira (TRY)
Swiss francs (CHF)
How to Load and Reload the CIBC AC Conversion Card
You can easily load or reload your card with your preferred currencies using your online account at acconversion.aircanada.com or the AC Conversion app. For account balance checks, you can also do this online or call and use their automated service.
The exchange rate at which you lock in your currencies stays the same and will not change regardless of what happens in the FX markets. For this card, CIBC also offers an exchange rate that is generally more competitive than what's on offer in the branch.
You can look at the current exchange rates here to know how much CAD you need to convert to get your preferred currency.
A few transaction limits to take note of:
Maximum load amount (single transaction): $2,999.99 CAD equivalent
Maximum balance: $20,000 CAD equivalent
Daily (24-hour) maximum point of sale limit: $2,999.99 CAD equivalent
Daily (24-hour) maximum ATM withdrawal: $2,000 CAD equivalent
When conducting a transaction using your card, it will first try to pay using funds from a "supported" currency (to save you money). If you do not have sufficient funds in a particular supported currency, it will move on to the other currencies you have loaded on your card.
When you have to pay for goods and services using a currency not loaded on your card, the typical 2.5% foreign transaction fees apply.
Related: Best Credit Cards for Groceries.
CIBC AC Conversion Visa Prepaid Card Fees
Applying for your initial card is free of charge. However, if you lose your card and need a replacement, use ATMs a lot outside Canada, or pay for transactions denominated in currencies that are not on your card, other fees may apply as shown on their website below: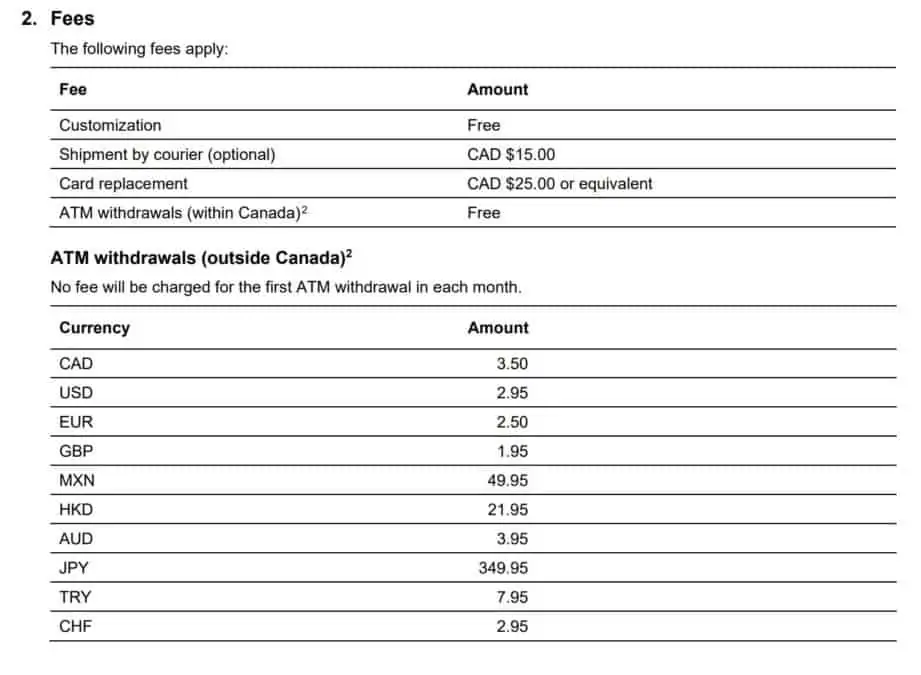 Pros of the CIBC AC Conversion Card
In addition to its convenience and potential fee and exchange rate savings, the CIBC AC Conversion Card offers some other benefits, including:
You do not need to be a banking client of CIBC to own the card.
If you lose your card, you can order a replacement card and transfer your balance over to it. There is 24/7 support available, and you can always call them at 1-800-482-8347.
The card is protected using chip-and-pin technology to deter fraud. They also offer an emergency card replacement and emergency cash service.
The card is not connected to your other personal or banking information. If you become a victim of theft or scam, you will not potentially lose your entire bank account, unlike a debit card.
You have online access to your account 24/7 worldwide, which means you can always load your preferred currency anywhere.
When you refer a friend, you both get a $10 bonus.
Cons of the CIBC AC Conversion Card
Downsides of the CIBC Air Canada® AC conversion™ Visa* Prepaid Card include:
It is not a credit card. If you want to spend money you don't currently have, this card will not do it for you. You must have the funds already loaded on the card.
Purchasing currencies and loading on the CIBC AC Conversion Card using a credit card and earning points or rewards on the credit card is possible. However, this transaction may appear as a cash advance on some credit cards and cost you cash advance fees.
You may still need access to cash in the local currency. The card comes with one free ATM withdrawal per month outside Canada; after that, ATM fees apply.
CIBC AC Conversion Card vs KOHO Premium Mastercard
One other card that gets the job done is the KOHO Prepaid Mastercard.
For a $9 monthly fee or $84 per year, you can get the KOHO Premium Mastercard Prepaid Card and save on FX fees when you spend abroad.
KOHO Premium offers the following benefits:
2% cash back on groceries, restaurants, and transportation purchases
No FX fees (equivalent to 2-3% savings)
Price matching so you pay the lowest prices on your purchases
Free financial coaching on demand
1 free international ATM withdrawal each month
These are in addition to the benefits you get with the regular/free KOHO Prepaid Visa:
Up to 5% cash back on purchases
Savings interest on your account balance when you set up a direct deposit
Access to a free budgeting app
Unlimited free debits and Interac e-Transfers
Offer: Get a $20 bonus when you use our CASHBACK promo code when joining and make your first purchase with the card.
KOHO Extra Prepaid Mastercard
$20 sign up bonus after first purchase (use CASHBACK promo code during sign-up)
Earn up to 5% cash back
2.00% savings interest on balance
Unlimited transactions, no FX fees
CIBC AC Conversion Card vs STACK Mastercard
The STACK Mastercard offers cash back rewards when you spend at specific retailers. You can use it abroad and pay no FX fees when you maintain a minimum monthly spend of $350 CAD.
If you meet this monthly eligibility requirement, FX fees are reimbursed on up to $1,000 CAD of FX spend outside of Canada. Otherwise, the standard 2.5% FX fee applies.
It has a $7.99 monthly fee.
*Closing down September 11, 2023
Up to $7.99 monthly fee
No FX fees abroad (terms apply)
Unlimited bill payments
CIBC AC Conversion vs Wealthsimple Cash Card
The Wealthsimple Cash Card does not charge a fee when you spend abroad…you only pay the currency conversion and fees charged by Visa.
This Visa Card works alongside the Wealthsimple Cash App, a free instant money transfer app you can use to send money within Canada.
It also offers a 1% cash back on all purchases, making it one of the best no-fee cash back cards in Canada.
And it comes with a virtual card you can use for online purchases and add to Google Pay or Apple Pay.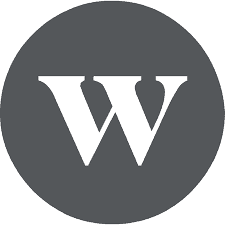 Prepaid Mastercard
1% cash back on all purchases
Free money transfer app
Access to virtual and physical card
Wrapping Up
If you go on vacations abroad or travel frequently, the CIBC AC Conversion Card is one option to manage the volatility of foreign exchange rates, save on fees, and conveniently pay using local currencies worldwide.
You can lock in rates when they are favourable to utilize the currencies at a later date. Better still, the card has no annual maintenance fees.
You can also check out the KOHO Premium Mastercard, Wealthsimple Cash Card, or STACK Mastercard for spending abroad.
Lastly, the recently launched Wise Debit Visa Card offers ways to spend money and make payments abroad without paying FX fees.
Related Posts:
CIBC AC Conversion Card Review
Annual Fees

Foreign Transaction Fees

Versatility

Overall Value
Summary
The CIBC AC Conversion Card is one of a few card options out there that minimize your stress and costs when you have to make payments abroad using foreign currencies. Another card worth checking out for zero FX fees is the KOHO Premium Visa.
Pros
Pay no foreign currency conversion fees
No annual fees
Accepted at millions of locations worldwide
Supports 10 currencies
Cons
Limited rewards
Not a credit card