The Vancouver City Savings Credit Union (Vancity) is Canada's largest credit union (based on AUM), with 543,621 members and over $28.2 billion in assets under management.
This Vancity review covers its main service offerings to individuals and businesses, including chequing, savings, mortgages, credit cards, insurance, and investments.
Who is Vancity Credit Union?
Vancity is the largest credit union by asset size in British Columbia and Canada. Four other B.C. credit unions in the top 20 in Canada are:
Vancity was founded in 1946 and services its members through its 58 branches across B.C.
Vancity members can conduct their banking at a branch or via telephone, mobile app, and online platform. In addition, they have free access to more than 4,000 ATMs across Canada through The EXCHANGE and ACCULINK Networks.
Vancity also has its ATMs in the Lower Mainland, Fraser Valley, and Greater Victoria areas. It was the first financial institution in North America to become carbon neutral.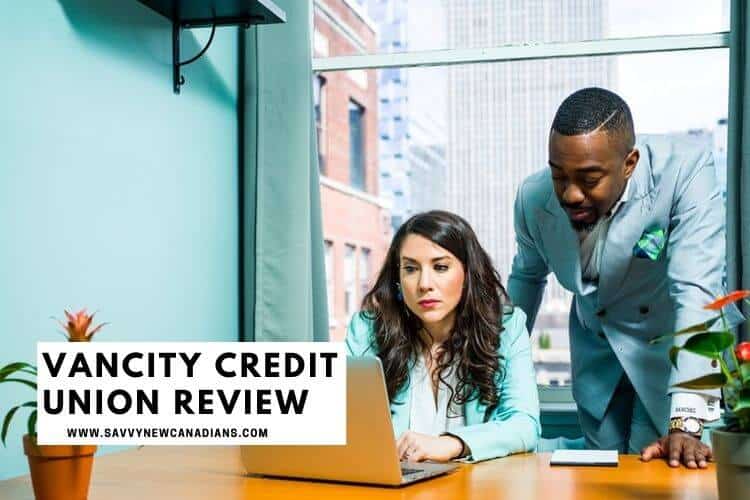 Vancity Credit Union Accounts: Personal Banking
Vancity offers all the basic accounts you would want in a bank, including chequing, savings, investments, mortgages, credit, and insurance.
Vancity Chequing Accounts
It offers six different chequing account packages:
E-Package Chequing: $7.75/month fee; waived if you keep a minimum balance of $1,000. Debits, cheques, preauthorized debits (PAD), and bill payments are free. Free Interac e-Transfers, one in-person transaction free, then $0.70 per transaction (waived with a $1,000 balance).
Pay As You Go Chequing: No monthly account fee, pay $0.70 per in-person transaction or $0.50 per debit, cheque, or pre-authorized transaction. Fees are waived if you keep a $1,000 minimum monthly balance.
Chequing Plus (for youth 25 years and under and members over 55): No monthly fees and debits, cheques, PADs, and online bill payments are free.
Access Chequing: An account for those with disabilities. Get up to 40 free monthly transactions, then $0.50 per transaction after ($0.70 for in-person transactions). Free online payments, free first cheques (x50), free travellers' cheques, U.S. dollar drafts, ATM network fees, Interac e-Transfer transactions, and $5 off a safety deposit box.
USD Chequing
USD Chequing Plus
Vancity Savings Accounts
Jumpstart High-Interest Savings: This is their high-interest savings account. It has no monthly account fees; however, a $5 /transaction fee applies for in-person, debit, and PAD transactions. Online banking is free (excluding Interac transfers). No minimum balance requirement.
Plan 24 Savings: Allows up to 10 free in-person transactions per month and $0.70/transaction after. Online banking is free (excludes Interac e-Transfer).
Plan 24 Savings Plus: For youth under 25 and members aged 55+. No monthly fees, and unlimited free transactions (both in-person and online, excluding Interac e-Transfer).
Vancity Credit Cards
Vancity has three credit cards:
1. Enviro Visa Infinite Card
19.50% interest rate
$120 annual fee, earn up to 10 points for every $1 spent (2.5 pts groceries, 5 pts public transit, 10 pts at select local businesses, and 1.25 pts for all other purchases). 100 points = $1.
Car rental collision/loss damage insurance
Flight delay and delayed and lost baggage insurance
Purchase security, price protection, and extended warranty
Mobile device insurance
Travel accident insurance up to $500,000
Complimentary Priority Pass membership
2. Enviro Gold Visa Card
19.50% interest rate
$99 annual fee
Earn 1 point per $1 spending (1% rewards rate)
Get 2,500 bonus points after your first purchase ($25 value)
Get 3,500 bonus points on your card's anniversary ($35 value)
Car rental collision/loss damage insurance
Travel accident insurance
Delayed and lost baggage insurance
Price protection, purchase security, and extended warranty insurance
3. Enviro Classic Visa Card
$0 annual fee
19.50% interest rate
Earn 1 point for every $2 spent (0.50% rewards rate)
Travel accident insurance up to $200,000
Purchase security and extended warranty
Mortgages: Vancity offers fixed and variable-rate mortgages.
Loans: They provide personal, line of credit, RRSP, and other loan types.
Investments: You can open various types of popular investment accounts, including:
TFSA: savings, mutual funds, bonds, stocks, and GICs.
RRSP: similar assets available in a TFSA account. Read more about TFSAs here.
RESP: savings, GICs, and mutual funds. Read more about RESPs.
RRIF: similar assets available in a TFSA. Read more about RRIFs.
RDSP: Read more about RDSPs.
Non-Registered Investment accounts: mutual funds, stocks, bonds, and term deposits (GICs).
Socially responsible investing
Discretionary investment management: for account sizes that are over $500,000.
Vancity has a partnership with Qtrade for members who want to manage their investments.
Insurance: Through a subsidiary, Vancity Life Insurance Services, they offer personal and business insurance and retirement planning services.
Vancity Credit Union: Business Banking
Vancity provides businesses with accounts and services to meet their needs.
Business Chequing Accounts
Independent Business Account: For small businesses. $6.50 per month (waived with a monthly minimum balance of $1,500). Free Interac e-Transfers.
Business Full Serve Package: $15-$55 monthly fees depending on the number of free in-branch transactions in the plan.
Business Self-Serve Package: $8-$28 monthly fees depending on the number of free electronic transactions in the plan. In-branch transactions cost $1.25/transaction.
Community Service Package: For non-profit organizations. Up to 40 free transactions/month.
USD Chequing: $3 monthly fee (waived if minimum monthly balance is $1,500 or more).
Business Savings Accounts
Jumpstart Savings: No monthly account fees, free unlimited online transactions, and high-interest rates.
USD Savings: No monthly fees.
Other business accounts:
Trust Account
Investment Pool Account
Prime and Custom Account Packages
Business Investments: Businesses can access various investment assets and portfolios, including GICs, mutual funds, stocks, bonds, online trading, wealth management services, and socially responsible investments.
Business Financing: This includes mortgages and various business/commercial loans.
How To Open a Vancity Account
You can open a Vancity account online, in person at a branch, and via telephone.
Branches: Use the Branch/ATM finder to find the Vancity location closest to you. There are 58 branches in Metro Vancouver, the Fraser Valley, Victoria, Squamish, and Alert Bay. You can book your appointment online.
Phone: Telephone support is available Monday-Saturday from 8 am to 8 pm and Sundays from 10 am to 5:30 pm.
Metro Vancouver: 604-877-7000
Greater Victoria: 250-519-7000
Toll-free #: 1-888-826-2489
Online: For online applications, you should have your social insurance number available.
To be eligible for membership, you must be:
Older than 19 years
A resident of British Columbia
Purchase five membership shares for $5
Vancity shares 30% of its net profits with members and the community they serve. Over $300 million has been shared since 1994.
As a member, you are a part-owner and can vote for the Board of Directors or run to be a part of the Board. You can purchase additional membership shares up to a maximum of 1,000 shares.
Vancity Credit Union Fees
In addition to the basic fees associated with each account, here are some of the miscellaneous fees to expect for personal banking.
Is Vancity Credit Union Safe?
Your deposits with the Vancouver City Savings Credit Union are 100% guaranteed against insolvency by the Credit Union Deposit Insurance Corporation (CUDIC) of British Columbia.
This includes money in your savings, chequing, joint and trust accounts, term deposits, GICs, foreign currency deposits, RRSP, and TFSA savings accounts.
CUDIC does not guarantee investments (e.g. mutual funds), debt instruments, and your credit union equity shares.
Conclusion
Credit unions are a great middle-ground between baking with the Big Banks and online-only banks.
You enjoy the benefits of membership (dividends), lower fees, great customer service, community, and in-person service at a brick-and-mortar location when needed.
This review is part of a series I have done on Canadian Credit Unions showing how they stand as alternatives to the Big Banks.
Related Posts