STACK is one of the best prepaid cards available to Canadians. With the reloadable STACK Mastercard and app, you can "spend, save and share (money) with zero fees" anywhere in the world.
The STACK card and app are a continuation of the current trend to save bank clients from having to pay ridiculous fees at every turn as is evident in today's traditional banking system. Another great reloadable prepaid card and app that functions similar to STACK is KOHO.
This STACK Mastercard review covers everything you need to know about how it works, its numerous benefits, rewards, how to get your free card, and how you can get a free $5 referral bonus when you sign up and fund your account with at least $300.
Review Rating Summary: 4/5

The STACK app makes it easier to manage your everyday spending and saving. Above all, you can now forget about paying fees on your money!

DOWNLOAD THE APP using this link (mobile phone only).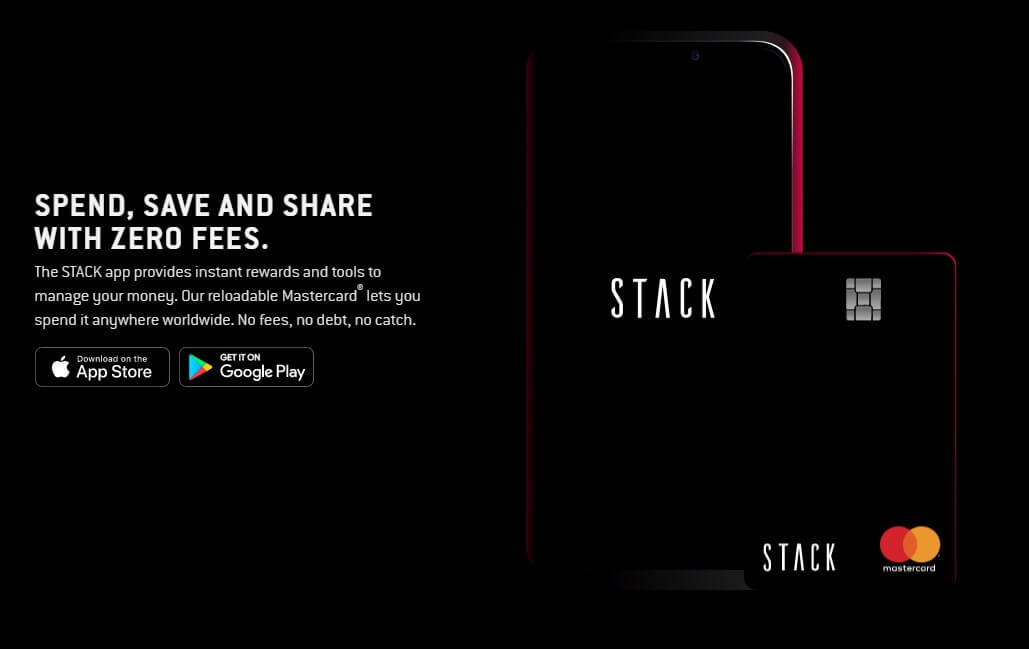 What is STACK?
STACK is a fin-tech company based in Toronto and founded in 2017.
The STACK Mastercard is not a credit card, rather it is a reloadable prepaid card that makes it easy for you to spend money at home and abroad without paying any fees.
The company has a partnership with People's Trust, a financial institution with more than $6.9 billion in assets under management.
STACK Mastercard Benefits
No monthly or annual account fees
No ATM withdrawal fees
$5 sign-up bonus (when you
Free and fast STACK-to-STACK transfers
Automated savings plan
Free replacement card
Free budgeting tool in-app
Free early payroll benefit
Worldwide acceptability of Mastercard and Zero Liability Protection
Everyday rewards
How Does The STACK Mastercard Work?
Opening a new STACK account is easy…it took me only about 3 minutes in total.
You will need your phone to download the STACK app and create an account after entering your basic personal details (No SIN is required).
After you receive your card in the mail, you can activate it and load funds using either Interac e-Transfer, Visa Debit, direct payroll deposit, or free STACK-to-STACK transfers. Additionally, you can choose to load cash up at a participating Canada Post or retailer with your STACK QR code.
Since the STACK Mastercard is not a credit card, you do not need a good credit score to sign up.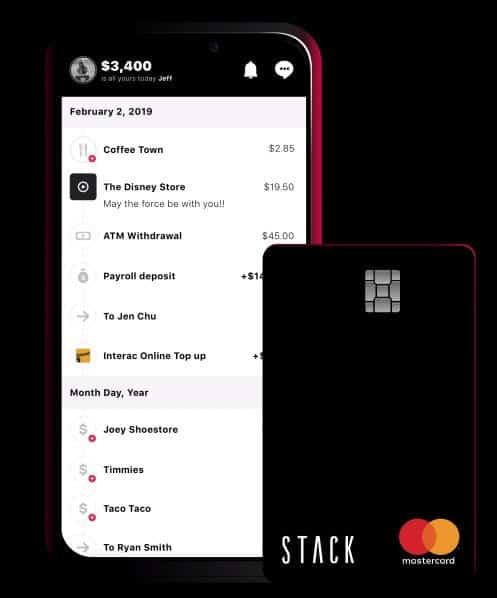 There are many reasons why Canadians choose to add the STACK Mastercard to their wallet, from zero foreign transaction fees when travelling abroad to meaningful rewards on everyday purchases.
1. Zero Monthly Fees: On this blog, I always look for an opportunity to highlight how Canadians lose money every year through exorbitant banking and investment fees. Not to worry, unlike your bank, STACK does not charge monthly maintenance fees.
2. No Foreign Exchange Fees: Banks make a lot of money from foreign currency transactions. In addition to the poor FX rate you get abroad, they also slap on a 2.5% – 3.5% foreign currency conversion fee.
While there are options to avoid FX conversion fees when you use a no foreign transaction fee credit card, there are no debit or prepaid cards in Canada that waive this fee.
Not so with STACK. When you pay with your STACK Mastercard, you pay ZERO foreign exchange fees if you make a minimum of $350 CAD in purchases per month. FX fees on up to $1,000 CAD of FX spend outside of Canada is reimbursed when you qualify.
3. No ATM Withdrawal Fees: You can withdraw cash at any ATM worldwide without paying fees to STACK. Note that the ATM provider may independently charge a fee.
4. Automated Savings: The STACK app makes it easy to set a savings goal and it can automatically round up your purchases to the next $1, $2, $5, or $10 and save the difference. You can cash out your savings at any time.
5. Financial IQ: The STACK app has a financial IQ feature that analyzes your weekly and monthly spending and provides useful insight into how your money is being spent.
6. Everyday Rewards: STACK does not offer a points or cash back loyalty program. Instead, members receive offers they can easily redeem such as free membership to Amazon Prime, discounts on coffee, groceries, and gas.
7. Early Paycheque: You can get your paycheque 2 days early. To take advantage of this offer, you need to set up payroll direct load in your STACK account.
8. Receipt Capture: If you are tired of losing receipts, you can now save them with STACK. After completing a purchase, simply select the transaction, and click the '+' button to take a photo of your receipt.
Note that the STACK Prepaid Mastercard is now available in Quebec.
Get STACK by using my referral link to download the app to your smartphone and get a $5 welcome gift.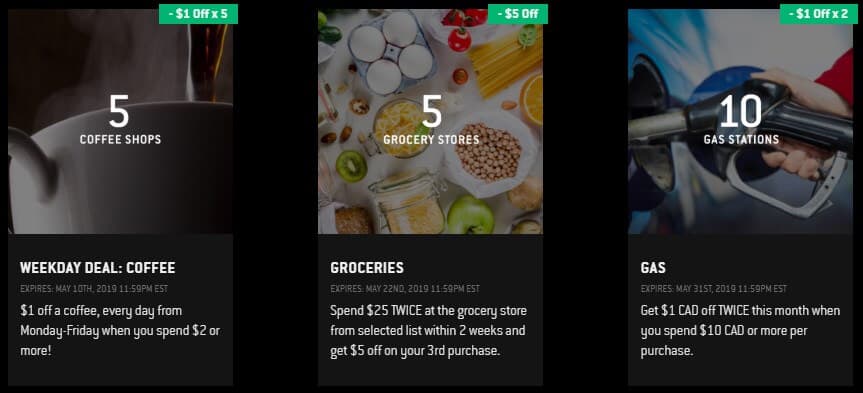 Is STACK Right For You?
If you are looking at cutting your transaction fees within and outside of Canada, the STACK Prepaid Mastercard comes in very handy.
When abroad, it saves you the 2.5% foreign transaction fee and ATM withdrawal fees ($350 minimum spend with the card applies). You also get a fair currency exchange rate.
The app makes it easy to reach your savings goals through an automatic savings plan and the ability to round up your purchases. It is also great for getting a snapshot of your spending habits.
Wondering where all your money is going? The STACK app tells you where and when.
You get the occasional offer to save on your morning coffee, weekly groceries, gas, entertainment, and more. They offer great customer service and you can chat with them via the app or call them at 1-877-STACK-01.
Lastly, you get cash bonuses when friends sign up using your referral link.
Downsides
The downsides I see with the STACK Prepaid Mastercard are:
It is not a credit card, so if you were hoping to use the card to build a credit rating, that is not possible.
It now requires a minimum monthly spend of $350 to get the FX fees waived. Otherwise, you pay the standard 2.50% FX fee.
Lastly, you need to load your new account with at least $300 to get the $5 sign up bonus.
If you are looking for the best prepaid card in Canada, take a look at the KOHO Prepaid Visa Card ($20 welcome bonus).
KOHO Prepaid Mastercard (formerly KOHO Visa)
Rewards: Earn 0.50% cash back on all purchases; Up to 10% cashback at select partners; Earn 1.20% savings interest on your balance*.
Welcome offer: Get a $20 bonus when you load and make your first purchase (use promo code CASHBACK during sign-up).
Interest rates: 0%
Annual fee: $0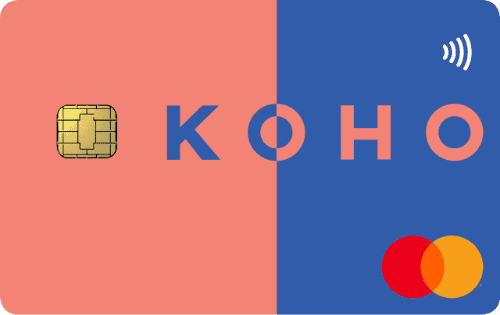 You can also check out my review of KOHO vs. STACK.
STACK Mastercard Review (Plus a $5 Sign-up Bonus)
Zero Monthly Account Fees

No FX Fees

Automated Savings

App Versatility

Everyday Rewards

Referral Program
Summary
STACK offers a reloadable prepaid Mastercard and app that helps Canadians to save on bank fees at home and abroad. Get a $5 welcome bonus when you sign up using the link below and fund with $300 or more.