Cash back apps and websites can help you save money while shopping online at your favourite retailers.
Earning cash back for shopping online isn't a new idea, but some innovative companies are looking to change the game – Sleek being one of them.
Sleek is a browser extension that combines a one-click checkout with up to 25% in cash back rewards. The best part? It's completely free!
If this sounds interesting, keep reading to learn about Sleek, how it works, its pros and cons, a few alternatives, and, ultimately, if it's worth it.
What Is Sleek?
Sleek is a free Google Chrome browser extension that gives you cash back rewards and a one-click checkout experience while shopping online. You can earn up to 25% cash back at over 1,500 online stores, including Macy's, Best Buy, Walmart, and Old Navy.
All you need to do is set it up once, and you're good to go! On many websites, you won't need to enter your credit card information and billing details at checkout. Plus, you'll get automatic cash back rewards that act as a power-up to the rewards you earn from your credit card.
Sleek's goal is to make the checkout process as easy as buying from Amazon. The three co-founders wanted to build a one-click checkout that works everywhere, for everyone.
Sleek was founded in Toronto in 2021 by three college roommates. They were part of Y Combinator's 2021 batch and received backing from the likes of Fiat Ventures, Goodwater Capital, and angel investors like Twitch co-founder Kevin Lin and Kyle Daley from Chime.
How Does Sleek Work?
To get started with sleek, download the free Google Chrome browser extension, which can be set it up within just a minute.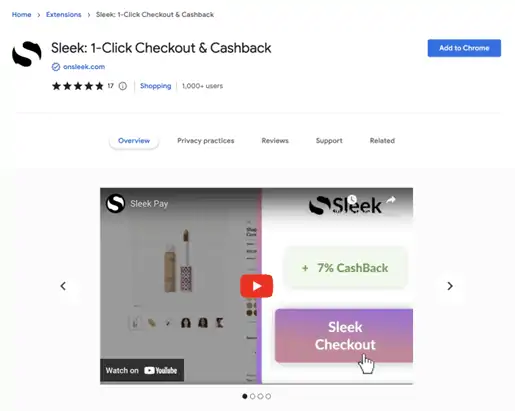 After selecting "Add to Chrome," a tab will pop up where you can sign in with Google, Facebook, or Outlook.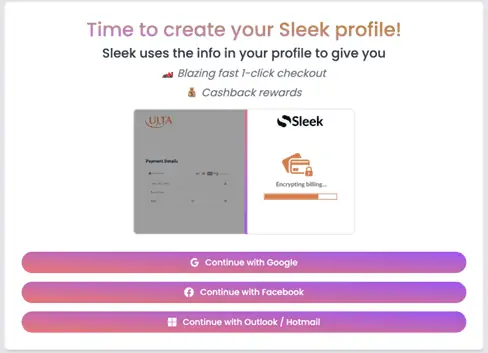 Once you're signed in, enter your shipping address, name, and phone number. This will be used at checkout on many websites instead of typing it in each time.
Then, create a pin that you can use to unlock Sleek. This secures the information in your Sleek profile so only you can access it.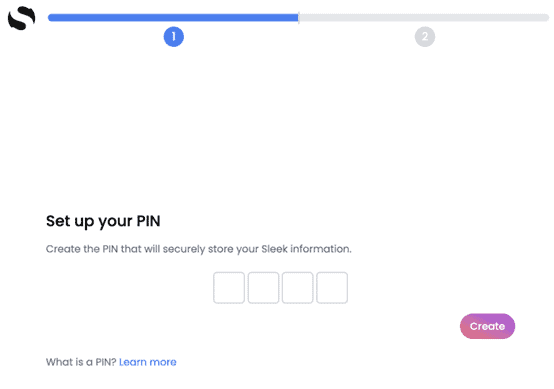 Finally, enter your credit card information and confirm your billing address.
And you're done!
Here's how to shop with Sleek, get the one-click checkout experience, and get up to 25% cash back:
You can either visit the retailer through Sleek's website, or visit them directly. Either way, cash back will automatically apply to your purchase.
For this example, I'm making a purchase at Best Buy. As soon as I visit the website, a Sleek banner pops up to activate 0.8% cash back. I clicked it, and the deal is active.

After I was done shopping, I headed to my cart. Sleek popped up on the side with a Start Checkout button.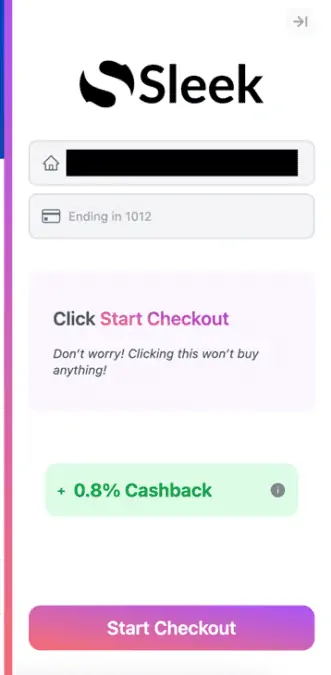 As soon as you click that, Sleek goes to work and fills in all your details. It was a very smooth process. All I had to do was review and finalize my order.
Sleek's checkout process is great for some websites but not so much for others.
For example, I tried making a purchase at Canadian Tire, but Sleek did not automatically fill in my details.
You can trade your cash back in for an Amazon gift card with no minimum redemption amount. It'll get sent to your email as a digital gift card to use on either Amazon.com or Amazon.ca.
Related: How to get free Amazon gift cards
What Retailers Does Sleek Work With?
Sleek has partnerships with over 1,500 retailers across Canada and the United States.
Categories include accessories, apparel, shoes, cosmetics, electronics, entertainment, and more.
Some popular brands that work with Sleek include:
Best Buy
Samsung
Windows
Macy's
Old Navy
Levi's
The Body Shop
Athleta
Staples
Walmart
View the full list of merchants on Sleek's website.
Pros and Cons of Sleek
Pros
Sleek is very easy to set up and get started with. The entire process takes less than 5 minutes, and you don't have to enter any more information after installing the extension and entering your billing and personal details.
Sleek has partnerships with over 1,500 well-known retailers across Canada and the US, where you can get up to 25% instant cash back.
Lastly, the checkout process with Sleek is very smooth. They advertise themselves as being one-click, and they are. All you need to do is select Start Checkout, and your information is automatically filled out.
Cons
The checkout experience is not seamless on all websites. For example, I tried making a purchase at Canadian Tire, and Sleek did not automatically fill out my details, so I had to fill it out myself.
It can take a while to activate cash back deals on partner websites, and if you don't click Activate Sleek, you won't automatically get cash back on your purchase.
Another drawback is that, at this time, cash back can only be redeemed for Amazon gift cards. If you don't shop at Amazon or prefer another way to get cash back, Sleek may not be worth it for you.
Also, Sleek is only currently available in Canada and the US, but they have plans for expansion in the future.
Is Sleek Safe and Legit?
Handing over your credit card information and billing details can be worrying. However, although they are a newer company, Sleek appears legit and safe to use.
As per their privacy policy, Sleek encrypts and safely stores your payment card data on your local device. They do not hold it in any cloud database, meaning only you can access it.
Sleek Alternatives
Looking for an alternative to Sleek? These are some of the best cash back apps in Canada that might be better suited for you.
Sleek vs Rakuten
Rakuten is similar to Sleek, as it is a cash back app, website, and browser extension that rewards your spending with cash back that can be mailed to you as a cheque, deposited in your PayPal account, or donated to charity.
Rakuten Canada has over 750 stores with cash back offers and deals. Cash back is paid out every 3 months.
Read our Rakuten Canada review or sign up here for a $30 bonus after making your first purchase of $30 or more.
Sleek vs RebatesMe
RebatesMe is a website, browser extension, and mobile app where you can get up to 15% cash back for shopping at popular retailers.
RebatesMe collects the cash back you earn, and you can cash it out later.
The minimum cash out is $10, and you must wait 90 to 180 days to collect your cash back.
Read our RebatesMe review or sign up for a $30 cash bonus (applies after earning your first $10 on the site).
Sleek vs Drop
Drop is a cash back app that links to your bank cards and automatically earns you cash back on your purchases. They have partnerships with over 300 brands.
There is no need to scan receipts or activate offers, as Drop checks your transactions and rewards you with Drop Points, which can be redeemed for gift cards.
Other ways to earn points include taking surveys, playing arcade games, participating in special offers, and referring friends.
View our full Drop app review, or sign up for a $5 bonus.
Conclusion – Should You Get Sleek?
This Sleek review is positive.
Sleek is an innovative browser extension that combines a one-click checkout with cash back offers, sometimes as much as 25%. If you shop online often, want a smooth checkout process, and want to earn rewards, Sleek is worth checking out.
Although it is a newer cash back platform and currently only has around 1,500 partner brands, the company is always updating their product and adding new retailers.
Activating cash back offers and the one-click checkout process isn't super smooth on all websites, but Sleek is constantly working to improve their product and make the process as seamless as possible.