Ideal Savings is an online bank in Canada similar to EQ Bank, Motive Financial, Achieva Financial, Hubert Financial, and a couple of other digital-only banks owned by credit unions.
Generally, online banks do not own physical branches and are thus able to lower their overhead costs. These cost savings make it possible for them to offer competitive rates on savings and other deposit products.
This Ideal Savings credit union review covers the financial products they offer and how to open an account.
Read: Best Savings Account Rates in Canada
Who is Ideal Savings?
Ideal Savings is the direct banking arm of Carpathia Credit Union.
Carpathia Credit Union was founded in 1940 in Winnipeg as the Savings-Credit Union "Karpatiia." The credit union has over 10,000 members and $500 in assets under management.
Ideal Savings was founded in 2016.
Unlike Carpathia Credit Union, which is targeted at Manitobans of Ukrainian origin, anyone in Canada who is 18 years or older may be eligible to open an Ideal Savings account.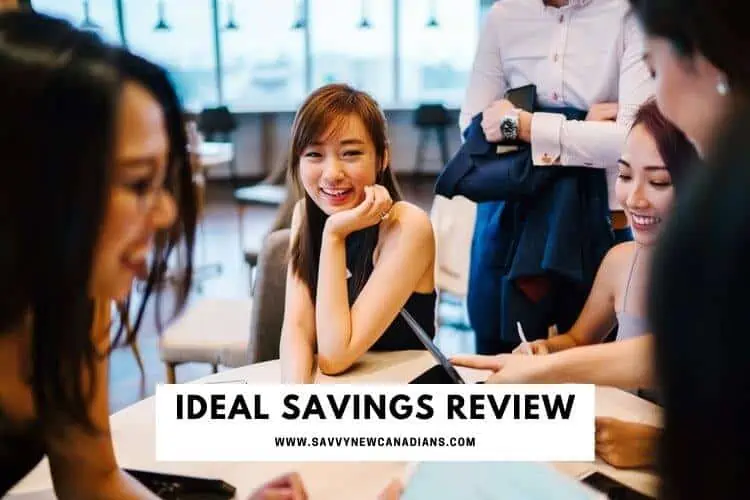 Ideal Savings Accounts
Ideal Savings offers general savings, TFSA, GIC, and a U.S. dollar savings account.
1. Ideal Savings Account
This high-interest savings account offers one of the best savings rates available in Canada.
High-interest rates
No monthly account fees
No minimum balance. Interest is calculated on the daily closing balance and is paid out each month
3 free automatic fund transfers per month
100% deposit guarantee
2. Ideal Savings TFSA Account
You can save money using a tax-free savings account and keep all your earnings tax-free.
A high-interest savings rate
100% deposit guarantee of deposits
3. Ideal Savings GICs
These term deposits can be held in a non-registered account or a registered one, e.g. TFSA.
Ideal Savings GIC Rates are often higher than what the big banks offer. Its GICs are also guaranteed without limits.
4. Ideal Savings U.S. Dollar Savings Account
This no-fee savings account is 100% guaranteed. You get 3 free withdrawals per month and pay a $3 fee per transaction after.
The U.S. dollar savings account earns interest based on your balance.
Ideal Savings does not offer a chequing account.
How To Open an Ideal Savings Account
Ideal Savings offers both personal and joint accounts. To open a new account, you must:
Be at least 18 years or older
Have a valid SIN
Provide a personalized cheque from a Canadian financial institution
Pass a credit bureau check
You will need to fill out an application on their website, print the completed and signed form, and mail it to Ideal Savings along with your initial deposit cheque.
Their mailing address is Ideal Savings, P.O. Box 4053 RPO Redwood, Winnipeg, MB R2W 5K8.
Unlike some other credit union-owned digital banks, customers of Ideal Savings do not purchase an equity share in Carpathia.
As an online-only bank, customers can only conduct transactions online – there are no brick-and-mortar locations you can walk into. You can also direct inquiries to [email protected].
Read: 15 Best Budgeting Apps For Canadians
Ideal Savings Fees
While most of your banking is free of charge, some service fees may apply, including:
$3 per transfer exceeding what's included in your banking package
$0.65 per online transaction
$35 NSF fee
$10 official cheque
$1 per Interac e-Transfer sent (fee for receiving)
$50 to transfer out your TFSA account to another financial institution
$5 per withdrawal from a variable TFSA account
$15 for closing your account within 3 months of opening
Check their fees page for the full listing of service fees.
Is Ideal Savings Safe?
The money you keep at this bank is 100% guaranteed by the Deposit Guarantee Corporation of Manitoba.
This coverage guarantees deposits in savings accounts, term deposits, registered account deposits, and foreign currency deposits.
Is Ideal Savings For You?
Online banks like Ideal Savings, EQ Bank, and Tangerine offer an alternative low-fee option to traditional banks.
They come with their pros and cons.
One of the main benefits of joining a digital bank is that you get much better rates on your savings accounts and other deposits.
On the flip side, they often offer little to no face-to-face customer service, which some people find challenging.
Also, you may not be able to access all the banking services you need in one place.
Tangerine Bank and Simplii Financial are digital banks that offer services covering what most customers need, including investments, mortgages, credit cards, and no-fee chequing accounts.
EQ Bank does not offer a chequing account; however, its savings account is a hybrid and allows mobile cheque deposits and bill payments. It's also one of a few online banks to offer unlimited free Interac e-Transfers.
The EQ Bank Savings Plus account currently offers one of the highest savings rates in Canada.
Ideal Savings consistently offers one of the better savings rates on the market; however, you should note a few of their limitations if you decide to bank with them.
Their customer service support is only available through email (2 business days response time), they do not have a debit card, and each Interac e-Transfer you send will cost you $1.00.