As someone who regularly handles finances online, I take internet security very seriously.
That's why I decided to search for the best virtual private network providers, which led me to NordVPN— a software that offers over 5,500 servers worldwide to protect your online privacy.
After using it for almost a year, here's my unbiased NordVPN review. This article will cover its key features, pricing, and potential downsides.
Key Takeaways
Nord VPN's key features are its threat protection, Meshnet, dark web monitoring and dedicated IP.
NordVPN allows you to access over 5500 servers, significantly more than most VPN alternatives can offer.
The downsides of NordVPN include a slightly pricier rate and an inefficient login process on its mobile applications.
Some alternatives to NordVPN are ExpressVPN, Surfshark, and TunnelBear.
What is NordVPN?
NordVPN is a virtual private network service offering online security and privacy to users. It helps internet browsers protect their online activities with hidden IP addresses and to bypass geo-restricted content.
NordVPN was launched in 2012 by the cybersecurity company Nordsec Ltd. Since then, it's been rising in popularity, and it's currently the top VPN choice for millions of people worldwide, including me.
NordVPN Features
NordVPN offers various features to ensure your safe internet browsing experience. Let's go over each one.
Threat Protection
NordVPN safeguards you from the threats of the online world, including malware, web trackers, and hackers. It uses military-grade encryptions, making it virtually impossible for anyone to intercept your data.
Meshnet
With this NordVPN feature, you can create your private encrypted network, which allows your devices to communicate privately. A mesh network is considered more secure than WiFi, making it an ideal choice for transferring files.
Dark Web Monitor
The dark web is the one place you don't want to expose yourself to on the internet. Luckily, NordVPN alerts you immediately if your devices are ever compromised, so you can prevent others from exploiting your information.
Dedicated IP
With a NordVPN account, you can get a dedicated IP to access IP-restricted networks and content. Thanks to this feature, I avoided recurring captchas that won't stop asking whether I'm a robot.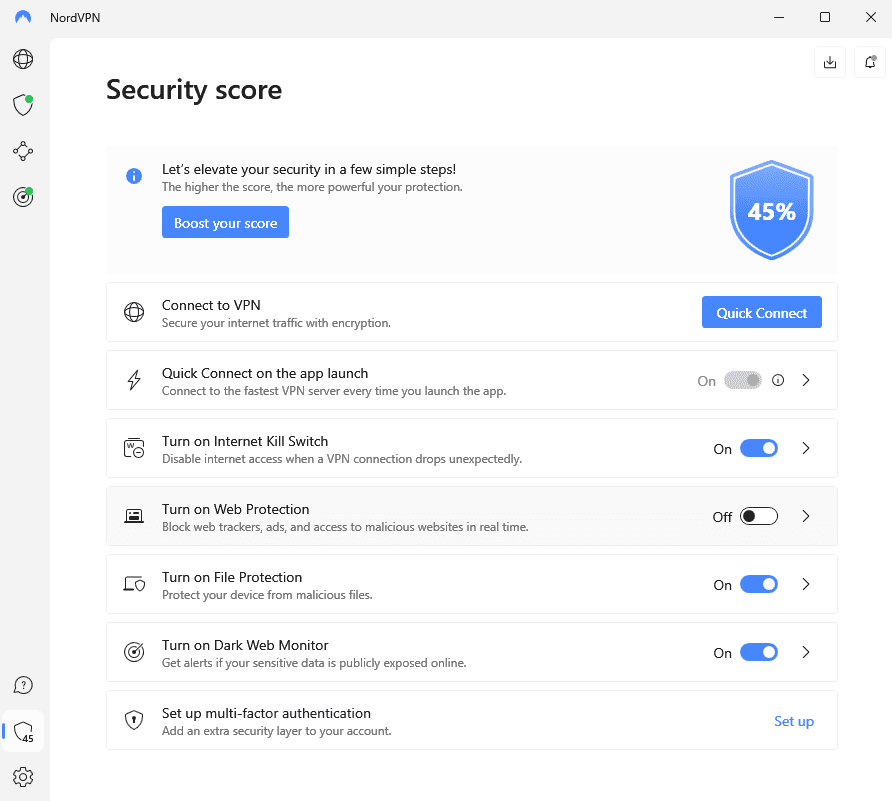 NordVPN Plans And Pricing
NordVPN offers three different plans for its users: Standard, Plus, and Complete.
I personally subscribed to the plan, Plus, because I needed the cross-platform password manager it offers. But I know it won't be ideal for everyone, so let's look at the pricing and services offered for each plan.
NordVPN Plan's Services
| | | | |
| --- | --- | --- | --- |
| Features | Standard | Plus | Complete |
| Secure, high-speed VPN | Yes | Yes | Yes |
| Malware protection | Yes | Yes | Yes |
| Tracker and ad blocker | Yes | Yes | Yes |
| Cross-platform password manager | No | Yes | Yes |
| Data Breach Scanner | No | Yes | Yes |
| 1 TB cloud storage | No | No | Yes |
| Next-generation file encryption | No | No | Yes |
NordVPN Plan's Pricing (in USD)
| | | | |
| --- | --- | --- | --- |
| Plan Name | Standard | Plus | Complete |
| Price Per Month During the Monthly Plan | $12.99 | $14.19 | $15.69 |
| Price Per Month During the 1-Year Plan | $4.59 | $5.79 | $7.29 |
| Price Per Month During the 2-Year Plan | $3.29 | $4.49 | $5.99 |
As you can see, NordVPN's monthly prices significantly reduce once you enter the yearly plans with one-time payments. Hence, I highly recommend opting for them rather than the monthly plans if you want to save money.
Is There A NordVPN Free Trial?
NordVPN has two kinds of free trials. The first one, known as the 30-day money-back guarantee, works for all devices with NordVPN access. However, the 7-day free trial is exclusive to the Android NordVPN app.
Let me explain each of them in detail.
30-day Money-back Guarantee
In this free trial, NordVPN requires payment upfront rather than simply providing an uncharged trial period.
However, if you're ever dissatisfied with the service, you can request a refund within the first 30 days of your subscription. This essentially serves as your trial period, which NordVPN considers "free."
While it may be an unusual approach, NordVPN's 30-day money-back guarantee allows you to decide if it's a good fit without wasting money.
I personally didn't have to use this free trial,though, as I was satisfied with my NordVPN experience from the moment I tried it.
7-day Free Trial For Android Devices
If you don't want to go through the trouble of asking for refunds, try NordVPN's 7-day free trial instead. Here's all you need to do to access it:
Install the Android NordVPN app.
Create a NordVPN login account.
Subscribe to the plan.
NordVPN Server List
NordVPN has over 5500 servers in 60 countries worldwide, allowing you to easily hide your IP address from potential network intruders.
While this may sound like an overwhelming number, luckily, NordVPN's website has a VPN server locator, which helps you choose the best server based on your needs and country of choice.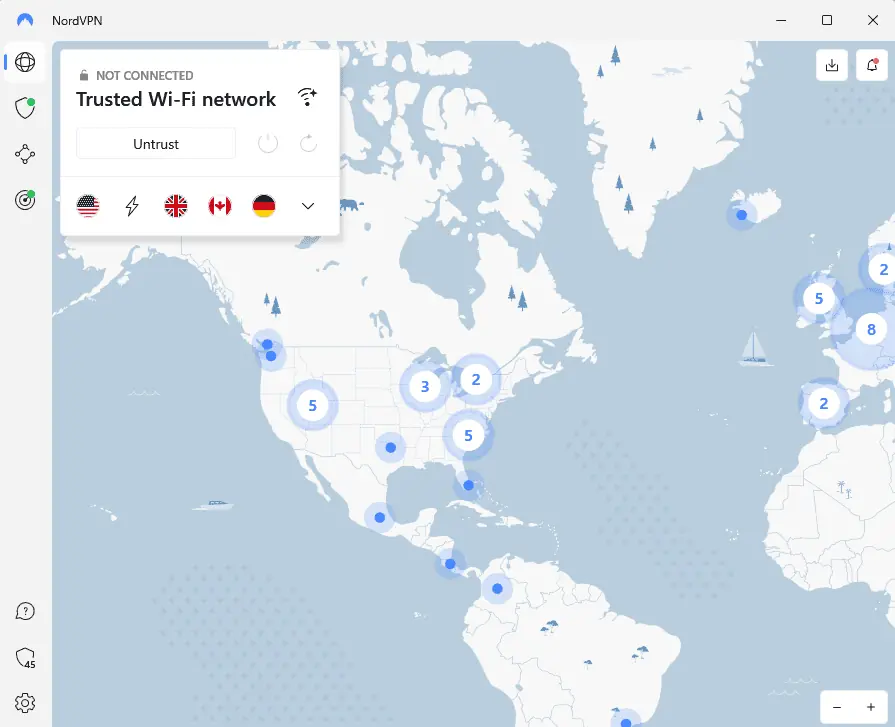 How To Download NordVPN
Downloading NordVPN is a quick process you can finish in just several minutes. Below are the steps I followed to install this VPN on all my devices.
Step 1: Head to the NordVPN download webpage.
Step 2: Select your device type from the screen.
Note: If you want to install a NordVPN extension, choose your browser instead.
Step 3: Click the "Download App" button.
From here on, NordVPN will either download automatically or you'll be redirected to your device's App Store. If the latter happens, simply tap Download to conclude this process.
Advantages Of NordVPN
After using NordVPN for a year, these advantages stood out to me:
Multiple device support: NordVPN is one of the very few VPNs that allow me to use the same account for multiple devices.
Fast network speed: Some VPNs, especially free ones, significantly slowed my network. Luckily NordVPN caused the opposite effect.
Avoid intrusive ads: After I installed NordVPN, I finally bid goodbye to dozens of ads that pop up simultaneously when I open unfamiliar websites.
Downsides Of NordVPN
Here's the list of the cons I noticed after using NordVPN:
Pricier than most: NordVPN's monthly prices are more expensive than most VPNs. Some companies offer free VPN services, and others cost less than $3 monthly.
Inefficient NordVPN login process on apps: When I log in using my Android's NordVPN app, I'm always redirected to a browser, which I have to use to input my login information. The extra step of launching a browser isn't time-efficient.
NordVPN Customer Support
One of my favourite things about NordVPN is its solid customer support.
Its Support Center has common troubleshooting and setup tutorials, so it took me no time to fix issues I've had with the app.
Of course, though, there was a time when articles didn't cut it. So, I had to contact NordVPN's customer support personally. Unfortunately, they don't have a phone number you can call directly, but they have an updated Contact Us page.
When I sent an email, I got a response in less than two days, which is a pretty good response time for a popular service.
Is NordVPN Legit?
Yes, NordVPN is a legit and reliable VPN provider. It's been operating since 2012 and has over 10 million users worldwide. Moreover, NordVPN regularly completes independent audits to verify that it's not storing users' data.
NordVPN Alternatives
If you don't think NordVPN is the right fit, consider the alternatives I've tried below.
NordVPN vs. Surfshark
Surfshark is a great alternative to reduce your VPN subscription costs. Its cheapest plan only costs $2.49 monthly, while NordVPN's lowest monthly rate is $3.29.
On top of that, Surfshark allows you to use an unlimited number of devices under the same VPN account. If you want to protect your entire household with VPN, you can easily do so without spending more.
NordVPN vs. ExpressVPN
While NordVPN has the upper hand regarding the number of servers, ExpressVPN is your guy if you want to access more server countries. The latter VPN's servers are spread across 94 countries, while NordVPN only allows access to 60.
NordVPN vs. TunnelBear
If you're on a very tight budget, TunnelBear offers a free plan with 2 GB of secure browsing. Remember, though, that TunnelBear only has 84 servers, significantly less than NordVPN's 5,500+ servers.
Is NordVPN Worth It?
Speaking from experience, NordVPN is worth it. Its advanced security features ensure a safe and protected online browsing experience, and with access to 60 server countries, it offers far more flexibility than many other VPN providers.
While NordVPN comes with a slightly higher price tag than some alternatives, I've found that its quality and reliability are well worth the investment.
FAQs
How much does NordVPN cost per month?
NordVPN's monthly prices vary depending on your specific plan and its length. The cheapest option costs USD 3.29 a month, while the most expensive one can reach up to USD 15.69.
Can Netflix detect a VPN?
Netflix detects some VPNs but not all of them. For example, Netflix still works when I use NordVPN, but the streaming platform blocks me when I activate TunnelBear.
Is there a better VPN than NordVPN?
Each VPN has its strengths and weaknesses. So whether or not there's a better VPN than NordVPN depends on the user's priorities.
Which country is safest for NordVPN?
Switzerland is the safest server country for NordVPN. This country takes personal privacy seriously and has relaxed laws around torrenting.
Related: