The top three reasons many people use Visa and Mastercard prepaid credit cards in Canada are security, convenience and ease of use.
You can use them anywhere they are accepted and are great for paying bills, shopping and travel.
Keep reading to know where to buy prepaid Visa cards and Mastercard prepaid credit cards in Canada, along with a list of the top prepaid credit cards you can get online.
Key Takeaways
Walmart, Canada Post, Staples, Canadian Tire, Esso, Fas Gas Plus, The Source and Loblaws are some of the best locations to buy prepaid credit cards.
The best cards to buy in Canada include Neo Money Card, EQ Bank Card, KOHO Prepaid Mastercard, Wise Prepaid Multi-Currency Card, Wealthsimple Cash Card, AC Conversion Visa Prepaid Card and BMO Prepaid Mastercard.
Prepaid credit cards can be bought in banks, credit unions, gas stations and retailers.
Where to Buy Visa and Mastercard Prepaid Cards in Canada
A prepaid credit card works like a credit card, but you cannot spend more than the card balance or have a negative balance. The cardholder needs to put money on it to use it to pay for purchases.
Prepaid credit cards are typically available in banks, credit unions, gas stations, grocery stores, retailers, construction stores and fintech companies. Below are some of the best locations to buy Visa and Mastercard prepaid cards.
Walmart
Walmart offers Visa and Mastercard prepaid cards. Visa gift cards are available in the following denominations: $25, $50, $100, and $200. Mastercard gift card denominations are $15, $20, $25, $50, $100, and $200. If you buy a Visa or Mastercard gift card in person at a Walmart branch, you will not need to activate it before you can use it.
Related: Best Walmart Credit Cards
Canada Post
Canada Post provides Visa and Mastercard prepaid cards in all its office locations. The Cash Passport Prepaid Mastercard costs $15, while the Canada Post Prepaid Visa is $10 each. Use your card as a separate account for making daily purchases. You can reload your card with cash or debit at any Canada Post location or by using the Canada Post app.
Staples
Staples offers Visa gift cards on its website that can be bought in-store and online. Denominations are from $50, $100, $200 to $300. All cards come with an additional purchase fee. The card can be used at millions of merchants in Canada and online, everywhere Mastercard and Visa prepaid cards are accepted. They can be used to purchase merchandise and services anywhere.
Canadian Tire
Canadian Tire is a popular automotive retailer offering a wide range of goods, services and other items like prepaid cards. Canadian Tire operates as a general merchandise retailer for automotive, gasoline, hardware, sports, leisure and home products. Founded in Toronto in 1922, Canadian Tire has more than 1700 stores and gas bars across Canada.
Esso
Esso Canada is a gas station retail company owned by Imperial Oil. It has several convenience stores, gas stations, retail and liquor stores. Founded in 1912, it is headquartered in Calgary. Esso is a trading name for ExxonMobil. Today, the Esso and Mobil network has over 2,000 stations across Canada.
Fas Gas Plus
Fas Gas Plus is a western Canadian gas station chain owned by energy and retail company Parkland Corporation, Canada's largest independent fuel retailing company and the second-largest convenience store operator. Fas Gas primarily operates in Western Canada with more than 180 sites.
The Source
The Source is Canada's largest tech retailer, with stores in nearly every Canadian community and online. It is a retail chain offering electronics, gadgets, business equipment and office supplies, GPS and car electronics, health and wearable tech, etc. The Source has over 400 stores nationwide.
Loblaws
Loblaws is a Canadian supermarket chain with stores in Ontario, Alberta and British Columbia. Known as Canada's food and pharmacy leader, it focuses on food retailing with the convenience of one-stop shopping. The retailer is also among the numerous locations where you can buy Mastercard prepaid gift cards.
Other Mastercard Prepaid Gift Cards Sellers
Mastercard prepaid gift cards are also available at the following locations:
7 Eleven Canada
Atlantic Fonecard
Avondale Foods
Benjamin News
Brunet
Bulkley Valley Wholesale
Canex
Carlton Cards
Co-op Atlantic
Cooper's Foods
Couche-Tard
Country Grocer
EB Games
Familiprix
Family Foods
Federated Co-Op
Follet (Select University Bookstores)
Freson Markets
Gateway Newsstands
Hallmark Corp
Hasty Market
Home Hardware
Husky
International News
Irving Oil Canada
Jean Coutu
Le Superclub Videotron
Longo's
Mac's Convenience
Metro
Money Direct
Nicholby's
Overwaitea Foods
Paragon Pharmacy
Petro-Canada
Pharmachoice
Pharmasave
Pioneer Petroleum
Presse Commerce
Pricesmart Foods
Quickie Convenience
Rexall Pharma Plus
Save-On-Foods
Sears Canada
Shell Canada
Shoppers Drug Mart
Sobeys
Super Sagamie
The Grocery People
TheGiftCardGroup.com
Thrifty Foods
Urban Fare
Value Drug Mart
Wilsons Fuel
Wireless Wave
Zesty Market
Here is how to obtain and use a prepaid Mastercard:
Purchase a Mastercard prepaid credit card online or at a bank branch, a participating retail store or a cheque-cashing outlet.
Activate the prepaid card and register. Provide the required personal information and a government-issued ID.
Load funds to the card by buying it in the store or transferring funds to your prepaid credit card.
Use the prepaid card to make purchases everywhere Mastercard is accepted.
Where to Buy a Prepaid Credit Card in Canada Online
Many want to know where to buy prepaid credit cards in Canada online. You can typically get them at financial service providers like the ones we enumerate below. Other legitimate sources of prepaid cards or gift cards include sites like GiftCards.ca.
That said, here are some of the most popular prepaid credit cards online in Canada.
Neo Money Card
Neo Money card
Rewards: Earn up to 5% cash back at over 10,000 retail partners and a guaranteed minimum of 0.50% (up to $50 monthly); Earn 2.25% interest on your account balance.
Welcome offer: Get a $20 welcome bonus when you fund your account with $50 and up to 15% cash back on your first purchases at participating stores.
Interest rate fee: 0%
Annual fee: $0 (no monthly fees)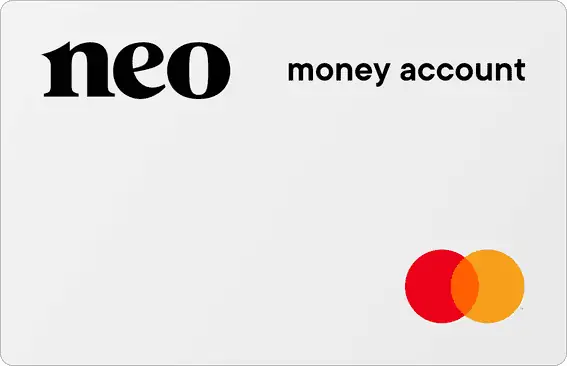 The Neo Money Card is an all-in-one, no-fee prepaid Mastercard that lets you save, spend and move your money without the monthly fees. The account earns high interest while letting you pay bills, send and receive Interac e-Transfer and deposit and withdraw funds.
Everyday transactions are free, and access to your balance does not require card loading. You can earn cash back instantly, with an average of 5% cashback at over 10,000 partner stores across Canada (up to 15% cash back on your first purchases). There are no limits on how much cashback you can earn monthly. 
Accountholders also earn 2.25% interest on their balance.
EQ Bank Card
Earn 2.50%* interest on your balance
0.50% cash back on purchases
No monthly account or FX fees
Free ATM withdrawals
An EQ Bank Card is a prepaid reloadable Mastercard issued by Equitable Bank. It earns 2.50% interest on your prepaid balance and offers 0.5% cash back on all purchases, including groceries, restaurants, online shopping and more.
With an EQ Bank Card, there are no credit card surcharges, transaction fees, ATM fees, monthly fees, inactivity fees or foreign transaction fees. It includes free withdrawals from any ATM in Canada and refunds ATM charges from other banks within ten business days.
KOHO Prepaid Mastercard
The KOHO prepaid Mastercard is one of the best reloadable prepaid credit cards in Canada. It works like a credit card but without the fees or interest. With this card, you can earn interest on both your spending and savings account.
You can earn 1% cashback on groceries and transportation with the free prepaid card and make more with the premium card ($4 to $19 monthly fee).
Wise Prepaid Multi-Currency Card
The Wise Prepaid Multi-Currency Card is a debit card linked to your Wise Account. It can hold 50+ currencies with no markup and transaction fees, making it ideal for shopping abroad or online in a foreign currency.
Since it is a debit card, there are no advance charges, no interest to pay and penalty fees. It is one of the best travel prepaid cards with a virtual card and an app. You can use the virtual card immediately to shop online or in person.
Wealthsimple Cash Card
The Wealthsimple Cash Card is a prepaid Mastercard that lets you earn rewards on all purchases and interest on your balance. Paying for purchases using this card instantly earns 1% back in stock, crypto or cash.
Aside from the instant cashback, this card earns 4% interest on your account balance. There are no annual fees, monthly fees, overdraft penalties and foreign exchange fees. Getting a Wealthsimple card requires no credit check or other qualifications.
AC Conversion Visa Prepaid Card
The AC Conversion Visa Prepaid Card is a no-fee, multi-currency prepaid travel card from CIBC and Air Canada that is suitable for individuals who travel a lot. The card holds up to ten currencies and requires no minimum load.
Using the card for domestic and international online purchases earns 1% cash back. There is no fee to order the card, no loading fee, and no conversion fees when you use it to make a purchase.
BMO Prepaid Mastercard
The BMO Prepaid Mastercard is a reloadable card with the perks of a standard credit card. It works like one, except you can only spend the amount you loaded onto the card. Transferring funds is straightforward when using online banking or the BMO mobile app.
Use the card to shop at any Mastercard-supporting store. There is no interest rate for purchases and cash advances, but it has an annual fee of $6.95. The card also comes with extended warranty and purchase protection.
Where Can I Get a Prepaid Visa Card for International Use?
Many prepaid card options are available from banks and online providers, and most are valid for international use. Some of the best places to buy international prepaid cards include Visa, Mastercard and Travelex. They offer various cards that you can use in different countries.
You can also find Visa prepaid cards on the Visa website, which offers reloadable prepaid cards issued by Digital Commerce Bank and Peoples Trust Company. Use them anywhere Visa cards are accepted, both online and in-store.
FAQs
Can you buy prepaid credit cards in stores? 
Yes, you can buy physical prepaid credit cards in stores. The physical prepaid cards are also available in banks, credit unions and can be ordered online. Before you can use the physical prepaid credit card, you need to activate it upon arrival.
Can you buy prepaid Visa cards online in Canada? 
Yes, you can buy prepaid Visa online in Canada and in physical locations. When you purchase a virtual card from an online retailer, the card will be sent to you or a recipient typically via email. There is no need to activate the card. The holder can use it immediately to purchase goods and services online. 
Are Visa gift cards good in Canada? What is the best prepaid credit card to get? 
Visa gift cards are suitable for use in Canada. One of the best prepaid credit cards to get is the KOHO Prepaid Mastercard. It earns up to 2% cash back on groceries, food and drinks and transportation, and up to 6% extra cashback when you shop at partner retailers and online.
Related: Where To Sell Gift Cards in Canada.