Mastercard gift cards are as good as cash. You can use them to make payments online and in-store at millions of locations worldwide where Mastercard is accepted.
Physical and virtual Mastercard prepaid gift cards are also great for gift-gifting whether it is for birthdays, graduations, or other celebrations.
Read on to learn about how to get free Mastercard gift cards online this year.
How To Get Free Mastercard Gift Cards
Some of the popular ways for earning gift cards online involve joining market research panels and earning rewards when you complete surveys.
The top ones that offer Mastercard gift cards as a payout option are PrizeRebel, Univox, Branded Surveys, and Swagbucks.
You can also get a reloadable prepaid Mastercard from KOHO and earn cash back on all your purchases.
1. PrizeRebel
PrizeRebel is a rewards membership site that gives members points when they give their opinions on new products and complete other simple tasks.
Payment methods: Gift cards, online game codes, Prepaid gift cards (Visa and Mastercard), and PayPal.
Minimum cashout: $2.
Visit PrizeRebel or read our review.
2. Branded Surveys
Branded Surveys is a Get-Paid-To (GPT) site offering paid surveys and a low payout threshold of $5.
Payment methods: Gift cards including prepaid Mastercard and PayPal cash.
Minimum cashout: $5.
Visit Branded Surveys or read our review.
3. Univox
Univox Community is like Branded Surveys.
After creating a free account, you receive invitations to complete surveys and earn points.
Payment methods: PayPal, virtual Mastercard, Amazon gift cards, and Tango Cards.
Minimum cashout: $25.
Visit Univox or read our review.
4. Swagbucks
Swagbucks is the most popular GPT platform in the world.
Unlike the others on this list, Swagbucks offers more than 10 ways to earn including answering surveys, shopping online, playing games, and watching videos.
Payment methods: Gift cards, PayPal cash, and charitable donations.
Minimum cashout: $3.
Visit Swagbucks or read our review.
5. KOHO
KOHO is not a gift card. It is a free reloadable prepaid Mastercard that pays you 0.50% cash back on all purchases.
The cash back you earn is real cash and you can use it to make payments right away.
In addition to earning cash back, the KOHO Mastercard also offers interest on your balance and early access to a portion of your paycheque when you add your payroll to it.
New KOHO users get a $20 cash bonus when they use our referral code CASHBACK and make their first purchase.
KOHO Prepaid Mastercard (formerly KOHO Visa)
Rewards: Earn 0.50% cash back on all purchases; Up to 5% cashback at select partners; Earn 1.20% savings interest on your balance*.
Welcome offer: Get a $20 bonus when you load and make your first purchase (use promo code CASHBACK during sign-up).
Interest rates: 0%
Annual fee: $0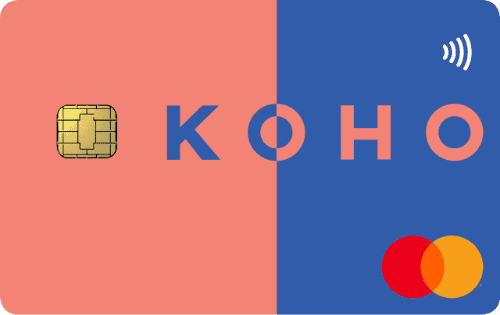 How To Activate a Mastercard Gift Card
You can activate a Mastercard gift card by calling the toll-free number on the back of the card.
It can also be activated in-store at the time of purchase or on the activation website indicated on the card.
The virtual Mastercard gift cards provide by the survey platforms on this list are pre-activated and ready to use.
Where To Buy Mastercard Gift Cards
Mastercard Prepaid Gift Cards are available for purchase at several retail stores in Canada and the U.S. including:
Petro-Canada
7 Eleven
Canadian Tire
Loblaws
Metro
Rexall Pharma Plus
Staples
Sobeys
The Source
Thrifty Foods
Shoppers Drug Mart