According to Statista, 492,984 people immigrated to Canada between July 2021 to June 2022. This shows that the country is a top immigrant destination — and it's easy to see why.
Working in Canada offers many benefits, namely paid sick leaves, job security, higher salaries, affordable cost of living, and being able to use the Universal Healthcare Program.
To enjoy all of these perks and score one of the highest-paying jobs in Canada per hour, look at the jobs listed below. Assess which ones suit your experience, and start applying ASAP!
Highest Paying Jobs in Canada Per Hour
1. Software Developer
Salary: $40.39 per hour
One of the highest-paying jobs in Toronto and other Canadian provinces is working as a software developer. Software developers are the masterminds behind different types of computer programs. They use various computer codes and languages to create apps or programs.
2. Financial Analyst
Salary: $37.37 per hour
Financial analysts work with businesses to make financial decisions. They're expected to perform different tasks, namely, building financial models, studying economic and business trends, and compiling written reports on financial recommendations.
3. Chief Operations Officer
Salary: $64.10 per hour
Also known as the vice president of operations, the Chief Operations Officer is the second in command in a business and directly reports to the Chief Executive Officer or CEO. They manage the daily operations of the business and work closely with supervisors and department heads.
4. Production Supervisor
Salary: $28.21 per hour
Production supervisors oversee the creation of products while making sure employees are safe. They also oversee the equipment and the operations of the business facility.
5. HR Manager
Salary: $42.77 per hour
Human Resources Manager is a fun job that pays well in Canada as it gives you the opportunity to recruit and train new hires. This position also involves compensation and benefits, compliance, and workplace safety.
6. Chief Information Officer
Salary: $69.73 per hour
Chief Information Officers or CIOs oversee people, processes, and technologies in a business's IT organization. They are responsible for assessing a business's IT needs and developing plans to meet those needs.
7. Solution Architect
Salary: $60.13 per hour
A solution architect develops and implements the technical visions for a specific solution to an existing business problem. They also manage and assess the effectiveness of the solution.
8. Executive Assistant
Salary: $27.29 per hour
An executive assistant manages the schedules of the executives of a business. Their day-to-day responsibilities include arranging business events and answering phone calls and emails.
Related: Best stay-at-home jobs that pay well in Canada.
9. Cyber Security Engineer
Salary: $69.23 per hour
Cyber Security Engineers build and test security systems to determine their effectiveness. They constantly look for vulnerabilities in a business's hardware, software, and applications and implement security plans to prevent issues from arising.
10. Data Science Director
Salary: $75.64 per hour
A data science director plans and administers policies of the data science function. This role requires specific skills like data science, machine learning, and predictive analytics.
11. Dentist
Salary: $65.40 per hour
Besides keeping their clients' teeth and gums healthy, dentists are also responsible for performing different oral health treatments, such as dental fillings and crowns.
They prevent oral diseases, treat facial injuries, and correct dental irregularities. Dentists are one of the highest-paying jobs in Toronto.
12. Cardiologist
Salary: $141 per hour
Cardiologists are one of the highest paying jobs in Canada per hour. They are experts in taking care of the human heart and blood vessels. They assess, diagnose, and treat patients with diseases and issues in their cardiovascular system.
13. Anesthesiologist
Salary: $157 per hour
Anesthesiologists are one of those jobs that pay over 300k in Canada annually. They specialize in administering anesthesia to prevent patients from feeling pain during medical treatments. They supervise patient care before, during, and after delivering anesthesia.
14. Surgeon
Salary: $66.67 per hour
Surgeons are one of the highest paying jobs in the world and operate on patients to treat different injuries, like broken bones, cancerous tumours, and deformities. They're considered the leader of a surgical team.
15. Family Physician
Salary: $128 per hour
Besides diagnosing and treating illnesses in people of all ages, a family physician also provides preventive care, including immunization, routine checkups, and screening tests.
16. Psychiatrist
Salary: $135 per hour
Another highest paying job in the world and Canada is working as a psychiatrist. This medical doctor specializes in diagnosing and treating mental, behavioural, and emotional disorders. They're licensed to prescribe different treatments, like psychotherapy.
17. Electrical Engineer
Salary: $44.48 per hour
Electrical engineers design, test, and monitor the manufacture of electrical equipment. They can also design the electrical systems of aircraft and automobiles.
Becoming an electrical engineer will require software and programming efficiency and knowledge of engineering methodologies.
18. Construction Project Manager
Salary: $41.03 per hour
Construction Project Managers have several responsibilities on their plate, namely planning the construction project, creating a schedule, balancing the budget, assigning tasks to different subcontractors, and many others. They're responsible for completing the project on time.
19. Chief Marketing Officer
Salary: $46.15 per hour
Chief marketing officers are responsible for the effectiveness of a business's marketing strategy — they plan, implement, and monitor the business's advertising initiatives.
Their duties include reviewing content marketing strategy, keeping the marketing budget in check, and staying up to day with the latest trends in marketing.
20. Pharmacist
Salary: $48.62 per hour
The main responsibility of pharmacists is to ensure that high-quality medicines are supplied to patients. They also have to advise patients about medicines, including how and when to take them and the possible reactions that occur.
21. Director of Information Technology
Salary: $62.90 per hour
The director of information technology is a highly vital position as they have the overall responsibility of maintaining the business's hardware, software, systems, and networks. They have to manage employees and technology resources to ensure that IT operations run smoothly.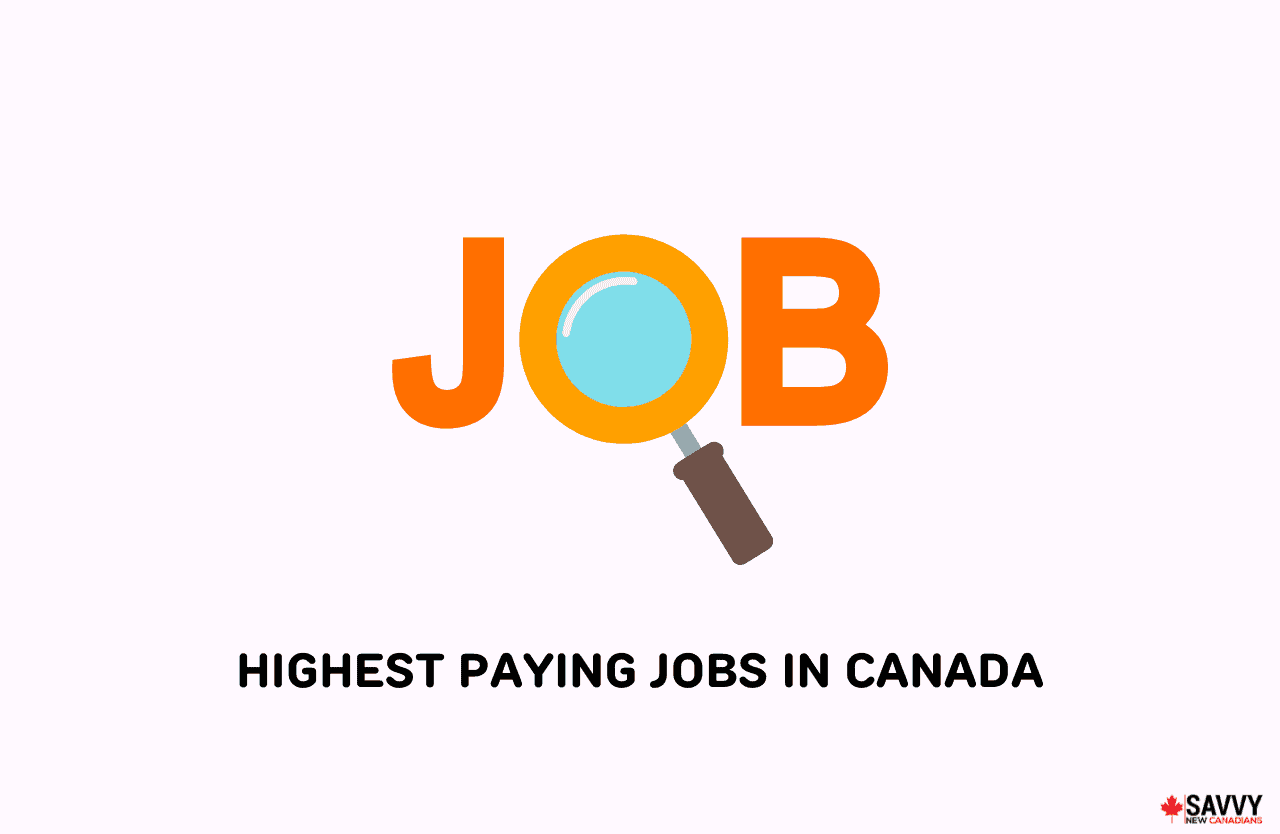 What are Some High-Paying Jobs in Canada for Immigrants?
In addition to the jobs we have discussed above, new immigrants can also earn decent pay with the following opportunities.
1. Sales Representative
Salary: $23.08 per hour
Working as a sales representative is one of the highest-paying jobs in Canada for immigrants. It's popular in the country and will require excellent communication skills. This role involves selling products and services for a company.
2. Accountant
Salary: $30.04 per hour
Accountants play a crucial role in maintaining a business's records and books. They ensure that money spent is accounted for and businesses have an accurate record of their expenses.
3. Business Analyst
Salary: $40.74 per hour
Business analysts assess how businesses are performing and help them improve their existing systems and processes. Working as a business analyst can be a fun job in Canada if you possess interpersonal skills and have an extensive background in programming languages.
4. Recruitment Specialist
Salary: $27.50 per hour
Recruitment specialists work with different department managers or supervisors to find the best talent for the business.
Their daily responsibilities include evaluating candidates, assessing their credentials, and conducting interviews. They use different platforms to attract talent.
5. Truck Drivers
Salary: $24.13 per hour
Because of the country's beautiful scenery and long roads, working as a truck driver can be a fun job that pays well in Canada. The main responsibility of a truck driver is to deliver goods from one location to another.
What Are the Highest Paying Jobs For International Students in Canada?
While completing their studies, international students can make money on the side with these gigs.
1. Bartender
Salary: $15.20 per hour
Working as a bartender is one of the highest-paying jobs for international students in Canada. This role requires mixing and serving drinks orders to customers, knowing alcohol pairing and tastes, managing inventory, and cleaning bar supplies.
Besides the hourly rate, international students can make a lot from bartending as they get about 15% to 20% tips. This job is tiring, but it's definitely a fun job that pays well in Canada.
2. Sales Assistant
Salary: $19 per hour
Sales assistants are responsible for managing cash registers and helping customers find anything they need in the store. They also have to ensure stock levels are well-maintained, promote special offers, and provide customers with information on product availability.
3. Barista
Salary: $15.05 per hour
International students who have customer service skills can earn as a barista in Canada. This role involves making and serving different beverages, like coffee and tea and processing customer payments. Baristas also have to clean their work areas and seating areas.
4. Dog Walker
Salary: $15 per hour
For international students who don't mind spending time with pets, working as a dog walker is an excellent option.
Dog walkers walk dogs for clients and follow agreed-upon schedules and routes. They also provide food, water, and companionship to the pet when the owner is away.
5. Tutor
Salary: $20 per hour
Another high-paying job for international students in Canada is working as a tutor. Tutors help students learn and understand concepts on a particular subject and complete homework. Tutors have to prepare lesson plans and review textbooks to effectively teach other students.
What Jobs pay over $300k in Canada?
1. Radiologist
Salary: $319,249 annually
Radiologists are medical doctors who specialize in diagnosing and treating diseases and injuries using medical imaging procedures, such as nuclear medicine, X-rays, and CT scans. This job requires a high degree of mathematical knowledge.
2. Forensic Pathologist
Salary: $352,082 annually
Also known as medical examiners, forensic pathologists are trained physicians who examine the bodies of individuals who died violently, unexpectedly, or suddenly.
This job pays over 300k in Canada but requires a medical degree and several years of advanced training in pathology.
3. Oncologist
Salary: $300,000 annually
Medical oncologists diagnose, assess, and treat cancer patients. Their goal is to provide the best possible outcomes for cancer patients, whether that's palliative care or a cure.
4. Orthopedic Surgeon
Salary: $335,000 annually
Orthopedic surgeons diagnose and operate on patients with musculoskeletal injuries or issues. These conditions often involve the bones, joints, nerves, muscles, ligaments, tendons, and more. Many orthopedic surgeons specialize in one area, like feet, hands, spine, or joints.
Choose the Best Job
There are plenty of challenging and fun jobs that pay well in Canada — you just have to pursue one that matches your skill set and experience, so you'll have the motivation to work long-term. The longer you work in Canada, the more perks you can enjoy.
FAQs
What is a high-income salary in Canada?
Earning an average of $176,700 annually would put you in the top 10% income group in Canada and as a high-income earner.
Is 250k a good salary in Canada?
Yes, because it's higher than the average salary in Canada. To put it in perspective, a person earning $250,000 annually in Toronto earns 378.3% more than the average person in the city and will have a gross pay of $151,748.
Who is considered rich in Canada?
It depends on the province you're in. For instance, you need to earn at least $189,121 annually to be considered rich in Quebec and $203,936 in Winnipeg.
How much money do I need to live comfortably in Canada?
According to the survey, Canadians believe that they need to earn at least $250,000 before tax in order to live comfortably.
Related: How To Make Money in College.