Contrary to popular belief, you don't have to settle for a boring job to make good money. There are actually plenty of fun jobs that pay well in Canada, and some don't require any experience at all. There are even fun jobs that pay well for 20-year-olds.
Whether you're looking for a unique career in demand in Canada or high-paying jobs in Canada for immigrants, you're reading the right article. We'll present an interesting career list perfect for anyone who wants to have fun while earning in Canada!
Fun Jobs That Pay Six Figures in Canada
1. Real Estate Agent and Realtor
Working as a real estate agent or realtor is one of the top 20 highest-paying jobs in Canada. According to Indeed, real estate agents in Canada earn about $106,402 annually. Working as one can be fun as you'll have to constantly learn new things to surpass new challenges and interact with clients with different personalities.
You'll have higher earning potential if you work in Vancouver or Toronto, as real estate prices are higher in these areas.
Related: Here are some of the best real estate apps.
2. Dentist
Being a dentist is a meaningful job that pays well in Canada. This career allows you to earn upwards of $151,383 a year and make drastic changes to the lives of your clients. Becoming a dentist will require you to complete a bachelor's degree, take the Dental Admission Test, earn a dental degree and become licensed.
Related: Free dental care in Canada.
3. Pediatrician
Another fun job that pays 6-figures annually is being a pediatrician. In Canada, pediatricians earn up to $228,166 a year. This is a fun and satisfying job, especially if you're passionate about helping kids.
You need to obtain a bachelor's degree, take the Medical College Admission Test, apply to medical school, apply for a license, and complete residency before you can work as a pediatrician.
4. Dermatologist
Do you believe that skincare is life? Then consider working as a dermatologist in Canada and have the opportunity to earn $281,906 per year.
It's a meaningful job that pays well as you get to make a difference in the lives of your patients by improving their skin conditions, which can help boost their confidence.
5. Psychologist
Although working as a psychologist is known to be a cool job for women, men can also take this career path. In Canada, psychologists earn up to $127,126 every year and enjoy flexible work schedules and meet new people every day.
You need to earn a bachelor's and master's degree, gain field experience, and get a license to become a psychologist.
Fun Jobs That Pay Well With No Experience
6. Recruiter
Recruiting an easy job that pays well — you can earn up to $120,000 a year. Having the skills and experience to screen candidates and conduct interviews are important attributes to succeed as a recruiter in Canada. You can apply as a recruiter online or in physical offices.
7. Landscaper
Type in "fun jobs that pay well near me" in your browser, and being a landscaper is definitely on the list. This job lets you become physically active, work in different settings, and earn an average salary of $71,500 per year.
This job doesn't require experience but will need you to have good knowledge of plants and the conditions they will grow best.
8. Transit Driver
If you're looking for a fun travel job that pays well, work as a transit driver. This is an easy job, comes with many benefits, and lets you earn up to $112,500 a year.
To become one, you need to possess excellent customer service skills and have knowledge of public safety and security. Your visual and hearing abilities should also be in excellent condition.
9. Bartender
Can you handle staying up late and loud music? Then working as a bartender is a perfect option. This job lets you meet a lot of interesting people, boost your confidence, and let your creativity flow.
It's also a fun part-time job that pays well, as you can take on other responsibilities during the daytime. You can earn up to $90,000 a year as a bartender in Canada.
10. Receptionist
Being a receptionist is a fun job that pays well without a degree. By greeting visitors, answering queries, and maintaining an office's telecommunications system every day, you can earn $17.90 per hour.
This job allows you to improve your communication, problem-solving, and technical skills and gives you the opportunity to work in hotels, resorts, malls, or business establishments.
11. Construction Worker
Many construction jobs in Canada don't require any training. Companies are keener on your ability to complete on-site tasks, like erecting scaffolding, using equipment to break old structures, unloading materials on-site, and operating heavy equipment. You can earn up to $110,000 per year from this job.
12. Warehouse Worker
Working at a warehouse is a fun job that pays well in Canada. With this job, you'll be responsible for restocking shelves, processing orders, counting inventory, and ensuring orders are shipped out on time.
It doesn't require any experience, provides many benefits, and gives you a chance to earn as much as $100,000 a year.
13. Sales Professional
You don't need to have the experience to become a sales professional — your personality and work ethics matter more. Sales professionals in Canada earn up to $69,841 annually and have the opportunity to make a name in different industries, such as automobile, retail, and technology.
14. Truck Driver
Another fun travel job that pays well in Canada is working as a truck driver. If you don't mind driving for long hours or even days, this is an excellent career option for you.
Working as a truck driver guarantees job security as drivers are in demand in different states. You can earn around $112,500 annually as a truck driver in Canada.
Related: Weird Jobs To Make Money.
Fun Remote Jobs That Pay Well
15. Junior Software Engineer
With a bachelor's degree in computers (or other related fields) and minimal experience in software design and coding, you can work as a junior software engineer remotely and earn at least $40,000 a year.
16. Engineering Consultant
Being an engineering consultant is a fun remote job that pays well as you get to work with more than one client and increase your earning potential. This job requires a bachelor's degree, a postgraduate degree, and years of experience.
Companies usually hire an engineering consultant for one project or to solve a specific problem. You can earn up to $139,000 a year as an engineering consultant.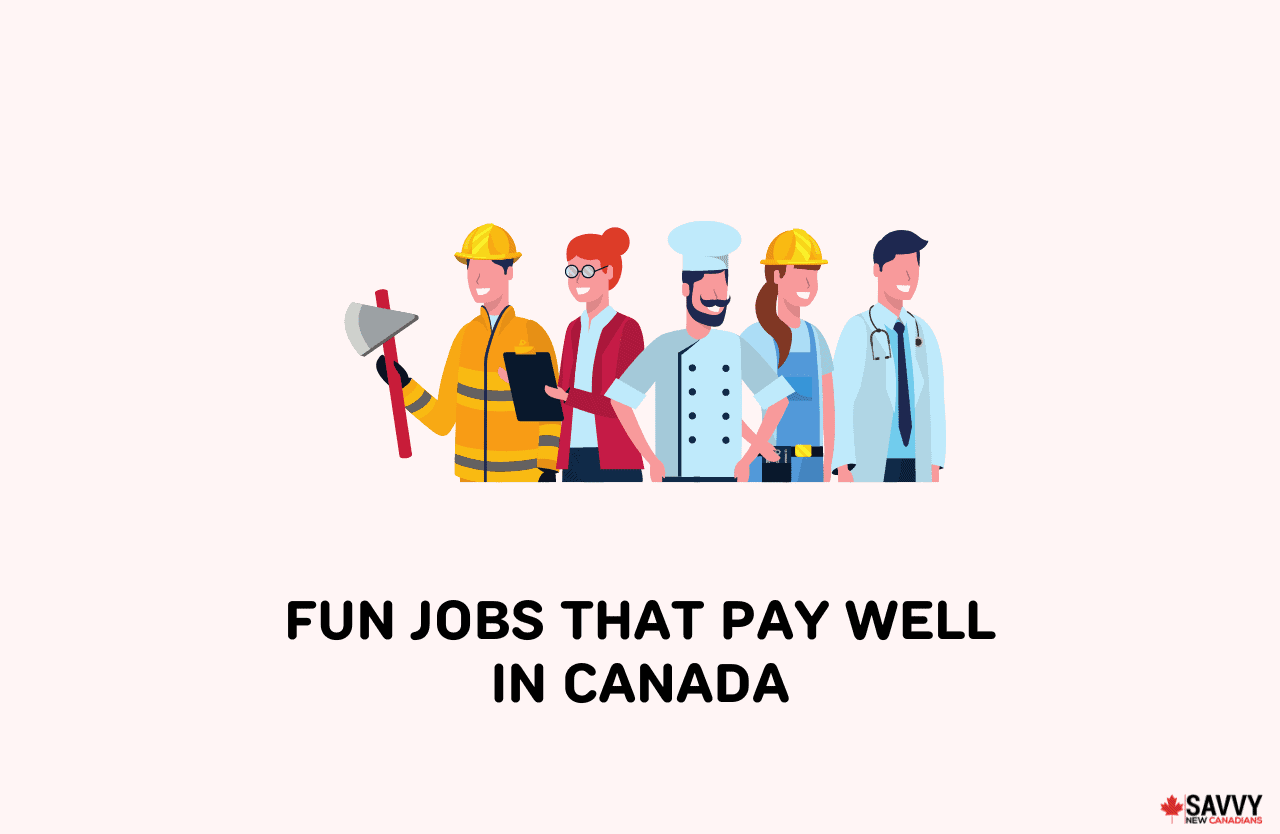 17. Technical Writer
Working as a technical writer can be an easy job that pays well if you're passionate about writing. Technical writers earn between $45,000 to $87,000 a year from writing briefs on new tech, manuals for new devices, and buying guides for customers.
This is a fun job as you get to expose yourself to different trends in technology.
18. ESL Teacher
Working as an English teacher is one of the most unique careers in demand in Canada. You can work as a freelance or apply with an institution as an ESL teacher and earn anywhere between $15 to $25 per hour.
Before you can teach high school students as an ESL teacher, you need to have a college degree and a TEFL, TESL, or CELTA certificate. For teaching college students, a master's degree is required.
19. Online Teacher
Most fun jobs that pay well require experience — but not this one. You can work as an online teacher remotely and earn up to $48,897 a year as long as you have the patience and dedication to teach.
Besides teaching students, online teachers also earn by making online guides or being consultants to companies that conduct training sessions.
20. Customer Service Representative or CSR
Training is often provided by the employer before you can start working as a CSR. However, having good verbal skills and the ability to empathize increases your chances of succeeding in this job.
The responsibilities of a CSR vary per company — some have to sell a medical product while others have to book appointments. Beginners can get around $26,000, while experienced CSRs can earn $48,000.
21. Medical Transcriptionist
A cool job for women and men is working as a medical transcriptionist remotely. This job will require you to convert voice recordings into word documents for record-keeping purposes.
With an ear for hearing medical terms and faster than the average typing speed, you can make up to $56,000 a year as a medical transcriptionist.
22. Proofreader
Working as a proofreader can be a fun part-time job that pays well, as you can make $25 per hour. As a proofreader, you have to read other persons' content and fix any grammatical and spelling errors.
This is one of the most in-demand remote jobs in the world as more and more businesses are relying on written content to market their offerings.
23. Social Media Manager
Social media managers are responsible for a business's social media presence. It's a fun job that pays well but doesn't require experience — you just need to know how to post content, manage different social media profiles, and engage with an audience.
Social media managers charge up to $20 per hour.
24. Digital Marketer
Another fun remote job that pays well is being a digital marketer. With this role, you'll help businesses attract traffic to their sites and develop digital marketing strategies. New digital marketers charge $18 per hour on average, while experienced workers earn $50 per hour.
Fun Jobs That Pay Well for 20-Year-Olds
25. Translator
Do you know other languages besides English? Work as a freelance translator and charge clients between $15 to $50 per hour for your services. Being a translator is a great high-paying job in Canada for immigrants. It also gives you the flexibility to decide when and where to work.
26. Waiter
Being a waiter is a fun job that pays well for 20-year-olds. You can earn up to $20 per hour plus tips and enjoy a flexible schedule. This is an excellent option for students looking for part-time work and teaches them how to deal with difficult people.
27. Tutor
If you're an expert at a particular subject in school, work as a tutor. It's a meaningful job that pays well as you have the opportunity to help other students, especially kids struggling with a particular lesson or topic.
The hourly wage for tutors varies, but you can charge anywhere from $30 to $60 per hour.
28. Music Teacher
You can earn money by giving music lessons to other students or kids around Canada. The only requirement for this job is you know how to play at least one musical instrument, like the guitar or piano.
As a beginner, you can charge clients $12 per hour for your music classes. Experienced and in-demand music teachers earn up to $150 per hour.
29. Dog Walker
A fun job that pays well even without a degree is being a dog walker. This job allows you to enjoy flexible hours, have plenty of exercises, and bond with pets.
On average, dog walkers charge $16 for an hour-long group walk with 3-5 dogs at a time for four days a week. You can charge more for private half-hour walks.
Before working as a dog walker, take the time to learn about laws concerning dogs in Canada, as different states follow different laws. For instance, pit bulls are banned in Ontario.
Related: Learn how to be a dog walker with Rover.com with our detailed review.
30. Online Researcher
Can you find high-quality content online fast? Do you have a general knowledge of how businesses in certain niches operate? If "yes," make money as an online researcher. In this job, you can earn up to $37 per hour by helping businesses research questions for their clients.
31. Cafeteria Worker
Working as a cafeteria worker is one of the most popular part-time jobs for college students. This job doesn't require experience, but it pays better than most restaurant jobs.
Besides earning between $15 to $30 per hour, working in the cafeteria gets you some free coffee and meals.
32. Guest Service Coordinator
You need to have excellent customer service skills to become a guest service coordinator. This job offers flexibility as you can work in different fields, from hotels to non-profit organizations.
By helping customers resolve issues and address their queries, you can earn up to $21 per hour as a guest service coordinator.
33. Night Auditor
Does the idea of working overnight at a hotel excite you? Try working as a night auditor. Working as one will require you to assist guests, help in bookkeeping operations, and manage paperwork.
This is a fun part-time job that pays well but requires basic accounting knowledge, math skills, and customer service. You can earn up to $29 per hour as a night auditor.
Choose a Career in Canada
As you can see, you'll never run out of options when looking for fun jobs in Canada. You just have to know what you're looking for — whether it's a fun job that pays 6-figures, doesn't require experience, or remote work — so you can narrow down your options fast.
FAQs
What is the highest-paying fun job?
Ethical hackers work for security firms to test out the cybersecurity measures and firewalls to assess how easy they are to undermine. Ethical hackers earn up to $103,590 every year and experience a great deal of satisfaction knowing that their work is the reason why people's data is secured.
What is the laziest job that pays the most?
Luxury house sitters earn up to $70,000. This job will require you to stay on another person's property (which means free accommodation) and perform house duties while the homeowner is away.
What easy jobs make 100K a year?
Business owners, real estate brokers, sales consultants, virtual assistants, freelance writers, and plumbers.
What is the rarest job in the world?
A wood patternmaker is the rarest job in the world. The skills necessary for this profession aren't taught in universities, but aspiring wood patternmakers are trained under an expert patternmaker.
Which career is the happiest?
According to Forbes, the happiest career is working as a recruiter.
What jobs pay a million a year?
Company executives, entrepreneurs, investment bankers, real estate agents, and surgeons can earn a million every year. Management consultants, law firm partners, and franchise owners can also become millionaires in one year.
What is the world's coolest job?
A professional sleeper. This job will require you to sleep all day to test luxury beds and then write reviews or suggest improvements.