Managing classes, time, and money can be difficult for students. If you're in high school, college or university, you probably want to make some money to save for tuition, pay off student loans, or cover any other expenses.
A part-time job is one of the best ways for students to make money in Canada. Many jobs pay well, are flexible, and teach students valuable skills. You can find many jobs online, through your school, and in your community.
If you want to make some extra money, read on to learn about 17 of the best part-time jobs for students in Canada.
Best Jobs For College Students in Canada
The part-time jobs listed below usually work around school schedules and are great for making money to pay for tuition, student loans, rent, and other living expenses.
1. Administrative Assistant
Administrative assistant jobs are great for students interested in pursuing a career that requires skills like office management, HR, and accounting.
Administrative assistants help with day-to-day office tasks, like answering phone calls, filing documents, managing calendars, and setting appointments. You should have good communication and organizational skills.
Administrative assistant jobs can be on or off-campus, found through your school or online job boards.
Average pay: $21.25/hour
2. Teaching Assistant
Many university professors hire teaching assistants to help them with various tasks like creating lesson plans, tutoring students, and grading papers.
If you have great organizational skills and have been in college or university for over a year, it can be easier to find work as a teaching assistant.
This is a great way for college students to gain experience in a subject they are interested in and make extra money. Your school can help you find a teaching assistant job on or off-campus.
Average pay: $16.42/hour
3. Server
A server is one of the best jobs for university students, as hours are flexible and tips can pay well.
Servers attend to diners before, during, and after their meals to answer questions about the menu, take their order, payments, and bring out their meals.
Depending on the province, you may be required to have a certification in responsible beverage service. You can find server jobs online or simply by walking into the restaurant you'd like to work at and handing in your resume.
Average pay: $14.92/hour plus tips
4. Barista
Baristas make and serve coffee, tea, and coffee-based beverages, including lattes, cappuccinos, and iced beverages at coffee shops. Baristas should be able to take orders, make drinks, serve customers, and handle cash.
If you enjoy working in a fast-paced, friendly environment, you might like being a barista.
Average pay: $15.54.hour
5. Delivery Driver
Delivery drivers are one of the best weekend jobs for students, as they can work and earn more during the weekends when people are more likely to order takeout.
As a delivery driver, you can work for an app like Uber, Doordash, or SkipTheDishes delivering food to customers during peak hours.
If you own a car, scooter, or bike, you can easily sign up to become a delivery driver on the company's website and start working in as little as a few days.
UberEats drivers make an average of $17.73/hour, but you can make more or less depending on the company, time of day, and how many deliveries you do.
Related: DoorDash Driver Canada Review.
6. Sales Associate
Sales associate jobs are usually accommodating and can work around school hours, so you can work on weekends and after classes.
Sales associates help drive sales by engaging with customers, selling products, sharing their knowledge, and ringing up customers, among other tasks.
You should have good sales, communication, and customer service skills. Most sales associate jobs can be found on online job boards.
Average pay: $14.50/hour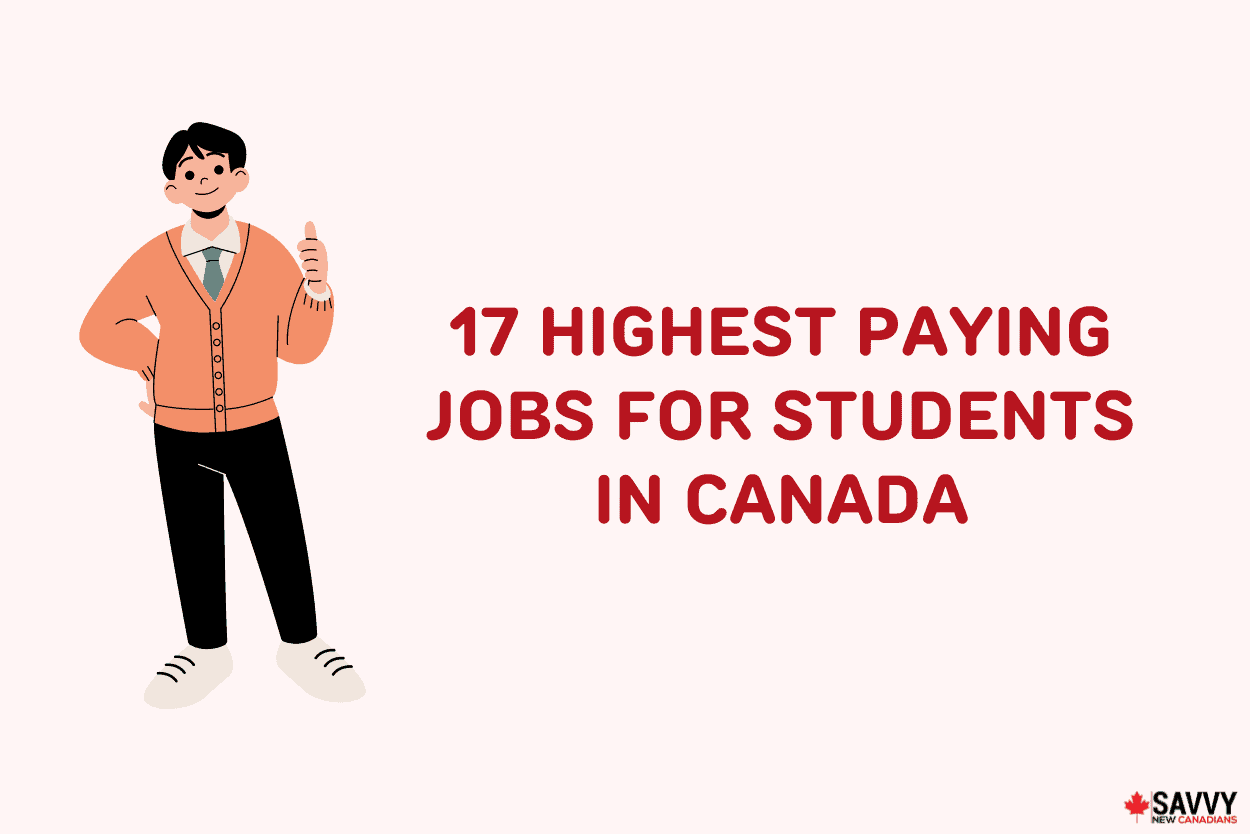 Best Jobs for Highschool Students
During the summer months, high school students have a lot of free time, and many choose to get seasonal jobs. This is a great way to save money for college, university, or make some extra spending money.
7. Dog Walker
If you like animals and live in a neighbourhood with dogs, you might want to consider becoming a dog walker or pet sitter to make some extra cash.
This job is very flexible, and you can often work on your own schedule or modify your hours to work around school.
To become a dog walker, sign up for an app like Wag or Rover, or put flyers around your neighbourhood advertising your services.
Average pay: $18.70/hour
8. Lifeguard
If you have the training, being a lifeguard is one of the best summer jobs as it can pay quite well.
Lifeguards are responsible for the supervision and safety of everyone in a pool or on a beach. If anything goes wrong, they jump into action to rescue patrons.
To become a lifeguard, you must have the proper training. Requirements will vary based on the company or facility you work for, but most lifeguards should have completed their bronze medallion, bronze cross, first aid, and CPR training.
Average pay: $18.92/hour
9. Babysitter
Babysitting is a great job for teenagers as it can be fun, and most of the time, you'll only be working after school and during weekends. Most babysitters care for, play with, and tutor children of families around their neighborhood.
You should be friendly, encouraging, and be able to care for children. To find a babysitting job, you can ask people if they need a babysitter, post flyers around your neighbourhood, or look online.
Average pay: $13.48/hour
10. Grocery Store Associate
A grocery store associate is quite a popular part-time job among high school students, as they can work around their schedule and get a feel of what working in a retail environment is like.
Grocery clerks stock food, organize displays, answer customer questions, and sometimes operate cash. You can find a job online or walk into a store and hand them your resume, as grocery stores are almost always hiring.
Average pay: $14.98/hour
11. Gym Receptionist
A gym receptionist is one of the best jobs for students in high school as many gyms and recreational facilities are open late, so students can work around their school hours.
Most gyms even offer discounted or free gym memberships to employees, so you can work out after your shift. As a receptionist, you'll sign up new members, provide tours, check in guests, and clean equipment.
Average pay: $14.58/hour
12. Ice Cream Scooper
An ice cream scooper is one of the best jobs for high schoolers, as you'll work during the summer and your job won't interfere with school.
Ice cream scoopers do exactly that – scoop ice cream! They serve customers and ring them up at an ice cream shop, stand, or anywhere that sells ice cream and frozen desserts.
Average salary: $14.80/hour
Best Online Jobs for Students
For students with a busy schedule, online jobs are a great option for students looking to make some extra cash. They are generally very flexible, and you can work as much or as little as your schedule accommodates.
13. Freelance Proofreader/Editor
If you have an eye for detail and are good at writing and catching errors, you could become a freelance proofreader or editor. Proofreaders correct grammar, punctuation, and syntax mistakes and ensure everything flows smoothly in a piece of text.
You don't need any previous experience – simply apply to freelance jobs and demonstrate your skills. It can be quite easy to build up your portfolio and get clients as you complete more jobs.
Here's a proofreading course by Caitlyn Pyle that shows how you can get started and earn full-time income with proofreading.
Average pay: $23.38/hour
14. Online Tutor
If you're particularly good at a subject and like teaching others, you can become an online tutor, one of the best jobs for students. You'll be getting teaching experience and helping out other students at the same time.
Online tutors can be any age, as long as they can teach a subject well. You can either become a freelancer or apply to an agency to teach subjects like math, science, and English. Depending on the company, you may need a high school diploma, college degree, or teaching certificate.
Average pay: $20.11/hour
15. Translator
If you can speak, read, and write in two or more languages, you can get a job as a translator. It is a well-paid and highly sought-after skill, so use it to your advantage!
Translators convert text from one language into another while conveying the tone, style, and intent of the text. They can be freelance or work for an agency.
Average pay: $27.67/hour
16. Freelance Graphic Designer
If you're artistic and enjoy being creative, a freelance graphic designer is one of the best jobs for students. Graphic design skills are always in demand, with no shortage of jobs available.
As a graphic designer, you could design something as simple as a logo for a company, or as complex as an advertisement for a magazine. All you need is graphic design software, and you can get started.
Average pay: $27.47/hour
17. Social Media Marketer
Many students use social media daily. Brands are looking for people to help them establish a presence on social media to engage with customers and spread awareness.
This can be a lucrative part-time job if you know how to use social media and have some marketing skills.
Average pay: $22.75/hour
What To Look For in a Student Job
When looking for a part-time job, you'll want to ensure it fits your schedule. It can be hectic juggling a busy school schedule and work, so you'll want to let your employer know that you're a student.
Look for a flexible job that pays well so that you can pay for tuition, student loans, or any other student expenses.
Your job should also teach you foundational skills that you'll need to know going into future roles – especially if this is your first job.
Lastly, look for a job that you're genuinely interested in and are good at! There's nothing worse than hating your job and losing the motivation to go to work.
How To Find a Job as a Student
You can find part-time jobs in several ways – look on online job boards, ask around, post flyers in your neighborhood, or get help from the student job centre on campus.
If you want to work online, you can sign up to become a freelancer on websites like Upwork or Fiverr.
When looking for a job, ensure that your resume is up-to-date and highlights your best skills, abilities, and previous work, volunteer, or extracurricular experience.
If you don't have much experience, highlight your transferrable skills and show employers how it relates to the job you are applying for.
Benefits of Part-Time Jobs Students
There are many benefits of having a part-time job as a student.
While working part-time, you'll have a stable cash flow. You can use it to pay your tuition, student loans, debt, and any other expenses, leaving you with less financial stress after you graduate.
Even if your job doesn't completely align with your studies, you'll develop useful skills that you can use in your career. Part-time jobs teach important skills teamwork, commitment, organization, and management.
Lastly, you'll become more confident and gain independence. Most jobs are customer-facing, so you'll naturally become more confident in dealing with people and gain valuable skills.
You'll also rely less on people around you, as you'll be responsible for your own schedule, tasks, and money.
Related: Part-Time Jobs for International Students.