If you've spent some time in university, you know how much textbooks cost. They're crazy prices. And if you're like most students, you want to get rid of as many textbooks as possible at the end of the semester.
Sometimes, you can sell your used textbooks to classmates or other students. Other times, you want to make more profit and sell your book online.
You have quite a few options available when ready to sell your used textbooks for cash. There are numerous websites and places that you can use to sell your unwanted textbooks, but which ones will give you the best possible price?
This article will provide the best places to sell textbooks in Canada in 2023.
Best Places To Sell Used Textbooks Online
Why give your old textbooks to your friends or schools when you make some extra cash?
Selling your books online is a convenient and straightforward way of getting rid of your old textbooks and making some money on the side.
Below, we list different ways to sell textbooks in Canada online and through friends and get the most money back.
1. Book Seeker
Book Seeker is one of the most trusted sites in Canada to buy and sell books online.
This online marketplace allows you to list unwanted books for sale and match them with buyers at the best prices.
With their free shipping label, you can safely send in your books and get paid via cheque or PayPal.
They buy all kinds of books. And while they specialize in college and university textbooks, they also welcome fiction, non-fiction, specialty books, and everything in between.
Just enter your ISBN to see if they are currently buying a particular book. You can also use the site for free to browse what people are selling or leave book reviews.
2. Book Power
Book Power is one of the best places to sell books online. With access to a simple, intuitive interface, Book Power is a great place to list your textbooks for free.
Book Power works with students at all levels of education, from kindergarten to grad school.
The site offers a default shipping option that can be upgraded for faster shipping or delivery confirmation.
Book Power gives you the advantage of selling your books online in an easy-to-use environment with the bonus of having them shipped for you at no additional cost.
You'll get paid fast, usually within 24 hours of receiving an accepted offer.
3. SellMyTextBooks.org
Sell My Textbooks, a subsidiary of Sell My Books Canada Inc., is an online textbook marketplace that allows students to sell their old textbooks and buy used books at discounted prices.
It's one of the easiest ways to turn your old books into cash without dealing with the hassle of meeting up with buyers or haggling over prices.
There's no cost to sell your books, and you can receive up to 50% of the original price.
The process is simple. You log on to the website and enter the textbook ISBN to receive an instant quote.
You then ship the book(s) for free using a courier service and receive payment three days after the books arrive and pass inspection.
4. Textbook Smart
Textbook Smart is a small family-owned business based in Canada that makes it easy to sell college textbooks for cash.
With quick payment processing, free shipping, and a buyback price guarantee, there is no better way to sell your used textbooks than through Textbook Smart.
In a few minutes, you can set up an account on Textbook Smart and list your books for sale.
And if you need help along the way, you can quickly contact their friendly support team through the live chat feature on their homepage.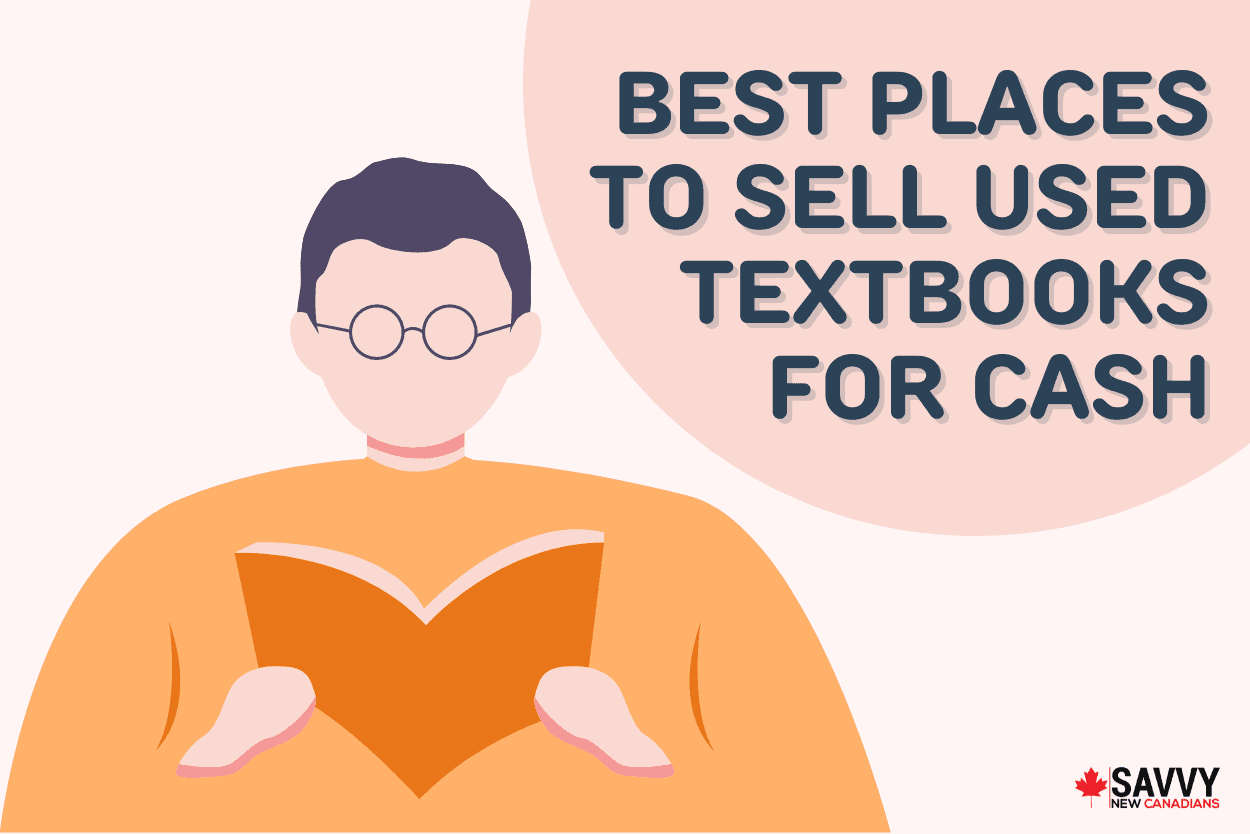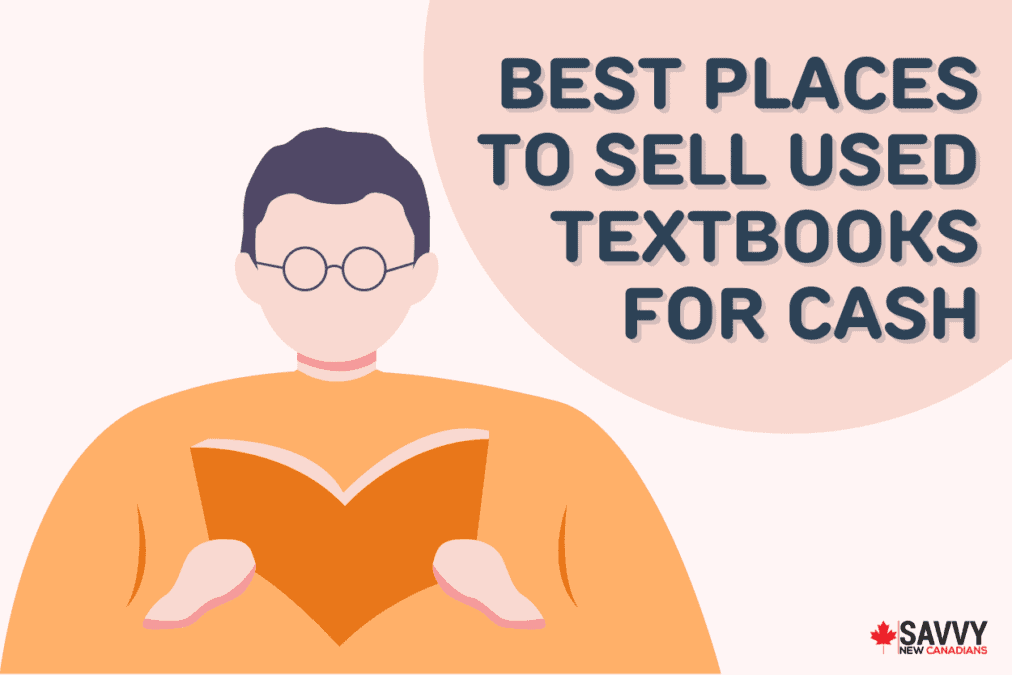 5. Amazon
I'm sure you probably know that Amazon is the biggest e-commerce store globally, but did you know that they also buy used textbooks?
Amazon is a great place to sell your old books and make some extra cash!
They have a trade-in program that will pay out anywhere from $5 to $200 depending on what book you send them and what condition it's in.
It's important to note that they only accept books in perfect condition, so be sure to read their guidelines before sending anything in.
If you want to get the best price for your textbooks, Take professional photos of your textbooks and upload them onto Amazon's trade-in page.
This will allow potential buyers to see exactly how good (or bad) your book is.
You can also use the "add a note" section on the trade-in page when sending in your book(s) to highlight any parts of the book that aren't in perfect condition, so the buyer knows what they're getting.
6. AbeBooks
Whether you're a student looking to earn some extra cash or an art collector trying to clear some titles off your shelf, AbeBooks is the place to go when you want to sell used textbooks and collectibles in Canada.
Selling your used textbooks on AbeBooks is easy. The first step is to create an account and complete the seller application.
For a monthly subscription fee of $25/month and an 8% commission fee on all sales, you get access to millions of unique visitors searching for books and other products daily.
To find the best price on AbeBooks for your textbooks, enter your ISBN into the search bar to determine how much other sellers are charging for your textbook.
Also, remember that AbeBooks is not just for college students looking to sell textbooks.
You can list other items for sale, such as art, collectibles, comics, and rare books.
7. eBay Bookfinder
eBay is one of the best places to sell used textbooks. It has a broad reach, and many people use it as their first stop when buying something.
To get started selling on eBay, create an account, enter your textbook ISNB, upload photos, set up an auction, and wait for interested buyers to come to you to get started selling on eBay.
The downside with eBay is that you have to ship everything out manually, meaning you'll have to set aside some shipping time and cover the expenses.
To get an idea of how much you can get for your textbook, go to The Bookfinder page.
Enter your information, and it will provide links to all similar books on sale at different sites like Amazon and eBay.
It even includes information about how much the book is selling for on each site, so you know if you're getting a good deal or not.
8. Barnes and Noble
You can also sell your used textbooks online through Barnes and Noble, which offers a buyback program to college students.
In addition, they provide multiple shipping options, including free standard shipping.
The company accepts various formats of textbooks, including hardcover and softcover books, just as long as they are in good condition.
The only drawback is that the books you sell must be worth at least $10.
And even though the website offers a money-back guarantee on its used textbooks, the amount provided for each book is not guaranteed.
9. Book Byte
Book Byte is one of the best textbook buyback sites that pays you quickly and has no hidden fees.
They specialize in buying back all types of books, including college books, university books, medical books, nursing books, and technical books.
You can use their textbook buyback search engine to determine how much money you can make from selling your used textbooks online.
You get a free quote instantly with no obligation or commitment to sell at all.
If you decide to sell them your textbooks, they offer a range of payment methods, including PayPal and bank transfer.
To start selling your used textbooks on Book Byte, enter the ISBNs of your textbook into the search bar on their website.
Then enter your name and your email address so that they can contact you directly if they have any questions about the condition of your book or about the details you have provided them with for the ISBN search.
10. Second Bind
Update: Second Bind has changed its business model. If you want to donate unwanted books, electronics, toys, and clothes, they can pick them up from your doorstep. They will help you recycle them for a small fee.
Where To Sell Textbooks Near You
Selling textbooks online has become easier than ever, with local and international online bookstores offering great prices for your collection.
But if you prefer to sell your textbooks in person, then there are other options to explore.
11. Your College Bookstore
Your college bookstore is the most convenient place to sell your used textbooks back for cash in Canada. You can walk into the bookstore with your used books and get some money on the spot.
However, when you're selling back to your college bookstore, there's a good chance that you'll get less money than if you were to sell your textbooks somewhere else.
This is because your college bookstore will have to resell the books later at a profit. And if they give you too much money for your book, they might not make enough profit later on.
And in most cases, the bookstore will only buy back textbooks currently needed for coursework at your school.
So keep these two things in mind if you decide to sell your books at your college bookstore.
However, if you need cash, it might be a good option as you can receive payment right away.
12. Facebook Marketplace
If you require cash and have a few textbooks lying around, you might want to consider selling them on the Facebook marketplace.
You'll likely get top dollar for your books, and it will be a lot more convenient as well.
Selling used textbooks on Facebook Marketplace is as easy as creating a Facebook account, posting a photo of your book, and setting the price.
But keep in mind that it might take time to find a buyer as most people don't lurk around the Facebook marketplace very often when looking to purchase textbooks.
The upside of Facebook Marketplace is that you have more control over your selling price and how much you can get from the textbook.
Therefore, it's essential to know how much your book is worth before you list it.
A website like BookScouter allows you to search an extensive database of online books to get an idea of what you should sell your book for.
Another site to check out is Chegg which lets you see how much your book is worth before selling it.
Enter your ISBN, and Chegg will tell you what it's worth at nearby textbook buyback locations.
13. Kijiji
Kijiji is a Canadian version of the popular website Craigslist. It is owned by eBay and allows users to post classified ads for free. It is one of the best places to sell textbooks online in Canada.
You can sell textbooks online on Kijiji for free through the classifieds section.
The site is localized in many major cities across Canada. It's relatively simple to use and a good alternative if you've had no luck selling on Facebook Marketplace.
Whether you're selling online or in person, always make sure to check other listings and prices before you set your price.
You can use the Kijiji search feature to see other books that sellers have listed on Kijiji.
14. Sell To Other Students
Selling textbooks to other students is usually the best way to recoup some cash you spent on books.
Selling your textbooks back to the bookstore or through an online marketplace can get you a fraction of what you paid for them, but if you sell them to another student, you can get some cash close to the retail price just as long as your textbook is in mint condition.
That's why you should always take good care of your books!
This means not highlighting passages excessively or writing in them, as this will significantly reduce your book's resale value. It also means not selling a textbook with broken bindings or pages.
How To Sell Textbooks For The Most Money
Consider the following factors to help you make the most money possible when selling your used textbooks.
Clean your textbooks
It's essential to clean up your books before trying to sell them. Even though you're selling used books, you want them to look their best for prospective buyers.
Clean your books so that they look their best. Use a lint roller to remove any dust from the covers and pages. Wipe down hardcovers with a damp cloth, and be sure to dry them thoroughly.
Protect them
Textbooks are expensive, and you can sell them for a lot of money. So it's essential to protect them from damage, to make sure you're selling them at the best price later on.
The best way to protect your textbooks against damage is to secure them in your bag correctly or to get a cover for them.
Take great photos
Photography is a big part of the book-selling process. High-quality photos of your books will help them sell faster and for more money.
Think about it: when you're browsing pages of books on an eCommerce site or thrift store app, you pick the ones that look appealing.
If a book looks attractive in its photo, you're more likely to buy it, even if you've never heard of the author or read any reviews.
You can try these tips to take better photos:
Use natural light – Flash causes glare, making pictures look less attractive.
Use a white background – avoid taking pictures on carpet or other colourful backgrounds.
Ensure your image is in focus – blurry pictures make it harder for buyers to evaluate the condition of your textbook.
Place your textbook on a hard surface – avoid taking pictures on bedding or pillows as they can distort photos and make books appear warped.
Conclusion
Selling your textbooks for cash is one of the easiest ways to receive money for your old books.
We recommend you sell your textbooks directly to other students as you can get cash close to the retail price.
If you can't find a friend to sell your books to, then you should consider going online.
There are a variety of online platforms for you to sell your textbooks online on platforms such as Second Bind or AbeBooks.
You get paid anonymously, and you don't have to go anywhere. But if you're in no rush, selling on Kijiji could be the better option since you can ask a little bit more for your textbooks.