This post may contain affiliate links. Please read my disclosure for more info.
This is a sponsored post by CanSpace Solutions. All views and opinions expressed represent my own.
CanSpace Solutions is a Canadian web hosting provider and domain registrar that is trusted by many of Canada's largest corporations, government organizations, as well as small businesses.
Much has been asked and written about the need to localize your web hosting to improve your site speed, improve your rankings and reach more customers. It is these advantages that CanSpace brings to the table for Canadian website owners and businesses, all at affordable prices.
About CanSpace
CanSpace Solutions has been around for a while, offering enterprise-level hosting since 1998. They provide web hosting services to a good number of large companies and government agencies in Canada, including Dairy Farmers of Canada, Ottawa Citizen, Algonquin College, Hamilton, and REMAX.
CanSpace refers to themselves as "Proudly Canadian," with their head office, datacentres, servers, and employees all located in Canada. When it comes to the .ca domain, CanSpace ranks as the world's leading domain registrar.
They have also been ranked as Canada's #1 hosting provider for several years.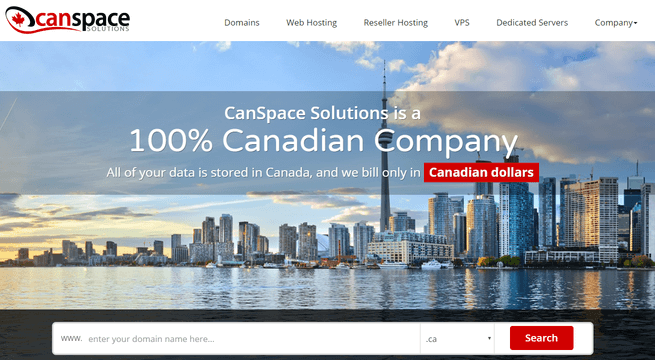 Related: How To Start Your Money-Making Blog in 6-Steps
Services Offered by CanSpace
CanSpace offers web hosting, domains, and other custom services and solutions. On the web hosting side of things, they offer shared hosting, reseller hosting, VPS hosting and fully-managed dedicated servers. Let's dig in!
Shared Hosting
CanSpace caters to most small businesses and personal blogs with this category of web hosting. Their shared hosting offerings include:
Starter Plan
Medium Plan
Professional Plan
All plans come with a free domain for the first year when you pay for a full year of hosting. In addition, you will have access to multiple free apps, a free web-based site builder, free CDN, daily backups, 99.9% Uptime, DDoS protection, 24/7/365 customer support, and 30-day money-back guarantee.
Reseller Hosting, VPS Hosting and Dedicated Servers
If you are a web solutions or web development business that is looking to sell web hosting to your clients, CanSpace offers you a great, fully white-label reseller hosting plan. Reseller hosting plans offer an unlimited number of cPanel accounts, website builder, CloudFlare, and daily backups to your clients while you take all the credit.
Businesses and clients looking to have full control of their servers and even better performance can choose to go with CanSpace's fully managed VPS solutions and Dedicated servers.
Domains
CanSpace offers domain registrar services for top-level domains including the .ca domain. Domain names come with full control of your DNS records, unlimited sub-domains, free domain forwarding, domain locking, and free WHOIS Privacy (for .ca domains).
Some of the top level domains you can register with them include: .ca, .com. .net, .org, .online, .live, .space, .shop, .club, .me, .name, .biz, and several others.
Custom Services
In addition to domain names and web hosting, CanSpace also offers custom services to clients who need them. These services include:
Website design
Logo design
Search Engine Optimization (SEO)
E-commerce services
Apps development, and much more.
Why Choose CanSpace?
There are many hosting providers out there offering similar web hosting and domain registration services, and it can be difficult telling the differences between them until you sign up and realize that many of the "free and unlimited" options are not really free, or do not stand up to scrutiny.
Here are some of the reasons why you should consider hosting your website with CanSpace:
1. Competitive Pricing: As a Canadian business, their pricing is in Canadian dollars so you know exactly what you are paying for hosting/domains without having to hope that the US dollar vs. CAD exchange rate is in your favour. On the domains side of things, I find that CanSpace offers the absolute best prices for .ca TLD's.
2. Customer Service: I have a couple of domain names registered with them and have found their customer service to be timely and effective. Their customer service agents are located in Canada and available 24 hours a day, 7 days a week, and 365 days a year.
3. Realistic Service Options: If you have ever experienced web hosts who offer cheap "unlimited" hosting throttling your bandwidth and disk space, followed by lots of "503" errors, you are not alone. These offers are mostly to entice you to sign-up and once locked-in, your website's loading speed and traffic suffer. CanSpace's web hosting offerings are realistic and what you see is what you get.
4. Renewable Energy Powered: CanSpace powers all their servers using 100% green energy via hydroelectricity. If you brand yourself as an environment-friendly business, CanSpace complements your branding with a green carbon footprint.
5. Local SEO Boost: Savvy Canadian business owners know they can boost their local SEO and website ranking by taking advantage of local hosting in addition to the top-level .ca domain. With servers, datacentres, and IP addresses all "purely Canadian," your website ranking can get the boost needed to succeed.
Wrapping Up
Hosting your Canadian business or personal website with CanSpace is not only beneficial to your business, ranking, and visitors/customers, it also means you are contributing to your local Canadian economy. When you think reasonable pricing, credibility, SEO, security, and environment-friendly hosting, CanSpace definitely delivers.
Other popular web hosts I have used who offer cheap ($3.99 per month) and reliable web hosting are Siteground and Bluehost.
Want to start your own money-making blog? Check out my 6-step complete guide here.
CanSpace Review
Credibility

Pricing

Support

Uptime

Local SEO

Green Energy

Domain Privacy
Summary
CanSpace Solutions is a Canadian web hosting provider and domain registrar that is trusted by many of Canada's largest corporations, government organizations, as well as small businesses.