Going on vacation can be relaxing and a much-needed break from your busy life. However, finding flight tickets that won't break the bank can often be difficult.
As someone who travels frequently, I always look for cheap flights and deals. I often use multiple flight booking apps to find the best price possible.
But with so many apps for booking flights, how do you know which is the best?
Keep reading for 12 of the best apps in Canada for booking cheap flights this year, including Skyscanner, Kayak, and Hopper.
The Best Apps for Cheap Flights
When booking your vacation, you want to get the best deals possible. These are some of the best apps for finding the cheapest flights that can help you save money.
1. Skyscanner
Skyscanner is widely known for being one of the best flight booking apps and websites out there. They search hundreds of providers to find the best deals on flights, hotels, and rental cars.
The best way to save money and find the lowest prices for flights is to enter your destination and select "Cheapest month." Skyscanner will tell you the cheapest days to fly.
Skyscanner also finds hotels and rental cars with flexible plans and free cancellations, as well as price alerts that notify you when flight prices change.
Pros
They search through hundreds of flights to find the cheapest travel date and destination
You can set price alerts
Search for hotels and rental cars through the site
Great app for cheap flights
Cons
Pricing can sometimes be inaccurate or often change
The cheapest flights may not be the best options as some flight partners are not reliable
App Store Ratings
4.8 on the iOS app store and 4.7 on the Google Play store.
2. Hopper
Hopper is one of the best apps for flight booking, as it helps users save up to 30% on travel bookings. It has exclusive deals, offers, and discount vouchers right on its homepage.
One of Hopper's top features includes Price Prediction, saving you an average of $65 per trip with a 95% accuracy rate.
Input your travel destination and date, and Hopper will show you the cheapest travel dates. It will advise you whether to book now or wait for a price drop and notify you when the price has dropped.
Another feature is Price Freeze, where you can lock in the price of a travel booking if you need more time. They cover up to $300 in price increases, and you pay a small service fee.
First-time users get a $25 to $50 discount by using the "enocho8pr" referral code when they sign up.
Pros
Many discounts and deals available for first-time users
Price drop and price freeze features
Instantly change or cancel your bookings for minimal fees
Cons
They may not offer the lowest prices possible
Some customers reported issues with Price Freeze
App Store Ratings
4.8 on the iOS app store and 3.9 on the Google Play store.
Related: Hopper Discount Code.
3. Kayak
Kayak is a travel search engine that looks for flights, hotels, rental cars, and flight + hotel combinations from various travel agencies.
To search for cheap flights, enter your destination, departure and return date, and it will show the cheapest and shortest flights for those dates.
Kayak also has a price alert feature, where you can monitor prices and get email updates when they change.
Some other features include a travel itinerary and the ability to search for vacations that fit your budget.
Pros
Price alert feature
Kayak shows you the best deals and flight options
All-in-one platform with flight, hotel, and car rental bookings
Cons
They do not offer a lowest price guarantee
You cannot book directly through Kayak
App Store Ratings
4.7 on the iOS app store and 4.5 on the Google Play store.
4. Google Flights
The Google Flights app and website allow you to search for the cheapest and best flights to your destination.
All you need to do is input your destination and date of travel, and it will show you the best departing flights based on price and convenience.
You can also track prices on a calendar and price graph to find the cheapest departure dates.
Pros
You can see a month's worth of flights
You are taken to the airline to book directly
Cons
No designated iOS or Android apps
No hotel or rental car bookings or search available
App Store Ratings
No designated mobile app.
Related: Here's How to Apply for a Passport in Canada.
5. Kiwi
Kiwi is a travel search engine that boasts the ability to find cheap flights that other websites can't.
You can search for flights, rental cars, and hotels at your destination. To find the best flight deals, simply enter your destination and preferred travel dates.
You can see a pricing table for the month, where the cheapest travel dates are highlighted in green.
With the Kiwi mobile app, you can download your boarding passes, get trip notifications, book with just one click, and get exclusive prices and offers.
Pros
Flights, accommodation, and rental cars can all be booked on Kiwi
Cheaper flights than some other similar websites
Cons
Not all airlines are included
Some people have complained about poor customer service
App Store Ratings
4.5 on the iOS app store and 4.1 on the Google Play store.
6. Momondo
Momondo is a travel search engine that looks through hundreds of options to show you the best and cheapest flights.
Once you input your destination and travel dates, Momondo will come up with the cheapest, best, and quickest flight options.
You can view a graph of the whole month that tells you when flight prices will increase or decrease.
Momondo has a feature called Mix and Match for roundtrip flights, where you can build your own ticket with a different airline upon return to save even more money.
Pros
Mix and Match feature can save you even more
Helpful chart predicting prices
Cons
No exclusive deals
It may not be the cheapest app for booking flights
App Store Ratings
4.8 on the iOS app store and 4.4 on the Google Play store.
Here are some of the best travel credit cards you can use.
7. Skiplagged
Skiplagged is an innovative way to search for cheap flights. They find loopholes in airline pricing that no other app does.
They find "hidden-city" flights, meaning that you book a flight with a layover, but instead of getting off at the final destination, you'll get off at the layover. This can sometimes be cheaper than booking a regular airline ticket.
It is perfectly legal, but it is looked down upon as you're essentially taking away a seat from other travellers. You can book hidden-city flights, but don't do it too often with the same airline.
Pros
Cheaper flights than most other flight booking apps
You book directly through the app
Cons
Skiplagged only works for one-way tickets
You risk getting caught and banned from the airline if you book too many hidden-city flights
You may not be able to collect airline points with these flights
App Store Ratings
4.8 on the iOS app store and 4.7 on the Google Play store.
8. Priceline
Priceline is a travel booking app where you can find exclusive hotel deals, rental car discounts, and cheap flights. Everything you need to book is all in one place, and you can get personalized, relevant hotel recommendations.
Priceline has a similar interface to most other travel apps, where you enter your destination and travel date, and they will show you the cheapest and best flights, accommodation, and rental cars.
You can bundle your hotel and flight together for extra savings.
Pros
Get deals of up to 80% off
Book directly on Priceline's website or mobile app
Cons
You need to book last minute to get the best deals
Many bookings are non-refundable
App Store Ratings
4.7 on both the iOS and Google Play stores.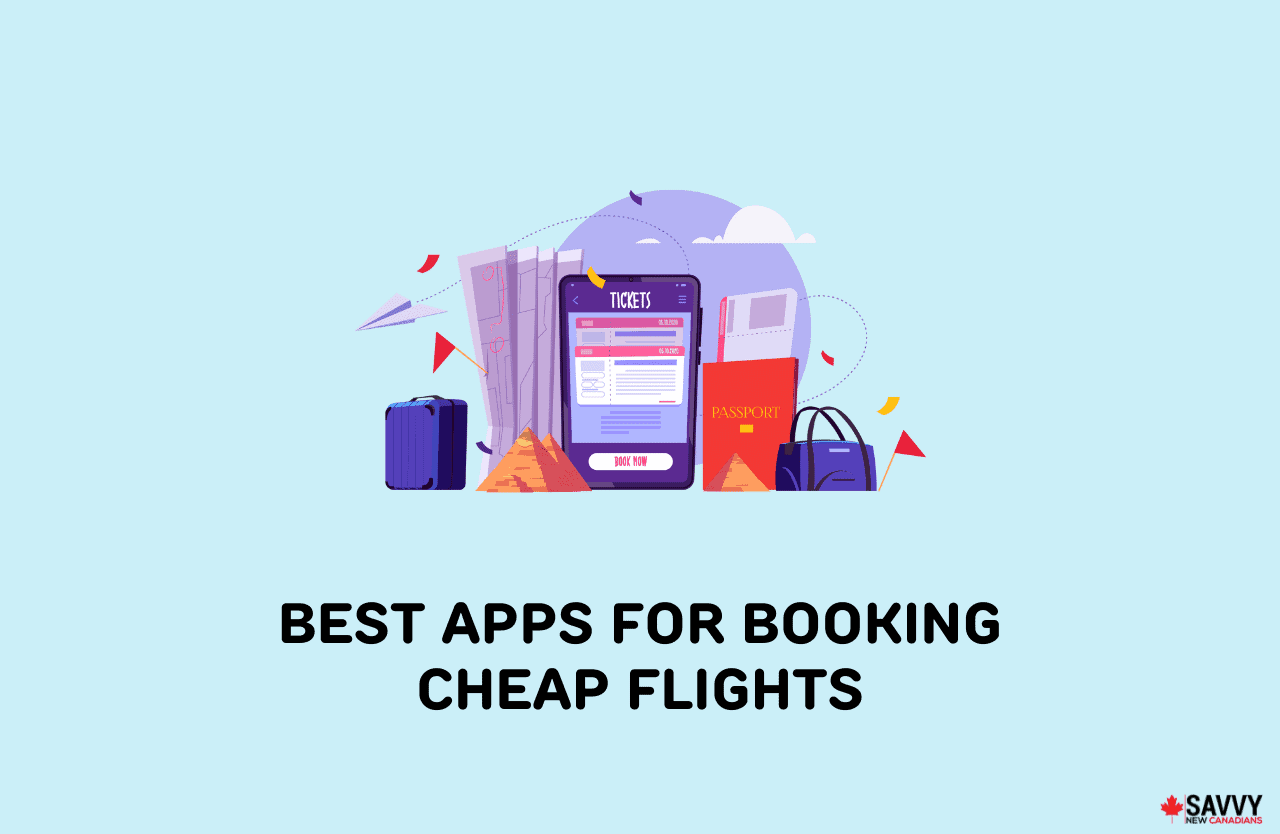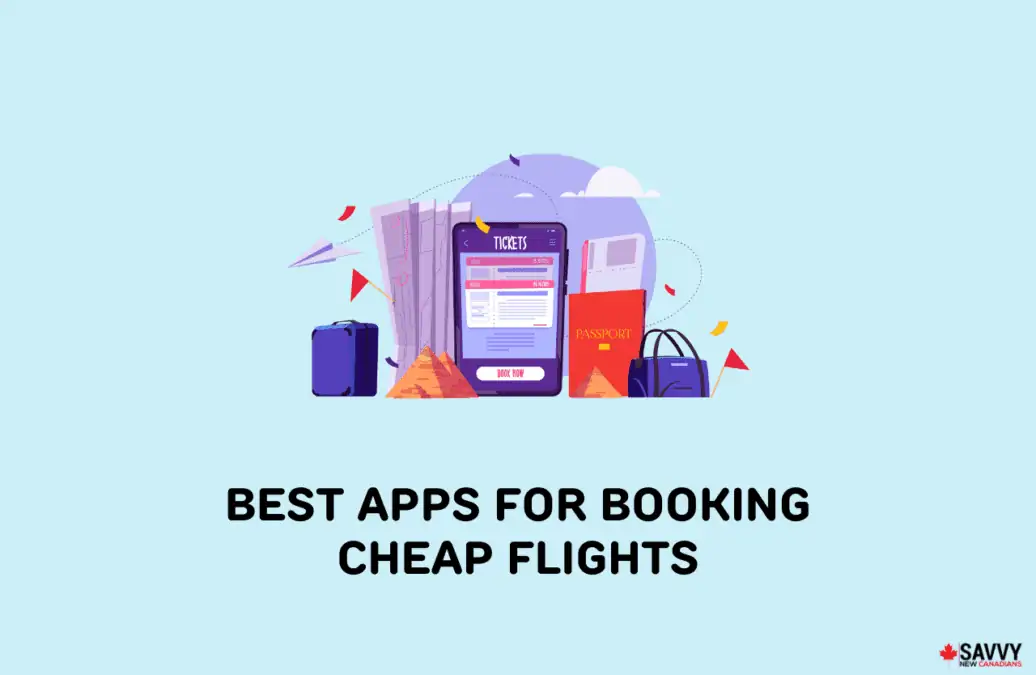 9. Omio
Omio is a travel agency where you can book train, bus, and flight tickets in Europe, Canada, and the US. It combines and compares the costs from multiple companies to find you the best and cheapest transportation options.
This travel booking app works particularly well for finding cheap bus and train fares in Europe, as per my previous experience.
Omio also covers over 700 ferry routes in Greece, Italy, Spain, and the UK – which no other travel app on this list does.
Pros
Book directly on the app
Your tickets are in one place
Cons
You may not be able to find cheap options if you book last minute
Omio is only available in Canada, the US, and Europe
App Store Ratings
4.9 on the iOS app store and 4.7 on the Google Play store.
10. Expedia
We've probably all heard of Expedia, but if you haven't, it's a one-stop shop for everything travel-related. You can book flights, hotel stays, car rentals, vacation packages, and more directly on their website.
Expedia works similarly to other travel booking apps, where you can enter your flight, departure date, and other filters to find the best options.
With Expedia, you don't get price drop alerts, steep discounts, or see a price chart. However, you can sign in and use airline credits, and all bookings are done through the app.
Pros
Expedia has last-minute deals and sales
Expedia has a loyalty program
Cons
Cancellation policies can be confusing
Pricing may change unexpectedly
App Store Ratings
4.8 on the iOS app store and 4.5 on the Google Play store.
Here are some other travel apps to consider.
Email Alerts For Cheap Flights
Email alerts are another great way to get notified about cheap flights leaving the airport nearest to you. If you get alerted and act fast, you can save up to 90% on airline tickets!
These are the two best websites for finding out about cheap flights.
11. Scott's Cheap Flights
With Scott's Cheap Flights, you can sign up to get email alerts when cheap flights pop up. To customize your email alerts, select the airports near you or the ones you want to see deals from.
Scott's team of Flight Experts is always monitoring airline fares, so as soon as a deal pops up, you'll get an email with details about pricing, booking links, and estimates on how long the deal will last.
Scott's Cheap Flights has 3 membership tiers:
Free – $0
Premium – $49/year
Elite – $199/year
The free membership plan only shows you international economy deals, while the other tiers show you deals on weekend getaways, mistake fares from airports, business class deals, and more.
12. Dollar Flight Club
Dollar Flight Club is another website that sends email alerts about price drops from the airport closest to you. All you need to do is sign up, select your departure airport, and get alerted when they find flights up to 90% off that are leaving your airport.
They also have a Premium version that shows mistake fares, highly discounted international flights, and domestic deals from up to 4 departure airports.
Best Apps For Cheap Flights FAQs
Are plane tickets cheaper at midnight?
The day and time of the week generally have no impact on prices; however, some people have found cheaper tickets on Tuesdays and Wednesdays. According to Investopedia, there is no cheapest time or date to book plane tickets.
Which app has the cheapest flight tickets?
Skyscanner and Hopper are two of the best flight deals apps where you can find the cheapest tickets. Skyscanner searches hundreds of providers to find you the best deals, while Hopper does the same and provides multiple discounts and price freeze features.
What's the cheapest day to book a flight?
Tuesday is believed to be the cheapest day to book a flight, as airlines sometimes release sales from Monday night or Tuesday morning. However, there isn't enough evidence to support this, so using an app like Skyscanner to find the cheapest deals is your best option.
Why is Skyscanner so cheap?
Skyscanner goes through hundreds of travel agencies and providers to give you the best and cheapest flight tickets. Their partnerships and software automatically find the best deals.
What airlines are the cheapest?
It depends on your trip and departure date, but some of the cheapest airlines in Canada include Swoop, Flair, Porter, and Air Canada Rouge. However, be aware that some of these airlines are strict about baggage and may charge extra for carry-ons, so check their policies before booking a flight.
Do flight prices go up the more you search?
It is a common myth that flight prices go up the more you search, but there is nothing to confirm that. Airline ticket prices may go up as seats are filling up or because competitors have adjusted their ticket prices.
Related: