While Canada is an amazing place to live, every Canadian knows that the winters can be harsh. That's why some people choose to leave Canada for the winter and make a seasonal home in another region that stays warmer during the months between October and April.
In this guide, we'll cover the 15 best places to spend the winter months – outside of Canada, that is.
Whether they're travelling to the United States, Europe, South America, or another global destination entirely, Canadian snowbirds enjoy relative warmth in the winter months and then return home to enjoy Canada's pleasant summers.
Top U.S. Destinations for Canadian Snowbirds
The United States is often an attractive and affordable place for Canadian snowbirds to travel. Those who are up for it can often drive to the destinations of their choice, and flights between the U.S. and Canada are often cheaper than other international flights.
Within the States, there is a full range of destinations that Canadian snowbirds frequent.
1. Florida
Every winter, snowbirds from Canada and the northern parts of the United States flock to Florida, raising the state's population by about 5%.
Florida has plenty of coastline along both the Atlantic Coast and the Gulf Coast, providing beautiful beaches with clear blue water. Even in January, the average temperature in Miami is 23℃.
2. California
For Canadian snowbirds based in B.C. or who are interested in spending their winter on the West Coast, California is an attractive option.
The weather depends on which part of the state you travel to, but in California's southernmost cities like San Diego (a popular and cheap snowbird destination), visitors will get to experience balmy 18℃ days in January.
3. Hawaii
A beautiful island destination that's just a six-hour flight from Vancouver, Hawaii is a tropical paradise that's very attractive for snowbirds. With white sand beaches and delicious local cuisine options, Hawaii brings in several snowbirds each year.
Even in January, visitors can expect warm temperatures around 27℃ consistently. Don't forget a bathing suit!
4. Texas
One of America's southernmost states offers a cheap snowbird destination that still ticks many of the boxes snowbirds are looking for. The Brownsville area, perched at the southern tip of the state, is a beacon for snowbirds every year.
It offers subtropical temperatures and access to the teal, temperate waters of the Gulf Coast. In January, the average temperature hovers around 21℃, meaning that visitors will be sure to soak up some sun.
Related: Discover these best places to live in Quebec.
5. Arizona
Instead of beaches, hot and dry Arizona boasts beautiful natural landscapes and renowned national parks that bring flocks of snowbirds to the American Southwest every winter.
Mesa, Phoenix, and Scottsdale are all popular destinations for Canadian snowbirds travelling to Arizona. January temperatures are normally about 21℃, the perfect balance of hot and cool.
6. South Carolina
A popular East Coast destination, South Carolina offers many beachy and cosmopolitan attractions. Along the water, Hilton Head boasts pristine beaches as well as renowned golf courses for all of the club enthusiasts out there.
Farther inland, the city of Charleston has a strong arts and cultural atmosphere and is known for its gourmet food scene. South Carolina offers average January temperatures of about 13℃, a bit cooler than some other places.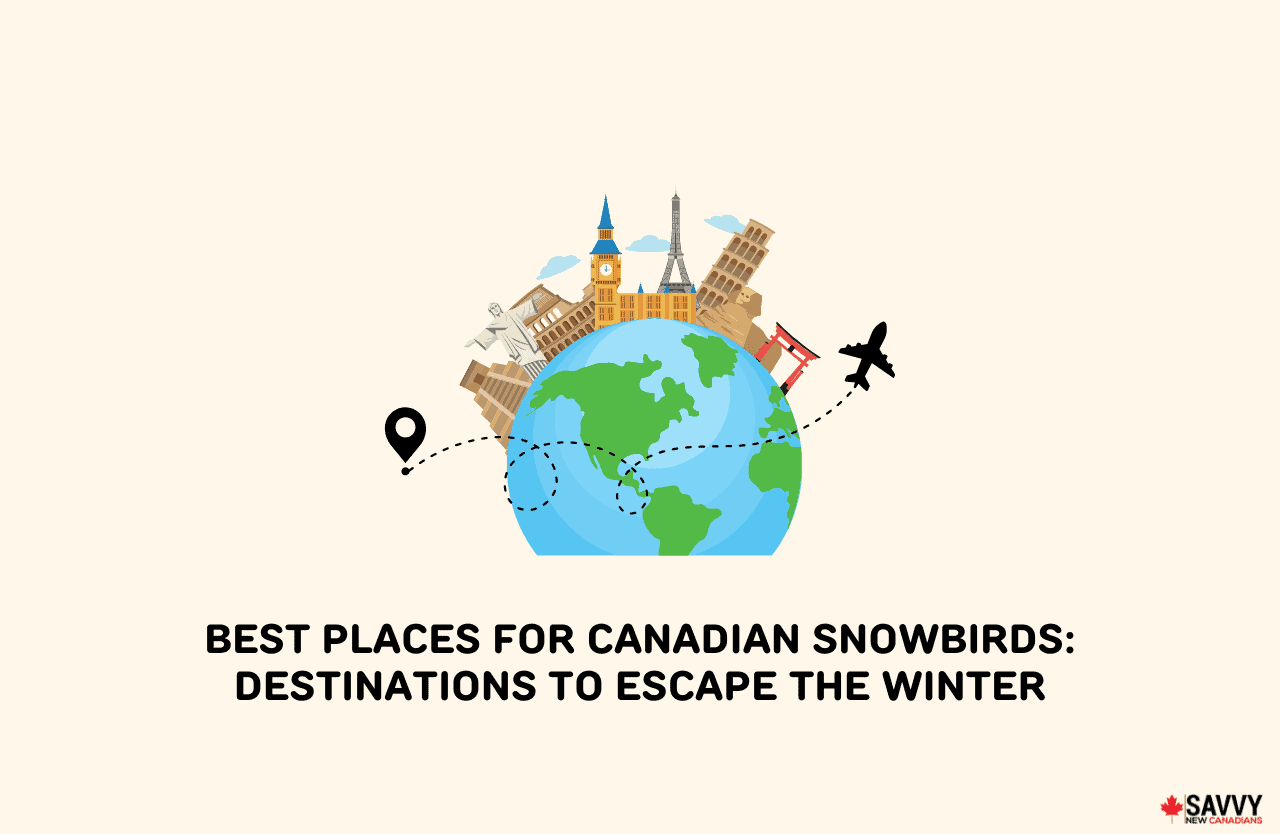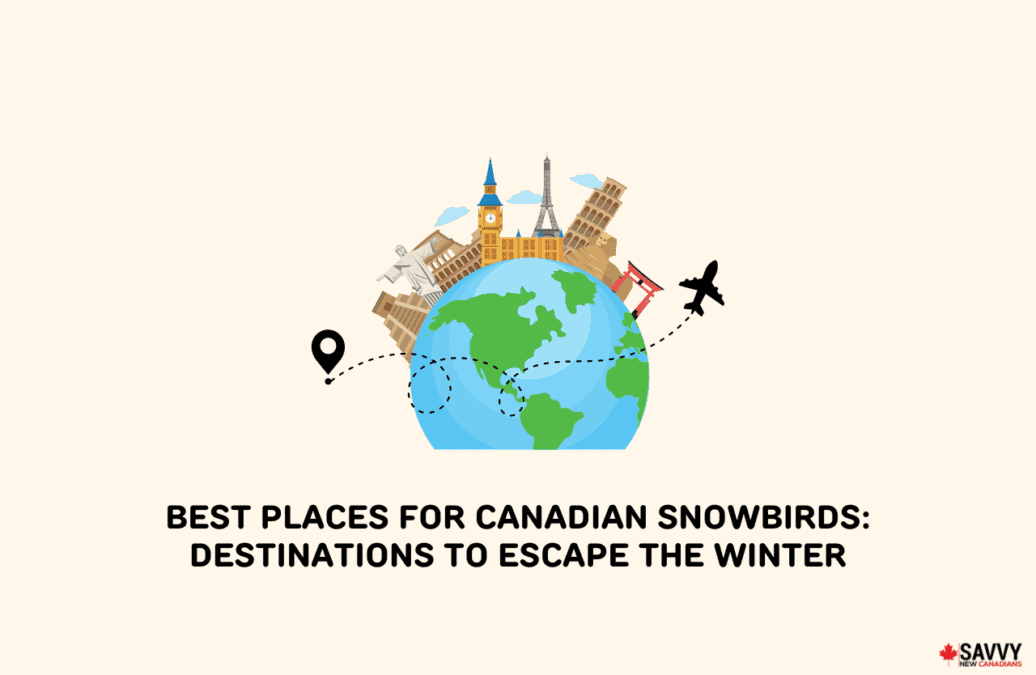 Best International Destinations for Canadian Snowbirds
Those looking to expand their reach outside of the U.S. might want to consider some of the international options outlined below.
Canadian snowbirds travel all over the globe, but these are some of the most common destinations to avoid the chill of winter.
7. Mexico
Just below the U.S. border lies Mexico, a highly underrated treasure for Canadian snowbirds. A large country with a rich cultural heritage in its own right, Mexico has many different cities that snowbirds love, including Lake Chapala, Puerto Vallarta, and Riviera Maya.
The Gulf Coast of Mexico offers beautiful beaches that, come spring, are also a hotspot for college students – but by then, most snowbirds have returned to Canada.
8. Costa Rica
Canadian snowbirds love Costa Rica for its many pristine beaches and its warm temperatures. Even in December and January, Costa Rica averages a warm 27℃. It's a small country in Central America that's bordered by Nicaragua to the North and Panama to the south.
Plus, it's very accessible. From Miami, a flight to Costa Rica takes under three hours.
Related: Here are the best places to live in Canada for immigrants.
9. Nicaragua
Although Nicaragua has had a history of political instability, it's recently become a popular destination for Canadian snowbirds. Compared with other Central American countries, it offers an affordable price point.
It combines beachy relaxation with fascinating local history and quaint colonial towns. Nicaragua is quite warm in January, averaging around 31℃.
10. Thailand
The best time to visit Thailand is between November and early April – before the monsoon season starts and the country is extremely rainy. In the dry season, temperatures range from 29℃ to 34℃, meaning that snowbirds will certainly be enjoying the heat.
Thailand is an adventurous and exotic destination that allows Canadian snowbirds to experience a new corner of the world. While flights there are expensive, the cost of living in Thailand is low.
11. Panama
An increasingly popular snowbird destination, Panama offers many beautiful beaches and a balmy tropical climate that's sure to leave you with a sunkissed glow.
Most snowbirds congregate around the Pacific beach communities like Playa Hermosa, Flamingo, Tamarindo, and Malpais. Visitors get to enjoy temperatures between 30℃ and 32℃.
12. Cuba
Luckily for Canadian snowbirds, Cuba's dry season is in the winter, giving visitors the opportunity to experience all that the island has to offer.
Snowbirds will enjoy not only the sparkling blue waters and relaxing beaches but also the multitude of classic cars that drive through the streets of Havana. Cuba boasts beautiful natural vistas as well as a rich history.
Related: Check out these best places to live in Manitoba.
13. Portugal
Portugal is the number one destination in southern Europe that attracts Canadian snowbirds. In the winter months especially, it's quite affordable – and it's closer than you might think. From Toronto, Lisbon is just seven hours away by plane.
Every winter, snowbirds flock to the Algarve, a region in southern Portugal on the Gulf of Cadiz. While Portugal can be cooler in the winter months, averaging 15℃, it's still sunny and pleasant.
14. Spain
The neighbour of Portugal, Spain, is another hot destination for Canadian snowbirds. While it's slightly more expensive than Portugal, Spain has many different cities that offer different experiences for visitors.
There's a history-packed Barcelona, southern Seville, and northern Madrid. Spanish is the native language, but you don't need to speak it to visit Spain.
15. Puerto Rico
Though the U.S. territory of Puerto Rico offers warm weather year-round, its winter months are generally considered its nicest months as they don't have as much rain or humidity.
Winter temperatures are around 29℃ on average, and the tropical marine climate offers plenty of beaches. In San Juan, you'll find delicious local food and plenty of arts and culture.
Scotiabank Gold American Express Card
Best travel credit card in Canada
Annual fee: $120
Rewards: Earn up to 6x Scene+ points on groceries, 5x pts. on dining, food delivery, & entertainment, 3x pts. on gas, and 1x pts. on everything else.
Welcome offer: Get up to 40,000 bonus Scene+ points in the first 12 months.
Interest rates: 20.99% for purchases, 22.99% for cash advances.
Minimum income requirement: $12,000
Recommended credit score: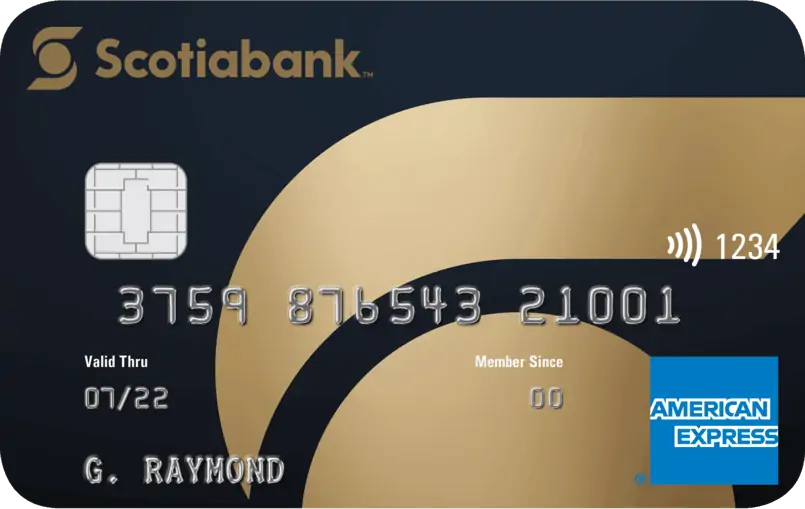 On Scotiabank's website
What Are Canadian Snowbirds?
The term "snowbird" describes a group of travellers who travel to areas with warmer climates during the winter months. Canadian snowbirds are the individuals from Canada who partake in such seasonal travel.
While there are certainly younger snowbirds out there, most snowbirds are retirees who have the flexibility to travel without concerns for their jobs.
In the months and years following the COVID-19 pandemic, however, the age range of Canadian snowbirds has widened significantly. Younger people who are still in the workforce are now engaging in snowbird behaviour because remote jobs have allowed them increased flexibility.
Some call these individuals "digital nomads," as they're not rooted in one place.
Canadian snowbirds travel to destinations across the globe, popular hotspots and off-the-beaten path locations alike. The price points of these destinations differ, as you'll see in our review of the most popular snowbird destinations, but they all offer an attractive respite from the bitter, snowy Canadian winters.
FAQs
Where do Canadians go in Florida for the winter?
Many Canadians prefer the Gulf Coast of Florida (the western side of the peninsula and the panhandle), where they can access the clear blue waters associated with the Gulf of Mexico. Popular cities include Fort Myers, Naples, Sarasota, Destin, Clearwater, and others.
How long can a Canadian snowbird stay in the U.S.?
Canadian snowbirds can stay in the U.S. for up to six months before they'll be expected to pay U.S. taxes on top of Canadian ones. In 2019, a bill was introduced in the U.S. Senate to extend this period to eight months, but it has yet to be passed.
What is the cheapest way to be a snowbird in Florida?
In Florida, it's often better to buy a one- or two-bedroom home rather than rent a home or condo when you snowbird there. You can also strategically choose to stay in less expensive cities like Bonita Springs, Bradenton, or Fort Myers when you visit.
Is it better to buy or rent as a snowbird?
If you plan to vacation to the same place each year as a snowbird, it's generally better (and more affordable in the long term) to buy than it is to rent. This is especially true in the U.S. cities that are popular for snowbirds.
Related: