Pinecone Research is a lead market research panel in Canada, the United States, and the United Kingdom. The panel gives consumers in these countries an opportunity to influence which products make it to the store.
Paid surveys are one way to earn passive income while at home doing nothing. With your phone, tablet, or computer, and an internet connection, you can make money online by simply providing your opinions on new products, services, programs, and more.
When you sign up with legitimate online surveys, the extra income you earn can go towards paying your bills, increasing your savings, paying down debt, or funding your vacation.
This Pinecone Research review will show you how to sign up and how to easily make money by taking short surveys and testing products.
Pinecone Research Review 2023

Product Name: Pinecone Research
Product Description: Pinecone Research is a leading market research panel operating in Canada, the U.S., and many other countries. Members of this survey panel earn cash by completing surveys and product evaluations. Pinecone offers multiple ways to cash-out and its minimum payout threshold of $3 is one of the best in the industry.
Summary
While paid surveys will not replace your 9-5 job, the extra income you earn can be put towards paying down debt, boosting savings and investing, or paying for a vacation. Learn more about how to make money with Pinecone Research
Rewards Value

Ways To Earn

Redemption Options

Payout Threshold
Pros
$3 per survey (10-20 minutes each)
$6 product testing offers
Low-minimum payout threshold
Multiple rewards redemption options
Prompt payments processing
Management by a credible firm – Nielsen
Cons
Invitation-only panel
Limited number of surveys
Will not replace your day job
What is Pinecone Research?
Pinecone Research has been around for a long time and is a survey panel managed by the well-known global market research company Nielsen, which is based in New York.
The Nielsen Company was founded in 1923 (99 years ago!) and is publicly traded on the New York Stock Exchange (S&P 500). They have an A+ rating with the Better Business Bureau.
How To Sign Up to Join Pinecone Research
Signing up for Pinecone Research is a straightforward process. Using the links above, complete their sign-up form, and you are good to go.
To be eligible for membership, you must:
Be a resident of Canada, the U.S., the U.K., and Germany.
Sign up using an invite link (like the ones above). Note that Pinecone is an invitation-only survey panel.
Be at least 13 years old.
During sign-up, you will be required to enter basic demographic information about yourself, which they later use to tailor the surveys they send to you. Once registered, you are all set to start earning rewards.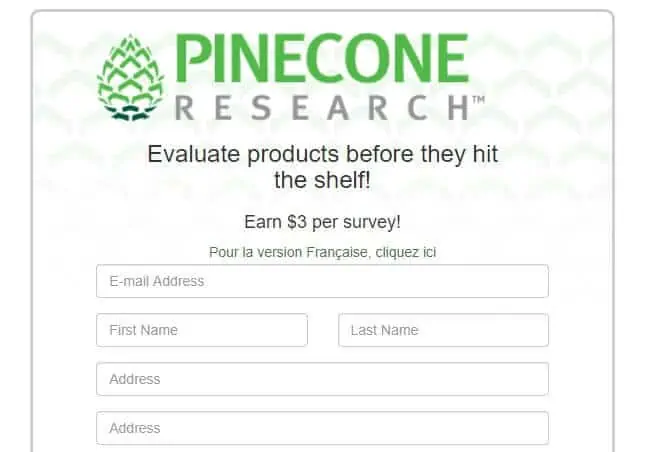 How To Make Money With Pinecone Research
There are three main ways to earn rewards with Pinecone Research: Paid Surveys, Product Testing, and Sweepstakes.
1. Surveys: After signing up, you will receive invitations via email to participate in online paid surveys. For each survey you complete, you earn at least $3. This is better than what most competing survey panels offer for surveys of similar length.
The surveys you will receive from Pinecone Research take between 10-20 minutes to complete.
Once in a while, you may receive very short surveys known as "Household Questions" which are not paid but increase your chances of qualifying for more surveys and product evaluations.
2. Product Testing: Pinecone Research may send you products to test at home. After testing the products, you will be asked to provide feedback. Usually, you get paid for your feedback as well as get to keep the products – WIN/WIN!
3. Sweepstakes: Pinecone holds biweekly and quarterly sweepstakes that allow members to earn cash. Bi-weekly draws are for $500, while the quarterly sweepstakes have a grand prize of $4,500.
How To Get Paid with Pinecone Research
Pinecone Research provides a variety of options for getting paid. Rewards are earned as points that then accumulate and can be redeemed as cash or gift cards.
The main options available for redeeming your rewards are:
PayPal: Cash out your funds and receive them in 3-5 business days. This is my favourite payment option as it allows you to gain access to your money fast.
Cheque: When you cash out using the cheque option, the processing time is 3-5 business days, plus the time it takes for the cheque to arrive in the mail.
Gift Cards: You can choose to redeem your points for various popular gift cards, including – Amazon, Starbucks, Walmart, iTunes, and more.
Prepaid Virtual Visa: Rewards can also be taken as a prepaid Visa, which can be used to make purchases online.
Pinecone Research will automatically send you the first $3 you earn as a cheque to confirm your home address.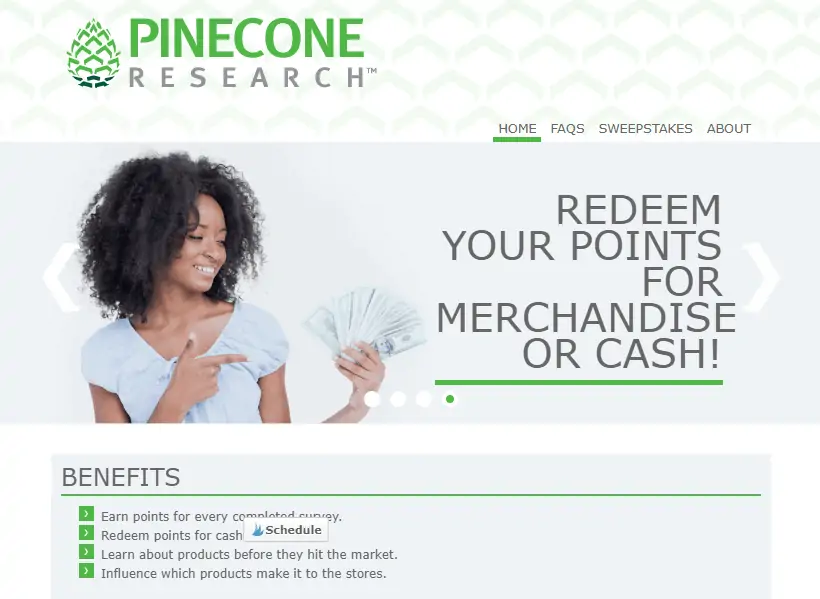 Is Pinecone Research Legit?
I have written extensively about how to detect scam survey sites (unfortunately, there are lots of fake/scam surveys!). Pinecone Research meets all the main criteria I look for when trying to identify a legit survey company, including:
A prominent privacy policy
Low-minimum payout ratio
Offer realistic rewards
Free to join
Sign-up and start earning passive income from the comfort of your couch with Pinecone Research Canada or Pinecone Research U.S.
Pros of Pinecone Research
I have tried several survey sites, and some of the features I very much like about Pinecone Research and which differentiate them from some of their competitors include:
High-paying surveys: Pinecone surveys pay some of the highest rewards in the industry. At $3 a pop, they pay about twice what their close competitors pay for surveys of similar length.
In addition, when you partake in product testing, you can earn up to $6 or more.
Quick payments and low-minimum payout: There are survey sites that want you to earn $50 before you can cash out. Not so with Pinecone! You can redeem your rewards starting at $3, which means you can enjoy your money immediately after every survey.
Payments are also pretty fast, at three (3) business days when redeeming via PayPal.
Great reviews and free to join: Their parent company, Nielsen, enjoys an A+ BBB rating! When you check their user reviews on forums, Pinecone ranks among the best surveys available.
Joining the panel is FREE and does not involve any upfront costs. All you need is your phone, tablet, computer, and internet connection. After opening an account, you can also download their app from the iTunes app store or on Google Play.
Easy to qualify for surveys: It is annoying to spend 10 minutes on a survey only to be told you are disqualified or have been "screened out." Pinecone Research does a pre-qualification such that you only get invitations to take a survey if it matches your profile. This increases your chances of making money every time you get a survey invite.
Great customer service: The customer service support at Pinecone is very responsive and quickly responds to inquiries.
Cons of Pinecone Research
Invitation-only: To join Pinecone Research, you need to register using a link like this one because you cannot sign up directly by going to their website. The reason for this is that they do not recruit new members 24/7 like most other survey sites.
Pinecone Research's rating on the BBB has tanked in recent years.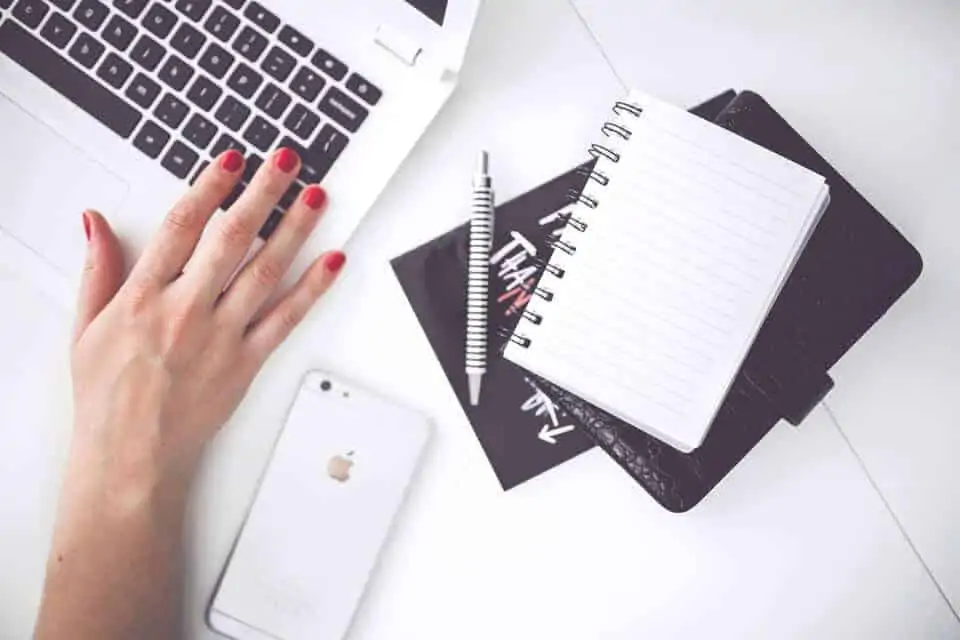 How To Earn More Money With Survey Sites
The basic strategy for earning a tangible income from online survey sites is to sign up for several and then trim them down to a few (5 or so) that work for you.
Some of the best paying survey sites I know include:
There are several other well-paying gigs you can try out to earn passive income and get free gift cards. Read more about them in the links below:
Wrapping Up
Pinecone Research is one of the few survey sites that may actually be worth your time.
While surveys will not pay you enough to quit your day job, they can go a long way in improving your finances as a whole. The extra income you earn can be put towards debt, savings, investing, vacations, and more.