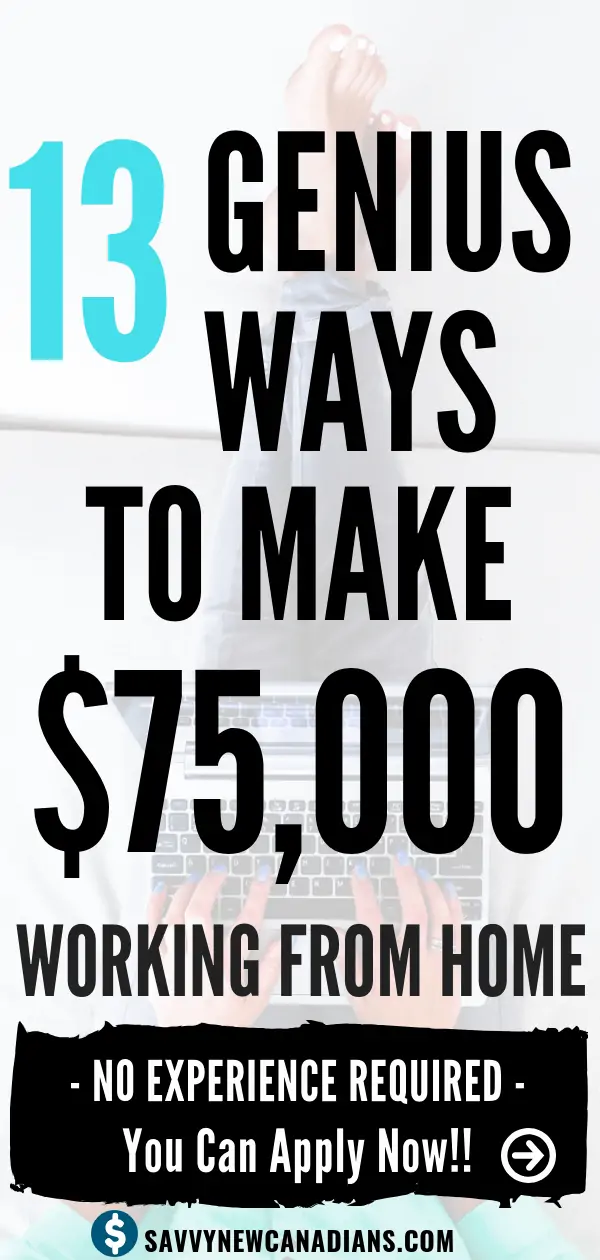 There are many opportunities available to generate additional income on top of your 9-5 job. These work from home jobs and side hustles are easy to start and can provide you with a significant stream of passive income in Canada and the U.S.
Not only that, but they can also help you retire much earlier from your day job so that you can work on your own time and at your own pace.
While I'm not planning on quitting my day job right now, earning passive income from some of these legitimate online hustles and side businesses has improved my finances significantly.
Read on to learn about some of the best work from home jobs in 2023.
Real Work From Home Jobs That Pay Well
Here are some easy-to-start legitimate work-from-home jobs and side hustles you can start today to make real money.
1. Start a Blog
As simple as this sounds, starting a blog can make you lots of money and does not cost a lot to set up. In fact, you can set one up right now for $5/month or less.
How much can you earn from your blog? A lot! Anywhere from $10,000+/month to as high as $100,000 every month.
Want to get started and start earning right now? I have made it easy for you to do so with this complete guide on how to start your blog today.
You can start making money from your blog with just a few dollars of investment per month.
2. Complete Surveys From Your Couch
Online paid surveys can pay you up to $200 per month if you register for the right ones and are active on them. While you will likely not hit the jackpot with paid surveys and earn thousands of dollars, the extra money can go towards paying down debt or your monthly bills.
The ones I recommend are FREE to join, provide multiple ways to earn, and, most importantly, they will pay. Some of my favourite ones include:
i. Swagbucks: You earn when you answer surveys, shop online, search the web, watch videos, and more. When it is time to redeem your earnings, you can choose cash or free gift cards, e.g. from Amazon, Starbucks, and Walmart.
Swagbucks is legit and has paid members over $950 million to date. Join Swagbucks and get a FREE $5 welcome bonus.
Related: Read this Swagbucks Review for more details.
ii. Survey Junkie: Survey Junkie offers users lots of paid surveys daily. There are multiple ways to cash out, and you know what you stand to earn before starting a survey.
iii. Branded Surveys: This survey panel pays you to answer short surveys and participate in other simple activities.
iv. PrizeRebel: Find lots of surveys for residents of Canada and the U.S. Cash out your earnings via PayPal.
v. Pinecone Research: One of the highest-paying survey sites if you qualify. Earn $3 to $5 per survey with this site.
vi. LifePoints: This site offers lots of paid surveys and is free to join. Sign up here to get free points.
vii. Ipsos i-Say: This rewards site is managed by the global market research company Ipsos. Start earning rewards you can redeem for free gift cards and cash. Join Ipsos i-Say.
viii. Leger Opinion: This site offers opportunities to earn money by taking surveys participating in contests, and referring friends. When it is time to redeem your rewards, you can choose either cash (via PayPal) or free gift cards.
3. Proofread and Make Money
Are you good at detecting errors in a write-up, including grammatical, punctuation, spelling, typographical, formatting, and other errors? If so, proofreading is for you!
Proofreaders are in demand because people/businesses need another pair of eyes to look over their writings (or publications) and turn them into masterpieces.
How much can a proofreader make? Proofreaders can easily make $2,000+/month working from home or anywhere. If you become specialized in certain niches, such as court reporting and transcript proofreading, you earn even more money.
Caitlyn from proofreadanywhere.com has built a six-figure income business from proofreading. She shows you how you can earn thousands of dollars every month proofreading in her FREE 76-minute workshop.
4. Get Paid To Shop
You can earn money without doing anything new – simply using apps that pay you back every time you do your normal shopping!
Some of these cash-back sites will pay you as much as 40% of your purchase amount back, and no work is required from you – NO clipping of coupons!
My favourite cash back sites include:
i. KOHO (Canada): The free reloadable prepaid KOHO Card and app pay you up to 5% cash back on purchases and interest on every dollar in your account. Users also get a free budgeting app to automate savings and set financial goals.
Sign up for KOHO here to get a $20 welcome bonus after making your first purchase (use CASHBACK referral code when joining).
ii. Rakuten (formerly Ebates – US and Canada): I use this cash-back app a lot when shopping at my favourite online store (Amazon). Rakuten pays cash back for purchases you make from over 2,500 popular stores.
All you need to do is sign-up below (+bonus gift), visit the store of your choice using Rakuten, and get your cash back.
You can sign-up here to get a welcome bonus of up to $30 after making your first purchase of $30 or more via the platform.
Related: How To Earn 40% Cash Back Using Rakuten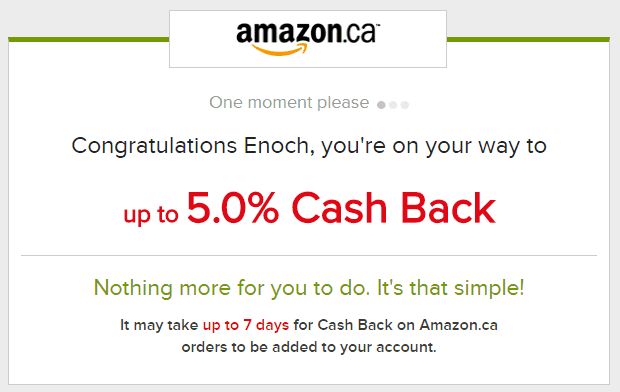 iii. MyPoints (U.S. and Canada): MyPoints pays you whenever you shop at participating retailers. Simply visit the store through the MyPoints platform and start earning cash back.
It automatically tracks your purchases and rewards you with points you can redeem for hundreds of gift cards, including Starbucks, Amazon, Gap, Lululemon, Sephora, Chapters Indigo, iTunes, and more.
Sign up for MyPoints ($10 bonus after first purchase of $20 or more). You can also read my MyPoints review.
iv. Caddle (Canada): Earn when you shop for groceries and also for taking surveys and watching videos. The referral code for a $1 bonus is automatically applied.
v. Swagbucks: Earn when you shop, complete surveys, play games, watch videos, and more.
5. Become a Pet Sitter or Walk Dogs
If you love animals, this is an awesome way to make some dollars on the side.
Rover offers pet sitters and dog walkers an opportunity to work on their own schedule and easily earn $1,000+ per month. Some of the opportunities available include:
Dog boarding
Dog walking
Dog daycare
House-sitting
Drop-ins, and more!
Their app makes your dog-sitting business easy peasy. They also protect your services up to $1 million and provide 24/7 support. Start earning extra income dog-sitting today here.
Read my complete Rover review.
6. Teach English Online
Online tutor jobs are now a popular way to work from home and earn a good income. In many countries, particularly China, people want their children to learn English.
Online English tutors earn anywhere from $14 to $26 per hour, and the awesome part is that you do not have to leave your house.
One of the most popular sites for online tutoring jobs is VIPKID. If you have a Bachelor's degree, a computer, and a stable internet connection, you can sign up to become an English tutor today.
Other websites to find tutoring jobs include:
TeachPartTime
Cambly
Skooli
TutorMe
You can check out the requirements for becoming an online tutor here.
Become a Delivery Driver With Uber Eats
Uber Eats is one of the best food delivery platforms available in thousands of cities worldwide.
You can sign up to become a delivery driver with Uber Eats if you have a valid driver's license, a 2- or 4-door car less than 20 years old, proof of vehicle insurance, and are at least 21 years old. You will also need to pass a background check.
You can deliver as many or as few hours as you want on your schedule and cash out earnings easily. You also keep 100% of the tips you get. This side gig is a great way to bring in extra income.


7. Become a Driver
You can put your car to work in the ride-sharing economy and earn a good income.
A car is a fast-depreciating asset that is often more a liability than an asset. However, when you sign up to drive for Lyft or Uber, you put your car to work, and it becomes an income-producing asset.
To become a driver, you must be at least 21 years old, have a valid driver's license, and have a car that passes the basic inspections. You will also need a smartphone.
With Uber and Lyft, you choose your own schedule and when you want to drive. Their apps directly match you with prospective passengers, and they pay you automatically using the app.
Also, you can use your car, motorcycle, or scooter to deliver food orders in your area using DoorDash or Postmates. DoorDash drivers earn up to $21 per hour and can make their own schedules.
Find out more about Delivery Driver Jobs.
8. Become a Virtual Assistant and Earn From Home
Virtual assistants or VAs help individuals and businesses to complete tasks remotely or 'virtually.'
The opportunities for VAs have exploded recently because most small businesses are now online, and they need people to manage administrative tasks for them, including managing their emails, writing content or editing their websites, monitoring and managing their social media profiles, bookkeeping, and more.
As a virtual assistant, you work from home, and all you need is a computer and an internet connection.
How much do Virtual Assistants get paid? Anywhere from $25 to $50 per hour. Your pay is dependent on the skills and services you can provide.
Check out these 150+ services you can offer as a VA here. You can also check out Gina's course on how to start a successful virtual assistant business from scratch in less than 30 days.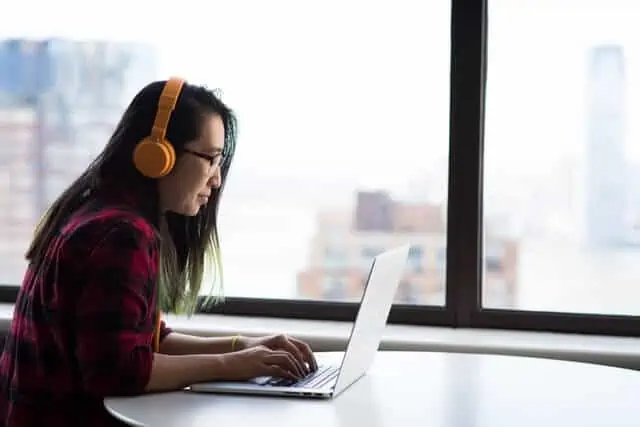 9. Work as a Transcriptionist
A transcriptionist is someone who converts audio into written words. You can become a transcriptionist if you are:
An attentive listener
Patient
Fast and accurate at typing
Good at grammar
Good at multi-tasking and managing your time
As a transcriptionist, you can work part/full time from the comfort of your home. Depending on your skill level and educational background, you can simply work as a general transcriptionist or specialize in niches like legal or medical transcription.
How much do Transcriptionists get paid? Transcriptionists get paid $15 to $25 per hour. Those who transcribe medical and legal stuff earn more on average.
10. Start Selling on Amazon
Selling items on Amazon has never been easier. One popular strategy is to find a product that is selling for cheap elsewhere and then sell it on Amazon at a higher price.
Even better, you leave most logistics to Amazon to deal with in what is popularly known as FBA (Fulfilled by Amazon). They do the packing and shipping for you!
If you are a deal finder, this gig is perfect for you!
11. Flip Websites To Make Money
Start earning big by buying and selling websites. You don't have to do the hard work of building a website from scratch.
Using a platform like Flippa, you can buy and sell websites and get paid quickly by connecting with millions of other users from all around the world.
You can also buy items for cheap at flea markets, thrift stores, yard sales, and auctions and resell them for thousands of dollars in profit.
12. Become a Freelance Writer
Freelance writing jobs are plentiful and can supply you with a regular income stream. Websites, blogs, and businesses need people to write for them, and they are willing to pay.
How much can a freelance writer earn? Beginner freelance writers earn anywhere from $25 to $100 per article (500 to 1,000 words). As you become more experienced and land bigger writing jobs, your earnings soar.
Note that you do not need a university degree in journalism or a college degree at all to make money writing. As long as you enjoy writing and are willing to learn, this gig can make you money.
As per the U.S. Bureau of Labor Statistics, freelance writers earned a mean of $81,120 per year (or $39 per hour) in 2021.
When you are ready to go, there are many sites where you can find freelance writing jobs, including:
13. Rent Out Your Spare Room
If you are all about living frugally to save more money, this opportunity is for you. If you have an empty room in your home, you can rent it to guests who are pre-vetted on Airbnb.
Airbnb covers you with their FREE $1 million Host Protection for liability, including property damage, and they have strict rules that guests must adhere to. Are you going on vacation? You can rent your entire home to host guests for a short-term stay.
How Much can you earn with Airbnb? Anywhere from a few hundred to several thousand dollars every month.
Learn how to become an Airbnb host.
Bonus – Become a Graphic Designer
If you are creative and understand colours, shapes, and textures, like drawing, and are skillful at designing things, a career or side gig in graphic design may be for you. Some of the projects people want to pay you to design include logos, business cards, brochures, web graphics, adverts, posters, and more.
If you know how to use Adobe Creative Suite (Photoshop, Illustrator, and InDesign), you can do a lot and make money. Even simple skills like using drag-and-drop tools like Canva can go a long way to cash in some moolah!
How much do Graphic Designers get paid? According to the Bureau of Labor Statistics, the average graphic designer earns more than $45,000 per year (or $22 per hour).
Some affordable courses (only $10.99) to help you get started as a graphic designer include:
The Ultimate Drawing Course: From Beginner To Advanced
Graphic Design Bootcamp
Ultimate Photoshop Training: Beginner To Pro
Adobe InDesign CC – Essentials Training Course
Some places where you can find graphic design jobs include Freelancer, 99designs, Fiverr, and Upwork.
Advantages of Working From Home
A few years ago, I would never have thought that just working from home could pay your bills, help you save/invest for retirement, provide multiple streams of passive income, help you stop living from paycheck to paycheck, and help you reach financial freedom!
Today, I see working from home as a realistic way to achieve all these goals and more!
Some of the work-from-home jobs in this article can easily make you up to $100,000 annually (or even monthly). If you try to learn from those already making it big, these gigs can set you up for great financial success.
So, what are some of the benefits of working from home?
1. You are in Control: How much you make every month is directly up to you. You can put in just enough effort to make an extra $2,000/month or up to $100,000+/month. There is no ceiling on how much you can earn.
2. Greater Comfort: You can choose your work schedule and when you want to sleep and wake up. Some of these gigs can be done from the comfort of your couch, in a home office, at the beach, on your bed while in your pyjamas, etc.
3. More Time With Family: When you work from the comfort of your home office, you have time to interact with family and friends.
4. Save Money: Working from home means you do not need to commute to a work location, thereby saving money on transportation costs. And there's no need to spend on expensive suits and work clothes.
5. Pay Off Debt: When you can earn extra income from working from home, you can pay off debt, do that home renovation, save more for retirement, splurge on yourself (all those guilty pleasures), take vacations you have always wanted, and more.
6. Increased Productivity: You can be more productive in running your own business and seeing results. The drive for success is high since this is your business, and you take credit for all outcomes.
Legit Work From Home Jobs – Summary
To summarize this post, you can earn thousands of dollars working from home part-time (on the side) while doing your 9-5 desk job. You can:
Flip websites for money
Teach English online
Become a dog sitter
Sell on Amazon
Become a freelance writer
Become a virtual assistant
Make money flipping items
Transcribe audio
Become a graphic designer
Start driving
Rent out your spare room
With the income earned from these gigs, you can pay off credit card debt, buy a home, pay off your mortgage early, go on vacations around the world (while working remotely), invest and save, retire early, and become your own boss!
Start earning today!
Related posts: