Nexo is a top crypto lending platform that allows users to earn up to 17% APY on their crypto holdings.
Others include BlockFi, Voyager, and Celsius.
This Nexo review walks you through the platform's top features, including how it works, Nexo supported cryptocurrencies, Nexo earn, Nexo borrow, Nexo exchange, Nexo crypto card, Nexo fees, pros & cons, and ore
What is Nexo?
Based in Switzerland, Nexo is a crypto exchange and lending platform that allows users to buy and stake their crypto holdings to earn high yields.
It was founded in 2018 and has since spread to over 200+ countries, and has more than 3.5M+ users, with over $12B+ in assets under management.
The Nexo exchange allows users to buy, swap and stake about 38 cryptocurrencies.
Staked coins on Nexo earn up to 17% APY, and users can use their crypto as collateral to borrow cash or crypto loans at low-interest rates, starting at 0%, and never exceeding 14%.
Unlike most other crypto exchanges, the Nexo exchange has its own utility coin, called the Nexo token. If you buy and hold the Nexo coin, you earn higher APYs and gain access to low borrowing rates.
There's also the Nexo crypto card to allow users to spend their crypto hassle-free and 2% cashback on all purchases.
If you sign up through our Nexo referral code and top up your Nexo wallet with $100 or more in supported assets, you get a $25 cash bonus in BTC.
How Does Nexo Work?
The Nexo crypto exchange is regulated in all the 200+ jurisdictions it operates in and works following KYC rules.
Thus, you'll be required to verify your identity to start using the platform. Nexo KYC is managed by Jumio and usually takes a few minutes.
To get started, click this Nexo referral link and enter your email address and password to create a Nexo account.
A link will be sent to your email address. Click on that link to verify your email and activate your account
To verify your Nexo account and buy crypto, follow these steps:
Provide account details: Fill in your personal details, then add and verify your mobile phone number via a six-digit code that will be sent to you.
Complete identity verification: Verify your identity by submitting a photo of your government-issued identity card and a selfie photo of yourself.
Fund your account: Once your account is verified, you can fund your Nexo wallet via crypto deposits, bank transfer, or buy crypto with a credit/debit card.
Buy and stake crypto: Once the money is in your account, you can start buying or swapping coins right away, then stake your crypto holdings to earn money on your idle coins.
Nexo Features at a Glance
Supports 38 digital assets and up to 40 fiat currencies
Offers different crypto services and products including crypto savings accounts, fiat interest accounts, Nexo exchange to buy and swap coins, and crypto-backed loans.
An easy-to-use interface to manage your crypto savings account and view your asset balance
Easy sign-up process, with mandatory KYC to weed out malicious actors and ensure transparency.
Easily and quickly swap or buy coins on the Nexo exchange via debit/credit card or bank transfer
Earn up to 17% APY on your crypto and fiat holdings via Nexo Earn
Widely available in 200+ countries, with a large user base of 4M+ users.
Allows you to borrow cash or crypto loans up to $2 million at low-interest rates with no credit checks.
Nexo card to make payments in local currencies and earn instant 2% cashback on all purchases
Nexo token to unlock higher earning rates and lower interests on loans.
Advanced security features and a $375 million insurance on all custodial assets.
Nexo Wallet App for iOS & Android to manage your account on the go
24/7 customer support via live chat, online messaging, and email
Nexo Crypto List
Nexo supports 38 cryptocurrencies, and users can buy, swap, and stake in-demand crypto coins on the platform, including the Nexo coin.
Below is the Nexo crypto list:
| | |
| --- | --- |
| Bitcoin | Binance Coin |
| Ethereum | Cardano |
| NEXO coin | Solana |
| Tether | Terra |
| USD Coin | Ripple |
| Axie Infinity | Litecoin |
| Polygon | Chainlink |
| Polkadot | Bitcoin Cash |
| Avalanche | Tron |
| Kusama | Stellar |
| Cosmos | EOS |
| Fantom | PAX Gold |
| Near Protocol | Uniswap |
| Dogecoin | Aave |
| ApeCoin | Curve Dao |
| Decentraland | TerraUSD |
| The Sandbox | DAI |
| Gala | Pax Dollar |
| SushiSwap | TrueUSD |
Related: Next Bitcoin.
Nexo Earn
Nexo Earn allows you to earn compound interest on a daily basis on your idle crypto assets and grow your portfolio without actively trading the markets.
Users can stake up to 33 digital assets, including cryptocurrencies, stablecoins, and fiat currencies.
Most assets on Nexo have an APY of 8% and 12%, and how much you earn depends on the coin and the holding period. Top earning coins include:
AXS: 36% APY
USDT: 12% APY
MATIC: 16%
DOT: 15% APY
If you choose to earn with the NEXO coin, your APY jumps +2%.
To start earning, simply buy or deposit any of the supported coins, then sit and relax as interest accumulates on your crypto savings account with no further action on your part.
So far, Nexo made an interest payout of $200M+ to 4M+ users worldwide.
Nexo Borrow
Instead of liquidating your crypto holdings prematurely, Nexo Borrow allows you to borrow against your digital assets.
You get a flexible crypto-backed credit line of $50 to $2M with no credit checks or origination fees.
Any of the 38 cryptocurrencies can be used as collateral, and you can choose to borrow in 40+ fiat currencies and stablecoins. Top assets to borrow include:
US Dollar
Euro
British Pound
Tether
USD Coin
Once you deposit collateral and agree to the loan terms, you get approved instantly, and your credit line is extended within 24 hours.
Interest rates range from 0% to 13.9% depending on your loyalty tier, and you can choose to pay your balance partially or in full with no fixed payment schedule. You can make payments in fiat, crypto, or a combination of both.
Nexo Exchange
The Nexo exchange allows users to swap seamlessly between any two supported coins on the platform and earn cashback. Users can swap 300+ market pairs, including more than 100+ exotic pairs that are hard to find listed on other exchanges.
The exchange's SmartRouting Systems searches the top 10 exchanges to provide you faster execution at competitive fixed prices, and the price you see displayed on the execution window is what you pay.
Swapped coins are updated instantly on your portfolio, ensuring that you continue to earn high yield, even between swaps.
If your portfolio balance consists of 1% Nexo coins, you earn up to 0.5% cashback anytime to swap coins on the platform.
Related: Best Crypto Exchanges in Canada.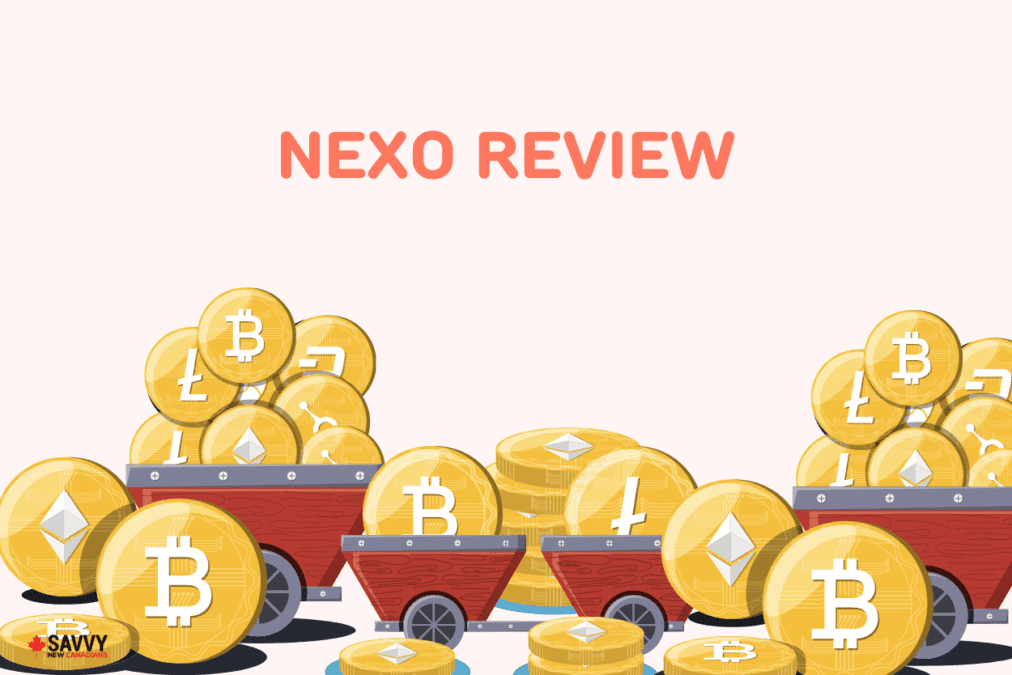 Nexo Fees
There are no Nexo deposit/withdrawal fees for fiat or crypto deposits, but you'll incur fees when swapping coins or withdrawing crypto to an external wallet.
Depending on your loyalty tier, you'll enjoy 1-5 free crypto withdrawals per month. Beyond that, you'll incur a network withdrawal fee tha varies based on the coin and network conditions.
Nexo trading and swap fees are unclear as the platform doesn't include a fee schedule anywhere on its website.
Nexo Card
The Nexo Card allows you to spend the value of your crypto without the need to sell your assets and earn 2% cash back. Money is deducted from your available balance on your Nexo account to cover purchases in local currencies.
The card is accepted worldwide by 200+ merchants and doesn't charge any monthly, annual or inactivity fees.
You can easily order and manage your card by navigating to the card tab on the Nexo wallet app.
Nexo Token
The Nexo coin is the utility token of the Nexo platform and is part of the Nexo Loyalty Program. Your loyalty tier depends on how many Nexo coins you hold as a percentage of your portfolio.
That allows you to unlock the platform's full potential by giving you access to higher earning rates, the lowest borrowing rates, exchange cash back, and free withdrawals.
The Nexo coins you hold earn you an interest of 7% to 12% depending on the holding period.
You can also buy and sell the Nexo coin on Nexo and other 15+ third-party exchanges that list the Nexo token, including FTX, Huobi, BITFINEX, Bitstamp, Balancer, UNISWAP, QUICKSWAP, among others.
Related: Best Crypto Hardware Wallets in Canada.
Is Nexo Safe?
Yes, Nexo appears to be a safe platform that does its best to keep your assets under tight security.
A majority of assets are held offline in cold storage in military-grade Class III vaults. Custodial assets are also covered with a $375 million insurance that protects your account against the loss or theft of private keys.
Nexo also uses segregated multi-signature wallets and biometric-based identity verification to keep your account secure.
Is Nexo Legit?
Yes, Nexo is a legit crypto lending platform and exchange that's licensed and regulated in most of the jurisdictions where it operates and adheres to global and local regulations.
Nexo Referral Program
Nexo offers a generous referral program that allows users to earn more money by referring friends to join the Nexo platform.
For each of your friends who opens an account using your Nexo referral link and tops up $100 in supported digital assets and holds them for 30 days, you both get $25 worth of Bitcoin.
Pros of Nexo
High-yield crypto saving account to earn up to 17% on fiat and crypto
A simple interface to buy, swap, and stake crypto in one platform
Crypto card to spend your Nexo wallet balance in local currency
Top security via cold storage and insurance
Nexo app to manage your account on the go
Cons of Nexo
Not available in some countries, like Bulgaria, Cuba, Estonia, North Korea, Syria, and some US states.
Does not support some coins
Nexo vs Newton
Newton supports 70+ cryptocurrencies vs 38 crypto coins on Nexo.
Newton only allows you to buy, sell, and trade cryptocurrencies, while Nexo supports crypto staking, lending/crypto loans, and crypto swaps.
Nexo vs BlockFi
Nexo supports more cryptocurrencies, up to 38, vs BlockFi's 15+ crypto coins. Nexo offers up to 17% APY on staked coins, while BlockFi offers up to 11% APY.
Nexo also offers its own utility token, while BlockFi does not.
Nexo vs Celsius
Both Nexo and Celsius offer crypto interest accounts with up to 17% APY. Nexo pays interest daily, while Celsius pays every Monday.
They also offer utility tokens that allow you to unlock more earning opportunities and discounts.
That said, Celsius supports up to 50+ coins vs Nexo's 38 cryptocurrencies. Nexo vs Voyager
Newton vs Voyager
Nexo allows users to buy, swap, and stake up to 38 cryptocurrencies to earn interest up to 17% APY.
Voyager allows users to trade 100+ digital assets commission-free and stake & earn up to 12% APY on 35+ digital assets.
Nexo Review FAQ
How does Nexo make money?
Nexo makes money through the interest paid on crypto loans, crypto withdrawal fees, and trading fees on Nexo exchange.
How do I buy Nexo?
You can buy Nexo coins on the Nexo exchange or any other 15+ third-party exchanges that list the Nexo token. To buy on Nexo, simply create a Nexo account and deposit funds into your wallet, buy with debit/credit card, or deposit crypto to swap for the Nexo Coin.
When does Nexo pay interest?
Nexo pays interest daily, and your portfolio balance is updated instantly.
How do I withdraw money from Nexo?
– Click the "Withdraw" next to the coin or currency you wish to withdraw.
– Enter the destination wallet address for crypto or provide your personal details, including your name, full address, country, IBAN, BIC/SWIFT code for fiat.
– Enter the 2FA code sent to you to verify and authorize the transaction
– Click the "Withdraw" button.
How do I add money to Nexo?
You can add money to your Nexo wallet via bank transfer, crypto deposits or buy crypto with a debit/credit card.
Which is better: Nexo or BlockFi?
Both are great crypto lending platforms. However, Nexo supports more cryptocurrencies and offers higher APY on staked assets than BlockFi.
Disclaimer: Cryptocurrency is a volatile and speculative investment. If you decide to invest, we recommend you do your own research and only commit funds you can afford to lose. The author may own one or more of the crypto assets mentioned in this article.