High-interest savings accounts, or HISAs, are a great way to make your savings go further. That's because they typically have higher interest rates than you get in regular savings accounts.
There are many HISAs to choose from in Ontario. They include those from the big banks, like the HSBC High Rate Savings Account, and those from smaller fintech companies, like the Neo Financial High Interest Savings Account.
In this guide, we look at 10 of Ontario's best high-interest savings accounts to help you choose.
Key Takeaways
The top HISAs in Ontario include the ones from EQ Bank, Simplii Financial, Tangerine, Neo Financial, Motive Financial, Motusbank, HSBC, and more.
There are several pros and cons of opening a HISA that you should consider before opening an account.
Highest Interest Savings Accounts in Ontario
Looking for the best high-interest savings account in Canada? There are several HISAs in Ontario that you can choose from, and here are 10 of the best:
1. Simplii Financial High-Interest Savings Account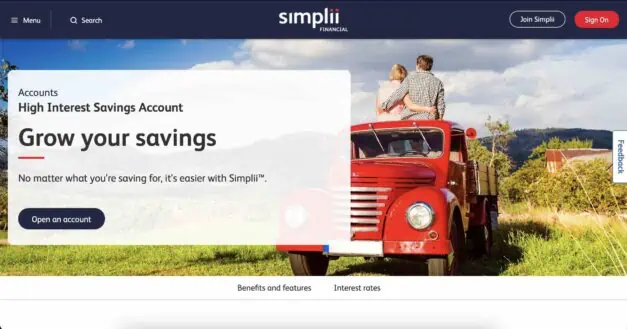 In this high-interest savings account from Simplii, there is no need to lock your funds away for a long time and no monthly fees to worry about.
You can set up automatic deposits to help with your saving efforts, and you don't need a minimum balance. There are also no transaction fees, and you can get access to your savings when you need to.
The current regular interest rate is 0.4% to 0.65% on savings up to $500,000, 1.25% for over $500,000 and 5.5% for savings over $1 million. For a limited time, you can earn 6.00% interest on up to $500,000.
2. EQ Bank Savings Plus Account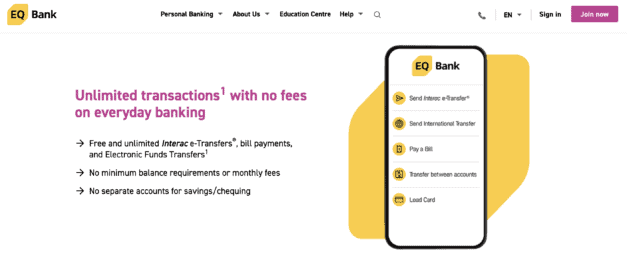 The EQ Bank Savings Plus Account combines the flexibility of a chequing account with the opportunity to make interest on your savings.
The interest rate is currently 2.50% (or 3.00% if you set up a direct deposit or pre-authorized payments), and you also get unlimited transactions and no fees on your everyday banking transactions.
You can enjoy free transfers, bill payments, etc. It also comes with a card that you can use to get free ATM withdrawals in Canada and earn cashback on your purchases.
3. KOHO Earn Interest
The KOHO account is a great option to earn interest on your savings and enjoy other perks, like cash back on all purchases.
You can earn between 0.5% and 4.50% interest based on your plan. For example, the Easy subscription is the free plan where you can earn 0.5% interest, or you can earn 1.5% interest on the Essential plan and 4.50% on the Extra plan.
Interest is paid monthly, and you can access your money whenever you want.
In addition, you can get 1% cashback when you use your card for groceries, gas and transportation, and there are no fees and no minimum balance requirements.
There's also a smart rounding-up feature. When you make a purchase, you can choose how much you want to round up, and this extra amount gets saved in your account. You can then cash this out when you want.
4. Neo Financial High Interest Savings Account
The Neo high-interest savings account offers a 3.40% rate on your deposits.
Transactions are free, and it has an auto-save feature where you can set up automatic savings to help you save even more.
What's more, you can earn unlimited cashback using the Neo card at an average of 5%. You can also check these best Neo Money (Savings) accounts.
5. Scotiabank MomentumPLUS Savings Account
The MomentumPLUS Savings Account currently has a regular interest rate of 1.40%. While this is good, it does not come with automated direct bill payments, so you will need to pair it with a chequing account.
However, you can get free transfers between other Scotiabank accounts. Also, you get a higher interest rate if you save for longer.
There are also no monthly fees and no minimum balance requirements. Look out for welcome bonus interest rates when you sign up (increases your interest rate up to 5.60% for a limited time).
6. HSBC High Rate Savings Account
HSBC currently has an interest rate of up to 6.35% for this account for a limited time. You can see the current rate on their website.
Interest is calculated daily and paid out monthly, and no minimum balance is required. You can transfer between your other HSBC accounts for free, and there are no monthly fees.
You can learn more in our detailed HSBC HISA review.
7. Tangerine Savings Account

The Tangerine Savings Account has an interest rate of 1%, lower than some of the other HISAs on this list.
However, it has several benefits that can make it a great option. It has no minimum balance requirement and no monthly fees or service charges.
It also has a useful feature for setting a personal savings goal. With this, you can use the Automatic Savings Program (ASP) to move your money into your account to help you meet your goals.
You can customize your savings goal and visualize your target, which might help your saving efforts.
It's also a good idea to look out for welcome offers, where you may get a higher rate on your savings for a few months.
Boost the returns on your savings with these Tangerine savings account promotions.
8. Motive Savvy Savings Account

You can earn 4.1% interest when you save in the Motive Savvy Savings Account, one of the highest rates on this list.
There is no monthly fee, and you can also make unlimited transfers between your accounts. You also get two free transactions every month. After that, transactions cost $5 each. Interac e-Transfers are also $1 each.
This makes it more limited than other savings accounts that offer unlimited transactions, but the high interest rate is tempting.
9. Saven Financial High-Interest Savings Account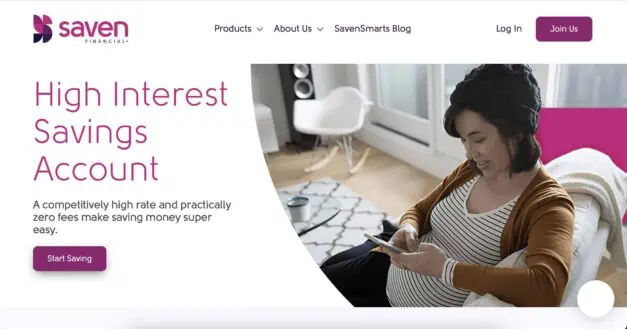 You'll get a high-interest rate of 3.80% in this account, which is one of the most competitive rates on this list.
In addition, you can get free transfers, and interest is deposited at the end of each month. You do not need to keep a minimum balance, and there are no account fees, making this a good choice for a savings account.
This account is unavailable outside Ontario.
10. Motusbank High-Interest Savings Account
You can earn 2.5% interest on all your savings in this account, which is a very competitive rate. In addition, you won't have to pay any monthly fees, and there is no minimum balance requirement.
Debit purchases and withdrawals are also unlimited, making the Motusbank High-Interest Savings Account a great option.
Methodology:
Savvy New Canadians compiled the best high-interest savings accounts in Ontario based on their interest rates, monthly fees, transaction limits, minimum balance requirements, convenience, accessibility, and many other features. We carefully evaluate each bank account's offerings and place more weight on each account's overall value. Based on our research, these are some of the best savings accounts, but they may not be suitable for you. Visit each bank's website to see the most recent information.
Pros and Cons of High-Interest Savings Accounts
There are a few pros and cons to consider before you apply for a high-interest savings account in Canada:
Pros:
The key benefit is that you can earn more interest on your savings. Interest also compounds daily for most accounts.
Most accounts pay out the interest monthly, giving you faster access to your earnings.
Many of these banks don't have monthly fees, helping you save more money.
You do not need to keep a minimum balance with most accounts.
Applying for a savings account is easy; you can usually do this online in a few minutes.
You can often withdraw your funds when needed, giving you easy access to your money.
Many HISAs come with extra tools like round-up features, savings calculators and even cards that allow you to earn cashback.
Cons:
Some savings accounts may have charges for withdrawing money or making transactions. Depending on the bank, you may have a few free transactions each month before you have to start paying.
Interest rates fluctuate, so you should keep an eye on them to make sure you're earning as much as possible on your savings.
While interest rates are high, you can often make more by investing your money. However, this comes with additional risk, so it depends on your risk tolerance and goals.
It may be trickier to withdraw money from a HISA compared to a standard chequing account.
How to Open a High-Interest Savings Account in Canada
Opening a HISA in Ontario is relatively straightforward and should only take a few minutes. There are lots of online-only banks on the list above, and they make the process of applying online easy.
You will normally just need to be the age of majority in your province or territory, and you will need to be a resident of Canada. Check the bank's website for any other requirements.
You can usually apply on the website as long as you meet the requirements.
You will need to provide your personal information, including your name and email address, and you will need to provide a form of ID.
You may be able to open your HISA in person if you prefer, as long as your chosen bank has physical branches you can visit. Alternatively, you can call the bank for assistance.