Wealthsimple's free stock offer was one of the easiest ways to get free stocks in Canada. The program has been updated, and new clients can now earn cash to trade stocks or crypto.
When you open a new Wealthsimple Trade account using the links below, you get rewarded with cash to trade stocks or crypto worth up to $3,000 (previously $9,000).
This is one of the hottest Wealthsimple Trade promotions available right now. Alternatively, you could opt for a flat $25 cash bonus when you open an account.
Read on to learn about the offers below and the eligibility requirements.
Wealthsimple Trade Free Stock Promotion
This offer is straightforward:
Open a new Wealthsimple Trade Account here (exclusive link or you can use code E0U3RG).
Fund your account by linking your bank account and making a transfer. You can also transfer an existing investment account from another financial institution.
Get rewarded with cash up to $3,000 to trade stocks or crypto.
The cash value of the stocks you get is deposited in your account within days of meeting the eligibility requirement (i.e. fund your trading account).
The stocks you can win are selected randomly from the most popular ones available.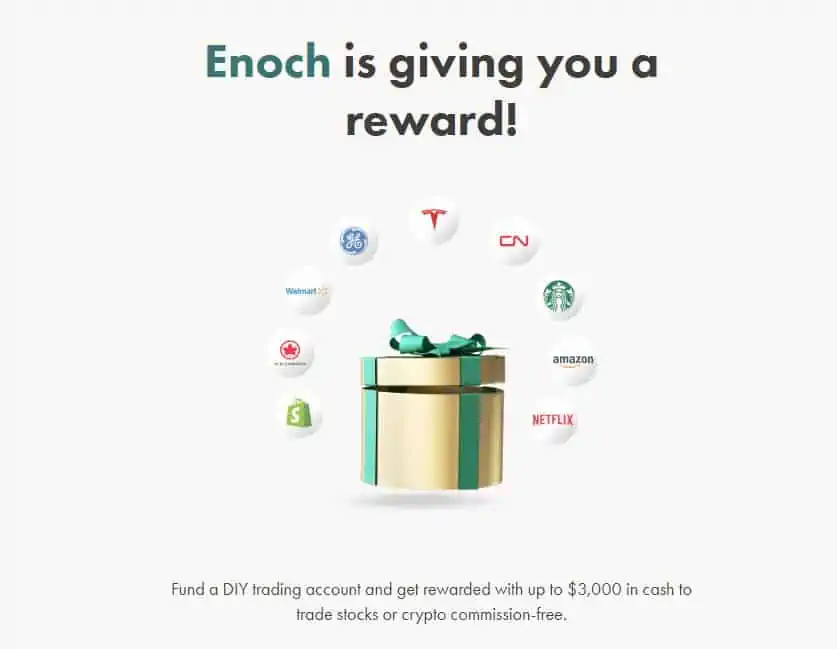 Wealthsimple $25 Bonus
New Wealthsimple Trade clients can opt for a different offer and earn a flat $25 cash bonus after meeting the eligibility requirements.
To take advantage of this offer:
Open a Wealthimple Trade Account here ($25 bonus link).
Fund your account using Canadian dollars or transfer in your investments from another bank.
Deposit at least $150, and a $25 cash bonus is applied to your account within seven business days.
*Note that you can only use one of the promotions (either the free cash worth up to $3,000 or a flat $25 reward).
What is Wealthsimple Trade?
Wealthsimple Trade is Canada's only commission-free stock trading platform. It has over 1.5 million users and supports thousands of stocks and ETFs listed on Canadian and U.S. exchanges.
You can access the platform on all devices and, if interested, also use it for trading cryptocurrency through Wealthsimple Crypto.
Wealthsimple recently introduced a premium account option that includes real-time prices and instant deposits of up to $1,000.
Wealthsimple Trade users can trade fractional shares.
Is Wealthsimple Trade Safe?
Wealthsimple is backed by some of the largest financial institutions in Canada to the tune of $380 million in investments.
It protects your account using encryption and 2-factor authentication.
In addition, your account is held at a CIPF-member institution and is insured against insolvency up to $1 million.
Is Wealthsimple Trade Free?
Wealthsimple Trade is free with features including:
TFSA, RRSP, and non-registered accounts
$0 monthly account fee
No ETF and stock trading commissions
No account minimum
Delayed price quotes (15 minutes)
Instant deposits up to $250
Day traders or active investors can upgrade to Wealthsimple Trade Plus to get snap quotes (real-time prices) and instant deposits up to $1,000.
Wealthsimple Free Stock FAQs
How can I get free stocks in Canada?
You can get cash worth up to $3,000 when you open a Wealthsimple Trade account and fund it. Easily trade your cash bonus for your favourite stocks.
What is the best Wealthsimple Trade referral code?
You can use our Wealthsimple Trade referral code E0U3RG to win up to a $3,000 sign-up bonus.
How is the free Wealthsimple stock selected?
The free stock offer is no longer available. When it ran, stocks were randomly picked from a pool of stocks traded on Wealthsimple Trade. As per Wealthsimple's small prints, 90% of clients receive stocks worth less than $50 CAD.
Related: