Read on to learn about Questrade, its investment product offerings, benefits, current Questrade promotions and offer codes, fees, and whether it is safe.
Questrade is Canada's top independent discount brokerage firm. It is also the fastest-growing online brokerage and has $30 billion in assets under management.
While Questrade has one of the lowest fee schedules for trading stocks and ETFs in Canada, you can save even more using our Questrade referral code "SAVVY50".
This Questrade offer code gives you $50 in free trades when you open an account and fund it with at least $1,000. Combined with a $150 transfer fee refund and a Passiv Elite membership (valued at $99/year), you are getting a welcome package worth approx. $300!
Also, if you prefer Questrade's robo-advisor service, Questwealth, for a full-fledged investment experience, you can invest up to $10,000 free for 1 year.
Questrade Promo Code ($50 Bonus)
To get started on Questrade and save on fees, sign up here and get $50 in free trades.
You can also manually enter our exclusive Questrade offer code SAVVY50 to claim your $50 bonus (normally you should find it already applied in "Add offer code".
Choose the type(s) of account(s) you want to invest in, e.g. RRSP and TFSA, and click on "Open now".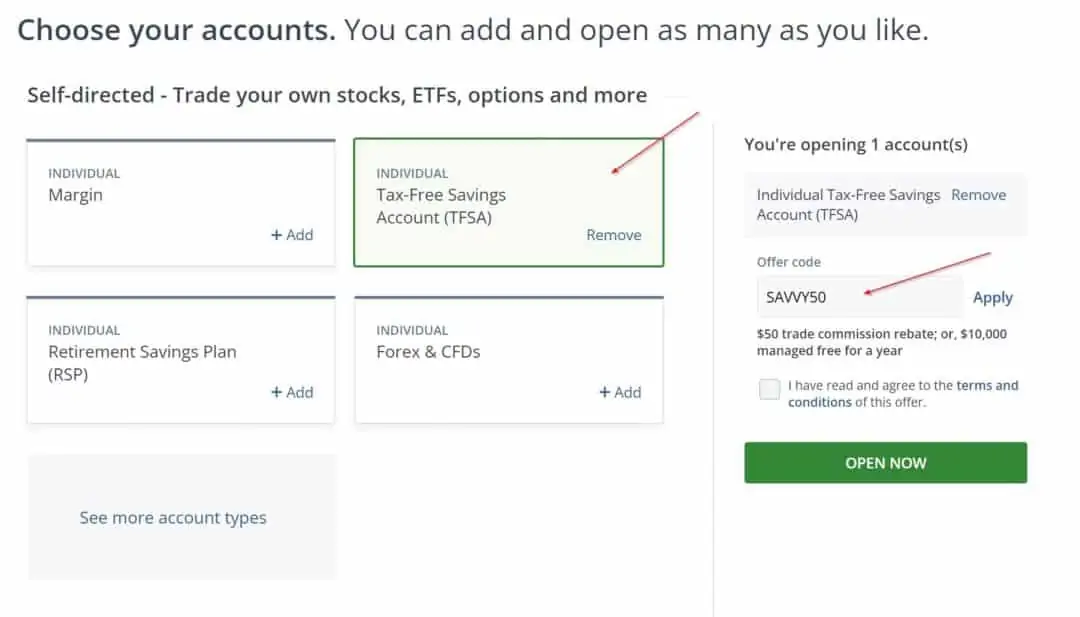 Proceed with creating your user ID and completing the profile questionnaire. After agreeing to their terms and conditions, you will need to upload your government-issued ID.
After that, fund your account with at least $1,000 to start trading. The $50 referral bonus is added to your account after you meet the minimum $1,000 investment balance.
Questwealth Promo Offer ($10,000 Free)
Questwealth is a professionally managed investment portfolio service offered by Questrade.
Unlike the do-it-yourself investing provided on Questrade, portfolios on Questwealth are managed by experts on your behalf.
When you open a Questwealth account here, you get up to $10,000 managed free for 1 year (no promo code is required, but you can enter SAVVY50 if it hasn't been applied automatically in the offer code box).
The minimum amount you can invest using Questwealth Portfolios is $1,000.
Questrade Transfer Fee Rebate ($150)
When you open a Questrade account, you can transfer your investment accounts from other financial institutions to it.
Transfer fees are rebated up to $150 per account, and there is no limit to the number of accounts you can transfer over.
To claim your rebate, submit a statement from your previous investment provider showing the transfer fees you paid. This statement must be submitted within 60 days of initiating the transfer.
Free Passiv Elite Membership $99/Year
You can easily combine your self-directed Questrade account with Passiv and enjoy automatic rebalancing, one-click trades, cash and dividend notifications, and more.
Passiv Elite membership costs $99 annually; however, Questrade clients get the service for free.
Learn more about this investing tool in my Passiv review.
Questrade Promotions and Refer A Friend Program
After you become a Questrade client, you can invite friends and family using your custom Questrade referral code.
You get $25 for every friend who opens an account, plus a $50 bonus for every third referral. Your friends also receive a cash bonus depending on how much they deposit:
$1,000 deposit: $25 bonus
$10,000: $50 bonus
$25,000: $75 bonus
$50,000: $100 bonus
$100,000 deposit: $250 bonus
They have up to 90 days to reach the highest reward tier.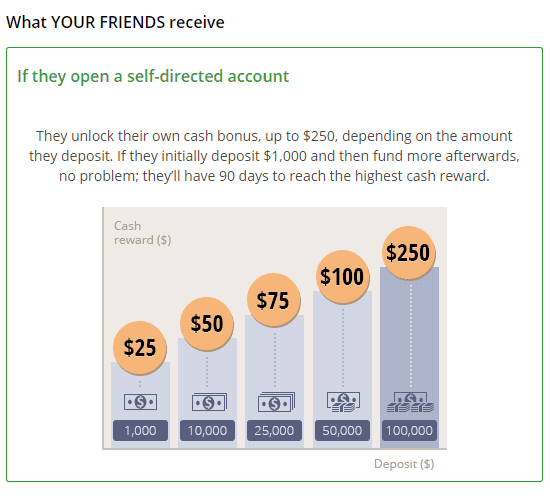 What is Questrade?
Questrade is Canada's top brokerage platform.
It was founded in 1999 and has more than $30 billion in assets under administration, with more than 200,000 new accounts opened every year.
It offers two main types of accounts:
Self-directed trading accounts via Questrade
Pre-built managed investment accounts via Questwealth
Compared to many of its big-bank competitors, Questrade has competitive trading fees, advanced trading tools, and you can buy ETFs for free.
Questrade Trading Fees
Questrade has some of the lowest trading fees in Canada for self-directed investors. It is also one of a few brokers that offer no-commission ETF trading.
Trading fees on the platform include:
Stocks: Minimum of $4.95 and maximum of $9.95 per trade
ETFs: Free when buying and up to $9.95/trade when selling
Options: $9.95 +$1 per contract
Mutual funds: $9.95 per trade
Precious Metals: $19.95 USD per trade
Forex: Spreads per trade as low as 0.08 pips
International equities: 1% of the trade value
Bonds, GICs, and IPOs purchases are free with a minimum $5,000 purchase.
A free basic real-time market data package is included with your account. Advanced traders can access enhanced Level 1 and 2 data at a fee.
Learn more about all the other options it offers in the Questrade review.
Is Questrade Safe?
Questrade has been in business since 1999 and has been listed as one of Canada's "Best Managed Companies" nine times.
The company is regulated by the Investment Industry Regulatory Organization of Canada (IIROC) and is a member of the Canadian Investor Protection Fund (CIPF).
CIPF membership means your funds are protected up to $1 million against insolvency. Questrade offers an additional $10 million in private insurance to its clients.
It also offers an Online Security Guarantee, which means that you get 100% reimbursement for any unauthorized transactions in your account that result in losses to you.
Questrade vs Wealthsimple Trade
Wealthsimple Trade is the newest online brokerage platform in Canada.
With Wealthsimple trade, you can buy and sell thousands of stocks and ETFs in Canada and the United States without paying any commissions.
However, this app does not offer options for trading, bonds, FX, or a margin account.
When you open a Wealthsimple Trade account and deposit at least $150, you get a $25 bonus.
Get more details in this Wealthsimple Trade review.
Questrade Offer Code FAQ
How do I get a $50 Questrade offer code?
When you use our promo code SAVVY50, you get $50 in free trades whether you open a Questrade TFSA, RRSP, RESP, or non-registered self-directed account. This is the best Questrade promo code available right now.
How do I get a $300 bonus from Questrade?
When you sign up using our referral link or SAVVY50 coupon code, you get $50 in free trades, up to $150 waived in transfer fees, and $99 per year via a free Passiv membership.
Is Questrade bad?
No. Questrade is one of the best stock trading platforms in Canada. Users gain access to a variety of investment products while paying low fees. Also, your account is insured by CIPF, plus an additional $10 million in private insurance.
How much money do you need to open a Questrade account?
The minimum amount required to trade or invest on Questrade is $1,000. For small investment amounts, you can try Wealthsimple Trade.
How do I avoid Questrade fees?
Questrade used to charge a $24.95 inactivity fee every quarter if you did not place a trade and your account was below $1,000. This inactivity fee is no longer applicable.

For ETF trades, you do not pay trading commissions; however, a $4.95 to $9.95 fee applies per transaction when you sell your ETF holdings. All stock trades incur a commission.
Does Questrade offer free stocks?
No. Questrade does not have a free stock promotion.
How do I find my Questrade referral code?
Click on the "Refer a friend" menu option under Account Management. You can generate a QPass Key there and share it with your friends.
Is Questrade good for beginners?
The Questrade trading platform is great for beginners since its fees are one of the lowest in the industry, and it gives you access to various investment products. Its user interface is also easy to navigate.
Have you tried investing using Questrade or Wealthsimple? Tell us about your experience in the comments.
Related: Questwealth Promotions.
Questrade Offer Code 2023: $300 Bonus or $10,000 Managed Free
Ease of use

Fees

Welcome offer

Accounts and products
Summary
Use our Questrade offer code "SAVVY50" to get $50 in free trades plus up to $150 waived in transfer fees and access to a free Passiv Elite membership valued at $99. You can also invest $10,000 free for 1 year with Questwealth.
Pros
Low cost trading
Reputable firm
Sign-up bonus
Multiple products and accounts