Ledger and Trezor are the top cold hardware wallet providers for cryptocurrencies.
Trezor was launched in 2013 as part of SatoshiLabs, which has its headquarters in Praha, Czech Republic. Ledger came a year later in 2014, and has its headquarters in Paris, France.
Trezor Models T comes with a large touchscreen display, making it easy to use, while Ledger Nano X features Bluetooth connectivity, a mobile app, and supports more crypto coins and tokens than Trezor.
So, should you buy Trezor or Ledger?
In this Trezor vs Ledger comparison, I compare their top features so that you can make an informed choice between the two.
Top Ledger Wallet Features
Store over 5,500 cryptocurrencies
Bluetooth-Enabled
Features navigation buttons
In-build exchange, allowing users to trade, stake, and send/receive crypto payments
Ledger Live wallet app for desktop and iOS/Android
Install up to 100 apps on your Ledger Nano X wallet
Closed-source firmware
Top Trezor Wallet Features
Store over 1,800 cryptocurrencies
Large display and color touchscreen
In-built exchange
USB-C plug to connect to external devices
Open-source firmware
Trezor vs Ledger: Top Features Compared
Coins Supported
Ledger wallets support more cryptocurrencies than Trezor wallets.
While Trezor wallets allow you to store about 1816 crypto coins and tokens, Ledger wallets support a wide selection of over 5,500 cryptocurrencies.
Security
Both Ledger and Trezor offer top security with private keys that never leave the devices.
Trezor devices use a single chip base, while Ledger wallets use a Secure Element (SE) double chip base to provide additional security against sophisticated hardware attacks.
Top Ledger wallet security features include:
Secure Element (SE) chips: To offer military-grade protection, Ledger devices are protected by Secure Element (SE) chips, which help keep your private keys safe and isolated.
PIN code: You can set a PIN code to protect your digital assets from unauthorized access. Even if your device is stolen or lost, nobody can use it.
Recovery phrase: Each ledger device generates its own recovery phrase, a unique 24-word phrase that you can use to recover your crypto, even if your device is lost.
Tailor-made OS: Ledger devices use a custom OS called BOLOS, designed to offer enhanced security and protect your crypto assets.
Your keys never leave your device: Even when connecting your wallet to your desktop or smartphone, your private keys never leave your hardware device.
Top Trezor security features include:
PIN code: Private and public key operations are only allowed after the user's PIN authentication.
Passphrase support: To ensure protection against local attacks, Trezor supports BIP39 passphrases, which are never remembered or stored in the device.
24-word recovery seed: If your device is lost, stolen, or destroyed, you can easily and quickly recover your wallet using the recovery seed.
Shamir backup: This allows you to split the seed into multiple unique shares. Users can generate up to 16 recovery shares of 20 or 33 words.
Trezor Password Manager: Helps you store and protect all your passwords via a chrome extension.
Open source: Trezor uses open-source software and firmware, allowing anyone to test and fix security weaknesses.
Price
Trezor wallets are more expensive compared to the base Ledger wallet. The prices for the different wallet models are shown below in Canadian dollars.
Trezor Model T: $219 USD
Ledger Nano X: $209 CAD
Trezor One: $69 USD
Ledger Nano S Plus: $114 CAD
Wallet Types and Models
Both Ledger and Trezor offer cold hardware wallets, which come in several models. Trezor wallet models include Trezor One, which was released in 2014 and Trezor Model T, which was released in 2018.
Ledger wallet types include Ledger Nano S, introduced in 2016, Ledger Nano X, released in 2019, and Ledger Nano S Plus, introduced in 2022.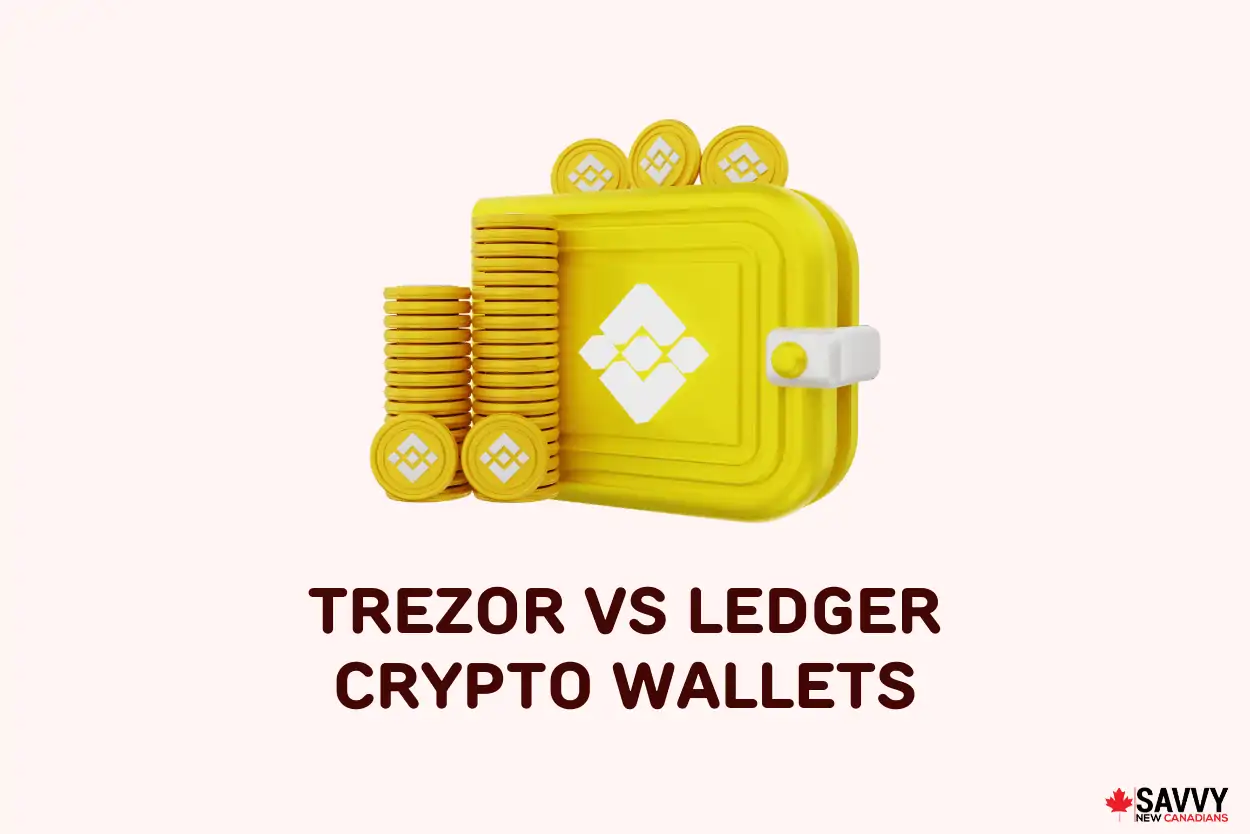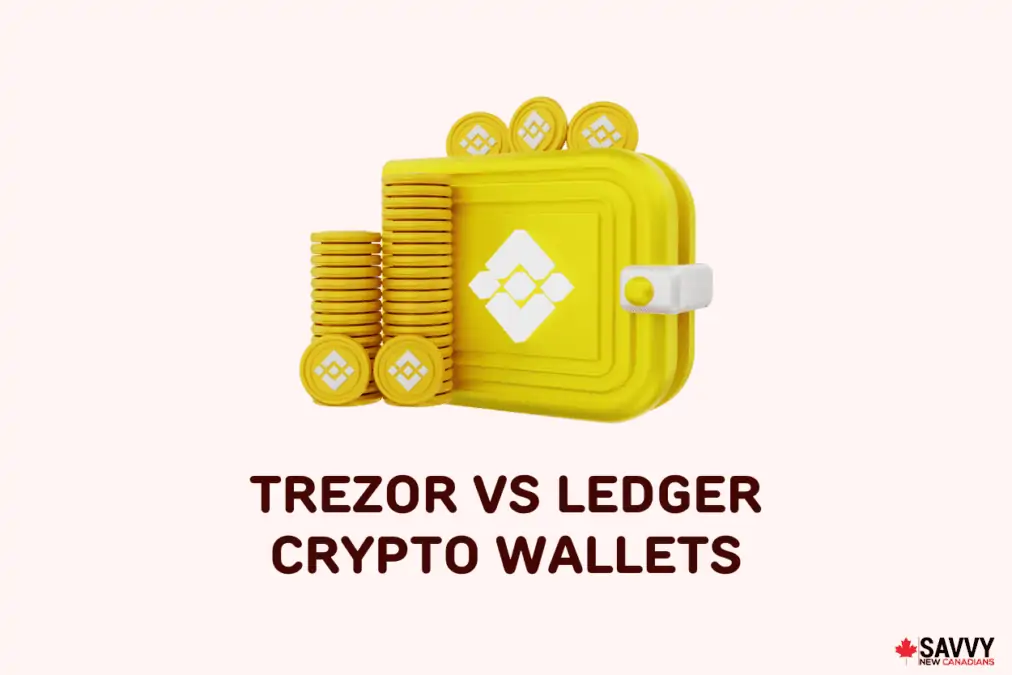 Display and Ease of Use
Trezor wallets have a larger display and are easier to read than Ledger wallets. Trezor Model T has a 240 x 240 LCD touchscreen display, while Trezor One features a 128 x 64 display.
The Ledger Nano S screen is the smallest featuring a 128 x 32 display, while the Ledger Nano X screen is a bit bigger, featuring a 128 x 64 display.
Due to their large display, Trezor wallets may be easier to use than Ledger wallets, especially for people accustomed to larger displays.
Both Trezor One and Ledger Nano S feature physical buttons used to navigate the devices and may be hard to use for people used to touch screens.
Ledger Nano X has a slightly larger screen and buttons that are better spaced than Ledger Nano S.
Mobile Apps
Ledger offers the Ledger Live app, allowing users to seamlessly connect their Ledger wallet to their smartphones and computers.
Users can manage their accounts, stake, send/receive crypto, and check real-time crypto balances through the Ledger Live app. The app is available for download for all devices, including desktop and iOS/Android devices.
Trezor, on the other hand, doesn't currently offer a mobile app. Instead, they offer the Trezor Suite, a desktop and web interface that connects to your Trezor wallets to allow you to buy, sell, and exchange crypto via the Trezor Bridge or Chrome extension.
Users can also sign messages, send transactions, and integrate with third-party crypto apps like Metamask via the Trezor Suite.
Third-Party Wallet Support
Both Trezor and Ledger support third-party wallets to allow you to manage your crypto, check balances, and send/receive crypto using third-party wallet apps.
That said, Ledger supports more third-party wallets, up to 50+, than Trezor, which supports about 22 third-party wallet apps and online crypto services.
Top third-party wallet apps supported by Trezor include:
Electrum
Nano Wallet
Exodus
MetaMask
Mycelium
MyCrypto
MyEtherWallet
Etherwall
Electrum-LTC
Electrum-DASH
Walleth
Top Ledger-supported third-party wallets include
Metamask
MyEOSWallet
Neon Wallet
Binance DEX
Guarda Wallet
Firefly Wallet
MyCrypto
Tronscan
MyEtherWallet
AirSwap
ZClassic
Related: Ledger Nano S Plus Review.
Device Connectivity Compatibility
Ledger Nano X works on all devices, including Windows, macOS, and Android/iOS devices.
However, Trezor wallets and Ledger Nano S don't work on iOS devices, which is a turnoff for iPhone users.
Both Ledger and Trezor wallets allow you to connect to external devices with a USB-C plus. Only Ledger Nano X offers Bluetooth connectivity, allowing users to connect and browse their wallets cordless on the go.
Trezor vs Ledger: Pros & Cons
Pros of Ledger
Bluetooth capability
Offers a mobile app, the Ledger Live app
Supports a wide range of cryptocurrencies
Has a durable steel case
More affordable compared to Trezor
Supports crypto staking
Pros of Trezor
Colour touch screen, hence easy to use
Large display
Open-source firmware & software
Shamir backup for improved security
Cons of Ledger
No colour touchscreen
Small display compared to Trezor
Closed source firmware & software
Past marketing database breach
Cons of Trezor
Doesn't have a mobile app
No Bluetooth support
Less durable plastic case
No crypto staking from within the wallet
Trezor vs Ledger: Summary
| | | |
| --- | --- | --- |
| Wallet feature | Trezor | Ledger |
| Wallet type | Cold hardware wallet | Cold hardware wallet |
| Supported coins | 1,800+ | 5,500+ |
| Price | $69 USD for Trezor One; $219 USD for Trezor Model T | $109 CAD for Ledger Nano S Plus; $214 CAD for Ledger Nano X |
| In-build exchange | Yes | Yes |
| Crypto staking | No | Yes |
| Mobile app | No | Yes |
| Touchscreen | Yes | No |
| Bluetooth | No | Yes |
Trezor vs Ledger FAQs
Which is better: Ledger or Trezor?
Both Ledger and Trezor are great hardware wallets. Trezor is better if you prefer a large touchscreen display and open-source firmware, while Ledger is great for users looking for a wallet that has Bluetooth connectivity, a mobile app, and support for a wide crypto selection.
Has Trezor ever been hacked?
Yes, Trezor had some vulnerabilities back in 2017, which enabled hackers to gain access to a customer's 24-word recovery phase and PIN. However, SatoshiLabs fixed the vulnerability immediately, and the stolen assets were recovered for users.
Has Ledger ever been hacked?
The Ledger devices themselves have never been hacked. However, Ledger's marketing database suffered a security breach in 2020, which exposed the contact details of about 272,000 customers.
Is Ledger Nano X the best crypto hardware wallet in Canada?
Yes, Ledger Nano X stands out as one of the best hardware wallets in Canada due to its wide crypto support, top security, mobile app, and ability to trade and stake cryptocurrencies right from your wallet.
Is Trezor Model T safer than Ledger Nano X?
Some users believe that Trezor is safer than Ledger due to its open-source firmware and Shamir backup. That said, both wallets are safe and offer industry-leading security features to protect users' digital assets.
What is a Ledger wallet?
Ledger is a hardware wallet provider based in France that was launched in 2014. They offer two wallet models: Ledger Nano S and Ledger Nano X.
What is a Trezor wallet?
Trezor is a Czech Republic-based hardware wallet provider founded in 2013 and offers two wallet models: Trezor One and Trezor Model T.
How many coins can Ledger Nano X hold?
Ledger Nano X can hold more than 5,500 crypto coins.
How many coins can Trezor Model T hold?
Trezor Model T can hold more than 1,800 cryptocurrencies.
Related:
Disclaimer: Cryptocurrency is a volatile and speculative investment. If you decide to invest, we recommend you do your own research and only commit funds you can afford to lose. The author may own one or more of the crypto assets mentioned in this article.