The Ledger Nano S Plus is the newest addition to the hardware wallets at Ledger, and it has come with some impressive features for securing your assets online.
With the popularity of cryptocurrencies, NFTs, and other digital assets on the rise, you may be looking for a secure and reliable way to hold your crypto-related assets.
One way to achieve this is by using a hardware wallet, such as the ones produced by Ledger.
The new Ledger Nano S Plus is an affordable hardware wallet designed like a Swiss Army knife. It is fitted with security features to help new and experienced users hold their cryptocurrency safely.
What is Ledger Nano S Plus?
The Ledger Nano S Plus is a hardware wallet you can use to keep digital assets like cryptocurrency and non-fungible tokens offline.
It's an excellent choice for those who want self-custody over their assets, and this upgrade has been highly anticipated.
Its predecessor, the Nano S, was launched back in 2016. Although a bestseller, many things have changed since then, as there are new cryptocurrencies in the market now, and NFTs have become very important.
The Ledger Nano S Plus is fully updated to support these and more.
How Does Ledger Nano S Plus Work?
The Ledger Nano S Plus offers a high-quality screen and feels great in your hand. The wallet is also easy to set up and offers some impressive features.
Top Features of the Ledger Nano S Plus
Here are the specifications and features of the Ledger Nano S Plus:
Features the native Ledger Live software to support over 5,500 crypto assets.
The hard drive can hold up to 100 crypto assets at once.
It has a screen resolution of 128 x 64 pixels.
USB-C port.
Desktop online.
Compatible with Windows 8+, macOS 10.10+, and Linux systems.
Secure element is CC EAL5+.
ANSSI certification.
What's in the Box?
When you purchase the Ledger Nano S Plus, you get a matte black box designed with a silver sleeve. Everything in the box is sleek and well-designed to make it easy for new users. In the box, you get
The Ledger Nano S Plus hardware.
Type-C USB cable for connecting your hardware to the computer.
A purple box that offers instructions on how to use the hardware.
There is an orange box with three notepads for writing the seed phrase or Secret Recovery Phrase.
A Ledger keyholder chain.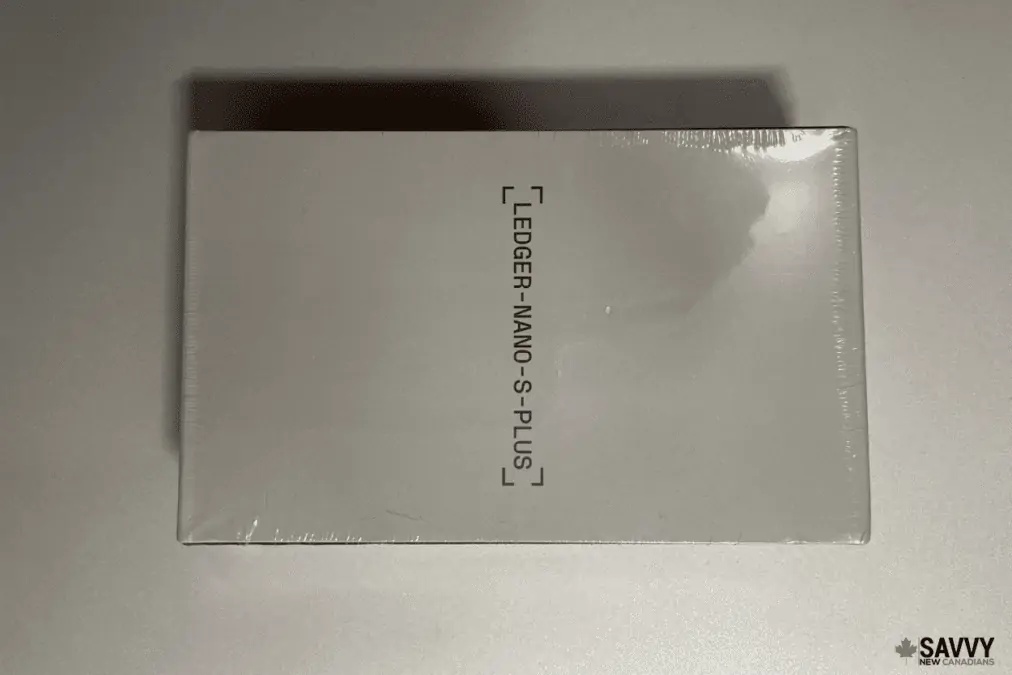 Ledger Nano S Plus Supported Coins
All Ledger hardware tokens can support 5,500 coins, including the Nano S Plus. It can also support large-cap projects and the different ERC20 tokens.
The list of supported coins is long, with Bitcoin, Ethereum, ER20 tokens, Litecoin, XRP, and Bitcoin Cash.
Others include:
EOS
Tether
Stellar
IOTA
Cardano
Monero
Binance coin
Dash
Neo, and over a thousand more.
Since it also supports NFTs and a wide range of digital assets, anyone that wants to hold or invest can use the ledger Nano S Plus hardware.
Setting Up Your Ledger Nano S Plus
It is pretty straightforward to get started with the Nano S Plus.
The hardware wallet is easy to set up and will take less than 30 minutes as long as you follow the instructions. Since Ledger did a great job with the user interface, anyone can quickly get started.
Download the App
The first thing to do is download the Ledger Live app, the native Ledger app. You can download it on your mobile devices, whether Android or iOS, or on your desktop device, Mac or Windows.
Connect the Thumb Drive
After installing the app, take the USB-to-Type-C cord. You will connect the thumb drive to the computer. The Ledger socket is Type-C, while the other end is a standard USB plug.
Write Down the Pin Code
With the notepads given to you and a pen, you need to write down important information. Your hardware wallet will have a PIN code between four and eight digits long.
It works the same way for your phone, and you need it to turn on and off the wallet and validate transactions. After setting the pin, you should write it down so you don't forget.
Write the Secret Recovery Phrase
Also called the seed phrase, the secret recovery phrase consists of 24 words that were randomly generated. You need to write all 24 words correctly to avoid mistakes.
After writing it down, move to the next step and confirm the seed phrase by picking one from four choices. Do this for the 24 words.
This is the most critical code because you can recover your account with the seed phrase if your hardware ledger is damaged or lost. But if you lose the seed phrase, you lose all your funds forever.
Security Check
Once you have written your codes down, you can submit them. The software will run a security check on the hardware to ensure that it hasn't been compromised.
If you bought it second-hand, it probably has been.
Ledger Nano S Plus Price
The Nano S Plus costs $114 CAD ($87 USD). It's as affordable as the other ledgers and offers more value for your money. With this low price, you can enjoy its DeFi, NFT friendliness, and other features.
The official release date was April 8, and it's advisable to purchase it at the official Ledger website. Also, avoid purchasing it second-hand because it might be compromised and affect your digital assets.
Is Ledger Nano S Plus Safe?
The Ledger Nano S Plus is a safe device for securing cryptocurrency, NFTs, and other assets you might need to enter the world of Web3 and DeFi.
You don't have to worry about getting hacked with the CC EAL5+ certified secure element and ANSSI certification. Your assets will remain secure as long as you can keep your pin code and seed phrase safe.
Pros of Ledger Nano S Plus
Improved screen display.
User-friendly even for new holders.
USB-C cable.
Supports multiple signatures.
The device must be connected regardless of the operation.
The hardware token times out when you're not using it for safety.
Supports NFTs and many crypto assets.
Passphrase support.
Cons of Ledger Nano S Plus
No Bluetooth.
Does not support changing the address on the device itself.
More expensive than the Nano S.
Ledger Nano S Plus vs. Ledger Nano S
The Ledger Nano S Plus is an upgrade from the Ledger Nano S, especially since the latter can hold only three crypto wallets. The Nano S Plus can hold over 100 wallets, which is a major difference for those who want to hold many coins and assets simultaneously.
Another way the Nano S Plus was upgraded is with the screen resolution, as the old Nano S only had 128 by 32 pixels. The former has a USB-C type connection which is better than the micro-US on the Nano S.
But both have similar matte finishes on the exterior and small navigation buttons for convenience. They also don't have Bluetooth connectivity, although the Nano S Plus is more expensive. Also, the S Plus has a sleeker design.
Ledger Nano S Plus vs. Ledger Nano X
The Ledger Nano X is more advanced than the Ledger Nano S, making it a bit similar to the S Plus.
The Nano X and Nano S Plus can take up to 100 crypto wallets and have the same screen resolution. They also have sleek and attractive looks, but the Nano X is glossy, while the Nano S Plus has a matte finish. Their USB-C connection is the same too.
But in the case of the differences, the Nano S Plus has much smaller buttons than the Nano X, making the latter easier to navigate. Also, the Nano X features Bluetooth, which offers wireless wallet management.
The Nano X also has an 8-hour battery, while the Nano S Plus has no battery. You can't use the latter while on the go, except it's connected to your phone. But, the Nano X is more expensive.
Learn more in this Ledger Nano X review.
| | | | |
| --- | --- | --- | --- |
| | Ledger Nano S Plus | Ledger Nano S | Ledger Nano X |
| Screen Resolution | 128 x 64px | 128 x 32px | 128 x 64px |
| Token Support | 5,500 | 5,500 | 5,500 |
| Capacity | 100 apps | 3 apps | 100 apps |
| Price | $114 CAD | $89 CAD | $209 CAD |
| Battery Life | None | None | 8 Hours |
| Bluetooth | No | No | Yes |
| Connection Type | USB-C | Micro-USB | USB-C |
Who is the Ledger Nano S Plus For?
The Ledger Nano S Plus is an ideal hardware token for those that want to hold or HODL their digital assets while having full control.
It's best for those who already have experience using online wallets and want to switch to hardware.
Is Ledger Nano S Plus Worth It?
The Ledger Nano S Plus is definitely worth the $114 CAD price tag.
It offers more advanced specs than the Nano S but not as much as the Nano X, offering a good balance for the average investor increasing their assets.
Conclusion:
This Ledger Nano S Plus review is positive.
If you're looking for a reliable cold storage wallet, especially your first one, the Ledger Nano S Plus works well.
It is a great option for modern crypto holders, with a comfortable user interface, all-round security, and fantastic support for all types of digital assets.
Related: The Next Cryptocurrency To Explode.