The Scotiabank Gold American Express card ranks as one of Canada's best travel rewards cards with a rewards rate of up to 5% on multiple categories of spending, $300 in sign-up bonus points, and comprehensive travel insurance.
The Scotia Rewards points you earn with this card can easily be redeemed for travel bookings, merchandise, gift cards, and more.
For a limited time when you obtain a new Scotiabank Gold AMEX card and spend up to $1,000 in your first 3 months, you will earn 30,000 bonus points ($300 value). And when you spend up to $7,500 in the first year, you get an extra 20,000 points, for a total of 50,000 points in the first year ($500 value).
Also, the annual $120 fee is waived in the first year.
This review of the Scotiabank Gold American Express card covers its features and rewards (now including zero foreign transaction fees), limitations, and why you may want to consider it for your wallet.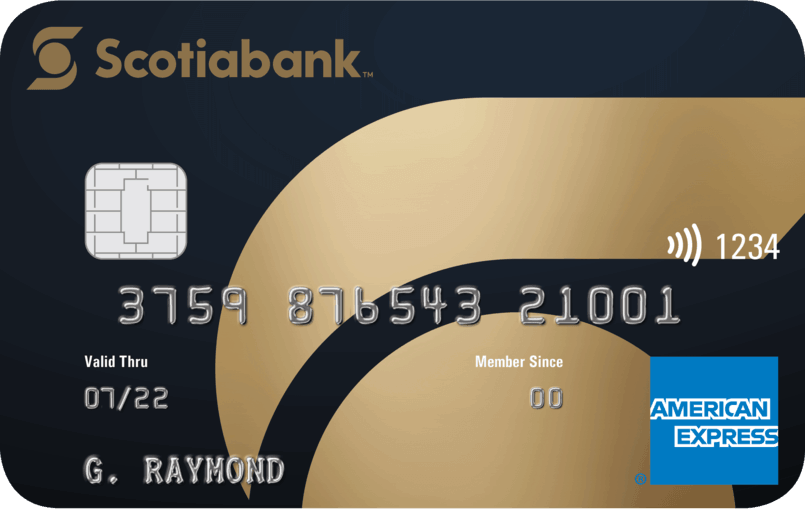 Scotiabank Gold American Express Benefits
1. Sign-up bonus: Earn 30,000 bonus Scotia Rewards points when you spend $1,000 in the first 3 months as a new cardholder. When you spend $7,500 or more in the first year, you get an additional 20,000 bonus points, for a total of 50,000 points or a $500 value.
2. Earn rewards on your spending: Earn 5 Scotia Rewards points for every $1 you spend in three categories (groceries, dining, and entertainment); earn 3 points for every $1 you spend on gas, daily transit and streaming services (Netflix and Cineplex); and earn 1 Scotia Rewards point for every $1 you spend on all other purchases.
3. No foreign transaction fees: This card is now one of a few credit cards in Canada that waives the 2.5% foreign transaction fee when you make purchases in foreign currency online or abroad.
4. 0% Balance Transfer: New cardholders enjoy a 0% promotional balance transfer for the first 6 months. A 1% balance transfer fee applies.
5. Comprehensive travel insurance with coverage including:
Travel emergency medical of up to $1 million. This coverage is provided to individuals who are under 65 years for up to 25 consecutive days and if you are 65 years or older, your coverage is for up to 3 consecutive days.
Trip cancellation/trip interruption insurance – up to $1,500 per person and a maximum of $10,000 per trip.
Flight delay insurance.
Delayed and lost baggage insurance up to a maximum of $1,000.
Travel accident insurance up to a maximum of $1 million per incident.
Rental car collision loss and damage insurance with coverage for up to 48 consecutive days and up to $65,000 MSRP value.
Hotel/motel burglary insurance.
Note that you need to have used your card to pay all or part of your travel costs for these insurance coverages to apply.
6. Other perks offered by the Scotiabank Gold AMEX card are:
Purchase security for up to 90 days.
Extended warranty for up to an additional 1 year.
Discounted Priority Pass membership (35% discount) for access to over 600 VIP airport lounges around the world.
24 hours Best Price Guarantee on airline tickets when you book through the Scotia Rewards Travel site or one of their representatives. Savings are also available on car rentals, vacation packages, cruises, and more.
The 5% rewards rate offered by this card on your groceries, dining, and entertainment spending is one of the best among travel rewards and cash back cards. The average household spends a lot of money on these categories every month, so it is easy to take advantage of the 5% rewards points.
For example, if you spend a realistic $700 every month on groceries, restaurants and entertainment, your annual rewards points at 5% are 42,000 points or a $420 value!
There is an annual cap of $50,000 that you can earn 5 points/$1 on when spending on the above categories. After you exceed this annual spending, you start earning 1 point/$1.
The Scotiabank Gold Amex comes with a $120 annual fee (waived in the first year). The initial sign-up bonus of 30,000 Scotia Rewards points (worth $300) more than covers your annual fee for the first year.
Most cardholders will be able to claim the $300 bonus based on the reasonable offer requirement to spend $1,000 within the first 3 months.
The foreign transaction fee waiver of 2.5% is a great addition to the card and makes it a full-fledged travel credit card.
Lastly, the comprehensive travel insurance package that comes with this card is similar to what you find on some cards with heftier annual fees.
Redeeming Scotia Rewards Points
Scotia Rewards points are very easy to redeem for travel purchases (hotels, flights, car rental, etc.). You can book travel using the Scotia Rewards Travel service at 100 points = $1. The minimum redemption is 5,000 points which are equivalent to $50.
If you prefer to make your travel bookings through a different travel service or agency, you can still use your points. Pay as you normally would using your card and then pay off your credit card balance using your points.
In addition to travel, points can also be redeemed for gift cards or a statement credit.
Downsides
The Scotiabank Gold American Express Card has a $120 annual price tag. If you would rather not pay fees on a card, check out my list of the best no-fee credit cards in Canada.
Another downside to note is that Amex cards are not as universally accepted as Visa or Mastercard.
For a Visa card by Scotiabank that has some similarities to this card, check out the Scotiabank Passport Visa Infinite.
It is also worth noting that supplementary cards cost $29 each.
Is the Scotiabank Gold AMEX Card For You?
This card is worth considering if you are looking for a travel card that offers an excellent rewards rate and if you spend a decent amount on groceries, gas, restaurants, and entertainment every month.
At a 5% earnings rate on these four categories, your $120 annual fee will be paid for in no time (not including the $300 to $500 sign-up bonus).
Also, the annual income requirement for the Scotiabank Gold American Express card is very low at $12,000.
Scotiabank Gold American Express Card Review
Summary
The Scotiabank Gold American Express card is a top travel credit card in Canada offering up to a 5% earn rate, $500 signup bonus, no foreign transaction fees, comprehensive insurance, and more. This review of the Scotia Gold AMEX card covers all its pros and cons.