PrizeRebel is one of the best paid survey sites available online. If you are looking to earn extra cash by taking online surveys, you should also check out the following sites: Swagbucks, Survey Junkie, Maru Voice, LifePoints, and CashCrate.
Individual surveys rarely pay out a lot of money. However, you can maximize your earnings by signing up for a few at a time and then trim down your list to focus on the ones that give you the most value for your time.
This PrizeRebel review covers how to sign up, earn rewards, and why it appears that the company is legit.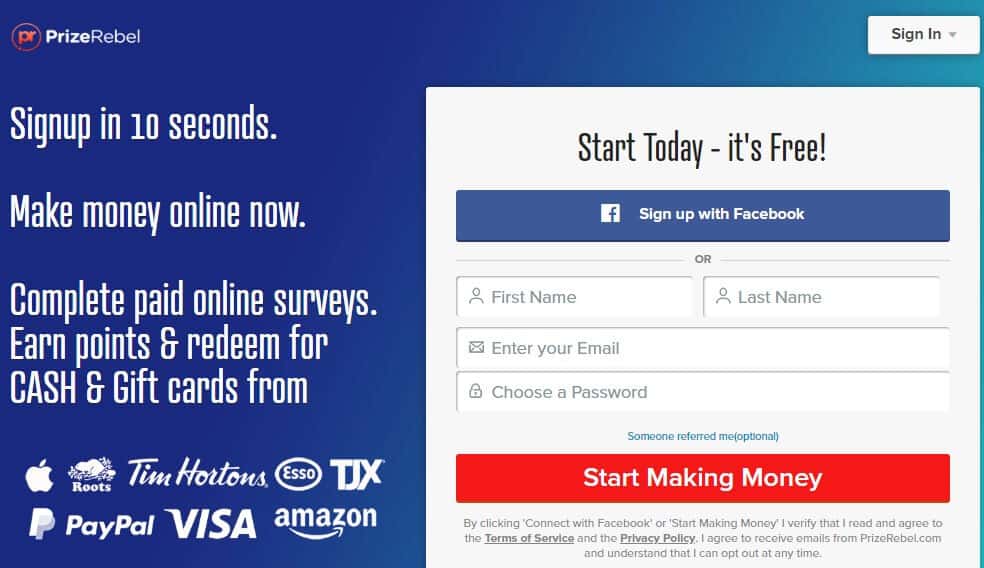 What is PrizeRebel?
PrizeRebel is a free membership rewards site that pays members to take surveys and complete other simple tasks. In exchange, they reward you with points that can be redeemed for gift cards and cash.
The company was founded in 2007 and has over 10 million members. As of this update in 2021, they have awarded members rewards totalling more than $21 million.
While PrizeRebel is based in the U.S. (California), they do accept members from all over the world. As per their website, they have members in 183 countries including Canada, Australia, India, Germany, Mexico, and the United Kingdom.
How Does PrizeRebel Work?
Like the other popular "get paid to" site, Swagbucks, PrizeRebel offers users multiple ways to make a dollar.
To start, you need to sign up for a free account. The process takes less only 10 seconds.
Confirm your registration by clicking on the validation link in the welcome email they send to your inbox. When you have completed this step, you are ready to start taking surveys and earning reward points.
Here are the ways to earn on PrizeRebel:
1. Surveys: Multiple surveys are available each day and when you complete a survey, you earn points. To ensure you qualify for surveys, make sure to honestly fill out your profile questionnaire.
They are partnered with other survey sites, so you may find surveys from companies you are familiar with already e.g. Toluna, Opinion World, and others.
2. Offer Wall: On the Offer Wall, you will find multiple opportunities to earn points after you have completed a simple task.
Offers may involve watching a video or slideshow, reading an article, signing up for a newsletter, browsing the internet, registering for a newsletter or product trials, and installing an app.
3. Videos: Simply watch short videos and earn points. The videos may be about food, gaming, celebrities, technology, comedy, or fashion.
4. Tasks: Complete simple online tasks through your "Figure Eight" dashboard and earn rewards.
5. Refer Friends: When you refer friends, you get 20% of their earnings. When they make money, you do as well! Share your unique referral link via email or on social media.
6. Contests: Participate in raffles, Lucky Numbers, and other contests available on the site to earn bonus points.
Prize Rebel Promo Code
PrizeRebel has a huge social following, so be sure to check them out on Facebook and Twitter. On their social media accounts, they sometimes post promo codes that you can enter on their site to redeem and earn free bonus points.
They have a membership status tier of Silver, Gold, Platinum, and Diamond. As you rise through the ranks, you automatically get more benefits and discounts.
Bronze: 0 points
Silver: 1,000 points
Gold: 4,500 points
Platinum: 10,000 points
Diamond: 16,000 points
How To Redeem Your PrizeRebel Points
PrizeRebel offers multiple options for redeeming your points starting from as little as $2.
Gift Cards: There are literally hundreds of gift card options (brands and price points) including Amazon, Starbucks, American Eagle, Hudson's Bay, Best Buy, Disney, Home Depot, Winners, Gap, Boston Pizza, HomeSense, Dairy Queen, Old Navy and more.
100 points are generally equivalent to $1. However, you will often find discounts available that increase the value of your points. For example, 370 points may get you a $5 Amazon gift card.
There are also Visa Prepaid cards.
PayPal: You can cash out using PayPal and starting at 500 points ($5). Your PayPal email and PrizeRebel account email must match.
Online Games: If you are a gamer, there are options to redeem your points for a game card or code.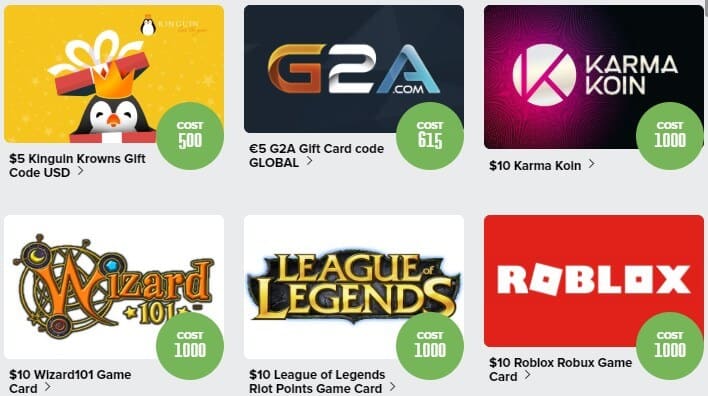 You can also cash out through direct bank deposits.
In general, allow 24 hours for your rewards to be processed. When you move to the Gold membership tier or higher, payment processing is much faster and is completed within 10 minutes or so.
Is PrizeRebel Safe and Legit?
There are several scam survey sites and you should be careful to not waste your precious time. PrizeRebel has been around for over a decade and appears to be legitimate.
Some of the things I look out for in a good survey site are:
They are free to join
They do not promise to make you rich
Their payout threshold is low, such as $5
They have a prominent Privacy Policy and Contact/Support page
They offer multiple ways to redeem your earnings
PrizeRebel appears to tick all these boxes, and so far, I have not had any problems with cashing out my earnings.
PrizeRebel – Pros and Cons
PrizeRebel has a 3.9/5 rating on Trustpilot. From reading other users' reviews, here are some of the pros and cons of the company.
Pros
Available worldwide and free to join
Multiple ways to earn
Low payout threshold
Allows cash redemptions
Great website and user-friendly interface
Cons
You may be disqualified for many surveys
Account closure without warning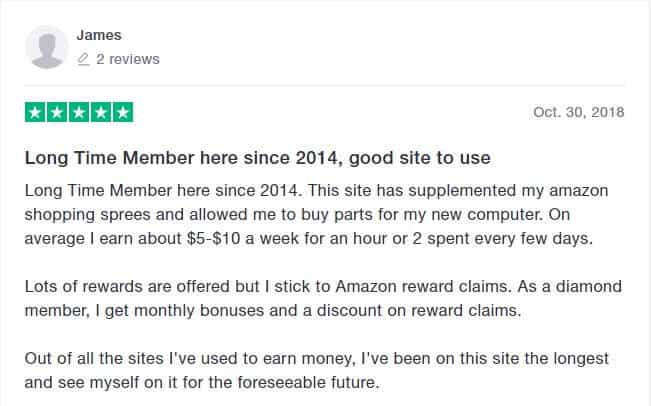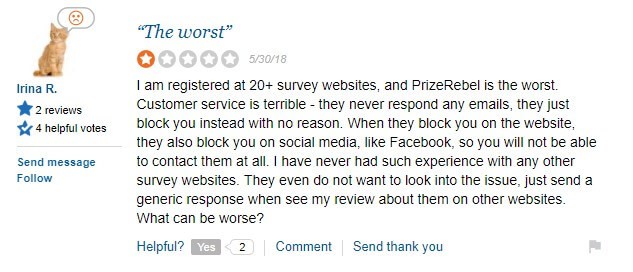 Is PrizeRebel Worth It?
If you are looking to make a bit of money during your leisure time, PrizeRebel offers paid surveys you can take while watching TV. You won't make a ton of money, but that goes for all paid survey sites.
To avoid being disqualified for surveys, complete your profile questionnaire truthfully, and don't be one of those people who try to game the system and who are always on the lookout for the next PrizeRebel hack.
One way to increase your earnings is to sign up for a few other legitimate survey sites like Swagbucks, Survey Junkie, and Pinecone Research.
Related: Product Report Card review.
PrizeRebel Review: Legit or Scam Survey Site?
Summary
PrizeRebel is a popular rewards site for taking paid surveys online. If you are looking to earn extra cash by taking online surveys, start with this PrizeRebel review!