If you are always eating out because your busy professional life doesn't make cooking your own food from scratch every day a possibility, you are not alone.
While we love to talk about budgeting for your groceries, growing your own vegetables, earning cash back when you shop, and cutting your household expenses, the thing is, the move towards meal kits appears to be destined to grow in Canada.
Compressed schedules can put pressure on many aspects of our lives. If you aren't careful, your diet can suffer. The temptation to shun cooking in favour of Skip The Dishes can be overwhelming.
This app won't just hurt your pocketbook – in a few months, it'll also explode your waistline!
To maintain their health, many busy professionals are turning to meal kits. These services take the guesswork out of meal selection and shopping – all you have to do is to cook!
However, their downsides have caused some to second-guess their usefulness. Are meal kits a net gain for those who use them? Let's take a look at the industry as it stands today.
What Exactly Are Meal Kits?
We're all busy these days. As a result, it's easy to miss hearing about the latest trends.
So, what are meal kits? Essentially, they are a meal-in-a-box. Everything needed to prepare a healthy, nutritious dinner is contained within.
Frequently, these kits don't just contain ingredients – they often come pre-chopped and properly proportioned. All you need to do is follow the instructions on the recipe card.
Given the convenience these kits offer, it's not hard to understand the success they've enjoyed in Europe and the United States.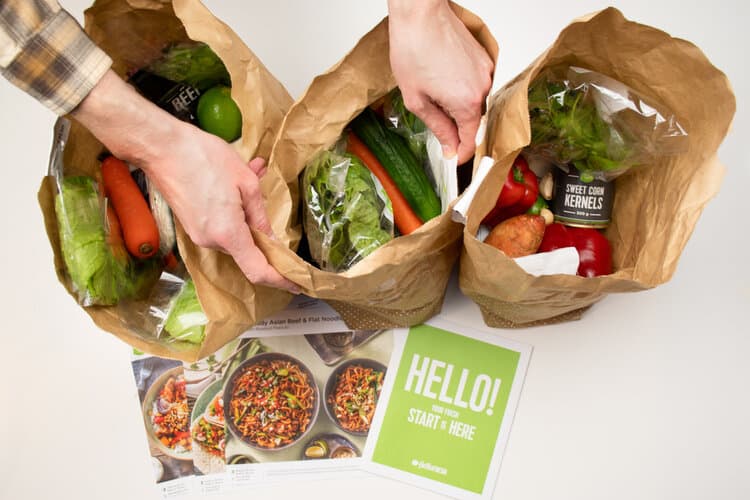 How Popular Are Meal Kits in Canada?
South of the border, meal kits are very popular. According to the survey firm, Nielsen, 25% of American households tried a meal kit in 2017.
But how popular are they here in Canada? In short, they've barely managed to get their foot in the door.
In 2017, only 4% of Canadian households purchased a meal kit. Why the big disparity? Are Canadians too reserved to embrace meal kits in the same way Americans have?
The likely reasons are more logical – for starters, America is a far larger market than Canada. In 2018, Americans spent 5.75 trillion USD on foodstuffs. Compare that to 124.2 billion CAD in Canada, per Statista's estimates.
Simply put, the American market is a much larger pool. As such, that's where subscription food box players like HelloFresh focused their attention first.
Related: Get a $5 Credit when you place your first order with SkipTheDishes.
How Much Do Meal Kits Cost in Canada?
When Canadians buy food products, price is the #1 motivator. Could it be that the launch price of leading meal kits is driving away potential customers?
Let's take a closer look. To keep things simple, I'll focus on three providers – HelloFresh, Chef's Plate, and GoodFood.
Of these, HelloFresh was the most expensive – they charge $79.99 per week for three meals/two servings. Not far behind is GoodFood, with a weekly cost of $74. The overall winner on price point – Chef's Plate. For three meals/two servings, they charge $59.94.
Of course, price doesn't tell the whole story.
HelloFresh has a trusted brand that's known around the world, Chef's Plate works with local food producers, and GoodFood contributes to school lunch programs.
Are Canadian Meal Kits Widely Available?
Save for a few areas (like the Windsor – Quebec City corridor), Canada is a vast and sparse country. As a result, air travel is expensive, and freight can take days to move across its expanse.
Scaling to coast-to-coast availability has been an enormous challenge for Canadian meal kit companies.
In the beginning, you could only get meal kits in Southern Ontario & Quebec, and BC's Lower Mainland. However, as industry leaders have grown, so has their ability to reach the hinterland.
Today, 95%+ of Canadians can have meal kits delivered to their front door. Some gaps still exist – for instance, both Chef's Plate and GoodFood have yet to expand to Newfoundland.
Additionally, the Northern Territories, with their extreme logistical challenges, lie beyond the reach of meal kit companies.
Fond of smaller meal kit providers? You might not have access to them unless you fall within their regional footprint.
Cook It, which offers hormone-free meats, operates only in Ontario and Quebec. Spud, a Western Canadian meal kit company, is available only in Vancouver, Victoria, Calgary, and Edmonton.
Related: Best Food Delivery Apps in Canada.
Will I Save Money Using Meal Kits?
As I've already established, Canadian consumers are value-conscious. So, bluntly put – you will spend more with meal kits versus shopping on your own.
But, don't take my word for it. Recently, finance guru Dave Ramsey did a side-by-side analysis. He compared the cost of meal kit recipes to ingredients sourced from his local grocery store.
Here's what he found: the meal kit service he used cost $39.96 per four-serving meal. However, by picking up ingredients on your own, the average cost was $22.62 per meal. That works out to 43% less!
In one case, the cost of a two-serving meal was actually cheaper than the grocery store equivalent. However, these instances are rare exceptions.
Canadians who buy meal kits don't do it to save money on groceries. They do so to avoid relying on takeout food. As referenced earlier, apps like Skip the Dishes have gained widespread acceptance. With a few taps, you can have restaurant meals delivered to your door.
However, these dishes emphasize flavour over all else. Consequently, they contain excessive amounts of fat, salt, and sugar. Regular over-consumption of these macro-nutrients can increase your risk of developing diabetes, heart disease, and even cancer.
How Can I Fit a Meal Kit Membership Into My Budget?
Most people misunderstand the value proposition of meal kits. They're not a cheaper way to source healthy groceries. They're a niche product for time-crunched Canadians who want to improve their diets.
But what if you make less money than the average Canadian? If you're prepared to get creative, it may be possible to afford these services.
If you're a two-person household, try ordering the four-serving packages (i.e., the family portion). While expensive up front, their per serving cost is often much less than the two-serving packages.
Save what you don't eat in Tupperware containers, and you can stretch these meals over an entire week.
Want to keep things simple? Take a long look at your household budget. We all value some things more than others. If eating quality, healthy food is worth more to you than cable television, consider cancelling the latter.
The average Canadian spends $66 per month on cable TV. Cutting this expense frees up capital you can put towards a meal kit subscription.
Also, bear in mind that using meal kits replaces a portion of your grocery budget. Combined with savings found by combing through your budget, you may find enough savings to afford a food box.
Related Posts:
Meal Kits Can Be a Viable Option For Anyone
As our lives get busier, we keep getting sicker and more obese. Don't want to become a statistic? Cooking your own meals from scratch is cheaper and can be way more healthy.
If time is not on your side, meal kits save the day by providing you with the ingredients needed to make healthy and flavourful dishes quickly.
Give one of them a try this month. That way, you can figure out whether or not their service makes sense for your household.
Related: The $5 Dollar Meal Plan