Maru Voice Canada is one of the more popular survey panels in the country. It was formerly known as the Angus Reid Forum until April 2018.
Maru Voice is run by Maru/Blue and the company also manages Springboard America and Maru Voice UK.
Maru Voice Canada works with brands, retailers, NGOs, government agencies, media, local businesses, etc. to help them understand what their clientele/customers want.
As a forum member, you get a chance to provide your opinion and influence which products make it to market, which policies get enacted, and more. In essence, you make your voice heard while getting rewarded for doing so.
When you complete surveys, you earn points that can be redeemed for cash or gift cards. As per its website, the company paid out $49,946 in rewards to members in January 2022 alone.
Paid online survey sites are one way to monetize your free time and earn passive income from the comfort of your home, using your phone, tablet, or computer.
Survey sites similar to Maru Voice in Canada include Swagbucks, Daily Rewards, My Survey, Survey Junkie, and Pinecone Research.
How To Join Maru Voice Canada
Creating an account with Maru Voice Canada is free and straightforward.
To be eligible for membership, you should be:
A resident of Canada
At least 18 years of age
Not currently employed in market research
They collect some basic information about you and your household, so you receive appropriate surveys matching your demographic. After filling out the forms, you receive an email asking you to confirm your membership.
Maru Voice will send you surveys each week through email. Each survey will show the reward amount being offered (in points) and the length of the survey.
Most surveys offer between 50 and 500 points – most of the ones I have received are between 100 ($1) and 300 ($3) points and required 10-20 minutes to complete on average.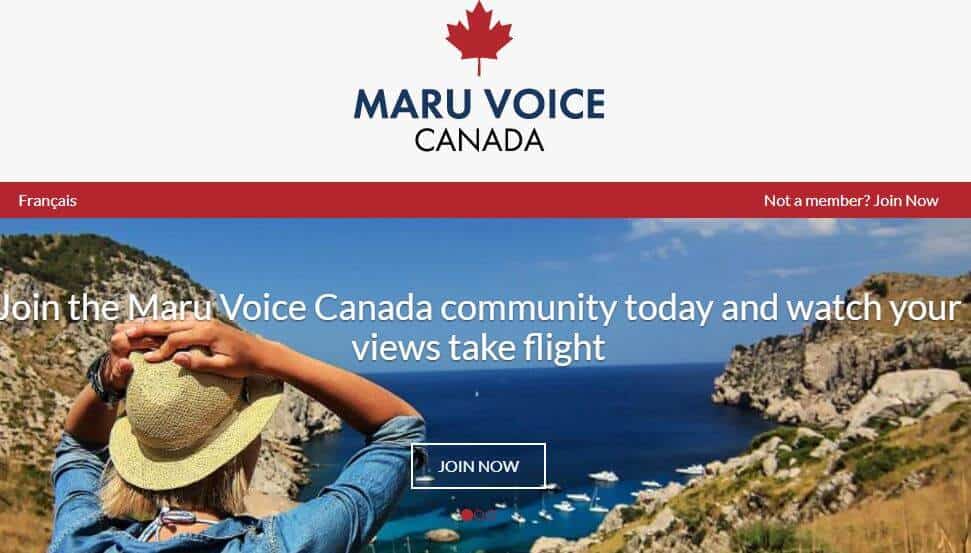 How To Make Money With Maru Voice
Completing surveys is the main avenue for accumulating points and/or receiving entries into cash contests on Maru Voice. The longer the survey, the more you earn in rewards.
Also, the longer you participate in the forum, the more surveys you get invited to participate in.
Friend Referrals: An additional way to earn rewards is through friend referrals. Maru Voice Canada will pay you when you refer friends and family to signup for the forum.
For each person that signs up and is active, you earn 200 bonus points ($2). To refer your friends, send them your unique referral link as shown on your account dashboard.
Also, you can participate in the occasional prize draws. They have three popular draws:
Recruit Draw: The draw runs annually from Jan 1 to Dec 31 and one winner is chosen to receive $1,000.
Participation Draw: This draw occurs monthly and picks one winner for $500 and 5 winners for $50.
Profiling Draw: This draw occurs monthly and picks 10 winners for $100.
How To Redeem Your Rewards With Maru Voice
Rewards are earned and accumulated as points and 100 points are equivalent to $1. The minimum threshold for redeeming rewards is 5,000 points which are equivalent to $50. You can redeem your points for cash via PayPal or any of the following:
Amazon e-gift card
Virtual or Physical Visa Prepaid Card
Other great gift cards including iTunes, Google Play, etc.
In 2017, Maru Voice paid out over $950,000 in rewards to their members…plus over $27,000 to lucky cash contest winners.
Related: 13 Side Hustles That Pay $50,000 Every Year
Is Maru Voice Canada Legit or a Scam?
Based on my personal experience with Maru Voice, I believe they are a legitimate survey panel. Some of the ways to tell if an online paid survey is legit and worth your time include that they:
Should be free to join
Have a privacy policy that is prominently displayed on their website
Should not require information like your SIN, credit card info, etc.
Their minimum reward redemption threshold should not be impossible to attain
Conclusion
Paid online surveys will not make you rich and are in no way a substitution for your 9-5 day job.
PRO TIP: One strategy to earn more from online survey gigs is to sign up for several of them and then stick to the ones (5 or so) that appear to be working for you.
Other popular surveys sites that pay Canadians to provide their opinions include:
Let us know about your experience with Maru Voice in the comments.
Maru Voice Review
Summary
Maru Voice Canada was formerly known as the Angus Reid Forum and is one of the more popular survey panels around. This Maru Voice review covers what you need to know.