This guide covers how to buy cryptocurrency ETFs in Canada using online trading platforms and brokerages.
Investors looking for exposure to cryptocurrency can either buy the individual coins directly or buy a security that holds crypto or is exposed to it, such as crypto ETFs or futures contracts.
Investing directly in crypto comes with some challenges: you will need to learn the ropes about digital and cold wallets, private keys, and more.
With a crypto wallet, an investment company does this work on your behalf, and you can simply buy, sell, or hold a straightforward ETF.
Read on to learn about how to buy crypto ETFs in Canada for cheap.
How To Buy Crypto ETFs in Canada
You can easily buy Bitcoin ETFs and Ethereum ETFs using a brokerage account.
Simply search for the crypto ETF using its ticker symbol or type in the name, and place a "Buy" order for the amount you want to purchase.
1. Wealthsimple Trade
Wealthsimple Trade is one of the best places to buy crypto ETFs because it offers zero-commission stock and ETF trading.
What this means is that you don't pay up to $9.99 per trade/transaction when you buy crypto ETFs on this platform.
More than 1.5 million Canadians use Wealthsimple Trade.
To get started, sign up here.
This link includes an exclusive cash bonus offer when you open an account and deposit at least $150 worth of assets within 45 days of registration.
You can invest using a TFSA, RRSP, or non-registered investment account. The free account also includes price alerts, snap quotes, and the ability to buy fractional shares.
If you plan on trading actively, there is an option to upgrade your account to Trade Plus for $10/month and pay no FX fee on US trades, get unlimited price alerts, and deposit up to $5,000 instantly.
Learn more about Wealthsimple Trade in this review.
2. Questrade
Questrade is Canada's "fastest growing online brokerage," with more than 250,000 new accounts opened each year.
You can use Questrade to buy cryptocurrency ETFs commission-free. A fee applies when you sell. The platform also supports stocks, GICs, precious metals, mutual funds, bonds, and currencies.
Standard trading fees for stocks and ETF 'sell" trades range from $4.95 to $9.95.
If buying U.S denominated assets, you can avoid paying a foreign currency conversion fee by funding your account with US dollars.
To get started, sign up here. Our readers get $50 in free trade credit after funding their account with at least $1,000.
Questrade offers a variety of investment accounts, including personal, corporate, margin, cash, partnership, trust, investment club, and others.
Learn more in this review.
3. Qtrade
Qtrade is owned by Aviso Wealth, an independent wealth management company with over 500,000 clients and $95 billion in assets under management.
You can use this platform to buy and sell various securities, including stocks, crypto ETFs, bonds, options, mutual funds, and GICs.
Over 100 ETFs are free to buy and sell, and new commission-free ETFs are added on an ongoing basis. The standard trading on Qtrade is $8.75 for both stocks and ETFs.
To get started, sign up here. Our readers receive free trades when they fund their accounts (limited-time offer).
Qtrade offers RRSP, TFSA, RESP, LIRA, RRIF, cash, and margin investment accounts. Learn more in this review.
Other crypto ETF brokerages in Canada are: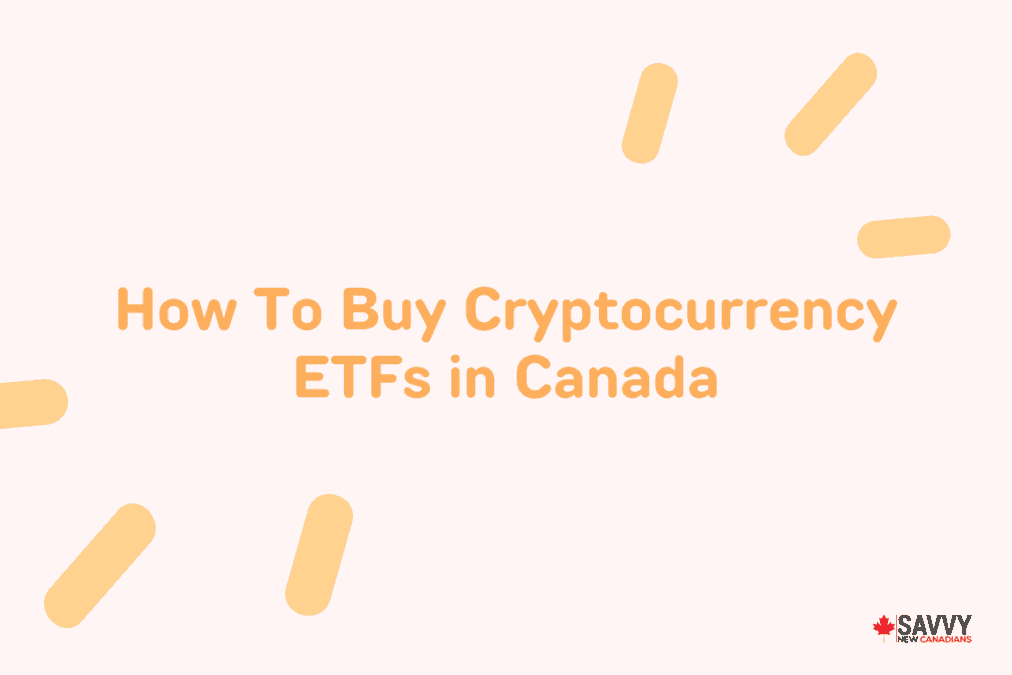 What is a Crypto ETF?
A cryptocurrency ETF is a fund that is invested in cryptocurrencies. For example, a bitcoin ETF holds the digital bitcoin asset, and its price tracks the value of Bitcoin.
Crypto ETFs are traded on stock exchanges like regular stocks and ETFs.
When you buy a crypto ETF, the value of your portfolio increases when the underlying crypto asset increases, and vice versa.
Crypto ETFs can be held in registered investment accounts, and your portfolio is protected against broker insolvency by the Canadian Investor Protection Fund (CIPF) for up to $1 million.
Best Crypto ETFs in Canada
Canada was the first North American country to approve crypto ETFs. The top ones are:
Best Bitcoin ETFs
Purpose Bitcoin ETF (BTCC)
Evolve Bitcoin ETF (EBIT)
3iQ CoinShares Bitcoin ETF (BTCQ)
CI Galaxy Bitcoin ETF (BTCX)
Ninepoint Bitcoin ETF (BITC)
Fidelity Advantage Bitcoin ETF (FBTC)
Best Ethereum ETFs
CI Galaxy Ethereum ETF (ETHX)
Evolve Ether ETF (ETHR)
Purpose Ether ETF (ETHH)
3iQ CoinShare Ether ETF (ETHQ)
You can also find an ETF that combines both bitcoin and Ethereum, such as the Evolve Cryptocurrencies ETC (ETC).
Pros of Crypto ETFs
If you don't want to be responsible for storing your crypto and buying hardware wallets, a crypto ETF takes care of this hassle.
You can easily purchase ETFs using well-regulated brokerage platforms that have been around for many years.
These platforms are insured, and you are protected if they become insolvent. Also, you can hold crypto ETFs in any investment account.
Cons of Crypto ETFs
There are limited options for crypto ETFs, and only two coins are represented – bitcoin and Ethereum.
If you want exposure to other coins, you may need to buy them directly.
Crypto ETFs charge management fees that exceed 1% in some cases.
Lastly, cryptocurrency is a volatile asset, and you should consider your risk tolerance and ensure your portfolio is adequately diversified before investing.
How To Buy Crypto ETFs FAQs
What are the best crypto exchanges in Canada?
The top cryptocurrency exchanges in Canada are CoinSmart and Wealthsimple Crypto.
How do I buy crypto ETFs online?
The brokerage platforms listed above (Wealthsimple Trade and Questrade) allow you to buy crypto ETFs online.
Are crypto ETFs safe?
Crypto ETFs only do well when the underlying crypto asset performs well. If the crypto market crashes, you could lose the capital you have invested in a crypto ETF.
Does Vanguard have a crypto ETF?
No, Vanguard has not launched its own crypto ETF.