Key Takeaways
The best cheap thrift stores in Toronto include Double Take, Courage My Love, Public Butter, National Thrift, Goodwill and Salvation Army.
The best vintage clothing stores in Toronto are Common Sort, Siberia Vintage, Mama Loves You Vintage, Lucky Tiger Vintage and House of Vintage.
Toronto has one of Canada's most thriving thrifting scenes, with dozens of thrift stores offering everything from trendy young adult items to vintage stuff.
Thrift shopping is a wallet-friendly, eco-conscious and charitable choice that offers a sustainable alternative to the fast fashion frenzy that's taking a toll on our environment.
Whether you go thrift shopping to save a few bucks, find a hidden gem in your treasure hunt or help save the environment, Toronto's thrift stores, such as Goodwill, Double Take, Plato's Closet, and Value Village, are worth checking out.
Let's dive into the list of the best thrift stores in Toronto, ranging from household names to family-run establishments.
Best Thrift Stores in Downtown Toronto
| | | | |
| --- | --- | --- | --- |
| Thrift Store | Location | Hours | Items Sold |
| Double Take | 310 Gerrard Street St. E | 11am-8pm, Mon-Sat11am-6pm, Sun | Clothes, sports equipment, electronics, small furniture, houseware |
| Courage My Love | 14 Kensington Avenue | 11:30am-6pm, daily | Vintage apparel, home goods, beads and curated jewellery |
| Public Butter | 1290 Queen St. West | 11am-7pm, Mon-Sat11am-6pm, Sunday | Vintage clothes, shoes, accessories, furnishings |
| Wildlife Thrift Store | 67 Front St. E | 10am-8pm, daily | Clothing, furniture, houseware, books |
| Black Market Clothing | Upstairs, 347 Queen St W 2nd floor | 11am-7pm, Mon-Wed11am-8pm, Thu-Sat11am-6pm, Sun | Vintage clothing, shoes, accessories |
1. Double Take

Located at 310 Gerrard Street St. E, the Double Take thrift store offers a curated selection of all your clothing needs. Besides clothes, other available, affordable items include sports equipment, houseware, electronics, small furniture, and more.
You may even find a few luxury brands, such as Christian Dior and Burberry, at this thrift store for less than $30. Also, by shopping at Double Take, you not only get greatly discounted prices, but you also help make a difference for people and families in need.
Proceeds from their sales directly fund Yonge Street Mission, an organization aimed at alleviating poverty, offering employment opportunities, and providing essential services to low-income individuals.
Location: 310 Gerrard Street St. E
Open: Monday-Saturday, 11am-8pm
2. Courage My Love
Courage My Love is found at 14 Kensington, just a stone's throw away from Kensington Market. It has been around for almost five decades and is a shopping paradise for vintage enthusiasts.
The store offers affordable womenswear from different decades and assorted homemade jewellery to compliment your clothing. You can also find home decor accessories and items at excellent discounted prices.
Location: 14 Kensington Ave, Toronto
Open: Monday-Saturday, 1130am-6pm, Sunday 1-5pm
3. Public Butter
A sister store to the beloved Black Market, Public Butter is located in the neighbourhood of Parkdale at 1290 Queen St. West. This thrift store in downtown Toronto butters you with several items at wallet-friendly prices.
You will find a great selection of graphic t-shirts, boot furs, cool outerwear, funky bottoms, and more. It's also the go-to store if you want to add a bit of vintage to your life with well-curated old-style clothing such as unique old Levi's jackets. You can also complete your look with affordable accessories like sunglasses and hats.
Besides an assortment of items, Public Butter also has a custom screen printing service if you want a bespoke message on your tee.
Location: 1290 Queen St W, Toronto
Open: Monday-Saturday 11am-7pm, Sunday 11am-6pm
4. Wildlife Thrift Store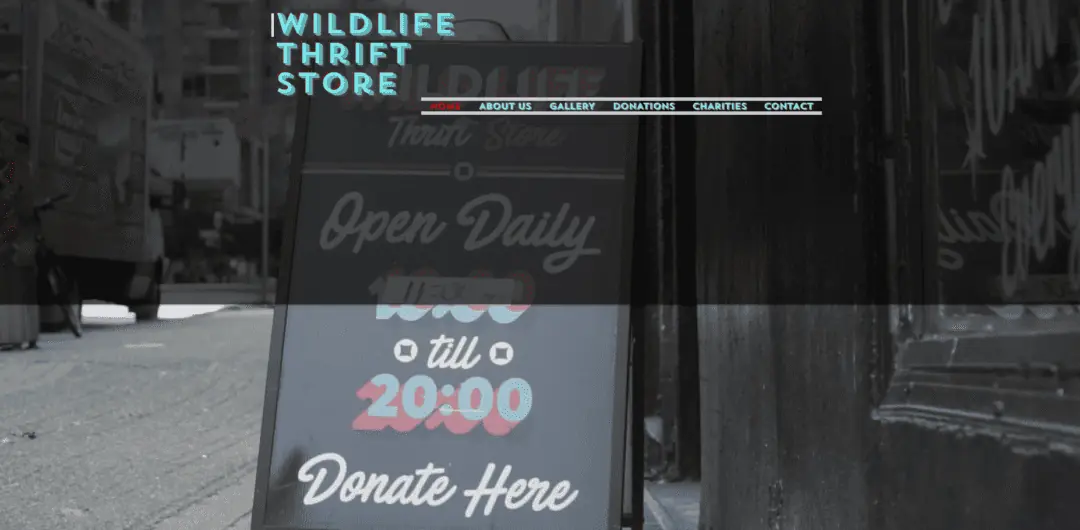 This for-profit thrift store has its roots in supporting wildlife welfare. With time, their focus also shifted to needy individuals who found themselves looking for gently used items with great discounts at their store.
This store is located at 67 Front St. E, while its mother store is in downtown Vancouver. Wildlife Thrift Store is full of hidden gems if you're looking for clothing, furniture, homeware, books, and more.
Like Double Take, this store also donates to local charities such as Coast Mental Health and The Gathering Place. They aim to uplift those in need within their neighbourhood.
Location: 67 Front St E, Toronto
Open: Monday-Sunday 10am-8pm
5. Black Market Clothing
Black Market is a fun, funky place to go treasure hunting. Located at 347 Queen St. W, this thrift store is a must-visit if you are looking for affordable merchandise under $!0.
The store has clean and well-organized clothing, including jackets, graphic tees, leather shoes, spiked belts, jeans, vintage sports goodies, and more. It is the best-trending thrift store in Toronto for those looking to rock the latest trends or a fashion identity. The store keeps up with the latest staples and styles.
Besides its Upstairs location, this thrift store has a Black Market Basement location at 256 Queen St. W.
Location: Black Market Vintage Upstairs: 347 Queen St W; Black Market Vintage Basement/Underground: 256 Queen St W
Open: Monday-Wednesday 11am-7pm, Thursday-Saturday 11am-8pm, Sunday 11am-6pm
Cheap Thrift Stores in Toronto
6. National Thrift
You will find this store at 2341 Keele Street. National Thrift processes more than 55,000 pounds of purchased clothing per day. So, this thrift store has more variety than other stores, and their items are well-organized.
However, while their prices are reasonably priced, they may be pricier than other stores in this list. Time their daily store specials; you may get about 20% to 50% off on your entire store purchase.
Location: 2341 Keele St, North York
Open: Monday-Saturday 10am-9pm, Sunday 10am-6pm
7. Goodwill
It's clear that there's a demand for variety when it comes to thrifting in Toronto, and Goodwill recently announced that they will throw their hat in the ring. They plan to open over 40 locations in Canada, Toronto being one of them.
8. Salvation Army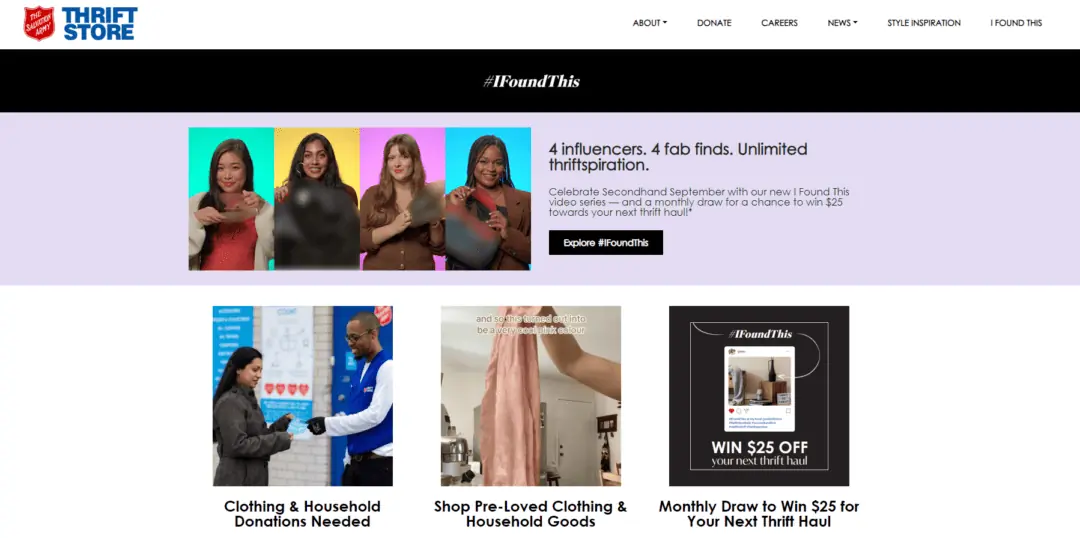 Like Black Market, the Salvation Army thrift store is a household name with more than 100 stores across Canada. In Toronto alone, there are eight Salvation Army thrift stores.
In the true sense of thrift stores, their stores are nonprofits that depend on donated merchandise from the community. They use the revenue from sales to fund several missions under their umbrella, combat poverty, and provide shelter for the homeless.
However, unlike some thrift stores, this store doesn't sort stuff for you. They accept a wide variety of things, and donations come in all the time, so you must be a patient thrift hunter to find the quality gem you are looking for. But once you find what you love, you'll get it at a price way below the retail price.
Locations: 1675 Jane St, 1447 Queen St W, 665 St Claire Ave W, 1219 Bloor St W, 1921 Eglinton Ave E, 2291 Kipling Ave, 1225 Kennedy Rd, and 60 Overlea Blvd
Open: 10am-8pm (varies from store to store)
9. Plato's Closet
Located at 2583 St Clair Ave, Plato's Closet buys and sells second-hand items such as shoes, clothes, and other accessories.
It's one of the best teen and young adult thrift stores in Canada, where you can find designer brand outfits at up to 70% lower than its market price. You can buy items from top brands such as Nike, Lululemon, Zara, Adidas, Tory Burch, UGG, and more.
Check this store out if you want modern, trendy styles to change your wardrobe.
Location: 2583 St Clair Ave, Toronto
Open: Monday-Saturday 10am-9pm, Sunday 11am-6pm
10. Value Village
Value Village is one of Toronto and North America's most trusted and renowned stores. They have several stores in Toronto where you can spend your day treasure-hunting through heaps and heaps of items.
This is the thrift to visit if you want the most affordable prices for furniture, houseware, clothing, and more. You can even get better deals for everything you buy if you have storewide sale days. In fact, some thrift stores shop for their stores from Value Village.
Locations: 1319 Bloor St W, 481 Bloor St W, 605 Rogers Rd C1, 924 Queen St E, 639 Queen St W, and 2119 Danforth Ave (more locations around the GTA)
Open: Varies (often daily 9am-9pm)
11. Market "By the Pound"
Like Salvation Army thrift stores, Market "By the Pound" is the place for true treasure hunters. It's challenging to pick quality items from a cursory look. But if you have the patience, you will spend much of your day rummaging through clothing bins for your preferred items.
Items are sorted in bins by categories, such as sweaters, pants, and dresses. Anything you pick doesn't come with a price tag, but you add it to your cart, and you'll be charged per pound. That's right — head to the scale and pay only $3.99 per pound.
If you are a thrifter who loves the hunt, team up with a like-minded friend, bring your hand sanitizer, and score unique items for as little as $20.
Location: Unit 4, 55 Orfus Rd, North York
Open: Monday-Sunday 10am-6pm
12. Vintage Depot
Vintage Depot has two thrift stores in Toronto, one in Danforth and the other in Kensington Market. As the name suggests, this thrift store offers vintage streetwear from brand names such as Adidas or Nike at a fraction of their regular price.
This cheap vintage thrift store in Toronto has several items for men and women alike, including hoodies, outerwear, pants, sweaters, and accessories. If you are on a budget, you can land amazing pieces for as low as $15. Shopping is also easy because the store's layout is well-organized and colour-coordinated.
Locations: 70 Kensington Ave, Toronto and 2777 Danforth Ave, Toronto
Open: Monday-Saturday 1130am-7pm
13. Just Thrift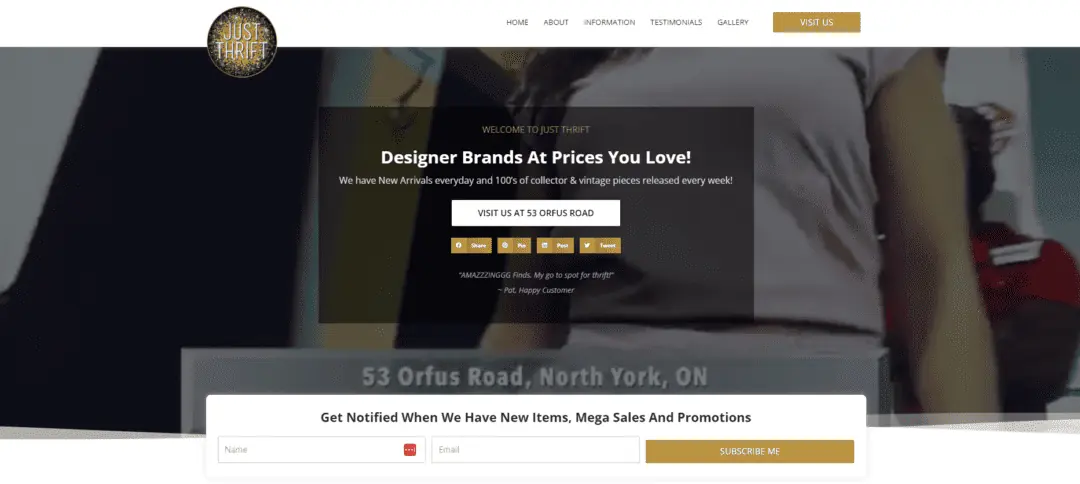 Located at 53 Orfus Road, Just Thrift is another go-to store for designer clothes. You will get a wide variety of vintage and modern fashion trends from luxury brands such as Prada, Gucci, Balenciaga, and more. Not only are these items in good condition, but they are also affordable.
For instance, you can buy three brand items for as low as $35.
Location: 53 Orfus Rd, North York
Open: Monday-Saturday 10am-8pm, Sunday 11am-7pm
Best Vintage Clothing Stores in Toronto
14. Common Sort
With three locations across Toronto, this thrift store sells second-hand clothes appropriate for the season. So, if you want clothing that matches the time of the year, this is the place to visit.
Common Sort also stays up-to-date with fashionable clothing. So, you can find something that satisfies your style or preference here.
Apart from selling, this store also actively buys from the community and doesn't solely depend on donations. Still, you can find carefully selected items that meet their high seasonality, cleanliness, and trendiness standards. It's also the place to buy fashionably trendy items.
Time their popular anniversary promotions and off sales and get 50% off.
Locations: 444 Bloor St W, Toronto; 760 Queen St E, Toronto; and 1414 Queen St W, Toronto
Open: Monday-Saturday 11am-7pm, Sunday 11am-6pm
15. Siberia Vintage
A recent addition to Bloor Street, Siberia Vintage is a thrifting paradise, especially if you are looking for frocks. The store specializes in vintage women's trends (70s to 90s), offering buyers great deals on hand-selected items. Besides clothing, you can also get shoes and accessories at this store.
Location: 955 Bloor St W, Toronto
Open: Monday-Sunday 12pm-8pm
16. Mama Loves You Vintage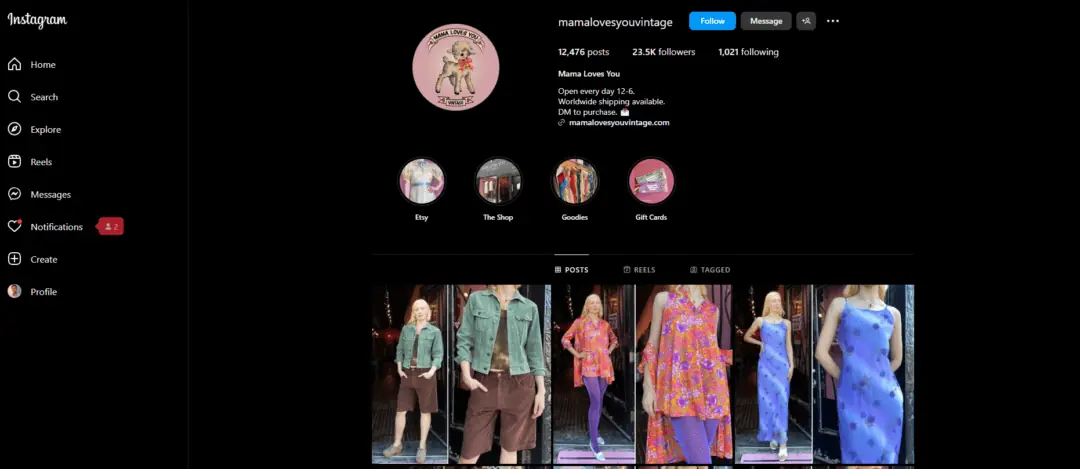 Mama Loves You is the brainchild of a mother-daughter duo, Mahro and Merlo. They are vintage enthusiasts, and their store has fantastic retro clothing and accessories collected from all over Canada.
Visit the store to get various items from different eras, from the 1900s to the '90s, at mid-range prices. Travel back in time with unique items that evoke a sense of individuality and history. Also, before finding their way to the racks, these items are handpicked, washed, mended, and steamed.
Location: 541 Queen St W, Toronto
Open: Monday-Sunday 12pm-6pm
17. Lucky Tiger Vintage
Located at 718 Francis Street, Lucky Tiger Vintage is the place to buy "eclectic and well-curated" clothing, jewellery, leather boots, and more. The store has a great collection of womenswear from the '40s floral dresses to '90s Miss Juli Denim, ranging from $30 to $90. Vinyl enthusiasts will also have a field day here, and you may land a one-of-a-kind art piece.
Location: 1269 Bloor St W, Toronto
Open: Saturday-Wednesday 1130am-7pm, Thursday and Friday 1130am-6pm
18. House of Vintage
Another thrift store in the lively neighbourhood of Parkdale, House of Vintage, specializes in vintage menswear and womenswear. Going through the items on their racks feels like going through your parents' or grandparents' stuff from the 60s, 70s, and 80s.
If you are looking for quality, sought-after vintage brands or iconic designer labels, visit the store. The store also offers unique vintage houseware and art pieces.
Location: 1239 Queen St W, Toronto
Open: Tuesday-Friday 12pm-7pm, Saturday 11am-7pm, Sunday 12pm-6pm
19. Retro Heads
Located at 143 Augusta Ave, Retro Heads boasts a cool selection of clothing from the '70s to 2008.
The founders, Theo and Troy, have always been into the '80s and '90s Hip Hop fashion inspired by movies like Juice and Straight Outta Brooklyn. They became master thrifters collecting retro shirts and sneakers and, with time, the go-to duo if you needed fly retro clothing.
That's how their customer base grew until they opened Retro Heads at Kensington Market.
Location: 143 Augusta Ave, Toronto
Open: Monday-Saturday 1pm-7pm, Sunday 1pm-5pm
20. The Cat's Meow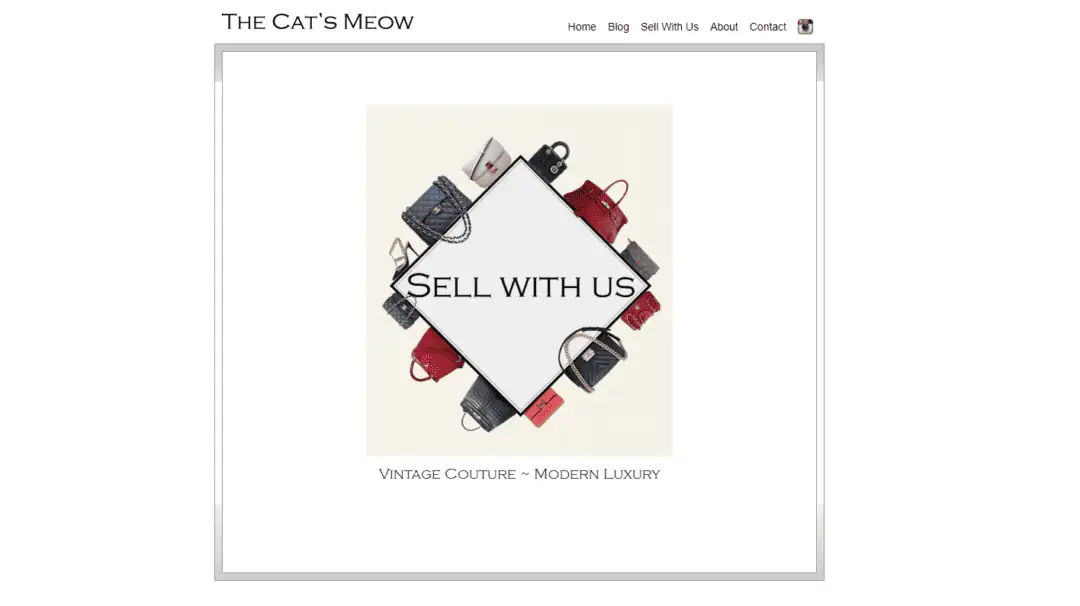 Coined by cartoonist Thomas Dorgan, "the cat's meow" refers to something wonderful, splendid, and outstanding. Located at 180 Avenue Road, The Cat's Meow is an exquisite vintage thrift store opened by Louise Cooper in 2006.
It focuses on vintage items from the 1920s to 1980s, especially from the '50s, '60s, and '70s. This store opens a portal to eras gone by, and it boasts clientele such as designers, industry designers, press and media stylists, among others.
Besides vintage jewellery, hats, and scarves, you may land fantastic retro designer items from Prada, Chanel, Chloe, Hermes, and more.
Location: 180 Avenue Rd, Toronto
Open: Monday-Friday 10am-6pm, Saturday 10am-5pm, Sunday 12pm-5pm
FAQs
Does Toronto have a good thrifting scene? 
Toronto is chock full of thrift stores and home to cheap thrift stores in Canada. Whether you want vintage style or trendy young adult clothing, antique furniture, or affordable art, there's a store for you here.
What is the best neighbourhood for thrifting in Toronto?
Queen Street West is the thrifters' paradise in Toronto due to its diversity in culture and community. This neighbourhood packs several thrift stores with trendy or vintage items at affordable prices.
Is it worth it to buy clothes from a thrift store?
87% of new clothing and fibres produced every year end up in landfills and incinerators — only 20% of discarded material is collected. So, buying from thrift stores is not only an affordable way to shop, you're making an environmentally-conscious choice. Also, some thrift stores are charity organizations that help needy individuals in Toronto and Canada.
What are the best thrift store brands? 
The best brands to thrift change from thrift store to thrift store depending on their specialty. But overall, the best brands to check out in thrift stores include Levi's, Lululemon, Patagonia, Eileen Fisher, Anthropologie, and Tory Burch, among others. There are many quality brands out there, and the mentioned brands are those that you are likely to find across all thrift stores. 
Related: