Shopping at thrift stores is a great way to save money while finding fun and unique clothing and other products. Thrift store prices are typically much lower than buying new, even for the same items.
In addition to unique vintage pieces, you'll likely find many top-brand name items. Sometimes you can even find brand-new items with the tags still on for a fraction of the regular cost!
When you donate your unneeded items or shop at thrift stores, you keep items out of landfills and have a positive impact on the environment. And some of the stores on this list also have social missions you'll be supporting just by shopping with them.

There are a lot of great thrift stores to check out in Ontario, so finding one that fits your budget and fashion style is important. Here are fifteen of the best thrift stores in Toronto and all across Ontario.
Best Thrift Stores in Toronto
Toronto has a wide selection of thrift stores to choose from. Here are some of our top picks.
1. Black Market Clothing
347 Queen St. W. 2nd Fl, Toronto, ON
Black Market has a great selection of vintage clothes. You can shop in-store seven days a week or order online for pickup or delivery.
It won Blog TO's Best of Toronto award for "Best Vintage Clothing Store" thanks to its incredible selection of premium vintage clothing for men and women.
2. Public Butter
1290 Queen St. W., Toronto, ON
Public Butter is a vintage thrift shop that's owned by Black Market. You can find vintage clothing, shoes, and accessories, as well as furnishings and other items.
There is always a great selection of items, and the service is excellent, making for a fun shopping experience. You can also shop the collection online for pickup or delivery.
3. Just Thrift
53 Orfus Rd., North York, ON
If you're looking for designer name clothes at a price you can afford, you should consider visiting Just Thrift.
This thrift store carries a huge range of apparel and accessories, with over 23 different designer brands and hundreds of new items arriving every week.
You can also find kid's clothing and housewares at great prices. The staff is very knowledgeable and excited to help you find exactly what you're looking for.
4. Retro Heads
143 Augusta Ave., Toronto, ON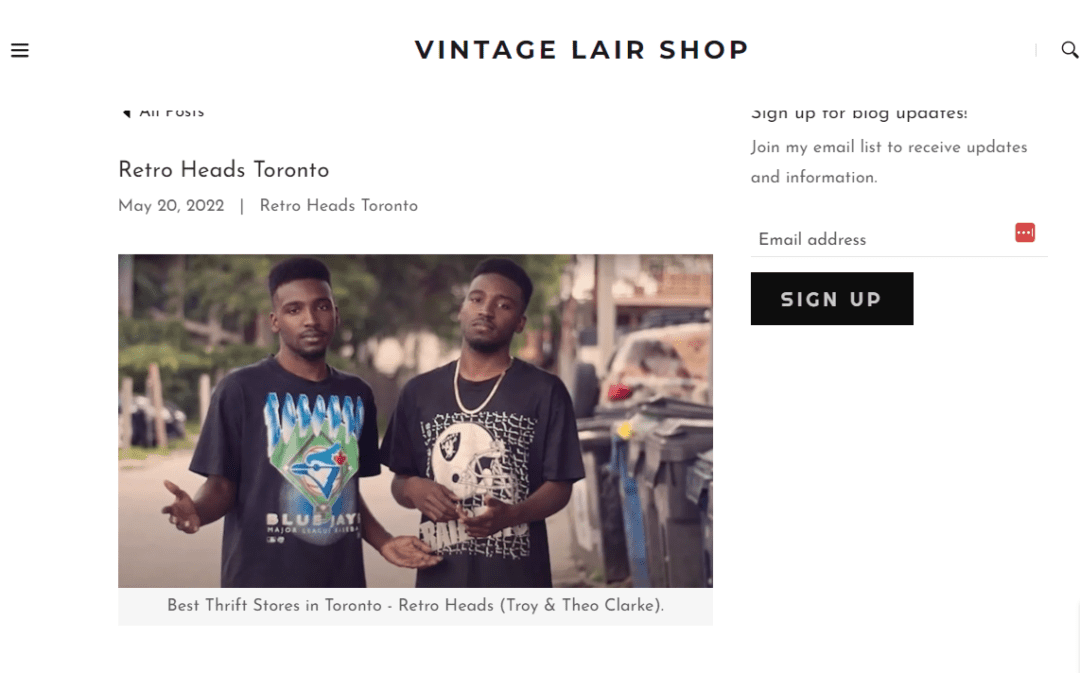 Retro Heads was founded by twin brothers who share a passion for the music of the '80s and '90s, fashion, and pop culture. You will see those passions reflected in the selection of items available at this vintage thrift shop in Toronto.
Retro Heads is a small shop housing a carefully selected collection of the 80s and 90s clothing and accessories, music, movies, and more.
5. The Cat's Meow
180 Avenue Rd., Toronto, ON
If you are looking for truly unique and timeless styles, you must visit The Cat's Meow.
The Cat's Meow specializes in women's vintage apparel from the 1920s through the 1980s. You will find classic designer pieces as well as lesser-known brands at a variety of prices. Everything in the store is in excellent condition.
Aside from vintage clothing, The Cat's Meow also has an excellent selection of accessories, such as scarves, hats, handbags, and jewelry.
Best Thrift Stores Across Ontario
There are some excellent thrift shop options outside of Toronto as well. Here are some of the top picks across Ontario.
6. Thrill of the Find
136 Walton St., Port Hope, ON
At Thrill of the Find, you'll discover hard-to-find designer vintage clothing and accessories. You're likely to even come across some designer pieces from as far back as the 50s or 60s.
Because the items are more high-end and elusive, you should expect to pay a little more here than you would at some of the other thrift stores on this list.
You'll still be saving big off of retail prices, and you can find some exciting sale items as well. You can shop Thrill of the Find's collection in-store or online.
7. Value Village
Multiple locations across Ontario
Value Village is a big-name global thrift store passionate about keeping reusable items out of landfills. At any of Value Village's many locations, you're sure to find some one-of-a-kind clothing, accessories, and household goods.
You can join the Super Savers Club to earn discounts on future purchases for greater savings.
When you donate your gently used items to Value Village, you will be supporting local nonprofits who get paid for your stuff, which is a great way to support your community.
Related: Learn price matching and how to save when shopping online or in-store.
8. Salvation Army
Multiple locations across Ontario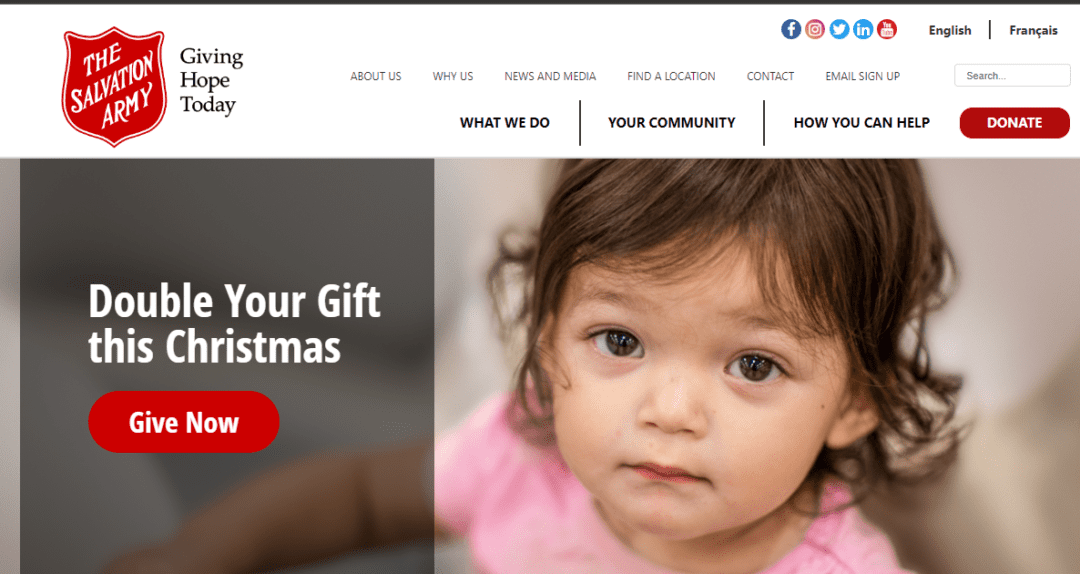 The Salvation Army operates thrift stores around the world to raise money used to fund social programs.
By donating to and shopping at a Salvation Army store, you'll be supporting its services that provide housing and food to those in need, substance abuse counselling, after-school programs, and emergency disaster relief.
As one of the leading thrift stores in Ontario, you'll surely find an assortment of used clothing, accessories, and household items at affordable prices here. If you love to thrift and want to support a good cause at the same time, visit any of the Salvation Army thrift stores located in Ontario.
The Salvation Army is one of the top thrift stores available in downtown Toronto.
Related: Here's how to get free furniture in Toronto.
9. Plato's Closet
Multiple locations across Ontario
Plato's Closet is a resale business that will purchase your gently used items and resell them in their stores. It focuses on the latest styles in clothing and accessories for young adults. You can find many popular top-name brand items in every Plato's Closet location.
If you're interested in selling your clothes, simply bring them to any location. Staff will decide whether your items are a good fit for their store and pay you on the spot for anything they choose to purchase.
With Plato's Closet, it's easy to make a little extra cash for clothes taking up space in your closet.
10. The Patch
316 Main St., Sauble Beach, ON
The Patch is a trendy beachfront thrift store that sells gently used clothes from popular brands. The prices at this store are a bit on the higher side, but it's worth a look if you're in the area.
There's always a great selection of clothing, jewelry, and accessories, and the items that you'll find in The Patch are always in very good condition.
11. Fashion Closet
11 Manitoba St., Bracebridge, ON
Fashion Closet sells both new and used clothing. Here, you will find consigned clothing at deeply discounted prices.
They carry a wide selection of designer pieces, and the staff is passionate about helping you find the exact items you are looking for. When you shop at Fashion Closet, you'll receive plenty of one-on-one attention.
Best Thrift Stores in Hamilton
12. Vintage Soul Geek
279 King St. E., Hamilton, OH
Vintage Soul Geek is a vintage resale shop that sells clothing, jewelry, and accessories from the late 1800s through the 1990s.
You are sure to find one-of-a-kind pieces every time you visit, and most store items are in excellent condition. The store has so many unique pieces that it even provides wardrobes for some top movies and TV shows.
Don't worry if you're shopping on a budget. Vintage Soul Geek has items at a wide range of price points. And if you have a vintage piece you would like to sell; you can bring it to the store or email pictures through the website to get a quote.
This is easily one of the best thrift stores you will find in Hamilton any day.
13. re-Source Thrift Shop
1050 Upper Gage Ave., Hamilton, ON
re-Source Thrift Shops are volunteer-run and support Christian education and local charities. When you purchase from re-Source, 100% of the money from your purchase will be donated locally.
You can find clothing, housewares, sporting goods, and more. The Hamilton store is well organized and has a good selection of assorted items at very affordable prices.
Best Thrift Stores in Mississauga
14. Talize
3100 Dixie Rd., Mississauga, ON
Talize stores sell a wide variety of items, from clothing and accessories for men, women, and children, to toys and books, to houseware and linens.
Items are fairly priced, and students and seniors get an additional 10% off. You can also find frequent in-store promotions to save even more.
If you want to donate to Talize, you can bring your items to the donation center located at the store. You'll even receive a coupon for a discount on your next purchase.
15. Style Encore
40 Bristol Rd. E., Mississauga, ON
Style Encore is a resale store that exclusively sells women's clothing and accessories. You can find current styles in excellent condition at this thrift store, as there are always top brands and designer names to choose from, and the prices are reasonable. You're also able to shop in-store or online.
If you're interested in selling your items, you'll have to book an appointment through the website. You'll have the opportunity to be paid cash for any items the store purchases from you.
Final Thoughts
Thrift shopping is a great way to save money and shop sustainably. Whether you're looking for top-name designer clothes or trying to shop on a budget, there are second-hand stores across Ontario to satisfy every shopper.
By shopping at thrift stores, you'll always find unique items and have the satisfaction of doing good for the environment and your wallet.