An Exchange Traded Fund (ETF) such as VCN holds a basket of securities (e.g. stocks and/or bonds) giving investors easy access to multiple securities and a diversified portfolio at a low cost.
When you purchase an ETF using a commission-free broker, you save even more on fees.
While I prefer to hold assets allocation ETFs like VGRO or XBAL to avoid the need to rebalance, you can choose to build your portfolio using individual ETFs like VCN and a target allocation of your choosing.
The VCN review covers its holding, performance, fees, pros and cons, and how it compares to XIC.
What is VCN?
VCN aka Vanguard FTSE Canada All Cap Index ETF is a Canadian equity ETF from Vanguard Canada.
It is designed to track the FTSE Canada All Cap Domestic Index by investing in large, medium, and small-capitalization Canada stocks.
VCN is traded on the Toronto Stock Exchange under the ticker symbol 'VCN' and has a 'medium' risk rating.
The key facts for this fund as of February 28, 2021, are:
Inception date: August 2, 2013
Management fee: 0.05%
MER: 0.05%
Price/Earnings Ratio: 18.7x
Price/Book Ratio: 2.0x
Return on Equity: 11.2%
Earnings Growth Rate: 8.9%
Number of stocks: 179
12-month trailing yield: 2.60%
Distribution yield: 2.59%
Eligibility: RRSP, TFSA, RESP, RRIF, DPSP, RDSP
Listing currency: CAD
Assets under management: $3.2 billion
VCN Holdings
The Vanguard FTSE Canada All Cap Index ETF (VCN) is mostly invested in Canadian stocks (98.6%).
Its top stock holdings include Shopify, RBC, TD, Scotiabank, BMO, Enbridge, Canadian National Railway, Canadian Pacific Railway, and CIBC.
This ETF offers diversification across various sectors including Financial Energy, Technology, Industrials, Utilities, Consumer Discretionary, Telcoms, and more.
Large-cap stocks make up 72.31% of the stocks held by VCN.
Related: Best Stock Trading Apps in Canada.
VCN Performance and Returns
The annual returns of VCN are available starting from 2014.
Here's how it has fared:
| | | |
| --- | --- | --- |
| Year | Total Return by NAV | Total Return by Market Price |
| 2014 | 9.80% | 9.86% |
| 2015 | -8.76% | -8.76% |
| 2016 | 21.46% | 21.49% |
| 2017 | 8.46% | 8.42% |
| 2018 | -9.06% | -9.16% |
| 2019 | 22.06% | 22.17% |
| 2020 | 4.84% | 4.90% |
For this year to date (January 1-March 31, 2021), VCN has earned a 8.69% return.
As shown in the image below, VCN's performance over the years is a few basis points lower than its benchmark index. This disparity is due to the fund's fees and expenses.
Note that while historical returns are great for seeing how an ETF has performed in the past, they do not predict what may occur in the future.
VCN Fees and MER
VCN has a low 0.05% management expense ratio. Compared to the average equity mutual fund in Canada which costs 1.98% per year, this ETF saves you a lot of money in fees.
One strategy for holding onto this fee savings is to purchase VCN using a free or cheap brokerage platform. For example, Wealthsimple Trade offers free purchases and sales of VCN.
VCN is also cheaper compared to investing with a robo-advisor. The best robo-advisors charge up to 0.50% in fees and when you add ETF costs, you pay roughly 0.70%.
That said, robo-advisors automatically rebalance your portfolio and they also offer limited free financial advice.
Also, you can lose the fee savings when you purchase VCN using a high-fee brokerage account e.g. the ones that charge up to $9.99 per trade.
Related: Compare Robo-Advisor Fees in Canada.
Pros and Cons of VCN
It would be extremely difficult for the average Canadian investor to diversify their portfolio and lower their risk level by purchasing 179 individual stocks. However, when you buy VCN, you get this exposure using a single ETF.
You can extend this same strategy even further by purchasing a one-fund solution fund such as VBAL or XGRO.
VCN costs 0.05% per year. This means you are paying $0.50 for every $1,000 you invest. A comparative mutual fund could easily cost you $19.80 per $1,000 invested.
Also, you can hold this ETF in personal (registered and non-registered) or corporate investment accounts.
You should note that VCN is all-equity which means its returns can be more volatile depending on what' going on in the financial markets.
If you are looking for a steady source of income, this ETF is not what you want. You should look for a conservative or income ETF, or keep your funds in a GIC/saving.
VCN vs. XIC
XIC is the iShares Core S&P/TSX Capped Composite Index ETF.
It takes the entire Canadian stock market (95%+) and holds 229 stocks as of April 12, 2021, (compared to 179 stocks for VCN).
The top-10 stock holdings by XIC are:
This index is 'capped' which means that the weight of individual stocks in the index is capped at a maximum of 10%.
XIC has an MER of 0.06% while VCN has an MER of 0.05%.
Both ETFs have a 'medium' risk rating.
How To Buy Vanguard VCN ETF in Canada
You can purchase VCN using a self-directed brokerage account. My top two choices are:
Wealthsimple Trade
Questrade
Wealthsimple Trade: This platform offers zero-commission trades on ETFs and stocks. What this means is that you don't pay trading fees when you buy and sell VCN.
Wealthsimple Trade is available on all devices.
When you open an account here, you receive a $150 welcome bonus after depositing and trading at least $300.
Questrade: This trading platform can be used to buy and sell a variety of investment products including stocks, ETFs, GICs, options, and more.
Questrade offers free ETF purchases. When you sell ETFs, a small fee applies (minimum of $4.95 per trade).
Our readers get $50 in free trades when they open and fund their accounts with at least $1,000.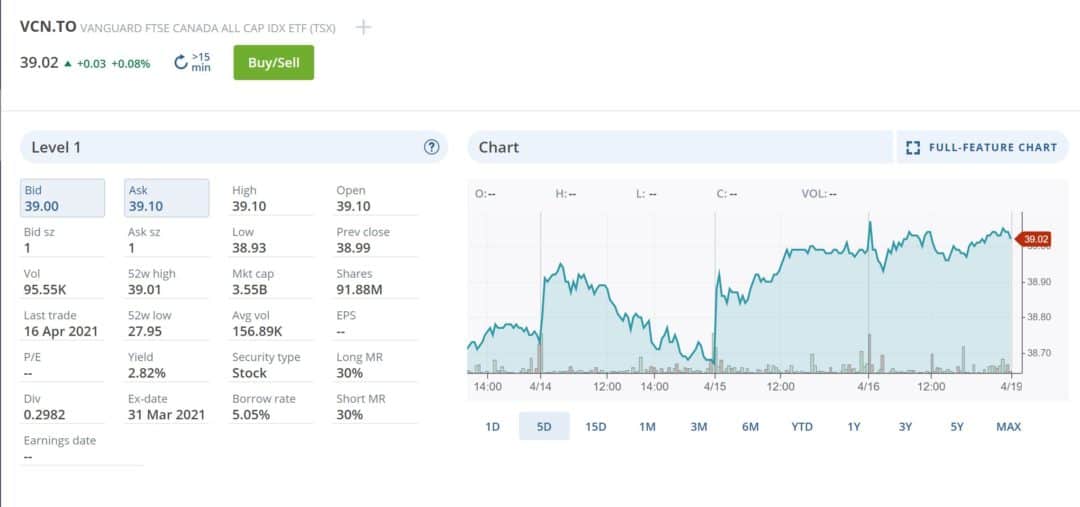 VCN Canada FAQs
Is VCN a good ETF?
VCN is great for investors who have a higher than average risk tolerance. It is designed for investors who are seeking long-term capital growth and who don't mind significant fluctuations in their portfolio value from day to day.
Does VCN pay dividends?
VCN has a quarterly dividend schedule with distributions in March, June, September, and December.
Can I hold VCN in a TFSA?
Yes, you can hold VCN in a TFSA and other registered investment plans (RRSP, RESP, DPSP, and RRIF).
How can I trade VCN for free?
Wealthsimple Trade is the only brokerage platform offering free trades in ETF and stocks in Canada. You can read this Wealthsimple Trade review for more information.
VCN ETF Review
Summary
VCN is the Vanguard FTSE Canada All Cap Index ETF. This VCN review covers its fees/MER, holdings, how to purchase it in Canada, and comparison to XIC.
Pros
Low management fee and MER
Diversified across 179 stocks
Eligible for multiple accounts
Cons
Medium risk asset
Trading fees can pile up if you pay per trade