If you are a self-directed investor looking to spend the least time possible on your investment portfolio, an asset allocation ETF may work for you.
All-in-one ETF solutions such as XGRO remove the need for rebalancing your portfolio since you now have just one fund as opposed to the 4 or more funds that would otherwise have made up your portfolio.
And, of course, they are a lot easier than picking individual stocks.
This XGRO review covers its holdings, returns, fees, pros and cons, how it compares to Vanguard's VGRO, and how to purchase iShares ETFs in Canada.
iShares All-in-One ETFs Portfolios
Black Rock Asset Management Canada offers a line-up of all-in-one ETFs portfolios similar to the ones you can get from Vanguard.
They are:
XCNS: iShares Core Conservative Balanced ETF Portfolio
XINC: iShares Core Income Balanced ETF Portfolio
XBAL: iShares Core Balanced ETF Portfolio
XGRO: iShares Core Growth ETF Portfolio
Each ETF portfolio is designed with a different investor risk profile in mind. Here's a quick reminder on how conservative, balanced, and growth portfolios differ.
What is XGRO?
XGRO is iShares' All-in-One Growth ETF Portfolio designed to provide long-term capital growth by investing in equity and fixed-income securities. It is a basket of 8 funds with an approximate 80% equity and 20% bond exposure.
XGRO trades on the Toronto Stock Exchange and has a "low to medium" risk rating. For comparison sake, XCNS which is made up of approximately 60% bonds and 40% equity has a "low" risk rating,
The key facts for XGRO as of November 6, 2020 include:
Net assets: $476,382,335 CAD
Management fee: 0.18%
Management expense ratio: 0.20%
Distribution yield: 1.47%
12-month trailing yield: 2.06%
Eligible accounts: Registered and non-registered
Frequency of rebalancing: Quarterly
XGRO Asset Allocation
As of November 6, 2020, XGRO was made up of 8 iShares ETF funds as follows:
| | |
| --- | --- |
| XGRO Fund Holdings | Allocation |
| iShares Core S&P Total U.S. Stock (ITOT) | 38.58% |
| iShares MSCI EAFE IMI Index (XEF) | 19.50% |
| iShares S&P/TSX Capped Composite | 19.50% |
| iShares Core CAD UNIV BND IDX ETF CA (XBB) | 11.86% |
| iShares Core MSCI Emerging Markets (IEMG) | 4.16% |
| IShares Core CAD ST Cor Bd Index (XSH) | 3.03% |
| iShares Bond USD Investment G (USIG) | 1.84% |
| IShares US Treasury Bond ETF (GOVT) | 1.82% |
Overall, the fund is currently weighted at 81.28% stocks, 18.55% bonds, and 0.17% cash (or cash equivalents).
As you can probably tell, XGRO is for investors with above-average risk tolerance and you should be comfortable with some volatility.
As of November 6, 2020, XGRO holds a total of 18,245 assets with the top 10 equity holdings made up of mostly technology and financial stocks.
XGRO Returns
XGRO has been around in a different format since 2007, and was formerly known as the iShares Balanced Growth CorePortfolio Index ETF (CBN).
The investment objective and management fee of the fund changed when it was converted in December 2018, so you probably shouldn't pay too much attention to the returns prior to the change.
That said, below are its published returns over the years as of October 31, 2020:
Past performance does not guarantee future results!
XGRO Fees
XGRO has a 0.18% management fee and a Management Ratio (MER) of 0.20%. Compared to the average equity mutual fund fee of 1.98%, you could save a lot of money in fees.
Note that trading commissions can pile up to erase your fee savings if you are trading small amount on a frequent basis.
One option to limit your trading expenses is to use a zero-commission brokerage platform such as Wealthsimple Trade.
Questrade also offers free ETF purchases; however, you pay commissions when you sell.
Invest with Wealthsimple Trade and receive a $10 bonus, or
The big banks also offer trading platforms you can use to purchase XGRO, VGRO, XBAL, VBAL, and other asset ETFs.
While you may pay a bit more in trading commissions, you can learn about what they offer in the reviews below:
Pros and Cons of XGRO
All-in-one ETFs have truly changed the investment landscape for a lot of people.
Previously, you would typically need a few ETFs to design your portfolio and had to rebalance after a while because each fund performed differently.
With all-in-one funds, there's no need to worry about rebalancing. A few clicks to buy or sell is all you need and you are on your way.
Also, they are cheaper than comparable mutual funds. When you think of 0.20% vs. 1.98% (average fee for equity mutual funds) over several years, this could result in some significant savings.
The reality is that high mutual fund fees rarely translate into fund managers beating the market year in, year out.
If you don't mind playing with numbers when you make new purchases or when you rebalance, you could hold the individual ETF funds and save a bit on the MER.
That said, more funds translate into more trades, and trading fees can add up unless you are using a no-commission broker.
XGRO vs. VGRO
Vanguard's Growth ETF Portfolio (VGRO) is similar to XGRO in its equity: bond allocation and investment objectives.
As of September 30, 2020, it had an 80.01% stocks vs. 19.92% bonds allocation. Cash and cash equivalents made up the remaining 0.07%.
Its underlying ETF funds at the time were:
| | |
| --- | --- |
| VGRO Fund Holdings | Allocation |
| Vanguard US Total Market Index ETF | 33.30% |
| Vanguard FTSE Canada All Cap Index ETF | 23.700% |
| Vanguard FTSE Developed All Cap ex North America Index ETF | 16.90% |
| Vanguard Canadian Aggregate Bond Index ETF | 11.80% |
| Vanguard FTSE Emerging Market Cap Index ETF | 6.20% |
| Vanguard Global ex-US Aggregate Bond Index ETF CAD-hedged | 4.50% |
| Vanguard US Aggregate Bond Index ETF CAD-hedged | 3.60% |
While VGRO holds fixed income (bonds) from emerging markets, Europe, North America, Middle East, and the Pacific, XGRO bond holdings are limited to the Canadian and U.S. markets.
It also has a heavier weighting of U.S. equities compared to VGRO (36% vs. 33.30%).
Lastly, XGRO has a MER of 0.20%, while the MER for VGRO is 0.25%.
How To Buy XGRO ETF on Wealthsimple Trade
To purchase XGRO on Wealthsimple Trade and pay no trading fees, sign up here (+ $10 cash bonus).
Sign-in to your account and search for "XGRO".
Click on "Buy" and select either a market buy, limit buy, or stop limit buy from the drop down at the top.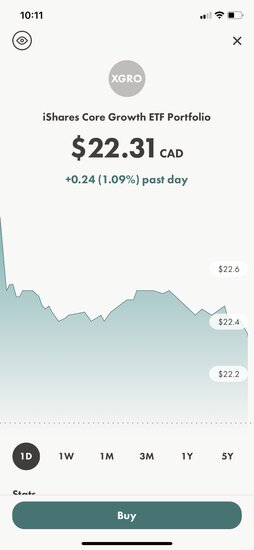 If you want to be in control of how much you pay for each ETF unit, choose "limit buy" and enter your preferred price e.g. $22.25, followed by the number of units.
Otherwise, if you want to buy at the current price, choose "market buy" and enter the number of units you want to purchase.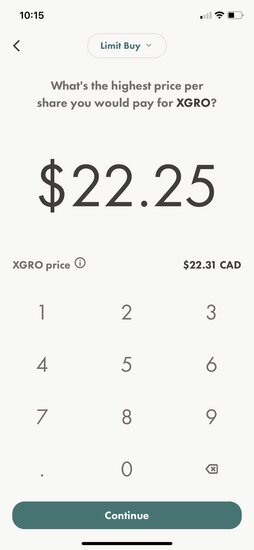 Place your trades. In the example below, I'm placing a limit buy for 100 units of XGRO at $22.25 of a total of $2,225.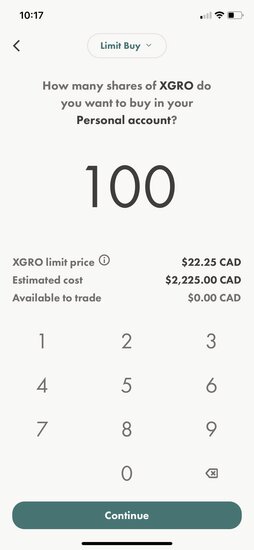 Find out more in this Wealthsimple Trade review.
How to Purchase XGRO on Questrade
Questrade does not have a trading fee for ETF purchases; however, trading fees apply when you sell (at $4.95-$9.95/trade).
To purchase XGRO, open a Questrade account and get $50 in free trades when you fund your account with at least $1,000 and place at least 10 trades. You can also use the SAVVY50 promo code.
1 – Sign in to your account and enter XGRO in the "symbol lookup" box.
2 – Click on the Buy/Sell button. This populates the order entry box with the Last, Bid, and Ask prices.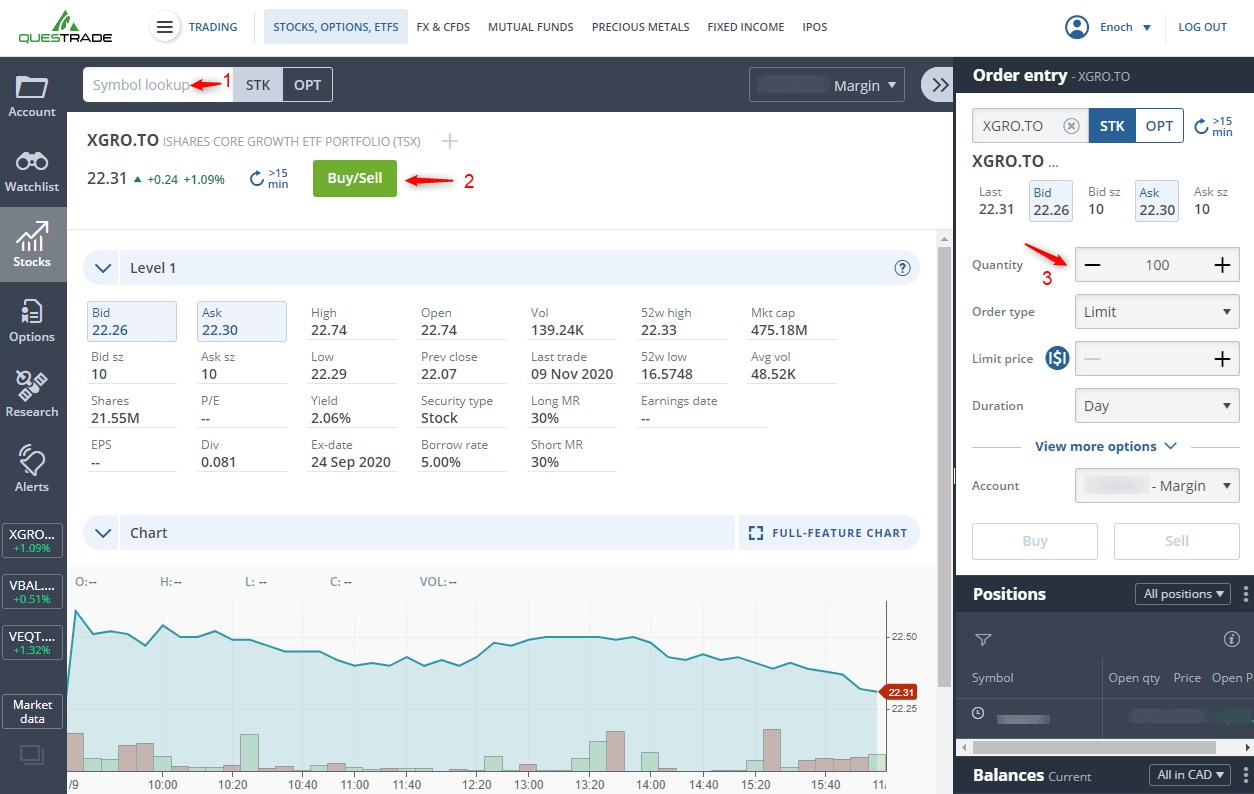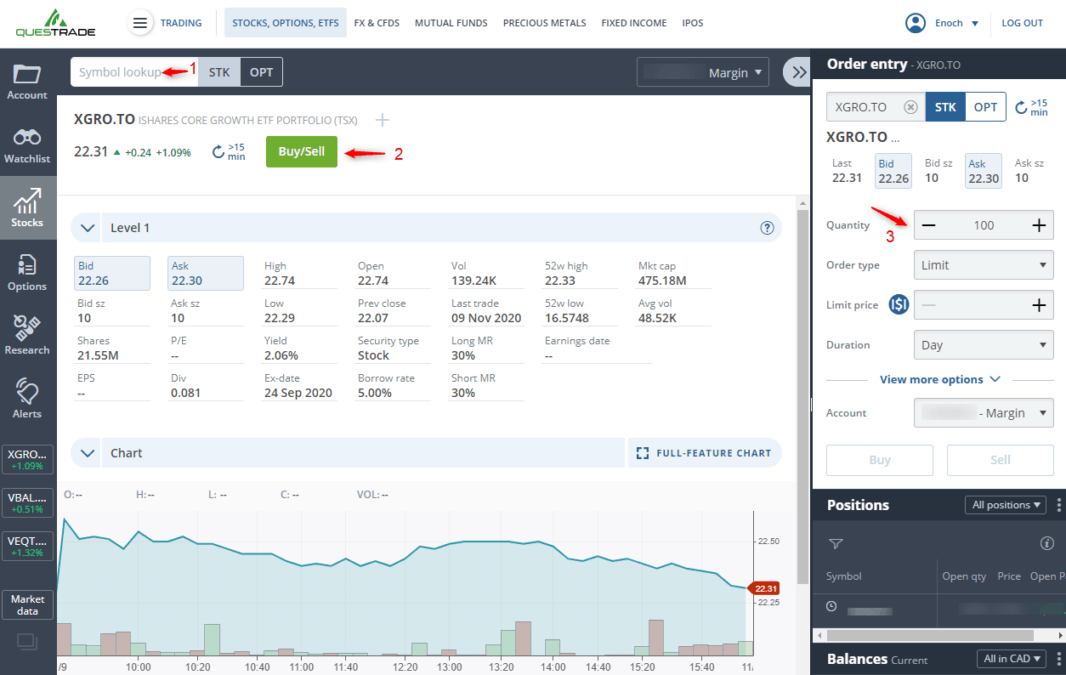 3 – In this box, you can choose the number of units you want to purchase, order type (limit, market, stop), and how long you want the order to stay open (i.e. duration).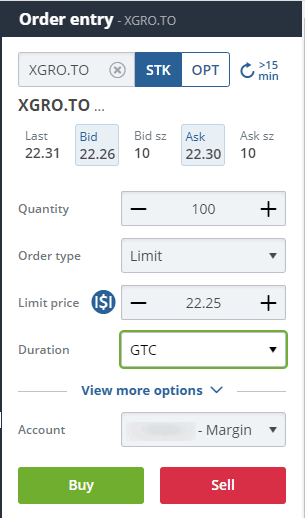 In the example above, I am placing an order to purchase 100 units of XGRO at $22.25 using a limit order. I also want the order to stay open until it is either filled at this price, or until I cancel it (Good Till Cancelled – GTC).
Learn more about Questrade in the review.
XGRO ETF review
Summary
XGRO is iShares' All-in-one Growth ETF Portfolio. This XGRO review covers its features, fees, pros and cons, and how it compares to VGRO.